Chelsea has to be crowned London's chicest neighbourhood, so it's no surprise that there's an abundance of wellness hotspots around every corner. Wellness hubs, beauty salons, luxe hotels, trendy fitness studios and healthy restaurants line the streets with big names and independent businesses proving themselves worthy of a spot in Chelsea. Here's our very on H&H-approved guide to Chelsea!
WELLNESS
Bringing homoeopathy into the modern era, The Organic Pharmacy's flagship store and spa on Cadogan Gardens offers a range of health and beauty treatments that harness the brand's two decades of knowledge. The scope of treatments ranges from pampering facials and massages to in-depth clinical lead health consultations. Technology plays an integral role in many of the treatments, boosting the effectiveness to maximise results. Fusing the worlds of holistic and scientific, The Organic Pharmacy's treatments bring in aspects of both sides, and the experience they've acquired after years of working with people to achieve equilibrium in the mind and body.  Striking the balance between clinical and high-end, the store and spa is a tranquil setting. The product range has grown to cover supplements, skincare, body care and make-up. One of the best sellers that the friendly staff are more than happy to talk you through is the 10-Day Detox Kit which we should do once a year to recalibrate the body. Whether it's rejuvenated skin, body contouring, non-surgical lifting, food intolerance testing or getting to the root cause of health issues, The Organic Pharmacy is essentially the place to visit for a full health MOT!
With its heritage deeply rooted in traditional Malaysian spa rituals, Ushavani Spa is the hidden gem in Cadogan Gardens. From the outside, the spa simply appears to be a townhouse but once you step inside you'll be transported to a Malaysian sanctuary dedicated to wellbeing. Upon entering the exclusive space, your journey begins by removing your shoes and cleansing your hands with a lemon and ginger-infused towel, setting the tone for the experience. Pre-treatment, indulge in some 'you-time' using the spa facilities. The restorative therapies on offer capture the essence of ancient Asian culture that focuses on spiritual harmony through holistic treatments. As standard, all treatments are a minimum of 90 minutes as Ushvani's philosophy believes this is the time required to fully unwind. Designed to assist with sleeping difficulties and enhance immune responses, massage therapies commence with grounding guided meditation and breathing exercises. The treatments incorporate Reflexology points to induce a deeper state of calm, with the use of pure botanicals to cure ailments, commonly used in Asian therapies. Post-treatment your therapist will prepare you a hibiscus tea which you can sip on at leisure in the tea room, as you slowly come back to your body after what can only be described as a spiritually uplifting spa experience.
There's no better place for a blowout than Duck & Dry's original salon in the heart of Chelsea, on King's Road. The experience is always seamless, from the uber-cool styling pods, prosecco bar and friendly stylists that nail the perfect bouncy blow-dry every time. The concept is simple and effective, you choose your 'look' and they work their magic…you leave feeling like a new woman! Duck & Dry also create up-do's if you're looking for something fancy for an event. A self-care ritual that never disappoints Duck & Dry's blowdry bars are the quick fix to feeling your best!
The little sister to the Bamford Cotswolds Spa, the Brompton Cross location offers Londoner's a city escape. Built on three pillars; Move, Breathe and Heal, the holistic wellness space brings the essence of nature through the Bamford products which harness pure restorative ingredients inspired by the natural surroundings of the Cotswolds. Across three floors you'll find the shop space showcasing the clothing, body and skin care collections, treatment rooms where holistic therapies take place and a skylit studio a tranquil sanctuary for gentle movement and meditation sessions. This little pocket of calm in a hectic oasis is designed to reclaim harmony and balance to your wellbeing, whether you take part in a restorative class, indulge in a treatment, sip a calming tea infusion or browse the range.
You may know KXU for its fitness classes (we'll come to that later) but down in the basement, you'll find the Medi-Spa which focuses on performance-led, effective treatments delivered in the luxe surroundings of the premium wellness hub on Pavillion Road. If you're looking to get more out of your treatments, this is the place to book, from body remodelling, exilis, cool sculpting, massages, beauty, skincare, rehab…the list goes on! KXU has acquired London's finest therapists to deliver the treatments, with a depth of skill and expertise, they're experts in their specific fields, hence the reputation the medi-spa has retained for the effectiveness of their treatments. The Hadda Facial in particular is a good place to start, named after the facialist herself, this treatment is a workout for your face using a combination of ancient beauty rituals such as Gua Sha and reflexology to lift and sculpt. Softly spoken, Hadda has a relaxing aura which sets you at ease, but her hands are the magical tool which amplifies this treatment. The variety of treatments offered at KXU will amaze the most seasoned beauty advocates, with medical, tech-led therapies at one end and holistic practices at the other, as well as everything imaginable in-between.
STAY
In a prime spot with all the wellness hubs dotted within walking distance, Sloane Place is the perfect spot to rest your head. In the hotel, you'll find a restaurant serving up British-Javanese fusion food, a roof terrace and a hideaway, along with a range of bedrooms from cosy rooms to suites. The boutique hotel takes the shape of a grand townhouse on Lower Sloane Street with easy access to Sloane Square, Duke of York Square, Kings Road and Pavillion Road. Epitomising relaxed elegance in a contemporary style, the hotel ticks all the boxes for what you're looking for in a city break stay, with thoughtfully designed bedrooms, Molton Brown toiletries and extremely comfy beds!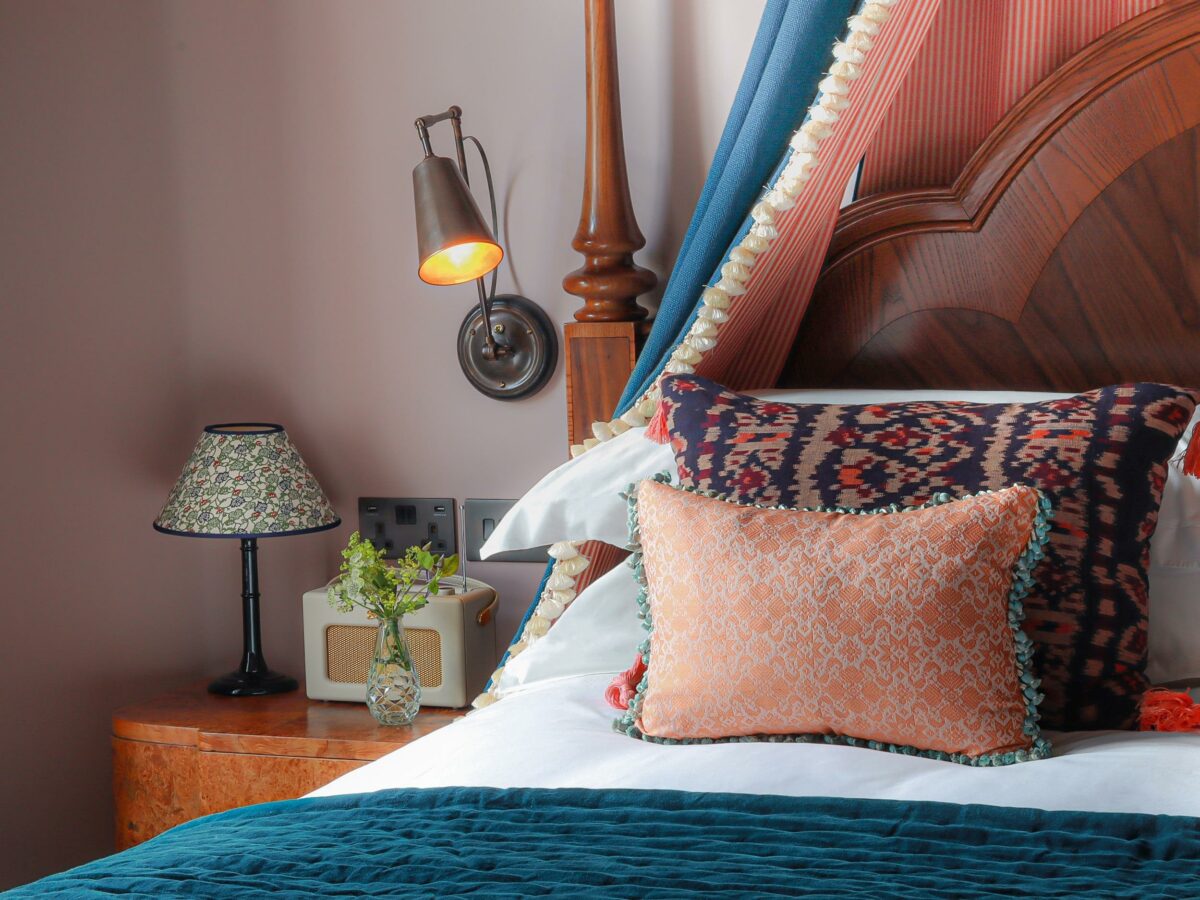 The little sister of the acclaimed hotelier Beaverbrook, the Townhouse brings the quintessentially British charm from Surrey to Chelsea! The 14-suite Georgian townhouse pays homage to London's historic performing arts scene, bringing design flare that represents various renowned theatres. Expect sumptuous beds, generous bathrooms, lavish food, sublime cocktails and good old-fashioned hospitality. The vibrant colour palette has been eloquently injected into furnishing, feature walls and artwork to give a bold yet timeless interior aesthetic. If you're looking to splash out on a city stay, the Beaverbrook Townhouse is the plush choice to book for guaranteed R&R.
FITNESS
KXU, the pay-as-you-go boutique fitness hub is your best bet for an endorphin-boosting sweat in Chelsea. Enter through the palm trees into the reception area and cafe, providing all the post-workout fuel you need to enjoy there or to go. The multifaceted studio covers cycling, yoga and barre in the basement, plus strength and conditioning and cardio upstairs. KXU's signature mash-up of strength and cardio classes gives you the best of both worlds, using all the kit from treadmills, dumbbells, kettlebells, and even an enormous tyre features often. The changing rooms have a rose-gold finish, adding to KXU's premium presentation. Finish your workout with a cryotherapy blast or an infrared sauna to complement your training!
Tucked just behind King's Road, the Heartcore Chelsea studio is giving NYC loft vibes and might just be our favourite studio out of them all. Gurus in creating the ultimate sculpting formula in the form of Reformer Pilates, the Heartcore Method gives an unforgettable burn that will have you hooked! The feature wall with quirky artwork scattered all over makes for great focal points whilst you grit your teeth through the reps. This is definitely one of Heartcore's biggest studios, which is good news as more Reformers means more chances to get a spot, the booking slots get snapped up pretty quickly for obvious reasons. 
Fusing Pilates, barre, yoga and strength training in one beautiful townhouse in the heart of Sloane Square, Vita Boutique Fitness is one to visit if you're into low-impact, highly effective workouts that will tone, lengthen and strengthen. The reformer sessions prove popular, run by Vita's expert instructors who will flow you through a number of techniques that you're likely to have never done before. The grab and glow cafe gives a healthy take on tea and cake, with refined sugar-free and herbal health-enhancing brews to enjoy in or take away.
StretchLAB's third studio to open in London is on Draycott Avenue. Offering 1-on-1 assisted dynamic stretching, their Stretchologists carry out the certified proprietary stretch method for a much-needed, albeit gruelling, 50-minute session. Taking place on a therapy bed, the Stretchologists will ease you into all sorts of shapes and angles, getting deep into muscles and joints in a way you'd never achieve alone. StretchLAB aims to counteract damage and prevent potential damage, as well as help recover from intense physical activity. Welcome to everybody from gym-goers with achy muscles to office workers with bad posture and everyone in between, StretchLAB works on your personal ailments to improve movement health, leaving you fully stretched out!
London's cult boxing club, KOBOX has a studio in a prime underground spot on King's Road. Renowned for its distinctive fight club meets nightclub finesse, KOBOX sessions guarantee 50 minutes of high-intensity escapism, where you can let loose on the bag! Each class is split equally between the bag and the wall, whereby you'll work on boxing combos alongside strength-based exercises targeting a specific group of muscles on different days of the week.
Standing the test of time, KX is the exclusive health and fitness members club on Draycott Avenue, which houses a state-of-the-art gym, spa and health-led restaurant all rolled into one! Jam-packed with the best equipment money can buy, KX's studio has everything you need for a hardcore workout. If classes are your thing, the extensive timetable includes dance, cardio conditioning, indoor cycling, resistance conditioning, yoga, barre, Pilates and reformer Pilates. Open to both members and non-members alike, the spa employs some of the industry's most advanced practitioners that specialise in cutting-edge beauty treatments. Giving their members a seamless experience from start to finish, everything is at your fingertips, from the chockablock timetable of classes to the fully equipped changing rooms, with robes, REN body and skincare products, a menu of healthy post-workout fuel and even a laundry service, so your gym kit is freshly pressed for your next visit.
EAT
Split into a health-led café and a fitness studio, Volonté is a great little spot for a workout or a nutritious meal…or both! Upstairs you'll find the Volonté Café, a beautifully designed space to enjoy nutrient-dense dishes from breakfast through to early dinner The well-balanced menu features smoothies, breakfast, balance bowls, wraps, sandwiches and more! Downstairs is the Volonte Energy Studio, run by master trainer Haylene. The signature class U360 is a full body session following a bespoke principle of; move, work, restore. The intimate setting means clients really do get the most out of each session, developing technique and form on strength exercises and increasing cardio capacity work rate.
This hidden gem on Walton Street is an independent, family-owned deli and kitchen with plenty of healthy options to choose from. Greenspears is passionate about using responsibly sourced seasonal British food inspiring locals to dine consciously in the beautiful cafe-come-deli! The creative menu is bursting with brunch classics, egg dishes, healthy bowls, vibrant light bites and sweet treats. Greeted by courteous staff, Greenspears has an organic charm that remains wholesome in a very shiny world of sicky pink cafes. The food matches the vibe…nutritious and delicious with something to tickle everyone's taste buds.
One of the first places that showed us that healthy eating was cool, Good life Eatery have stuck to its core values for over a decade. The Chelsea cafe on Sloane Avenue serves superfood salads, wraps, bowls, sweet dishes and a variety of avo toast, all with a health kick! The cold-pressed juices and smoothies are noteworthy, jam-packed with vitamins, enzymes and trace minerals they are smooth and zingy…ideal to cram in the fruit and veg in the most delicious way. Whether you choose to grab and go or dine in, The Good Life Eatery is always a stellar choice for a nutrient-dense lunch.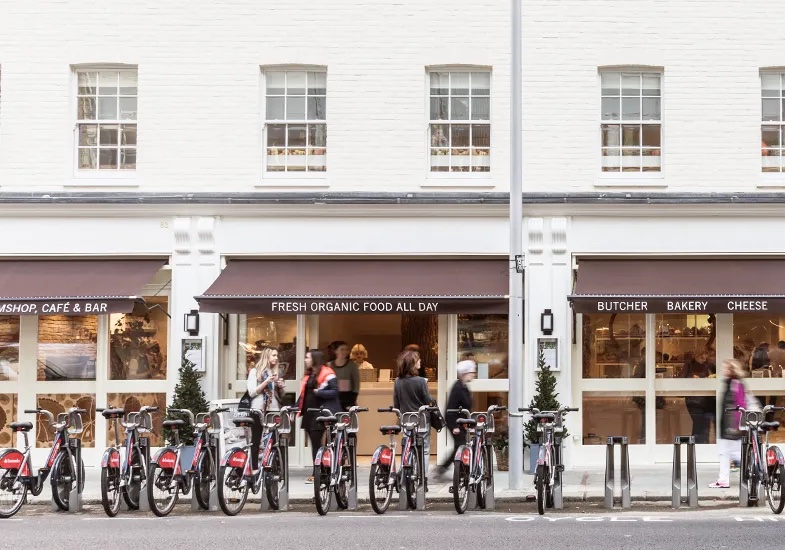 Daylesford has been a H&H fave for well over a decade. Whether it's for lunch, a browse at the farmhouse-style homeware, picking up some groceries or stock up on their health products, we can always find a reason to end up at Daylesford. Replenished every morning with fresh produce delivery from the organic Cotswolds farm, you can find artisan bread and pastries, seasonal fruit and vegetables, pasture-raised meat, fresh fish and cheeses, along with ready-to-cook meals and soups, pantry essentials and organic wines in the Farmshop. The grab-and-go selection includes salads, toasties and quiches, freshly made each morning by the chefs plus barista-crafted coffee and smoothies. Upstairs, the cafe serves from breakfast through to supper, to enjoy and eat in. Daylesford's whole ethos is built on sustainability long before it was trendy, so align with that, the menu follows the rhythm of the seasons with daily-changing specials based on what's just been picked from the market garden.
Putting a purely plant-based spin on traditional dishes, Wulf & Lamb's all-day restaurant on Pavilion Road is a great pit-stop to refuel with plant-powered goodness. The menu has been crafted to satisfy your craving for comfort food, demonstrating that vegan food doesn't have to be all restrictive or boring. Highlights from the menu include the hearty chilli non carne, made with spiced mushrooms, lentils and kidney beans and the "fish" burger, made using banana blossom, a not-so-common ingredient that mimics the meaty, tender texture of fish. Steering clear of processed meat substitutes, the menu plays with vegetables and pulses in new and exciting ways which will tickle your taste buds!
---
READ MORE: Hip & Healthy Guide To Cape Town