Spanning industries such as food, drink, beauty and supplements, CBD has landed in the market with an almighty bang, and with good reason, customers are seeing considerable positive effects from consuming CBD products. With so many amazing brands on the market all with unique and exciting products, we at Hip & Healthy have tried and tested all the latest and greatest CBD products out there to bring you our pick of the best for CBD beginners and beyond. So far-reaching is this category of products that we wanted to bring to the forefront the CBD heroes that we hail daily, from solutions to period pains to antidotes to anxiety, and everything in between. Chosen by our CBD-enthusiastic editors, from a variety of incredible brands, we are excited to announce our winners of the UK's only CBD Awards.
Best CBD Serum
Wild Science Lab Control Switch Serum
Given CBD's anti-inflammatory properties, there's no doubt it's not just great for your insides. It also provides many benefits for your skin and a gorgeous serum we really love is Wild Science Lab's Control Switch Serum. It really helped to reduce irritation and redness (particularly with the recent summer heat) and it's packed with youth-enhancing actives making it a great choice for those wanting to boost elasticity and fullness.
Best CBD Eye Cream
OTO Rejuvenating Eye Cream
This eye cream is best used as a nourishing overnight beauty treatment and will leave your eyes beautifully pampered come morning. Infused with nourishing ingredients like Vitamin E and Carrot Seed Oil, it's perfect for delicate skin such as under the eye and really helps to reduce dryness and liven up skin tone.
Best CBD Bath Product
Hoo Raa Let's Get Fizzical Bath Bomb
If you love bathing as your form of self-care (we definitely do!) then a CBD bath bomb should be in your de-stress toolkit after a busy day. Unwind and switch off with Hoo Raa's Let's Get Fizzical Bath Bomb designed to relieve restless muscles and leave you feeling rejuvenated. As we come into winter, this is an essential!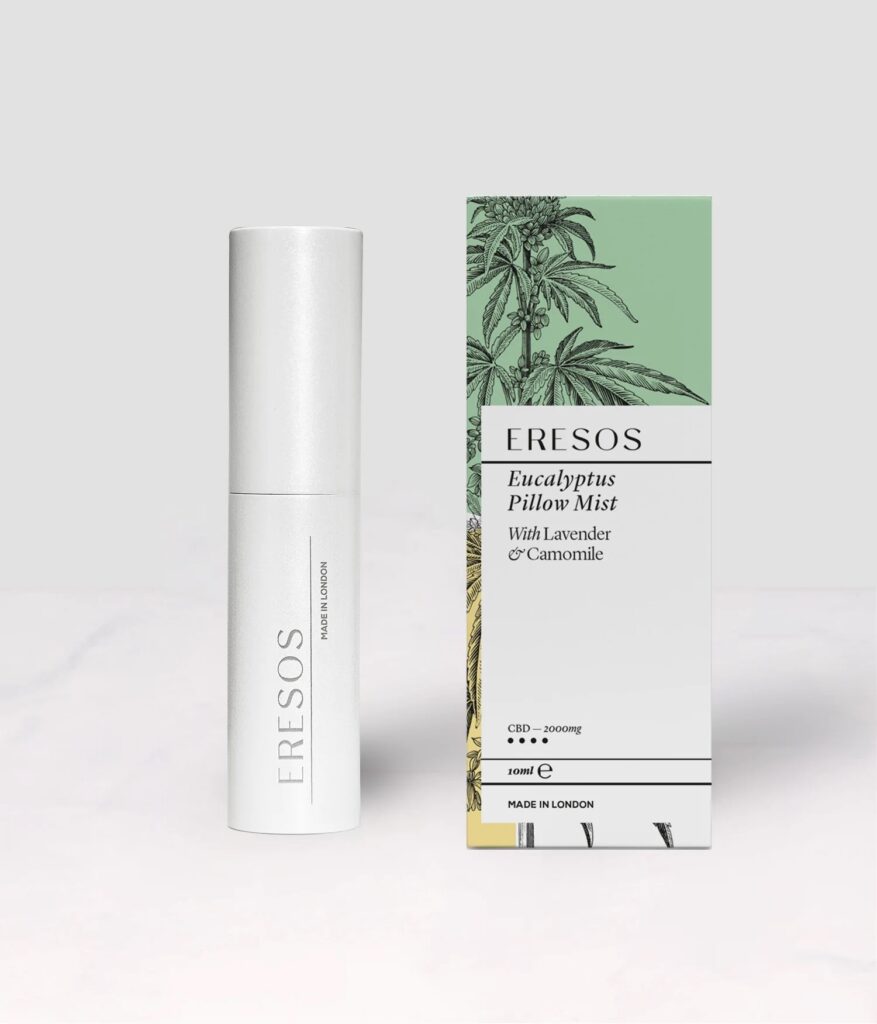 Best CBD Pillow Mist
Eresos Eucalyptus Sleep Mist
You should know by now that we're a bit obsessed with sleep mists and trust us, we've tried them all! And while there are many great options out there, why not get more bang for your buck with one that's infused with CBD? A sleep mist with CBD = a match made in heaven! Eresos is a new one we tried and it's topped this years selection for it's super sleek packaging and blend of sleepy botanicals to help you drift off.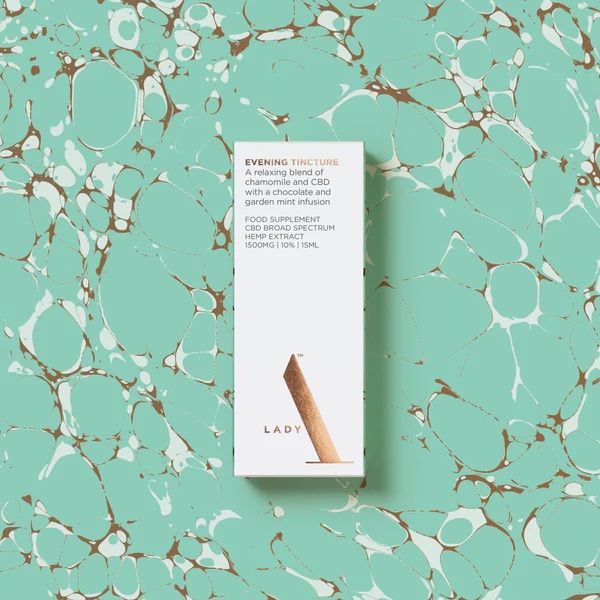 Best Brand For Anxiety
Lady A Evening Tincture
Organic, vegan and gluten-free, if you want a fantastic quality tincture with high potency to ease your worried mind, look no further than Lady A's Evening Tincture. We live in stressful times and the last couple of years have been difficult for evening the coolest of cucumbers. If you're looking for a natural remedy alongside the other tools in your mental health kit then we think this is the best tincture to have by your bedside.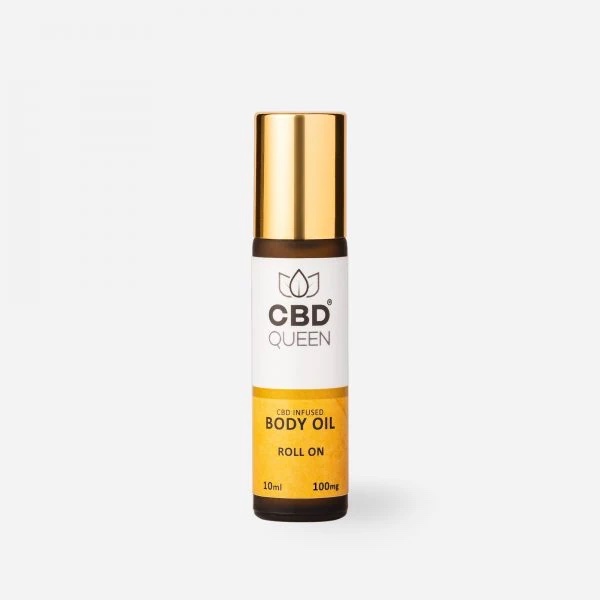 Best Brand For Periods
CBD Queen
We're always on the lookout for ways to empower women to have a great period and there are many incredible brands out there that want to ease an often uncomfortable time in the month. CBD Queen has many different CBD products, from oils to capsules, gummies and body balms. There's been anecdotal evidence for CBD easing PMS symptoms like cramps and we love that there is a mix of products to draw upon. We love their signature oral oils but also adore their body oil which you can lather on your tummy when mother nature calls.
Best Brand For Beauty
Vitality Infused Range
We've already discussed the huge benefits of CBD for the skin and the best overal brand we'd highly recommend is Vitality. You can get pretty much anything you want infused with their high-quality CBD… for the summer months, we've been loving their aftersun and exfoliator and come winter, we'll be switching to more hydrating products like their face mask and dry skin cream.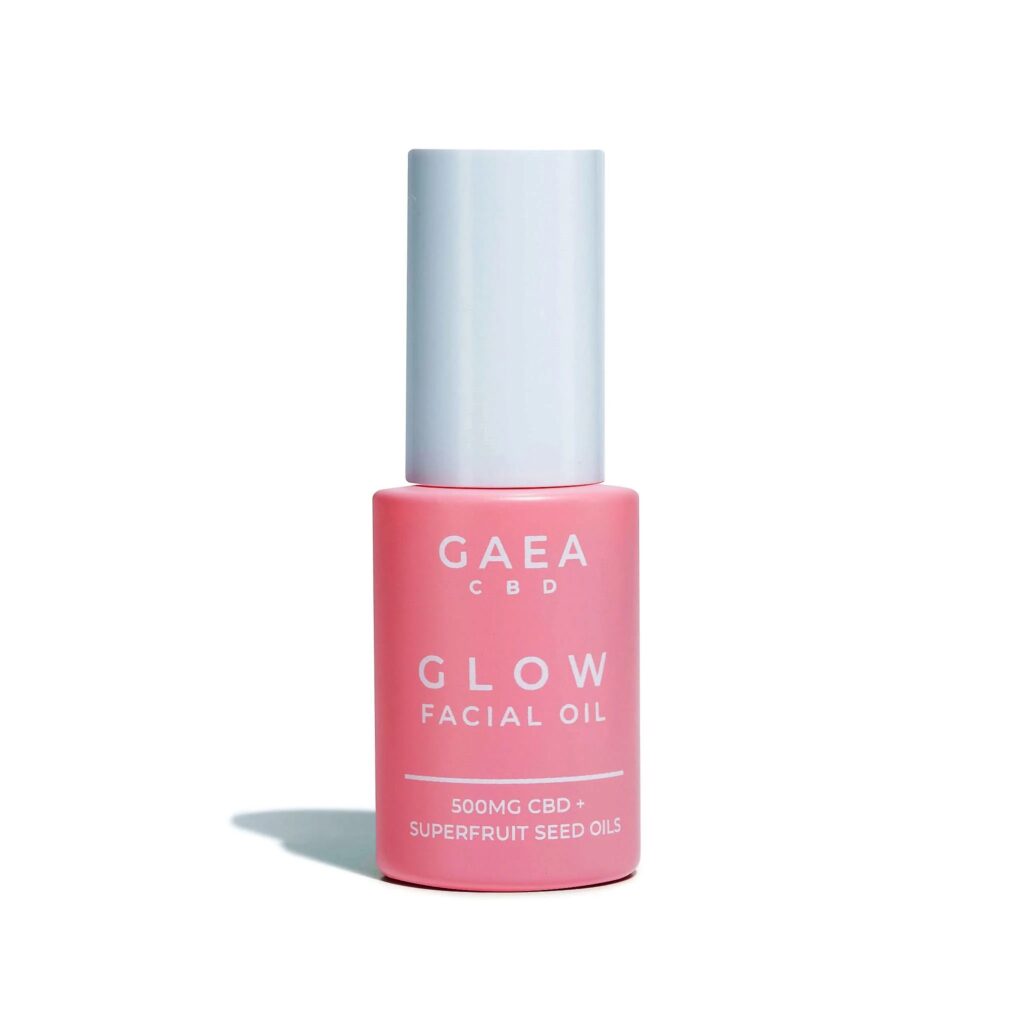 Best CBD Skin Oil
Gaea Glow Facial Oil by Gaea
Gaea nails it when it comes to bringing together the worlds of wellness and skincare. Using whole plant CBD as the main ingredient, Gaea creates products that revive and improve the appearance of skin and work on a cellular level. Every Gaea product has been lab-tested by a third party so you can rest assured that this is a brand that has done the work in bringing you something that is safe and works. Gaea Glow Facial Oil is a total dream – both deeply hydrating and nourishing, apply it to a freshly cleansed face. Their clean formulations are batch-crafted to allow for maximum quality. Using only 100% natural ingredients (99% organic) the Gaea Glow Facial Oil also includes cold-pressed argan oil, evening primrose, pomegranate, watermelon, rosehip and apricot to leave skin feeling, well, genuinely glowing!
Best CBD Food
Naturecan CBD Infused Nut Butter
If you've been reading Hip & Healthy for sometime then I am sure you are aware that you can drink CBD, but did you know that you can also eat it! Naturecan offers a variety of delicious nut butters, cookies and chocolate for those who want to incorporate CBD into their diet. Our favourite is the CBD Infused Nut Butter – such an easy and yummy way to get your anxiety-calming CBD dose in plus it's also a great way to get your protein in! We like to spread ours on toast first thing in the morning.
Best CBD Drops
Vitabiotics
From the UK's number 1 Vitamin company (and the only vitamin company to receive the Queen's Award for innovation twice), comes another great product – authentic pharma quality CBD drops you can totally trust. Coming in a range of doses – from 500mg to 1000mg – Vitabiotics Brains CBD provides 99% pure CBD. Plus they have somehow managed to make the drops not taste bitter without adding lots of flavouring – which is seriously no mean feat, so taking them is a delight!
Best CBD Brand for Sleep
Dreem Distillery
I love pretty much everything about this brand I am not sure where to start; firstly the CBD is organically grown; every product in the entire range is created to support a healthy and restful night's sleep; the packaging of the products is so beautiful that you'd be proud to have them in full view on your bathroom shelf and most of all, their products actually do what they say they will. If you have ever had trouble sleeping, or think you could benefit with a helping hand at bedtime this is it. The CBD Oil Night Drops have a natural peppermint flavour (perfect for bedtime – obviously) and promote a deep, natural sleep. Or why not try their Among The Stars Body Oil that contains rosehip, jojoba and calendula oils to protect and nourish the skin whilst also restoring balance to the senses before your head hits the pillow. But my favourite product has to be The Z's bath soak for the ultimate relaxing bath that smells totally delicious as the Epsom and Himalayan Bath Salts work together with calming essential oils to penetrate both body and mind!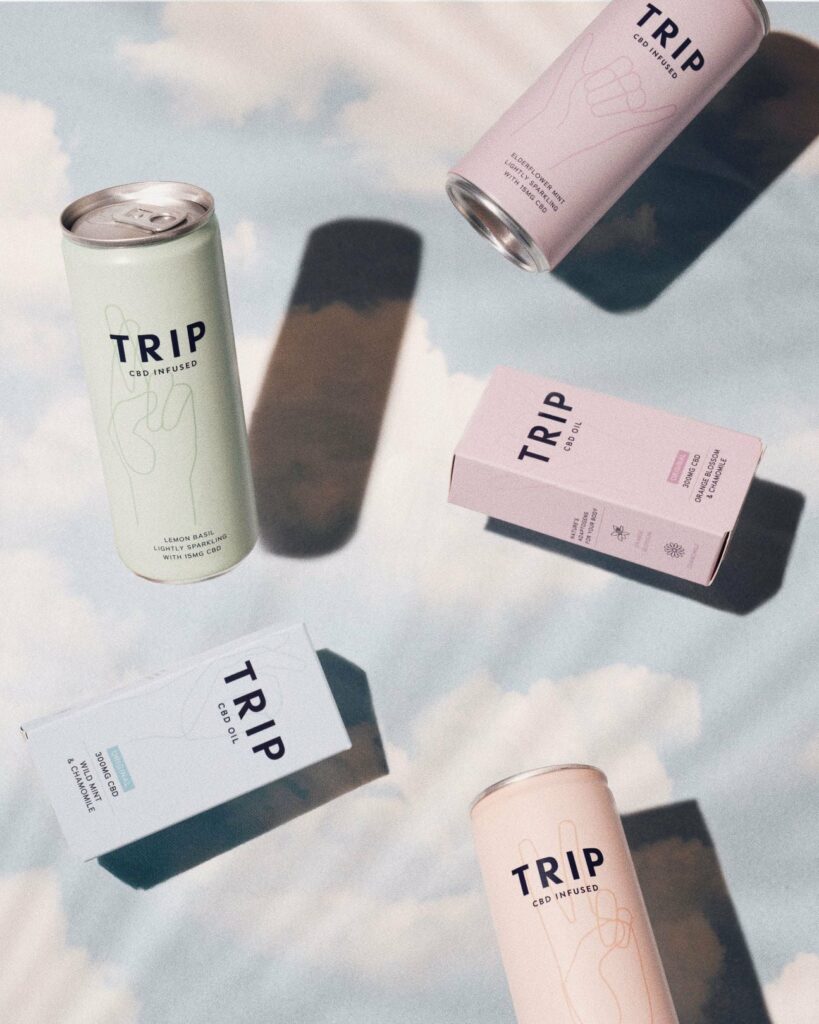 Best CBD Brand for Beginners
Trip
If you are new to CBD but keen to see if it is for you, starting with a brand like Trip is a brilliant way to begin your journey. They offer a "Discover CBD – My First Trip" starter pack that includes an array of their really tasty drinks (often found in cool establishments such as Soho House) and CBD oil as well. Their CBD Drinks are a great way to introduce other people to the joys of CBD too.
Best CBD for Menopause
Meno CBD
CBD can be particularly helpful in pre-, peri- and menopausal women. A stable Endocannabinoid ecosystem is really important for women and many women have found that a daily supplement of Phytocannabinoids, like CBD, can support our well-being and keep our bodies in balance. Meno CBD was born out of this reason – to help alleviate symptoms in all stages of the menopausal process. From capsules to oils, balms to lubes there really is something for every woman who needs a little helping hand in her hormonal journey. Meno CBD offers a comprehensive range for women to boost their hormonal health easily and with joy!
Best CBD Face Cream
Vitality Infused Dry Skin Cream
If you suffer with dry skin this is the face cream to try! The intense formula is rich in Argan Oil, Shea Butter, Ceramide Complex and of course, CBD. Replenishing the skin's natural barrier, this cream improves the texture of skin, leaving you with a hydrated glow. Suitable for sensitive skin, the gentle formula is fragrance and irritant-free. Giving your skin a supercharged dose of moisture, this will be your go-to whenever you're skin is feeling a little dry.
Best CBD Face Mask
Eresos Derma Hydrating Face Mask
Eresos' Derma Hydrating Face Mask will give you that facial finish from the comfort of your own home. Jam packed with a host of ingredients that get to work quickly including CBD, Aloe Vera, Chamomile, Vitamin C and Hyaluronic Acid, the formula is incredibly nourishing and feels delightful on the skin. Adding one or twice a week into your skincare routine will give your complexion a pick-me-up, resulting in dewy healthy looking skin.
Best CBD Drinks
OTO CBD Seltzer
OTO's CBD spiked seltzers are arguely the most delicious was to get your daily hit of CBD. In a variety of sophisticated blends, OTO pair their premium high grade CBD with a combination of functional botanicals including green tea and wild mint, blood orange and chilli and elderflower and juniper. Perfect as a non-alcholic alternative, OTO have mastered with ideal grown-up fizzy refreshment.
Best CBD Capsules
Lady A Daily Fix Capsules
Lady A's convenient capsules aren't only packed with broad spectrum CBD hemp extract but also contains reviving blend of matcha green tea and rosehip oil for the ultimate blend to sharpen your focus throughout the day. Absorbing into the body at a slower rate than tinctures, the capsules have a gradual effect that keeps going all day long. Designed to provide calm and clarity, these capsules really do live up to expectations. Helping you tackle your day-to-day life more efficiently, Lady A have nailed the perfect formula.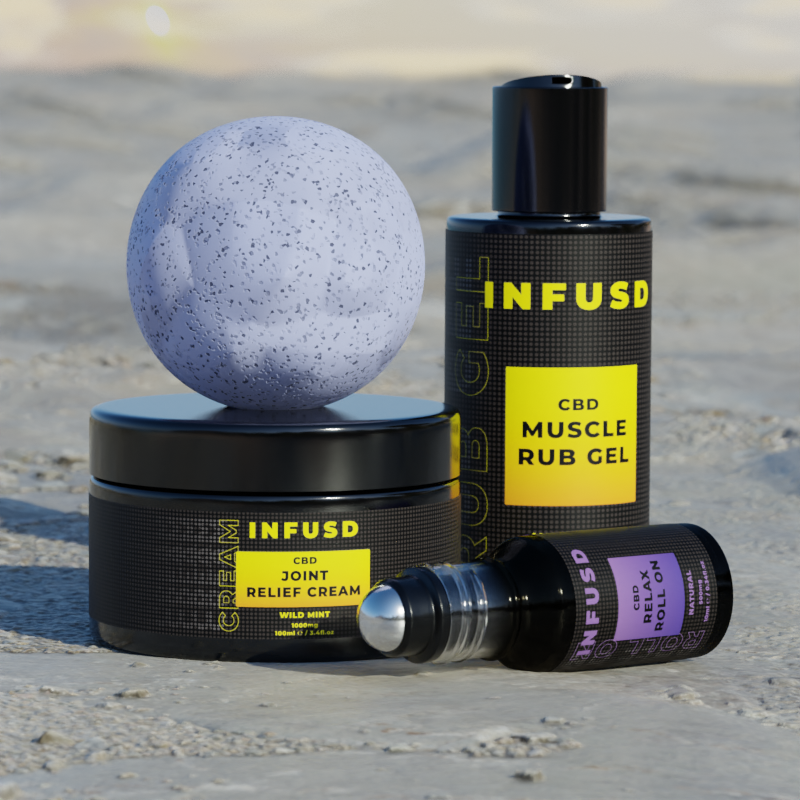 Best Brand For Recovery
INFUSD
INFUSD's have harnessed the power of CBD to target pain relieve and achey muscles. Their products are specially formulated with athletes in mind, helping to get back to full fitness quickly and effectively. Providing instant localised soothing effects on the muscles and joints, the INFUSD muscle rub gel and joint relief cream boht use the finest quality ethically sourced organic plant extracts, to give you the best natural pain relief and healing experience. Whether you're an athelte or just your average gym-goer, these hero products work wonders to keep your body in check.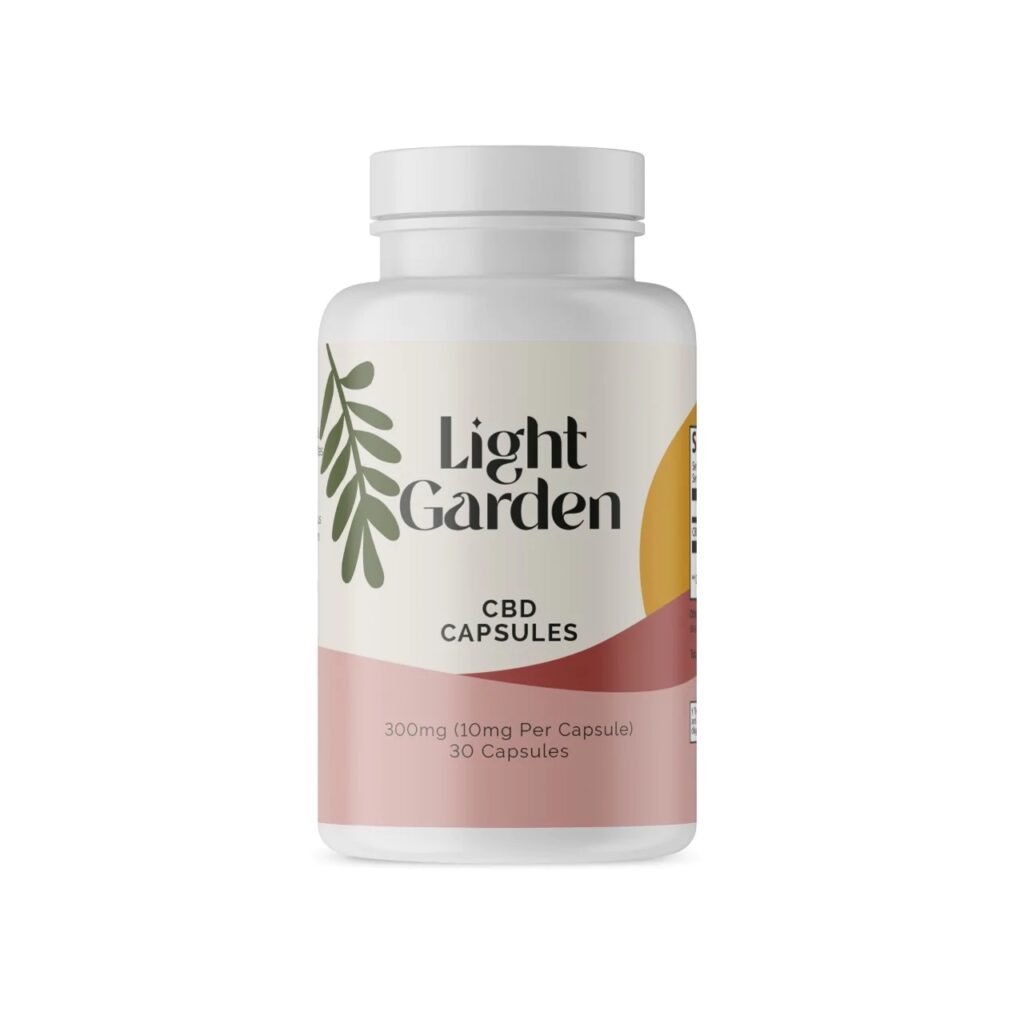 Best CBD Brand
Light Garden
Rooted in helping those who live with high-functioning anxiety to experience inner calm, more focus and deeper sleep, Light Garden is new CBD brand on our radar. From the drops to the capsules and our personal favourite, the edible gummies, Light Garden are covering all basis with their product range to make sure there is something for everyone whether you want to gulp, drop or chew!
Best CBD Lipbalm 
INFUSD Lipbalm
The great thing about the INFUSD Lipbalm range is that they can be used anytime day or night. Their fabulous blend of Shea Butter and Essential Oils will leave your lips feeling silky smooth and fill in cracks that can appear at any time. Their CBD Lip Balm is crafted to help nourish your lips and reduce anxiety and stress. It's versatile, convenient and perfect for a little pick-me-up when you're on the go. The only CBD Lip Balm you'll ever need.
Best CBD Gummies
CBII Gummies
A convenient, deliciously fruit-flavoured way to get your daily dose of feel-good CBD. With 25 mg of the highest quality CBD, CBII's gummies are a convenient way to combat life's daily stresses, boost focus and calm the mind and body. As a terrible sleeper II found these the best supplement to help me drift off at night and get my best sleep. Now a staple on my night table.