GOOD THINGS COME IN SMALL PACKAGES
Here at Hip & Healthy we like to sweat… a lot. We are constantly trying out new workouts, gym-ing it in our lunch breaks and experiencing the latest and greatest fitness crazes London has to offer. Which is why we were uber excited to hear about Sure Compressed, a deodorant which contains ingenious technology that means that although the cans are smaller, they still contain the exact same amount of deodorant as the regular cans, ensuring they last just as long and work just as well.
The science bit is that the smaller can contains less gas and around a quarter less aluminium – making it much more eco friendly! So good news for the planet, and for us!
Instead of doing a simple review, Sure challenged Hip & Healthy Editor, Sadie, to see if she could last as long as a week running 30 minutes every day. They also asked her to use the new Sure Compressed deodorant under one arm and the regular can under the other whilst doing it… Why? They wanted to prove that there was just as much deodorant in the smaller can!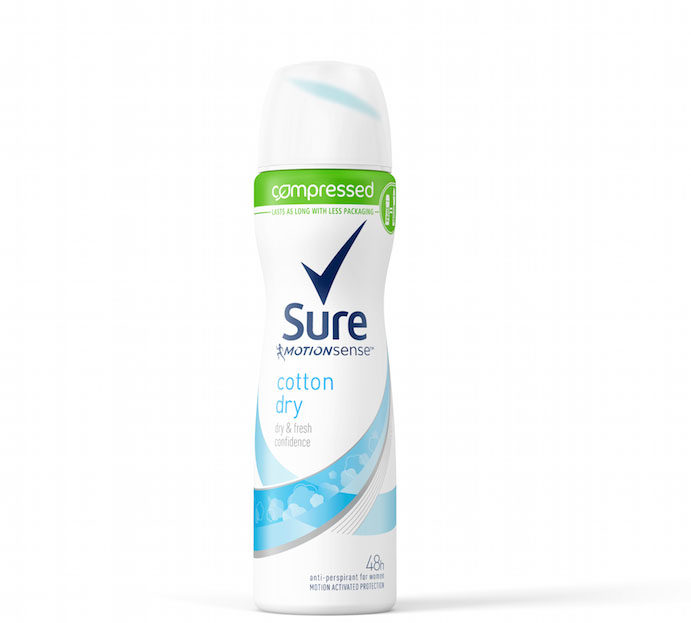 SADIE's VERDICT
Looking at the can of Sure Compressed, I was certain that it wouldn't last as long as the regular size. I was also certain that seven days
of morning runs was not a possibility (I have a business, young son and busy husband to attend to that makes time for myself a struggle!) – but it turns out I was wrong on both counts!
The running was certainly a struggle and I must admit that on one morning (ok TWO – but that's it!) I didn't manage the full 30 minutes. But to make up for it I did an hour each day at the weekend. And pleased to report that Sure Compressed not only made me feel protected and comfortable, but it felt much softer and gentler on my skin.
I'm also amazed that it lasted just as long as the regular can! Whilst I mostly used Sure Compressed at home every day, it's a no brainer to pop the smaller can in my gym bag and handbag as it takes up much less space!
Have you tried the Sure Compressed cans at home and was pleasantly surprised? Let me know in the comments below.
All Sure Compressed deodorant variants are available at all leading retailers nationwide, RRP £3.99*.
*Price is at the sole discretion of the retailer
---
London's Top Personal Trainers | Top Tips To Improve Running 
---