Struggling to just get your kid to eat one measly pea, let alone ACTUALLY enjoy eating veg is a challenge many parents will face throughout the developing years. If your little one is a beige food fiend then you need some hidden veg recipes in your arsenal… food writer, author and mum to Rudy, Natasha Corrett knows a thing or two about turning fussy eaters into proper foodies. Inspired by her own journey with weaning and cooking for her son, her new book, Family Kitchen, aims to share some of hers and Rudy's most-loved healthy recipes with other parents. Below we're sharing 3 healthy recipes from her new book that feature hidden veg that will not only please your child but also you!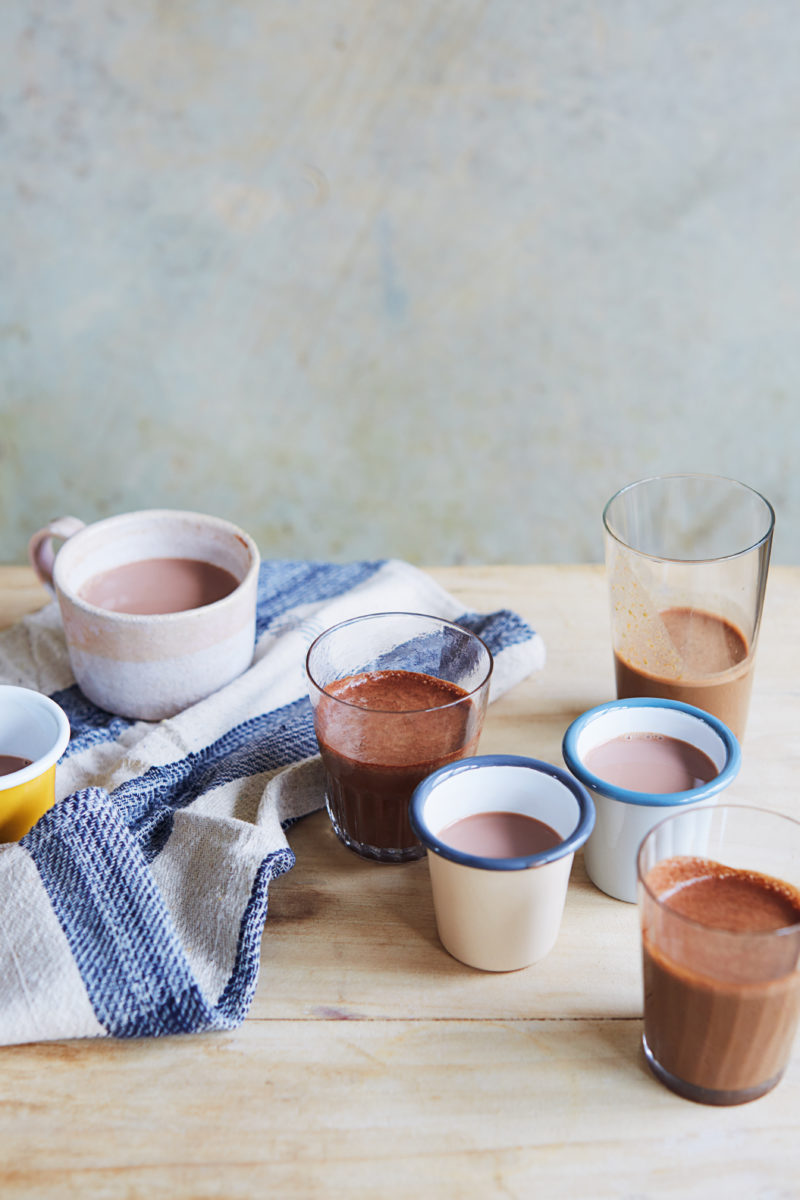 CHOC CHOC SPINACH SMOOTHIE
MAKES 1 LARGE OR 2 SMALL SMOOTHIES | PREP 5 MINUTES
Rudy calls chocolate 'choc choc' and he is obsessed like me! So I like to try and find ways that indulge him while also getting in some hidden veg. Also great for me when I get a chocolate craving.
Ingredients
80g cucumber
30g spinach
1⁄2 pear, cored
30g dates
3 tbsp raw cacao powder 500ml (2 cups) milk
1⁄2 banana
ADD-ONS
1 tbsp cashew or almond butter
swap the banana for 1⁄2 avocado for extra greens
Method
1. Put all the ingredients into a blender and blend until smooth.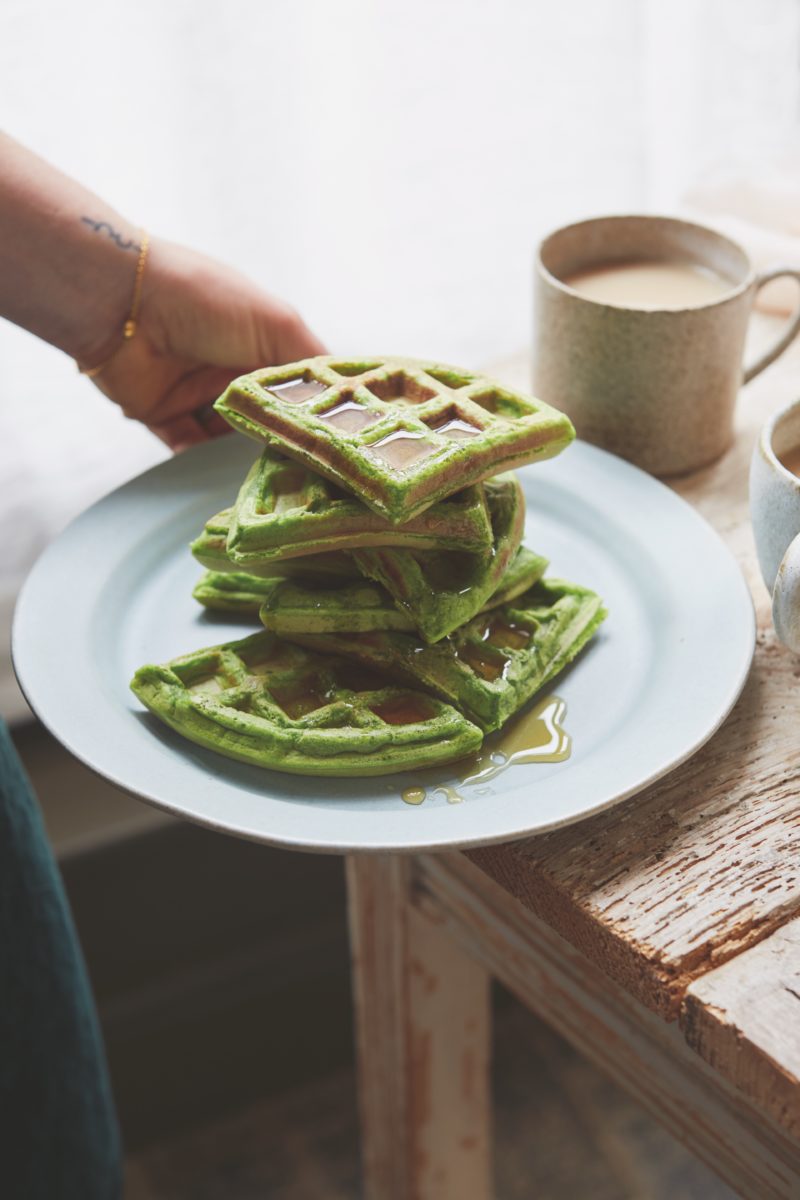 GREEN WAFFLES
MAKES 2 WAFFLES | PREP 10 MINUTES | COOK 5 MINUTES
I've always been a fan of waffles but never had my own waffle iron until now. What was I waiting so long for, I don't know! This is a game-changer in the morning to make a really quick brekky. I make the batter the night before and just pour into the waffle iron in the morning.
35g butter
2 handfuls of spinach
150ml (generous 1⁄2 cup) milk 1 egg
160g gluten-free self-raising flour (add 20g more for self-raising wheat flour)
1 tsp baking powder 1⁄4 tsp salt
2 tbsp maple syrup, plus more to serve
ADD-ONS
nut butter, desiccated coconut and sliced banana
fried egg and baked beans
Method
1. Melt the butter in a saucepan and add the spinach, cooking until wilted. Put into a blender with the milk, egg, flour, baking powder, salt and maple syrup and blend until it has a velvety texture.
2. Heat the waffle iron until it is at the optimum temperature.
3. Pour in the mixture so it covers the whole surface. Close the lid for 4–5 minutes or until the top goes golden.
4. Serve with maple syrup or nut butter, desiccated coconut and sliced bananas or for a savoury fix, eat with a fried egg and baked beans.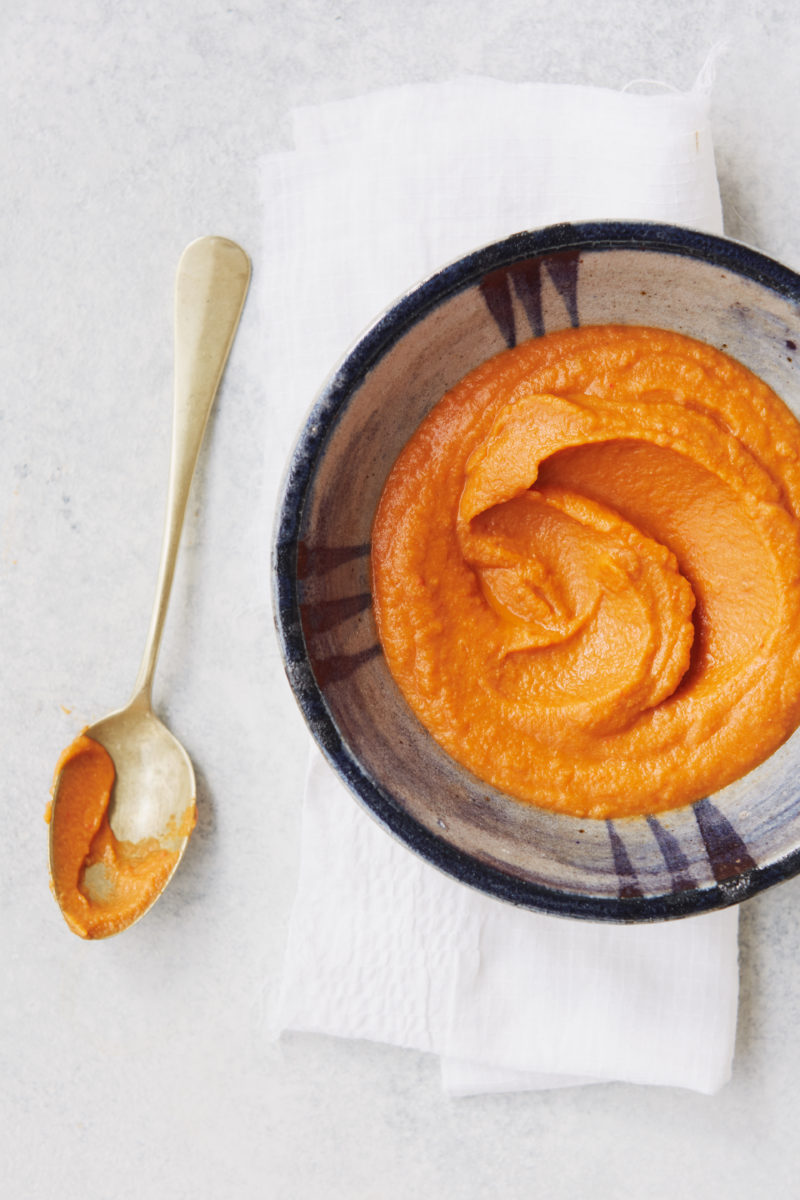 HIDDEN VEG AND LENTIL TOMATO SAUCE
SERVES 4–5 | PREP 10 MINUTES | COOK 1 HOUR
This is my absolute go-to sauce for Rudy, packed with veg and lentils. I use it as a bolognese, lasagne and everything in between. We ALL love this as a family and often bring it out when friends come to visit on the weekend.
Ingredients
1 tbsp olive oil
1 garlic clove, diced
1⁄2 red onion, diced
1 tsp ground coriander
75g butternut squash, peeled and diced into 1⁄2cm cubes
30g carrots, diced into 1⁄2cm cubes
50g red pepper, diced into 1⁄2cm cubes
40g courgette, peeled and diced into 1⁄2cm cubes
50g aubergine, peeled and diced into 1⁄2cm cubes
30g mushrooms, diced into 1⁄2cm cubes
1⁄2 x 400g tin chopped tomatoes 200ml (3⁄4 cup) water
50g red split lentils
2 tsp tomato purée
2 tsp tamari
2 tsp vegetable stock powder 1 bay leaf
Method
1. Add the olive oil to a non-stick pan over medium heat and sauté the garlic and onion for 1–2 minutes, then add the ground coriander.
2. Add all the chopped vegetables with the tinned tomatoes, water and lentils. Reduce the heat to a low temperature and stir.
3. Add the tomato purée, tamari, vegetable stock powder and bay leaf and stir. Leave on a low heat and stir intermittently so the bottom doesn't burn. Cook for 40–50 minutes, depending on when the lentils are soft.
4. Blend until you have a very smooth, velvety 'tomato' sauce. Freeze or refrigerate.