Descending to the mountains during the winter season has been a pastime of mine since I was just three years old. The breathtaking landscape, winter sports and indulgent cuisine have me hooked to the point where I pretty much haven't missed a season, only those few tears (aka COVID times) we weren't allowed to travel. That being said, the mountains in the summer months were completely unexplored territory to me, like many, I usually opt for sea, sand and guaranteed sunshine. When the idea presented itself to visit Austria, a surprising activity-dense destination, I was totally up for it!
Just an hour and a half transfer from Innsbruck airport at the end of the Ötztal valley, Soldën makes the ideal destination for a long weekend of outdoorsy action. From the blanket of snow the valley is covered with during the winter to a wide open scape of greenery that adorns the mountains during the summer, it's quite overwhelming to see the transitions of the seasons in full swing, nature truly is remarkable. Weather is always an important factor when planning a trip during the summer, luckily this specific region of the Ötztal valley has its very own micro-climate, meaning blue skies and sunshine are frequent from June right through to September with the odd shower which tends to clear up pretty quickly with the changing nature of the mountains.
WHERE TO STAY
The base during my visit was none other than Das Central, the 5-star hotel situated in the valley of Soldën. Boasting spectacular bedrooms, gourmet cuisine and wellness in all forms under one roof, Das Central is the epitome of alpine luxury. The hotel sells itself through the abundance of outdoorsy activities that Soldën has to offer, from hiking to mountain biking, go-carting and of course in the winter, skiing and snowing. With nature's playground at your disposal, staying active has never been so scenic!
Das Central lends itself well to both summer and winter, with the interiors adapting well to the seasons changing. The hotel has a certain aura about it, everyone from the staff to the guests is on a laid-back tip at a slower pace of life, with a healthy glow in their skin…it must be all that fresh alpine air which is quite frankly better than any facial you'll have!
Giving guests a fine dining experience Das Central's restaurant is inspired by authentic Austrian cuisine with a sprinkling of top-notch gastronomist skill. Is fair to say the Austrians know how to make a good salad as the daily rotating salad bar which you can start each meal with was one of my favourite parts of each dinner, the coronation pineapple salad being my highlight. The remaining four courses are to be ordered from the menu, which changes on a daily basis, with a meat and vegetarian option. My most noteworthy dish was a perfectly grilled tuna steak served with avocado mousse and pan-fried polenta.
Breakfast is a relaxed affair whereby guests can graze at the buffet which has everything from fresh and dried fruit, Bircher muesli, an array of cereals and organic granola, yoghurt of every kind, a selection of bread, dried hams as well as sliced fish and a chef on hand to make eggs any way you like. I was also especially impressed with the juicer where you can create your very own juice every morning, my go-to way carrot, ginger and orange for a zingy kickstart! Whilst fuelling for the day ahead, you can read the hotel's very own newsletter, filling you in on what's going on in Solden and giving you the lowdown of the most informed weather forecast.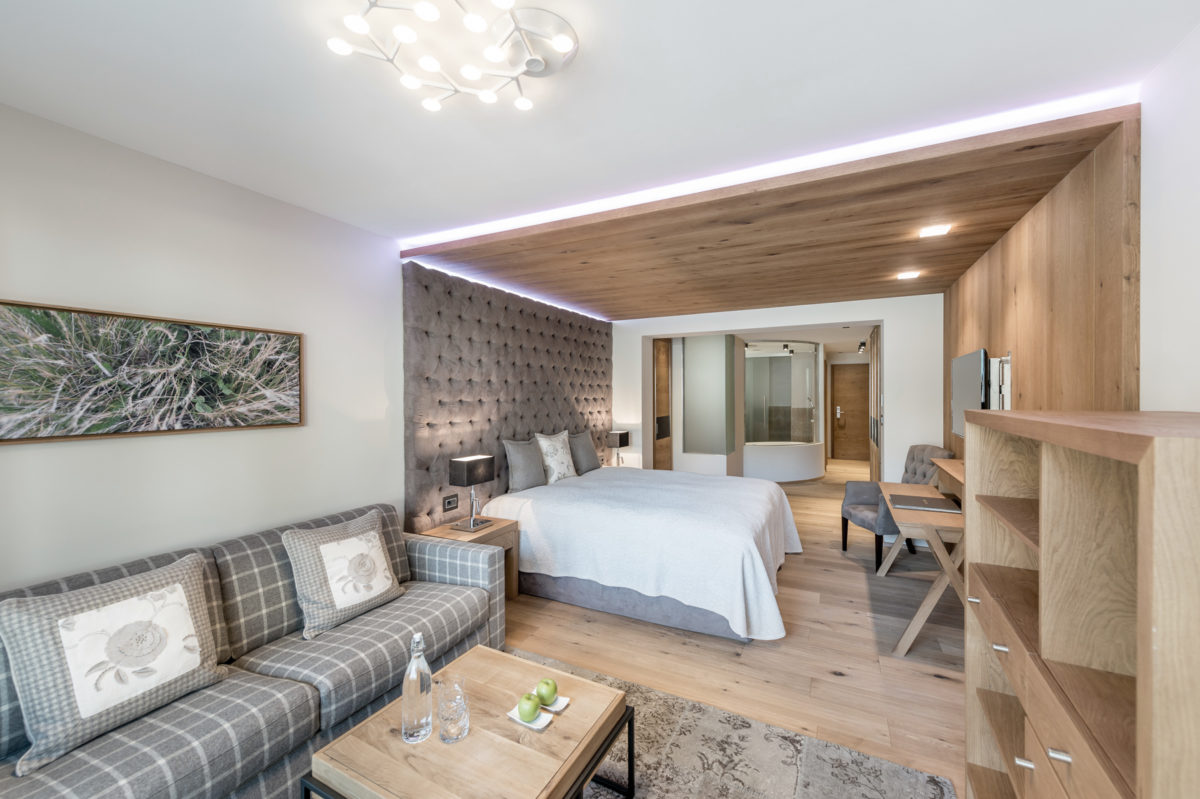 Das Central's three-storey spa is what tips the balance of the hotel's wellness rating. I've never seen quite so many hidden corners with yet another well-being gem to soak up the benefits from. Housing a Himalayan salt steam room with botanical infusions, bio-sauna, infrared sauna, Swiss pine sauna, Finnish sauna, ice bath, hydro pool, ice grotto, tepidarium and hot stone beds, you can lose hours and hours exploring this wellbeing haven.
After a full on day of activities, it's worth booking a treatment at the hotel spa, offering everything you'd expect from a luxury hotel. The obvious choice to go for post-hike is the full body massage which won't disappoint! The hotel gym is above average with everything you could need but to be perfectly honest, with the surroundings that Das Central is blessed to have on its doorstep, we'd opt for a mountain hike over a gym session every time.
WHAT TO DO
The sheer volume of activities on offer in the Soldën and the surrounding Ötztal valley will have your schedule jam-packed from the moment you arrive.
Hiking is one of Soldën's great wonders with endless routes to venture. The wild lush greenery is an awe-inspiring sensory overload for both the mind and soul. There's something so magical about being surrounded by unspoilt nature with nothing man-made in sight with the faded sound of woodland animals scurrying alongside the gentle chime of cow's bells as they graze on the vibrant grass and the distinctive soothing scent of the rare Austrian stone pine trees which have healing properties. With the help of the gondolas (which may I add are the slickest I've seen) to traverse you up or down the mountains, you can choose to start hikes at the mid-point for a downhill descent or start from the very bottom for a gradient hike, both options face there own set of challenges! There are also flatter terrain walking routes too, proving Soldën is suitable for all abilities. If you're up for a real adventure you can hike all the way to Italy in approximately 6 hours all the way from the valley of Soldën!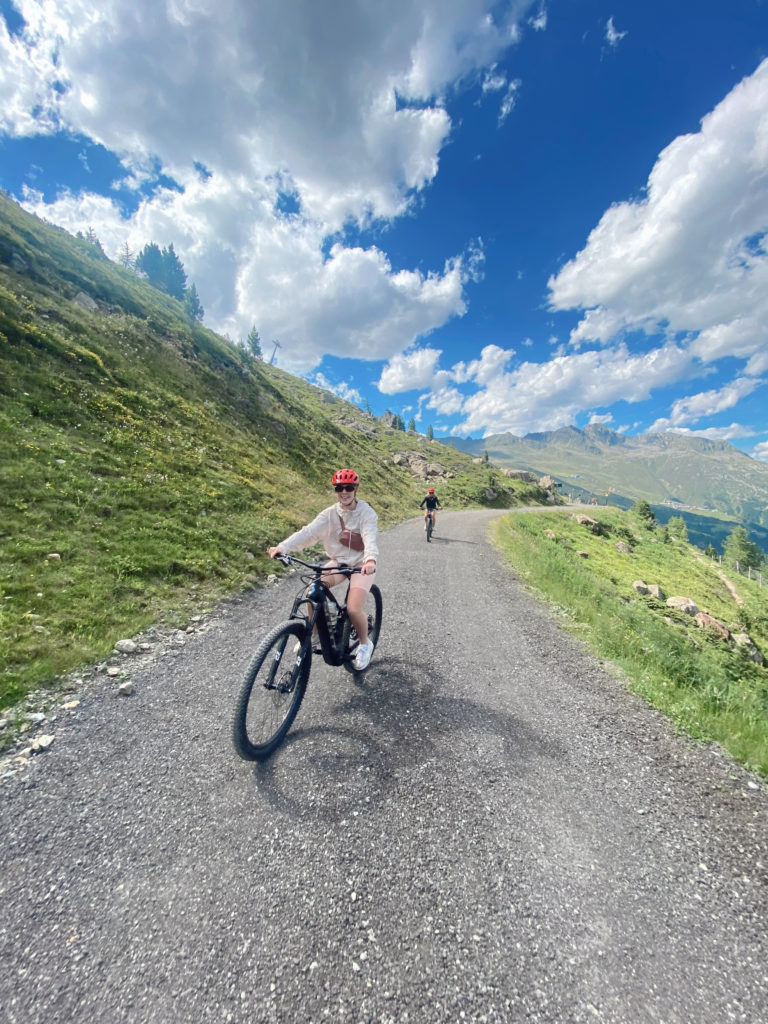 E-biking is becoming a popular mode of transport in the mountains, in my option is the best way to travel up! Your Guide run by local, Emanuel Schöpf is your man to take you on an epic day out E-biking around the mountains. There's more to it than just 'riding a bike' so having a guide is essential. With the help of 'Turbo' mode, I was cycling up the steepest of terrains with ease, there is still an element of fitness to gain from it too as you will be generating a small percentage of the power. Whizzing back down the hill is where the real fun happens, engines are off and gravity is left to do the work. It's an exhilarating thrill, building up to 40km/ph heading straight down a mountain, you will need to channel your inner child and become fearless as the speed builds momentum.
Renowned for its Bike Republic trails, Soldën is popular amongst mountain bikers, you'll see lots of outdoorsy dudes with long hair piling into the lifts with all sorts of armour on. This adrenaline-charged sport is not for the faint-hearted, involving treacherous rocky downhill routes that gain you a stamp in your Bike Republic passport for each one you complete.
Just 45 minutes outside Soldën, you'll find Area47, the ultimate summer watersports destination utilising the mountain's natural beauty. From white water rafting to canyoning excursions, flying fox, bungee jumping, wakeboarding, zip lining, bouldering and a range of one-of-a-kind water slides, Area47 is built around the river that runs directly from the glacier and freshwater lakes in the region of the Austrian Tyrol's. Set up like the summer camp of dreams, I was completely blown away by Area47 and the number of experiences to immerse myself in all while surrounded by the best views that the mountains have to offer.
Home to the famous mountain chase scene in 'Spectre' from the James Bond franchise, Soldën's Gaislachkogl mountain, up at 3048m, has been transformed into 007 Elements, a cinematic installation inside the summit. Unlike any exhibition you'll have been to before, this high-altitude experience takes you on a trip down the cult global hit film series with a focus on the particular scenes that took place at the very location of the installation. Bond fan or not, you'll love this stellar display up above the clouds.
WHERE TO EAT
IceQ, neighbouring 007 Elements, is one of the most surreal dining experiences I've ever encountered. Positioned at the peak of the mountain encompassed by gleaming glass which gives you a crystal clear overview of the surrounding 250 mountains in the Ötztal valley, it's hard to rival such incredible views. To coincide with the spectacular views, top-tier food is served at IceQ inside the exclusive gourmet restaurant with up to 5 courses if you want to lap up this once-in-a-lifetime fine dining experience.
Serving traditional Austrian dishes using only locally sourced ingredients, most of which are acquired from the restaurant's own farm, Gampe Thaya is a must-visit during your stay. Perched on the side of the mountain up at 2000m, this rustic restaurant is one of the oldest chalets in the valley, oozing with charm and heritage. An early morning hike to Gampe Thaya is well worth the alpine breakfast which harnesses the very best regional produce.
Falcon, found at the Gaislachkogl mid-station, brings contemporary dining to an altitude of 2,174 meters, with panoramic views overlooking the Ötztal valley. The à la carte menu is influenced by the modern modalities of global gastronomy with nods back to Austrian heritage. In a prime spot that's easily accessible to bikers and hikers, we couldn't think of a more picturesque lunch setting, especially if the sun is shining on the outdoor terrace.
Opening my mind to a whole new way of travelling, full of wholesome outdoor activities and immersing in what the mountains have to offer, I'm completely sold by the summertime alpine lifestyle. A million miles away from hectic city life, the combination of tranquillity in the scenery and leisure activities allows you to fully recharge, letting nature renew your mind, body and soul. I love how unpretentious the mountains are in the best way possible, don't bother packing any make-up or any glam outfits (I made the error of lugging make-up, hair straightens and high heels which didn't make it out of my case), this is a time for you to hit the reset button, switch off from social media and let the majestic mountains work there healing powers on you.
On my three-day trip, I didn't make a dent in the amount the Ötztal valley has to offer, affirming to me that Soldën is the idyllic vacay for adrenaline junkies, nature lovers and adventure seekers alike. I had preconceived notions that I wasn't the 'outdoorsy type' but my stay at Das Central convinced me that you can still be a keen adventurer and enjoy 5-star luxury travel in tandem.