It's cold, it's grey, it's dark. This can only mean one thing: it's January (today also happens to be Blue Monday… apparently the most depressing day of the year!). It's the month when our bodies attempt to recover after the holidays, resolutions are broken and travel plans seem like a distant dream…That being said, all work and no play makes Jack a dull boy, so if the start of the new year has got you feeling down, it's time to turn things around. And there's nothing quite like treating yourself to a few small luxuries to release those feel-good endorphins, and these mood-boosting beauty buys are just the ticket. January blues? Not on our watch.
The Shower Gel
Lush Happy Hippy Shower Gel, £12
What do you get when you add a citrusy squeeze of fresh grapefruit juice with uplifting, sparkling bergamot? No, not a refreshing fruit salad, but pure happiness in a bottle. Well, a shower gel, to be exact. Add some power to your shower with this zingy offering from Lush, which has the added benefits of meditative olibanum oil to ground your emotions and calm the nerves.
The Perfume
Neom Scent To Make You Happy Wellbeing Fragrance, £40
Spray your way to a happier day with this powerful perfume pick. Doing exactly as its name suggests, it blends heady, warming jasmine oil with fruity, balancing bergamot and sweet, emotion-lifting orange peel to warm the heart and lift the mind. And even better, there are no nasties or synthetic chemicals in sight – just 100% natural essential oils.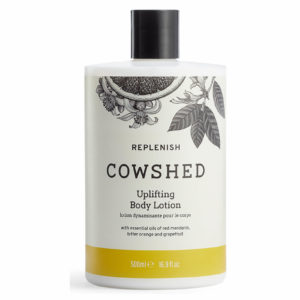 The Body Lotion
Cowshed Uplifting Body Lotion, £32
The next best thing to wrapping yourself up in a cosy, comforting blanket? Cowshed's Uplifting Body Lotion. Not only does it boast a mood-boosting scent and a body-loving formula, but it also deeply hydrates sans stickiness. Packed full of red mandarin, bitter orange and grapefruit essential oils, known to sharpen the senses and energise the spirit, it also harnesses the nourishing properties of Shea and cocoa butter to leave you smooth as silk from top to toe.
On-The-Go Fix
Bamford 'Energy' Chakrasana Essential Oil Blend, £25
Turn that frown upside down with this handy reviving roller-oil. Developed with Bamford's yoga masters and all-organic, natural ingredients, it combines energising bergamot with restoring cedar and immune-boosting eucalyptus to revive the senses and lift the spirit. You know what to find in our handbags, desk drawers and bedside tables.
The Supplement
Just one small spoon of this super supplement every day is bound to keep those blues at bay. Alchemised with a blend of uplifting super-herbs, mushrooms and mind-boosting berries, it's been proven to promote a positive state of mind, enhance emotional well-being and calm frayed nerves. Simply mix it into your morning coffee or smoothie and let it work its mood-enhancing magic.
The Bath Salts
Verdant Alchemy Ascent Pink Himalayan Bath Salts, £12
Nothing beats sinking into the tub when you're not feeling your freshest, especially when you add a mood-boosting bath-time treat. Bursting with precious minerals (a whopping 84 to be exact), soul-soothing rose geranium, warming black pepper and detoxifying white kaolin clay, these super salts centre and soothe the body while uplifting the mind and mood. Simply sink in, soak, and smile.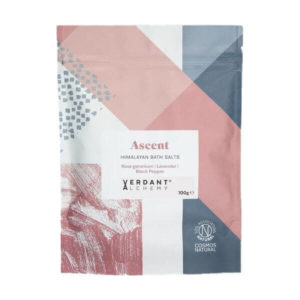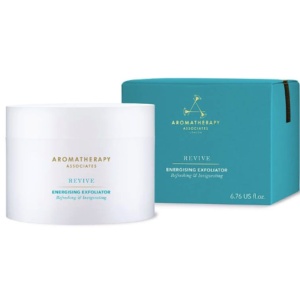 The Scrub
Aromatherapy Associates Revive Energising Exfoliator, £38
Scrub away your inner grump with Aromatherapy Associate's mood-boosting body buffer. Loading skin with a citrusy splash of grapefruit oils alongside rosemary, green coffee oil and juniper berry – it not only rids you of dry and dead skin, but also of a bad mood. Win-win.
The Bath Oil
Elemis 'Life Elixirs' Clarity Bath & Shower Oil,£28
Wash away the day whilst giving your body an uplifting boost with this indulgent bath and shower oil from Elemis. Infused with eight pure essential oils proven to leave you feeling exhilarated and stimulated – including cardamom, bitter orange and ginger – it also contains nourishing amaranth and bacuri oils to leave skin silky soft and smooth. Oh, and did we mention 73% of users felt uplifted after using it? Sold.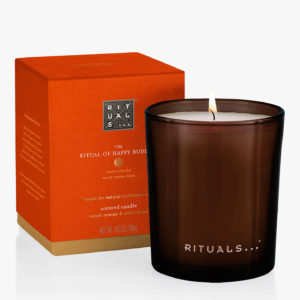 The Home Scent
Rituals Happy Buddha Candle, £19.90
Inspired by the Laughing Buddha – a famous monk in Ancient China who spread happiness wherever he went thanks to his legendary smile – this candle will infuse your home with, you guessed it, pure happiness. With sweet, zesty orange and the mood-enhancing power of cedarwood, its warming scent will rid you of any frosty feelings in a flash. One light of the wick and you'll soon be giving the Laughing Buddha a run for his money.
words by Frankie Rozwadowska