The gut, though seemingly not the sexiest part of the human anatomy to talk about, is vital to our overall wellbeing. Hip & Healthy contributor, Eva Ramirez, shares her experience of her time with Renew Life at their gut health retreat in the beautiful Ibiza!
The importance of looking after your digestive system is becoming an increasingly popular focus in the wellness industry and with a growing market of probiotic and prebiotic foods and drinks, cleanse focused retreats and digestive supplements, there are plenty of ways for us to keep our microbiome in tip-top shape.That being said, it can be difficult to navigate which tools are the right ones for us. I've often found myself standing in the supplements aisle of health food stores totally perplexed at which probiotics to buy. The ones in the fridge? Tablets? Sachets? So when I heard that Renew Life was hosting a press trip focused on good gut health, I jumped at the chance. As a leading digestive care and cleansing company which has been innovating in the industry for over 20 years, I figured they would have a lot to teach me.
Factors such as stress, pollution, antibiotics and poor-diet can have a huge impact on our gut health, creating an imbalance in the good bacteria which then has a knock-on effect on the digestive system and our overall wellbeing. It's a complex internal ecosystem, but there's more and more research being done every day to discover new things about the seemingly forgotten organ.
We hear phrases like 'go with your gut' and 'gut feeling' all the time, so it's no wonder that this part of our body influences us beyond the physical. 80% to 90% of serotonin is produced in the gut and aside from the more well-known impacts on our immunity and digestion, on a mental level, anxiety, depression and even sex-drive are also linked to the microbiota.
The retreat was held at Ca Na Xica, a beautiful hotel in the rural Ibizan countryside. Nestled amongst 1000-year-old olive groves, orchards, fig trees and prickly pear cacti, the rural setting and (much appreciated) October sun was a welcome change from grey London.
The suites at Ca Na Xica are dotted around the hotel grounds, awash with white and terracotta coloured walls and each with their own private terraces overlooking the olive groves. The bungalow-like rooms are minimally but thoughtfully designed. Fitted with four-poster beds and glass-walled bathrooms that look out onto small, private, plant-filled courtyards, there's a sense of understated luxury which makes you feel right at home. I was relaxed and ready for the next four days of unwinding and learning.
Our first evening consisted of a supper club hosted by Los Fermentistas, a family-run artisanal food and drinks business based on the island. We enjoyed a tasting menu of locally sourced produce which showed off the many ways to eat and drink for a healthy gut. Dishes like pickled daikon, jun-poached celeriac and kombucha cocktails proved that functional foods can look and taste gourmet too.
The next morning we woke with the rising sun for a healthy gut yoga class with Jacqueline Purnell of Yogashala Ibiza. She led us through binds, flows and breathing techniques specially tailored for promoting digestion and a healthy gut. The afternoon consisted of a rejuvenating Balinese massage and some downtime at the Ca Na Xica spa, lounging by the huge saltwater pool and enjoying the hammam, sauna, and outdoor jacuzzi. We were paid a visit by our previous night's hosts, Los Fermentistas, for a sauerkraut-making workshop and talk about nourishing the gut flora through food. Fermentation is one of the oldest techniques of preserving food in the world and by eating live foods you can nurture the living microbes in the body. What's more, it's a tasty way to do it!
There are lots of foods and drinks you can enjoy which help your microbiome flourish. Kimchi, sauerkraut, unpasteurised miso, yoghurt, kombucha and kefir all contain ample amounts of live bacteria that will aid in populating your gut with the good stuff.
When trying out any kind of probiotics for the first time, you might want to build up slowly to allow time for your body to get used to it. Overloading on something like kimchi for the very first time could leave you feeling bloated and uncomfortable, so as with any new routine, the slow approach is best.
The following day began with a Transformational Breath workshop, which is a self-healing technique for improved physical, emotional and mental wellbeing. Designed by Rebecca Dennis, we focused on conscious breathwork for an hour-long session which left me feeling revitalized for the day ahead.
Dr Sara Celik, Naturopathic Doctor and spokesperson for Renew Life was on hand throughout the retreat to share her knowledge, offer advice and answer questions. One of the afternoon's activities consisted of a talk given by Sara where she gave us a succinct but extensive overview of gut health and the role our microbiome plays in life from birth to adulthood. It turns out we develop our microbiome and bacteria during the first two years of life! This was followed by one-on-one consultations and individually prescribed supplements and cleansing programmes.
Much like diet and exercise, there's no one-size-fits-all with supplements and so my one-on-one with Sara was really helpful. Talking through digestive issues and health niggles meant I could take a personalised approach to putting my newly acquired knowledge into practice. Health isn't about quick fixes, so it's great that Renew Life also have daily probiotic supplements which will help maintain and manage gut health long-term.
What sets Renew Life probiotic supplements and cleanses aside from a lot of other over the counter alternatives is that, aside from being totally natural and herbal, they're specifically designed to withstand the high acid environment of your stomach. Tummy acid is 10 times more acidic than lemon and could even burn if it touched your skin. Luckily, their supplements are enteric coated which ensures the live bacteria isn't destroyed in the stomach on it's way to the alkaline environment of the intestinal tract where they're put to good use.
I returned to London with a newfound understanding (and admiration!) for my gut, a part of my body which I'd somewhat overlooked. The winter chill is in full swing back home and there is no doubt that our gut health and immunity are inextricably linked, so now seems like the best time to start taking better care with Renew Life supplements.
words by Eva Ramirez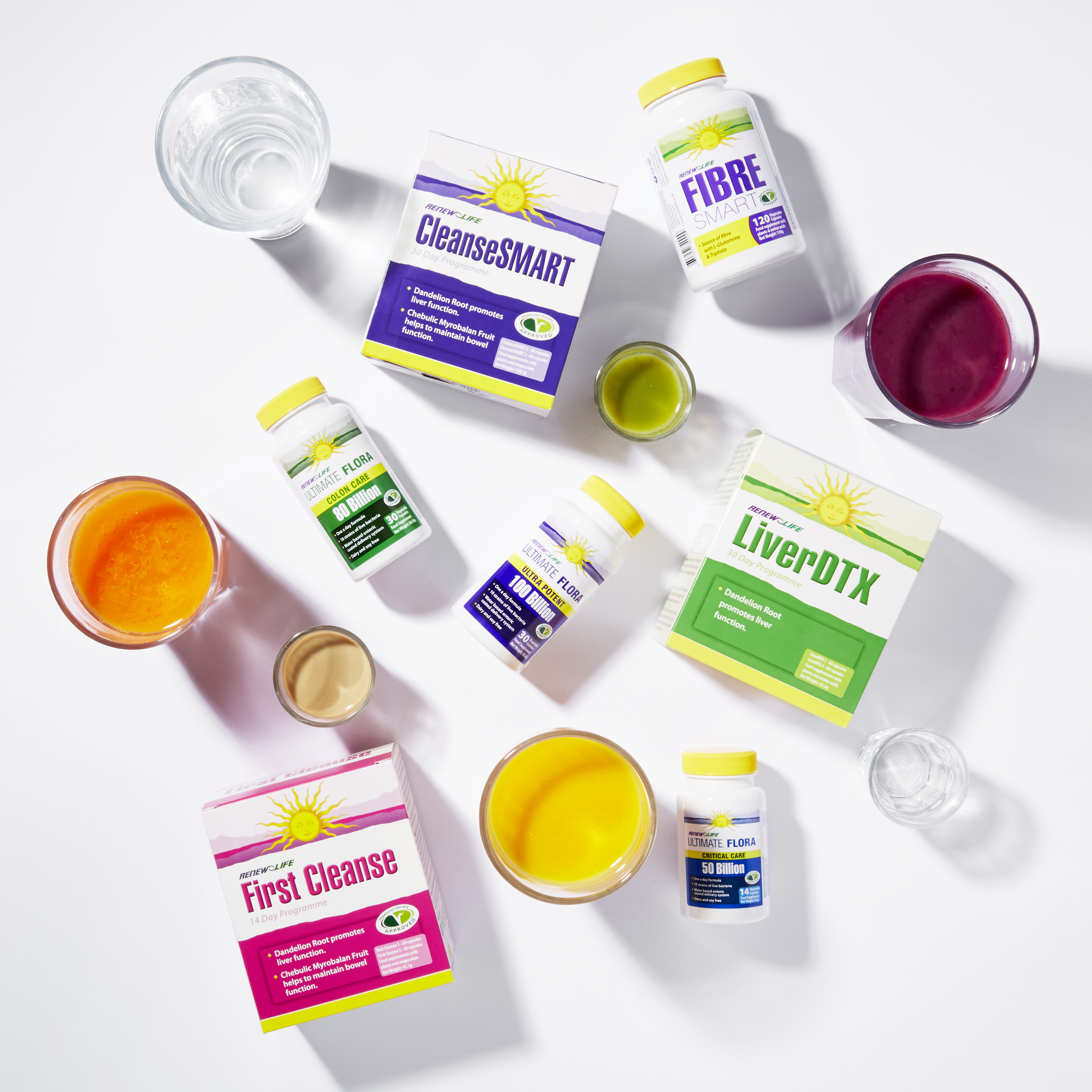 For more information on Renew Life click here.