It's a cold, wet Friday evening in March, I've just taken my seat for a 11+ hour flight and I think to myself, "I haven't stepped foot on a plane since 2019… this is so strange!". With a house renovation inflicting a no-holiday policy that ran straight through to the start of the pandemic, my husband and I take a moment to acknowledge we're having a "proper" holiday for the first time in quite a while. Instead of kicking off the end of our holiday hiatus with, perhaps, a shorter distance, say a 2-3 hour flight… here we are, about to embark on the long haul of long hauls. Straight into the deep end. No messing around! As much as the smells and the sounds are taking a while to get used to again after such a long break from air travel (it's much colder and louder than I remember!), the nervousness is outweighed by excitement because, in 11 hours time, we'll have landed in paradise… The Maldives.
The Maldives, without a doubt, provides my absolute favourite kind of holiday. A massive contrast to city life, a "no news no shoes" attitude, glorious isolation, beach bliss and astonishingly beautiful sunsets night after night. It's the kind of holiday that doesn't come around too often so when it does, you savour every second. I'm not your action-packed-must-fill-every-second-with-an-activity kind of holiday-er. I used to feel guilty about that but as I get older, I'm learning to accept that everyone has their likes and dislikes and a lazy holiday where I have zero plans is EXACTLY what I love. No shame here!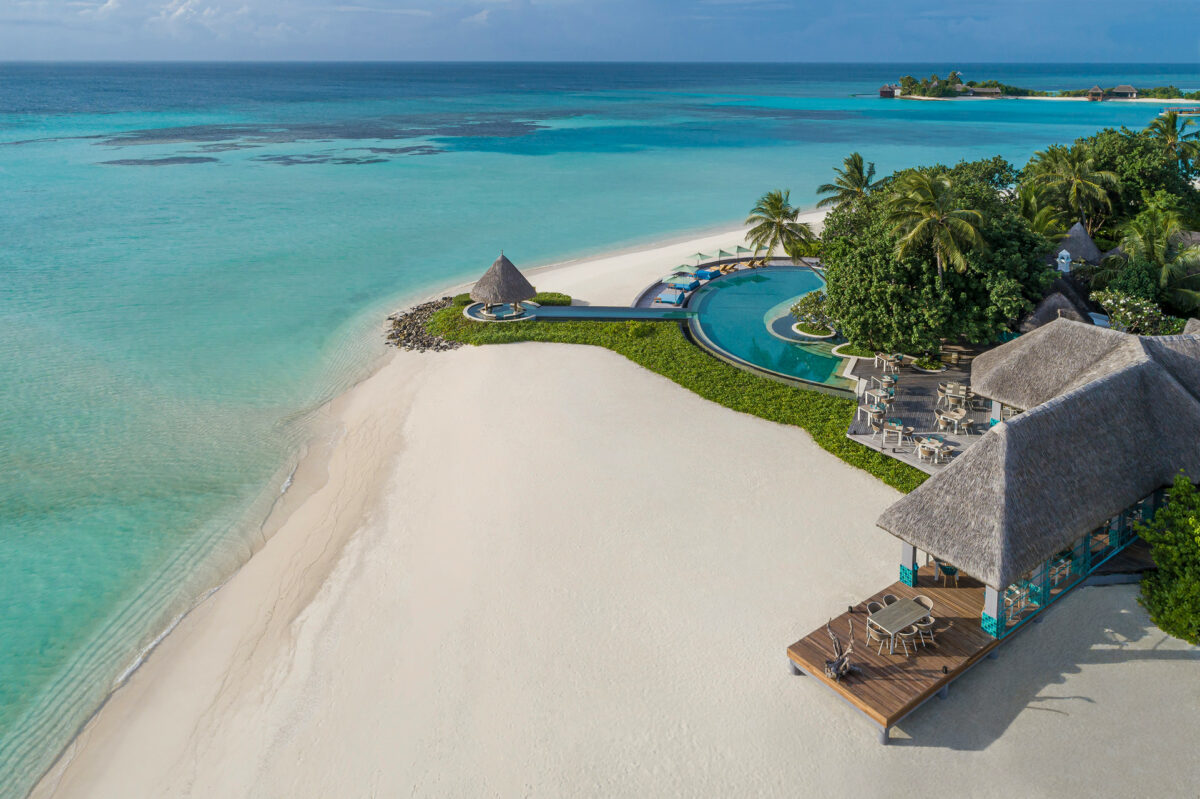 On this visit to the Maldives, I stayed at not one, but two Four Seasons properties to experience their version of paradise and to get to know their wonderful wellness and spa offerings, which are bountiful. Four Seasons Kuda Huraa and Four Seasons Landaa Giraavaru are considered to be some of the most outstanding resorts in the Maldives, which comes as no surprise given their hugely-loyal customer base and reputation for impeccable service. One review can't possibly justify both islands so in this article, I'm going to share all the deets of my first island stop, Kuda Huraa and you'll just have to stay tuned for Landaa Giraavaru!
Four Seasons Kuda Huraa is a true pioneer of Maldivian luxury… Having originally opened its doors in 1998, it paved the way for future hoteliers also wanting to offer a slice of paradise to their discerning guests. Having undergone a few renovations since then, it's easy to see why this island attracts a very high rate of returning guests. Just 20 minutes by speed boat from the capital, Male, you go from weary-eyed traveller to chilled coconut sipper in a blink of an eye. No mean feat when many islands require lengthy journeys by boat AND seaplane in order to get your first taste of island life. Don't be fooled though, this island may be closer to the capital… giving some the preconception that it won't provide that "deserted island feel" but the way the island is positioned gives you uninterrupted views of the mesmerising Indian Ocean as far as the eye can see. 
As with all islands, you have a choice to stay overwater or on the beach. At Four Seasons Kuda Huraa you are spoilt for choice whatever category you choose but for our trip, we stayed in a Sunset Overwater Villa with Pool which was just magnificent in every way. My recommendation if it's your first time in the Maldives is to stay overwater. There's nothing like it and it's a must-experience. The room is very well-appointed with a huge bed that feels like a cloud, a bathroom as big as my first flat in London, an all-important bathtub that could fit a rugby team with views of the Indian Ocean plus a huge terrace featuring your own infinity pool and hammocks for staring at the fish beneath you. It provides every amenity you could wish for and I was particularly thankful for their pot of cooling Aloe Vera which got topped up every night at turn-down service. I lathered this from top to toe every night to cool my skin from the heat of the day. The Maldives is practically on the equator so SPF 50 minimum is an absolute non-negotiable otherwise you'll be pink faster than you can say "Don't worry I never burn". 
The island is small but perfectly formed. Unlike its sister property where size and scale are much greater, this feels like a beautiful little village where everything is easy to walk to and has a true home-away-from-home feeling. Despite its smaller size, you still have plenty of choices for dining with their four delightful restaurants. Baraabaru for fine Indian (for the full experience try the Thali), Reef Club for Italian classics, Cafe Huraa for your Asian fix and Kandu Grill for a seafood extravaganza. I particularly enjoyed breakfast at Cafe Huraa each morning… some resorts make breakfast the centrepiece, an opportunity to go all-out with rows and rows of buffet offerings. I often can't help but think of the food waste that results in this and thankfully Kuda Huraa seems to have taken this into consideration with a buffet that is still delectable in every way but is much more refined and less wasteful. An A La Carte menu is also offered which means you can order anything you like on demand, further minimising food waste. 
Let's talk about Kuda Huraa's Spa… because it's one of a kind! Having an opportunity to indulge in spa treatments during a holiday is an essential element for me. It just helps you step even closer to feeling reconnected with your mind and body. The Island Spa encompasses this ethos entirely and it's such a beautiful place to experience. Firstly, it occupies its own little slice of heaven on a small island right next to the main resort which requires a 60-second float on a traditional Dhoni boat to get there. That in itself is its own ritual that gives you space to transition into a calmer state of mind. The Island Spa immediately feels calming and its interiors are just heavenly. Every guest is given their own spa villa to prepare for their treatment and is fully equipped with his and her sinks, an outdoor shower, another huge bathtub and your own lockers to keep your personal belongings safe. Within a few hours of acclimatising to island life, we found ourselves face-down staring at reef sharks and colourful fish through a glass-bottomed floor experiencing their Atlantis "Return To Power" massage, a soothing hot crystal stone massage to channel our inner cosmic forces. Their open-air overwater treatment rooms are what dreams are made of. As I nestle into the buttery-soft sheets of my treatment bed, the lapping waves and gentle breeze waft around the room adding to the experience of feeling completely removed from any stress or worry. Emerging relaxed and rejuvenated and totally transitioned to island time, we sipped on a cooling herbal tea before drifting back to our villa. If you are lucky enough to visit Kuda Huraa, their Island Spa is something you just cannot skip. 
Another activity you have to try is a surf lesson with the team at Tropic Surf. I never particularly thought of the Maldives as being a spot for keen surfers to flock to but apparently this is one of the best places to catch a wave! Having never surfed in our lives, my husband and I found ourselves getting rather competitive in our 1 hour lesson. He fought well but, in the end, it was I who was crowned teacher's pet. I left the lesson with salty beach hair, a little more sea water up my nose than before we started and saying things like "I could totally be a surfer chic…" My husband's disapproving face and the lingering sound of the Jaws theme tune in my head quickly put an end to that idea.
It feels like it's barely been a minute and it's time to leave for Landaa Giraavaru. As we wait to board the famous Four Seasons seaplane "Box Fish" we recap our stay to try and cement in our minds all the memorable moments and wonderful faces we encountered. A bittersweet feeling to wave goodbye to Kuda Huraa but huge anticipation of what's to come at our next Four Seasons escape. We both agree we've been totally spoilt for life by Kuda Huraa, an utterly phenomenal resort dripping in world-class service and once-in-a-lifetime experiences.
Book: Four Seasons Resort Maldives at Kuda Hura
words by Molly Jennings