Insta influencers, wannabe yogis and solo travellers might make you think that, when it comes to Bali retreats, you have read it all. Oh, morning yoga? Vegetarian food? Please do tell. Yet, there is a hidden gem of a retreat you might have not heard about yet – and it's all about using the power you already have to stay hip and healthy, ayurvedic medicine style. Carolina Are from Couchsurfer Reviews gives you a sneak peek into Sukhavati Bali, only just over half an hour's drive from Bali's Denpasar airport.
The Area
Nested within the Bebengan village, Sukhavati is a stone's throw from Balinese temples and rice fields. A sunrise walk led by the friendly and knowledgeable Sukhavati staff will show you village life at its most authentic, from community centres to local places of worship, from houses to never-ending rice fields. Walking behind the guide in the silence of the Balinese sunrise was the perfect start to our stay, allowing us to meet locals along the way and realise that there is way more to life than scrolling down on your news feed.

Ayurvedic Medicine
Ayurveda, or "the mother of all healing", encompasses yoga, psychology, healing and herbal sciences. It provides an integrated treatment of mind and body by identifying the three doshas, or components of our being. These are Vata (air), Pitta (fire) and Kapha (water).
Our stay in Sukhavati started with a consultation with an Ayurvedic doctor who identified our doshas and prescribed mind and body treatments to help us rejuvenate, reinvigorate and heal ourselves. These treatments included meditation, a specific diet and massages, which were tailored to each and every guest and made us feel personally looked after.
The Experience
Upon arrival, we were greeted with fresh coconut water and we received white yoga robes and flower garlands to start our healing journey.
Our days at Sukhavati followed a strict, busy yet pleasant timetable. Starting with the walk along the village and rice fields, we would then head to a one-hour morning session of intermediate yoga at 7 am.
Having practiced yoga in London, in Sydney's hip Bondi and Coogee classes and around the world in California and Asia, we can honestly said no yoga experience has been as life-changing as the one we had in Sukhavati. Far from the show-offy yoga bunny vibe some centres around the world seem to give off, Sukhavati practices traditional Balinese yoga, promoting going at your own pace for a journey that is as spiritual as it is physical. Unlike most yoga sessions I have had so far, Sukhavati yoga prepared us for the workout by starting mellow with simple floor poses, to then move onto the more challenging stuff, always with an understanding of how certain poses can aid your physical and mental health.
Yoga happened twice daily – early in the morning and at 5 pm – and was always followed by a yummy meal. All our daily meals were included in Sukhavati's plan and approved by the doctor to help us heal according to Ayurvedic medicine. They generally included a medley of vegetables cooked in delicious spices, tropical fruit such as papaya and dragronfruit, fresh juices, vegetarian mains and low-carb pancakes.
Meditation sessions were also part of the plan, led by the Sukhavati staff to help us get lost in this magical place's vibe.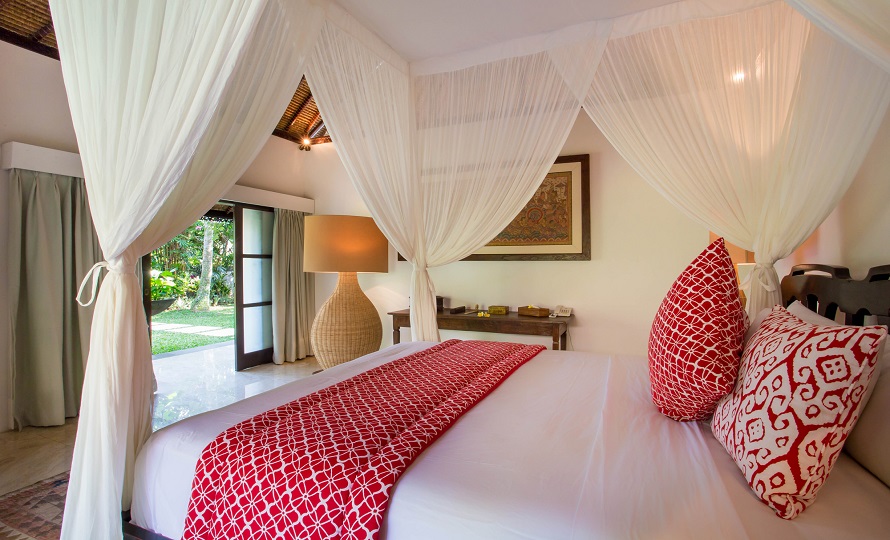 Sleeping Tight
We stayed in the two-bedroom Saraswati villa, complete with outdoor bathroom and private pool for swimming laps in the June Bali heat and the inevitable Insta shots. Our Queen canopy beds, accompanied with the staff's five-star treatment, definitely added to our feeling like princesses in this outstanding estate.
Although it would seem impossible only a few days before, two city-living busy bees were completely defeated by days of yoga and treatments: in a relaxation process aided by our Sukhavati stay, we ended up sleeping way before the 9.30 pm bedtime outlined in the timetable.

Treatment
With different villas scattered around the estate, Sukhavati also had a river-facing health spa were life-changing treatments took place.
We challenge everyone to try the Abhyannga and Shirodhara treatments and not come back a different person. Imagine being massaged head to toe with essential oil by two people looking after each side of your body, as you hear the flowing of the river, birds and geckos sing just outside your windows, a treatment terminating in the Spa professionals slowly dripping warm oil on your forehead and hair melting your tensions and worries literally and symbolically through a treatment which will make every other massage feel inadequate. And, as a plus, your hair will look and smell fab afterwards.
All treatments were recommended by the doctor to help heal whichever ailment we had come to cure through Ayurvedic medicine at Sukhavati – in our case, a cold brought by excessive air con on our flight and a fair share of burnout. Needless to say, the treatments worked.

The Vibe
In Sanskrit, Sukhavati means "Abode of Peace". No name could have been more appropriate: this retreat will give you a feeling of being lost in time, away from all your duties and worries, a safe space where you will feel looked after and content. Can we go back?
For more info on booking a spot at the dreamy retreat, click here!