Spring Awakening Workshop At London Academy Of Healing Nutrition
March 21, 2019 @ 7:15 pm

-

9:00 pm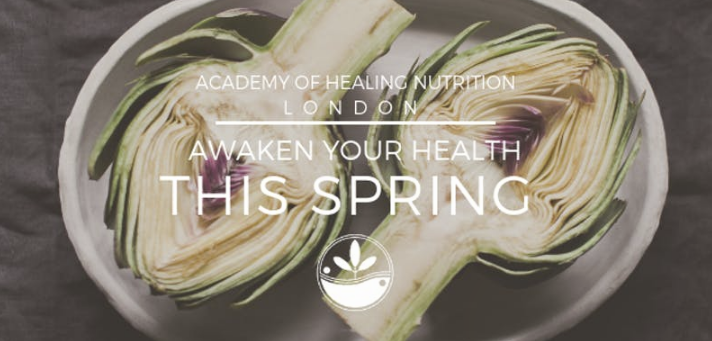 Awaken and re-emerge your health this spring by learning how to shift your awareness from winter hibernation to spring activation whilst implementing powerful principles of the Longevity Diet–– a diet that is rooted in timeless principles of Traditional Chinese Medicine, Ayurveda, Macrobiotics, the research on the cultures of longevity, modern exploration in the field of epigenetics, nutritional science, medicinal mushrooms, and adaptogenic herbs.
In this workshop, you'll learn how this healing and rejuvenating diet, grounded in simple, whole, nutrient-rich foods, can help you transform your health while learning more about London's Academy of Healing Nutrition Health Coach programme starting March 23rd, 2019.
The Academy of Healing Nutrition is a Holistic Health Coach Certificate Programme that was established over 35 years ago. This accessible, interactive, and comprehensive course has taught over 5,000 students how to achieve, sustain, and promote a healthy lifestyle by offering powerful healing techniques rooted in Eastern and Western traditions as well as the connection of mind, body, and spirit.
ABOUT THE EVENT
– Learn how to recalibrate yourself during the seasonal changes of Spring
– Get an introduction to the Eastern & Western principles that fuel the Longevity Diet
– Learn about the components around the Longevity Diet
ABOUT THE OPEN HOUSE
This event is combined with an Open House, where potential students can ask questions and learn if AHN London is right for them.
– Learn more about AHN global faculty
– Learn what you can do with the course
– Course length & logistics
– Financing options (special discount available to all event attendees).
If you are someone who is passionate about natural health and holistic nutrition, you will find this event truly enriching!
Interested in learning more ahead of the event? Email [email protected] or call +447707974508 to speak to our London founder Patricia.