The following is an extract from an article I wrote for Darling magazine back in 2015, about working out who you are and being kinder to yourself.
'Stop living in your head so much,' my mom told me on my 25th birthday. How could I stop living in my head when I've always been someone who overthinks things, replays events in my mind over and over again, and won't rest until I've thought of every possible outcome? I suppose it's not the worst thing in the world, but over time this relentless stream of consciousness can become draining.
Growing up and understanding the person you are is difficult at best and completely incomprehensible at worst. No doubt my decision to do a lot of that growing up on other people's computer screens has made the process that little bit more complex for me. For a long time I considered succumbing to fears telling me to stay inside my comfort zone and opt for a more conventional career, but Mean Girls taught me that the sky is not the limit because the limit does not exist. I did a lot of reflecting before making the decision to push myself, and I'm so very glad I did.
Looking back, I wish 17-year-old me knew to let go of the minor things, to embrace myself without hypercriticism: when I was a teenager, sometimes I would look at my outfit in the mirror for an hour just to make sure I looked OK. I would redo my make-up, fiddle with my hair, suck in my stomach and feel emotionally deflated. Usually I felt like I didn't look OK, so I would change my clothes, repeat the process, and sometimes get so flustered I would cancel my plans and get back into comfortable loungewear. Thinking back on this now makes me so sad because I didn't even give myself a chance to feel good. Why are we so hard on ourselves? When I looked into the mirror I would think, 'How bad do I look right now?' rather than, 'I look great today!' and have a quick teeth-check and move on.
The 17-year-old me was wise in some ways. She let me reinvent myself as many times as I needed, for example. As an attempt to find ways to feel happy in my own skin, I experimented a lot with new clothing styles and tried out different social groups to explore certain parts of my personality in a more magnified way. Each time I went through one of these transformations I learned something new about myself, and so I now look back at all of these phases fondly. I always thought meeting new people was terrifying, but all of these past interests and hobbies of mine are coming back to me and make for some great conversation starters! And even though my experiences have meant I am able to give you a more coherent answer to the question 'Who am I?' at 25 than I would have been able to at 17, I still have a long way to go and it's a quest I am obsessed with.
Extracted from Bloom by Estée Lalonde. (Ebury Press, £16.99) – Get your copy here!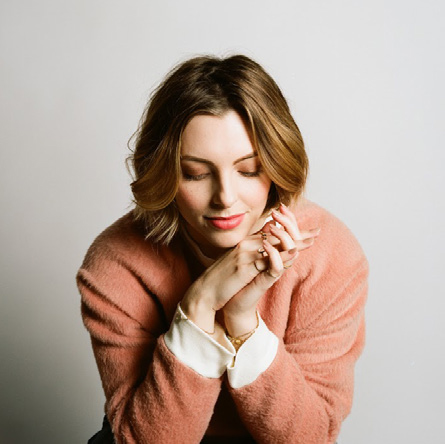 Photography by George Muncey