Whether the reminder comes in the form of a pandemic or the shape of a common cold, life often and in various ways shows us what really matters – if we pay attention. Because it may take a bit of an effort to notice the messages among the clutter and noise of our everyday lives, full of to-do's and busy schedules, but when we actually become aware of how important our health is, it changes and re-orders everything. Luckily enough, more and more businesses and industries have started to realize that wellness isn't just something we dedicate an hour to once in a while – it is essential and should be our highest priority since it impacts all parts of life and determines both its quality and our overall longevity.
A company that has understood the importance of holistic health and integrating it into our lifestyle, even when travelling, is Equinox. About 30 years after the iconic fitness brand opened its first gym in New York, it built one of the city's most incredible hotels, Equinox Hotel. And while a retreat and wellness getaway in the city that never sleeps might sound a bit strange, Equinox has actually made that possible.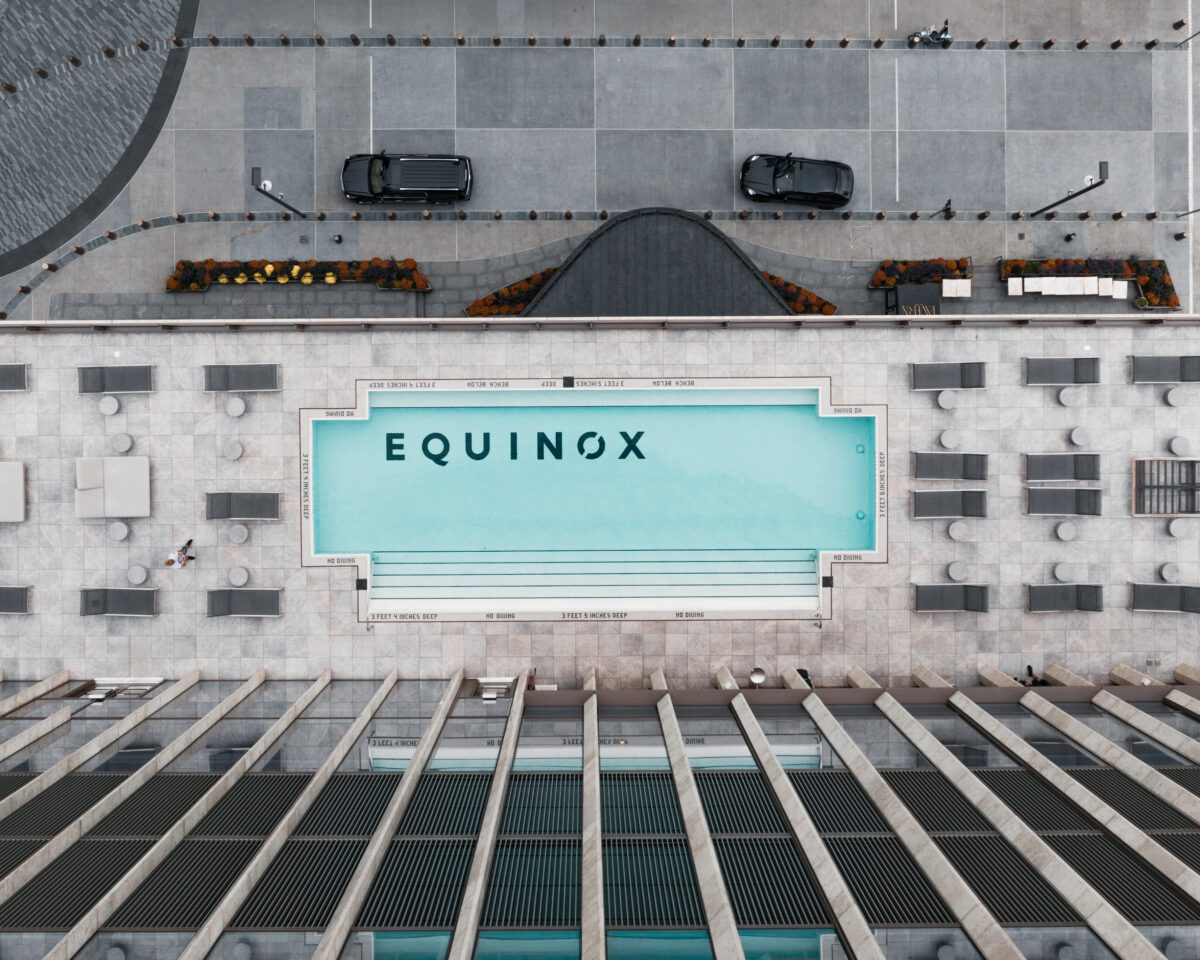 "We are not building the hotel for an age group as much as we are building the hotel for a mindset, which is a more laidback and a more relaxed approach to luxury. I think this more relaxed view is where the world is going towards," explains Chris Norton, CEO of Equinox Hotels, while also adding that their philosophy is "for those who want it all" – an ethos mirrored in every single detail; the food, the products in the mini bar, the lightening, materials in the room, even the umbrellas have unique features and their own story behind them, all to create the best possible experience for the guests.
The hotel is located in the 1,000 feet tall skyscraper, overlooking the iconic building The Edge and famous monument The Vessel, in the emerging district of Hudson Yards in Manhattan. With a gym club and spa facilities on the lower floors, the lobby, restaurant, and over 200 rooms and suites can be found on the 24th floor and up. With a smaller entrance and lobby, the hotel has dedicated as much space as possible to well-being facilities and to make the hotel a tranquil oasis in the middle of the hectic city buzz.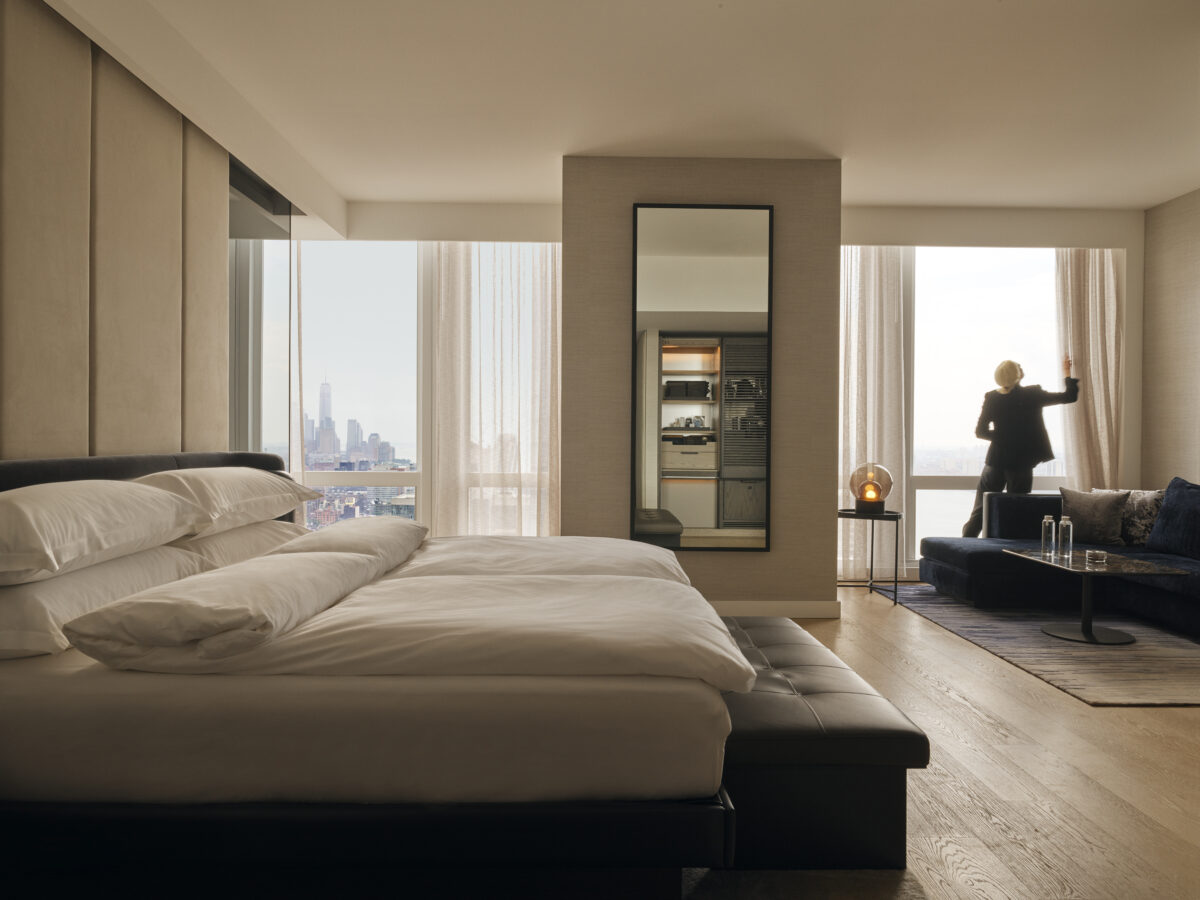 The Rooms
While the whole building itself is remarkable, one of the main highlights is definitely the astonishing rooms, designed with both restoration and performance in mind. Made in collaboration with a sleep psychologist and an "Equinox Sleep Coach", the rooms feature handmade beds, stuffed with natural materials such as seaweed and charcoal, and Norton explains that there has been a huge emphasis on sleep hygiene during the creation process; "We scientifically engineered the rooms as sleep chambers to give you the best sleep experience. The ideal sleep chamber is a totally dark room that is quiet and that has a temperature of 17-18 degrees Celsius." Thankfully, the mattresses and bed linens are available for purchase on their website (*adding to cart*), and on top of that, the room also offers on-demand videos of morning and evening routines, including yoga and stretching, that you can watch on the TV. A mini-bar stacked with supplements, sheet masks, superfood powders, a foam roller, and workout clothes is another favourite feature, as well as the room-service menu where an IV drip is just a click away in case you're feeling jetlagged.
The Gym & Spa Facilities
Just a few floors down is Equinox's most spacious gym ever – a 60,000-square-foot fitness heaven that spans two floors, including studios for classes such as heated yoga, barre, and Pilates, as well as a PT Pilates reformer studio and two pools. Mingle with the locals as you try out the machines and equipment, and make sure to book a Trilogy Barre class, which is a ballet-inspired workout that uses custom-designed resistance bands – a challenge for every single muscle in your body. If you, somehow, still have energy left, go downstairs to enjoy a SoulCycle class (there is a Juice Press right next to it in case you need some fuel before). Another must is visiting the unreal outdoor pool and sundeck – an unbelievably striking area offering jaw-dropping vistas overlooking the city, as well as heated sauna barrels. 
When it's time to regenerate and recharge, schedule a visit to the astonishing spa, where acupuncture, massages, facials, cryotherapy, infrared saunas, and IV treatments grace the menu. The ICOONE treatment is fantastic (especially if you're an avid LPG devotee), as well as any of their luxurious Biologique Recherce facials. A session of cryotherapy followed by a few minutes in the sauna is another great way to feel both refreshed and energized. 
Moreover, what really elevates this wellness sanctuary is the hotel's curated packages and transformative programs guided by a coach, with the purpose to optimize your health and lifestyle routine. The journey starts with an in-depth assessment laying the foundation of your personalized wellness roadmap, including treatments in the spa, personal training sessions, and nutritious meals.
The Food
Speaking of food, the hotel's restaurant, Electric Lemon, is the place for mindful indulgence. With a close collaboration with farmers and food artisans, the restaurant's vibrant and nutritious menu is proof of how healthy food doesn't need to compromise on taste. Revel fresh juices and beet yoghurt bowls for breakfast, and make sure to order the cauliflower flatbread for a dinner. Sip on a mocktail while soaking in the soaring views over the surrounding majestic high-rise buildings at the gorgeous outdoor bar and rooftop terrace. This area comes alive in the late afternoon during the warmer months and truly models the notion of that wellness can be integrated into every aspect of our lives – even when out and about with friends.
The reflections and thoughts that you get after a 360-degree wellness immersion like a stay at Equinox evolve around priorities. Equinox Hotel really models how wellness can be incorporated in all areas of our lives, and although it really helps spending a few days at this luxurious well-being sanctuary (where you have advanced treatments, an enormous gym, and healthy meals available under the same roof), the hotel actually inspires and reminds you that living a healthy life ultimately comes down to priorities and effort. We have the power to choose what we fuel and nourish ourselves with – even when traveling, socializing with friends, or during a spare evening after work. And by intertwining wellness into all aspects of life, hence looking at health from a holistic perspective, every single step we take and small choice we make eventually creates the lifestyle that focuses on what truly matters in life – health.
words by Matilde Wergland
---
READ MORE: Hip & Healthy Guide To Cape Town