Aid Your Natural Beauty Sleep
We know all too well about the effects that lack of sleep can have on us – poor mood, increased hunger, disruption of hormones, lack of energy, increased risk of certain diseases, lowered immunity – the list goes on. But did you know that your skin too has its own day/night rhythm known as skin circadian rhythm, which is integral to its own wellbeing and appearance? In fact, this natural day/night cycle is so important to our skin health that brands and dermatologists all over the world are currently studying it profusely in order to create and design super-effective products for our skin that work with the natural order of things. Research has shown that the skin contains circadian clock genes, which play a role in the regulation of the circadian rhythm of your entire body, including, of course, the skin itself. And with even more evidence that a steady rhythm is the mark of healthy cells, it's worth finding products that know how to not only work with your skin's night-day cycle but also work to enhance, repair and renew skin so that you wake up looking fresher than ever.
Why Night Serum Is Essential Sleep Skincare
Enter Dr. Haucshka. A brand that is built on pillars of sustainability and an organic way of life but is also always at the forefront of breakthrough products in the skincare industry. Using natural plant power to heal and repair the skin, Dr. Hauschka has become synonymous with products that work with the skin's natural renewal process and its Night Serum is no different. Like all Dr. Hauschka products, the Night Serum uses only the best ingredients to yield speedy and visible results, and in this particular instance, it is the humble apple that managed to send the product up to cult status almost immediately after its launch. The naturally scented formulation includes apple as well as apple blossom extract that supports the skin's natural rhythms whilst guiding it through its essential night-time work (bringing enhanced meaning to the term 'beauty sleep'). Suitable for all skin tones, the Night Serum also includes zit-zapping witch hazel and is oil-free, leaving skin fresh and revitalised for the morning. 
How To Get The Most Out Of It
For best results, use Night Serum after you have cleansed and toned and are ready for bed. Squeeze out a small amount onto your fingertips (a little goes a long way) and gently apply a thin layer of the serum to your skin working your way from the centre of the face to your hairline and jaw.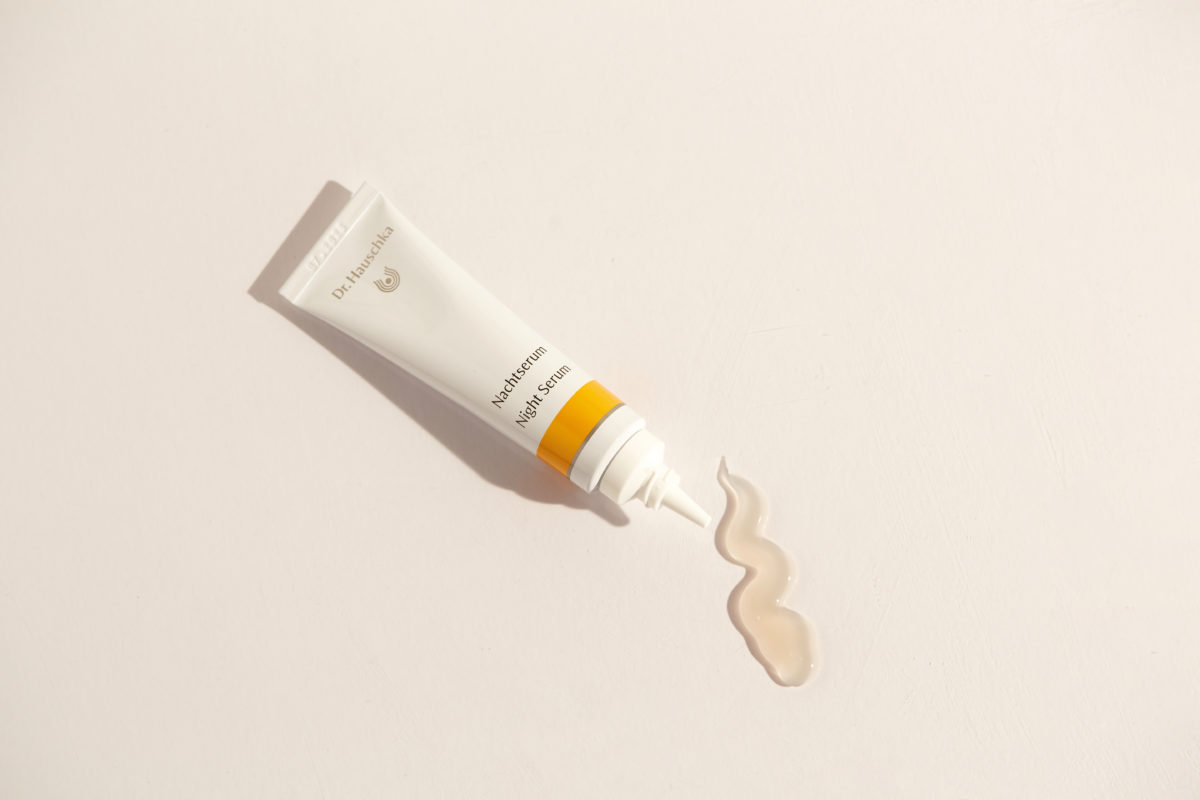 Sadie Reid's Evening Ritual
Let it be known that I love my evenings. With two energetic boys and a busy job, my evenings are my time to wind down and practice some much-needed self-care. After the boys are tucked up in bed, I have a healthy, often plant-based supper on my own (my husband works up in town most nights of the week) and pick up the last of the toys that are unashamedly strewn all over the kitchen and sitting room – I just can't handle relaxing in a messy environment. It is only then that I change into my PJs (Luxe + Hardy are my fave), light one of my favourite candles and flop onto the sofa to watch some wonderfully rubbish series that I'd never be able to watch if my husband was home. I know that there is a bunch of evidence pointing to the disruptive nature of watching a screen before bed but I have always found that the pure escapism it offers outweighs any negatives that are reported. I then head upstairs (after checking 13 times that I have blown the candle out) and start my bedtime skincare ritual. I love a milky cleanser (Dr. Hauschka's Soothing Cleansing Milk) as I find they don't dry my skin out. I then follow with a toner, I love the clean feeling vibes it gives me. And then Dr. Hauschka's Night Serum is an absolute must to help my skin rediscover its nighttime rhythm (which I assume is all over the place since having kids and being woken up most nights in the week). I then use a rose quartz crystal guasha to stimulate the lymphatic drainage in my face and imagine I am literally ironing out my wrinkles. Once satisfied that I will wake up looking better than I did going to sleep I'll pick up a magazine or book to read (always non-fiction, not entirely sure why) as I find that always helps to bring on the zzzzs. 
Reader Offer
Receive a FREE Night Serum 12.5ml when you spend £50. Code to follow. Subject to availability. Terms and conditions apply.
Learn more at www.drhauschka.co.uk