Self-confessed chocoholic, Sadie Reid, discovers the new Velvet Edition range from Green & Black's and she is obsessed…
In our household you are never very far away from a bar of Green & Black's. Synonymous with a luxurious "me-time" moment, Green & Black's sets the bar for truly delicious, indulgent moments. Founded by husband and wife, Craig Sams and Josephine Fairley, the brand's name stands clearly for its principles. Delivering amazing quality chocolate that has been sourced ethically with both the environment and people at its core the  chocolate also doesn't include any artificial flavours, preservatives or colours – seriously – what's not to love!
Dark chocolate is often thought of as too bitter, which is why Green & Black's taste experts were set the task of creating a dark chocolate that was smoother and less bitter for those less inclined to tackle the intense flavours that dark chocolate offers.
They travelled the globe for the best ingredients and found that gently roasted Ghanaian cocoa beans (sourced through Cocoa Life – Green & Black's cocoa sustainability program that invests in sustainable farming), carefully balanced with sweet Madagascan vanilla did the job perfectly. Made with only four ingredients, it is the cleanest dark chocolate in Green & Black's range, plus the taste really does live up to its name – it's melt-in-your-mouth smooth and irresistibly delicious.
Now, I am not going to lie, I am no stranger to all types of chocolate – especially Green & Black's, so this taste test was somewhat of a dream brief. There are seven flavours in the Velvet Edition range – each packing their own punch in terms of flavour and richness. The Velvet Edition range is the perfect introduction to rich, dark chocolate for those who have been perhaps a little apprehensive of it in the past.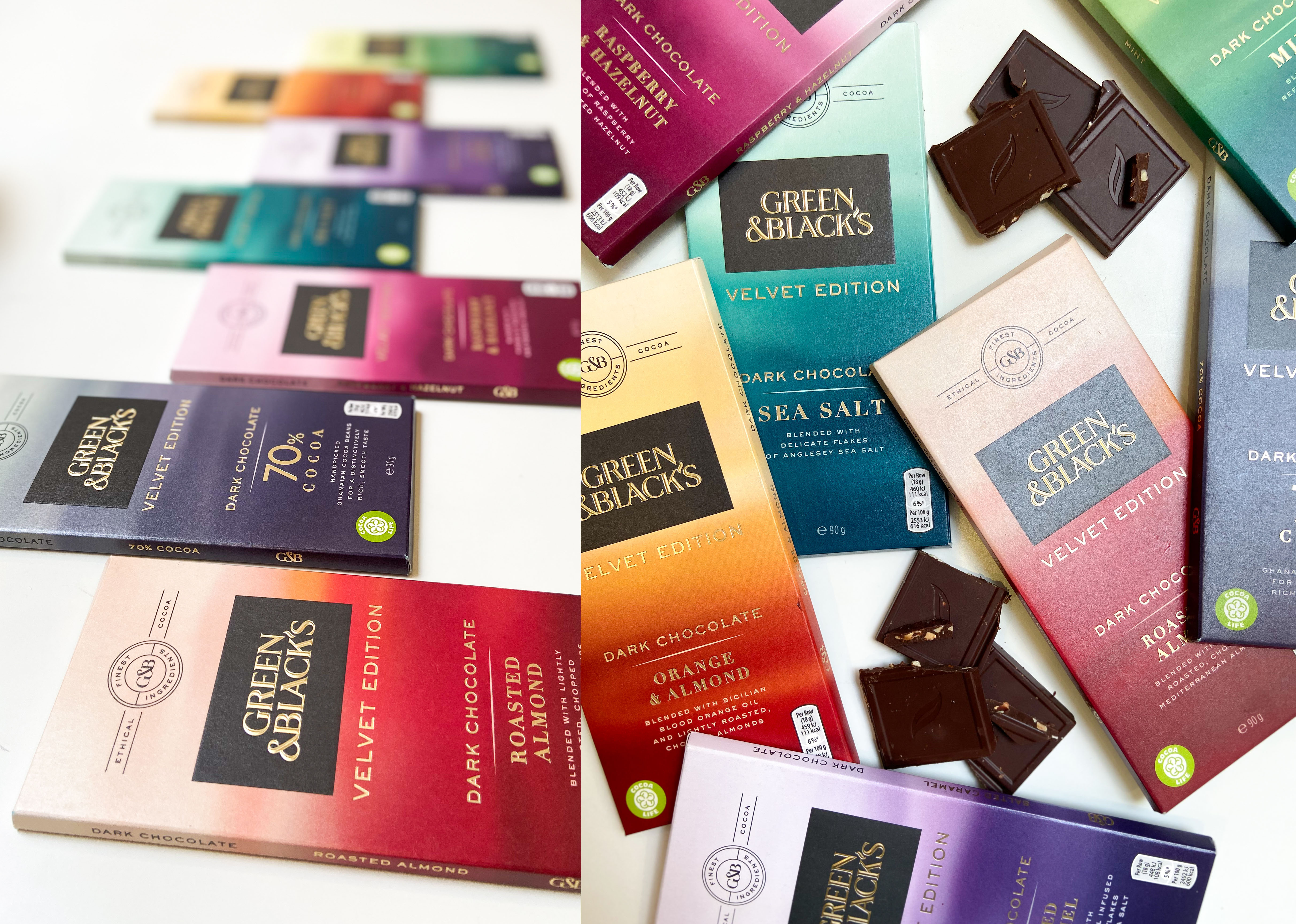 The seven wonders of the range include:
70% Cocoa – this unbelievably classic dark chocolate bar retains all the richness of dark chocolate but without any of the bitterness. It is the perfect after-dinner treat. 
Roasted Almond – the sweetness of the chocolate is perfectly broken up with lightly roasted Mediterranean almonds creating a light crunch with every bite.
Raspberry & Hazelnut – I love how the tang of the raspberries perfectly complements the delicious crunchy hazelnuts – all wrapped up in the Velvet Edition chocolate. One of my absolute faves!
Salted Caramel – The smooth Velvet Edition chocolate is beautifully contrasted with the kick of the delicious Yorkshire Caramel, infused with flakes of Anglesey Sea Salt, breaking up the sweetness perfectly. 
Sea Salt – Sea Salt and chocolate – always a good combination. Anglesey Sea Salt and Velvet Edition chocolate and you're in for a taste sensation. My husband gobbled the entire bar in 30 minutes flat and wasn't even sorry…
Orange & Almond – Sicilian blood orange oil meets lightly roasted almonds to create a taste sensation that is not just perfect for Christmas, but for about every other occasion we can think of too.
Mint – Super refreshing yet utterly satisfying at the same time, the Indian Mint oil brings an invigorating taste to the naturally smooth Velvet Edition chocolate. 
Velvet Edition bars are available in all major supermarkets at an RRP of £2.00.