When it comes to skincare routines so many of us just look at what we put on our skin and don't spare much thought for what is actually feeding it. A brand that is looking to change all that is Forest Spa Finland, they understand the important role that supplements play in enhancing and caring for our skin from the inside out. Using a Nordic approach to wellness to help combat the impact of stress on your skin, their two-phase approach features both an adaptogenic serum (side note – I've become obsessed with this) and an adaptogenic supplement too. This two-pronged attack on your skincare routine ensures that you are covering all bases and will give you the best results.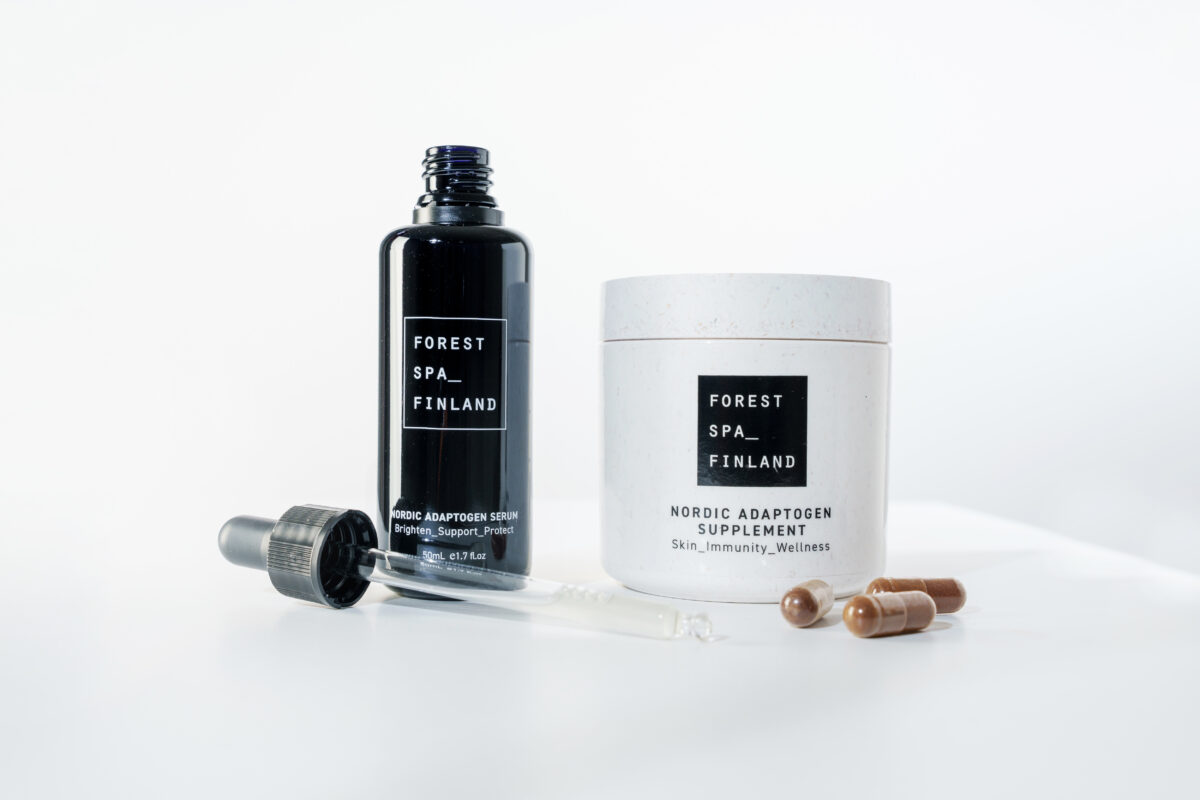 Optimal Skin Starts From Within
From lack of sleep to excess stress, pollution and even radiation – our skin deals with a lot. Using ingredients from Finnish nature, Forest Spa Finland set out to create products that help your body build immunity to stress and boost your vitality. This, they say, is an inside job. Their Nordic Adaptogen Supplement uses incredible skin-enhancing extracts all sourced from some of the most powerful plants found in the Nordic Forest, such as Chaga Mushroom which have the highest ORAC score (a way of measuring how they absorb and remove free radicals) ever recorded in natural food. The power of Nordic nature doesn't stop there – they also include Wild Bilberry which is rich in antioxidants and vitamins and is known to boost cardiovascular health and even vision as well as helping with acne, pigmentation and is a natural anti-ager; Rhodiola Rosea, which is known for its healing properties and supports cellular protection and fights skin fatigue; and even Pine Bark, which has been used in homoeopathy for centuries and boosts Vitamin C regeneration and natural hyaluronic acid production. Taking two to three of these supplements a day (before food) will really give your skin a huge helping hand – and your body will also be thankful too.
The Role Adaptogens Play
An adaptogen is a natural substance considered to help the body adapt to stress. Some have been used in traditional medicine for centuries and some are only just being discovered. What is just so incredible about adaptogens is that they 'adapt' to where they are needed to go and help the body perform its natural functions more efficiently and effectively. Which is why it is such genius to use them in skincare. So often, beauty brands look at the skin as a separate organ but Forest Sa Finland understands the importance of looking at the body holistically – great, healthy skin thrives when the body is thriving too. Their Nordic Adaptogen Serum is powered by highly potent all-natural adaptogens that are proven to support the complexion and are designed to be used in conjunction with the supplements for best results. The smell of the product is earthy and fresh – it smells like nature in the best kind of way. I absolutely love the way it makes my skin feel and applying it is a treat. Ingredients include Siberian Ginseng (known for its anti-fatigue products), Cloudberry extract (ideal for sensitive or acne-prone skin) and Seabuckthorn oil – rich in skin-loving omegas 3,6,7 and 9. Plus, it contains special boosters such as Lactic Acid, which is vital for natural exfoliation and instead of using water as the base of the product, Forest Spa Finland insisted on using Birch Sap which is just dripping in antioxidants and is super-hydrating.
Clearer, Healthy-Looking Skin
This seems to be on the bucket list of most women I know – looking for skincare that delivers results can sometimes feel like a minefield. But what is so often overlooked is what we are putting into our bodies makes such a big impact to the health and wellbeing of our skin and real, lasting changes start with this. Forest Spa Finland certainly has the right idea by creating a skincare routine that thinks about the whole body. Their two hero products are iconic for a reason and we can't wait to see what's next on the horizon for this innovative skincare brand.
Hip & Healthy Readers can get 20% OFF Forest Spa Finland using code "SKINWELLNESS20" at checkout. Visit https://forestspafinland.com/ for more information and to buy.