Shop the activewear in this image here!
To find the best workouts to suit your body type, Health and Fitness Travel, the leading experts in healthy holidays worldwide, explain why it's important to know which body type is most applicable to you. Endomorph, mesomorph and ectomorph are the three body types or 'somatotypes' that can be used as a basic formula to categorise which type(s) are the closest fit, in order to effectively achieve your fitness goals. Although, hardly anyone fits rigidly into one body type criteria, so don't be surprised to find overlapping similarities between multiple body types within your own body. Learn which cardio and strength training based workouts are suited to your body type, so you can reach your fitness goals faster and even choose the best fitness holiday!
ENDOMORPH
The body type of an endomorph has a soft, curvy physique. Naturally, larger bone structure means your total body mass tends to be higher. Difficulty in losing weight means exercise is essential to maintaining your optimum body weight.
Endomorph Characteristics
High levels of body fat
Pear-shaped physique
Lose weight slowly
Slow metabolism
Larger bone structure
Endomorph Cardio Recommendations
Emphasise cardio during your workouts to see the best weight-loss results. Endurance running or spinning for 30-45 minutes several times a week will burn fat whilst helping to build muscle and speed up your metabolism.
Best Strength Training Workouts for Endomorphs
Highlight strength training exercises that will make your lower body feel the burn with heavier weights, to target your muscles more beneficially. High reps with short recoveries will also help to burn those extra calories for an endomorph physique.
Where to Workout like an Endomorph – St Lucia: The BodyHoliday Fusion Fitness
Return home feeling fit, healthy and body beautiful following this fun-filled fitness holiday on the tropical shores of St Lucia. Choosing from a diverse range of 1-on-1 fitness sessions, sports and daily spa treatments, tailor-make your ideal fitness holiday and reach your body goals with your favourite activities. Kick start your day with yoga, before reaping the rewards of strength and cardio workouts, from beach running to kettle bell training.
MESOMORPH
The mesomorph is considered to be the athletic and lean body type. With a greater ability to gain muscle mass, this body type creates natural athletes who excel in high-intensity sports. They possess a medium sized body type and bone structure, whilst also gaining or losing weight with apparent ease.
Mesomorph Characteristics
Naturally muscular
Quick to gain muscle
Lose/Gain weight easily
Athletic physique
Efficient metabolism
Mesomorph Cardio Recommendations
The most efficient way for a mesomorph to maintain muscle tone is with HIIT training, which will help to address fears of becoming too bulky in women. Be careful though not to do too much, as you'll start to burn muscle instead of fat.
Best Strength Training Workouts for Mesomorphs
Create an overall balance to your body and well-being on a bootcamp holiday where shaping up or slimming down will help you reach your fitness goals. Raise your heart rate with slight resistance (but not too heavy), with a high number of sets and repetitions to prevent muscle bulking.
Where to Workout like a Mesomorph – Zanzibar: Wildfitness Zanzibar
Treat your body to a luxury fitness retreat with bootcamp workouts set amongst the beautiful surroundings of Zanzibar's south east coastline. Following an initial assessment with professional fitness trainers, delve into a programme of daily training sessions with a strong emphasis on nature. Boost your fitness with activities from beach fitness training to wild running, before unwinding at the Hush Hut with a deep tissue massage. Fuel your body during your stay with natural cuisine and learn how to live a healthier lifestyle with nutrition workshops.
ECTOMORPH
This slender body type generates the slim, tall and long-limbed ectomorph that optimises the 'ideal' model physique. The difficulty lies in gaining weight or muscle mass, as you are naturally disinclined to retain body fat. Being slender in size means you are well suited to long distance and endurance events.
Ectomorph Characteristics
Slim physique
Low body fat
Fast metabolism
Difficulty gaining muscle/weight
Lean muscle mass
Ectomorph Cardio Recommendations
Ectomorphs looking to tone their lithe physique suit cardio and long distance running, but not to the extreme. To bulk up and add some curves, then HIIT workouts and circuit training are great to build muscle mass and definition.
Best Strength Training Workouts for Ectomorphs
Train heavier and extend your workout duration to allow for the muscles to have a greater recovery time between sets. Prioritise strength training in order to gain muscles mass, with three sets of 10-12 reps, enabling you to gain the most out of each exercise.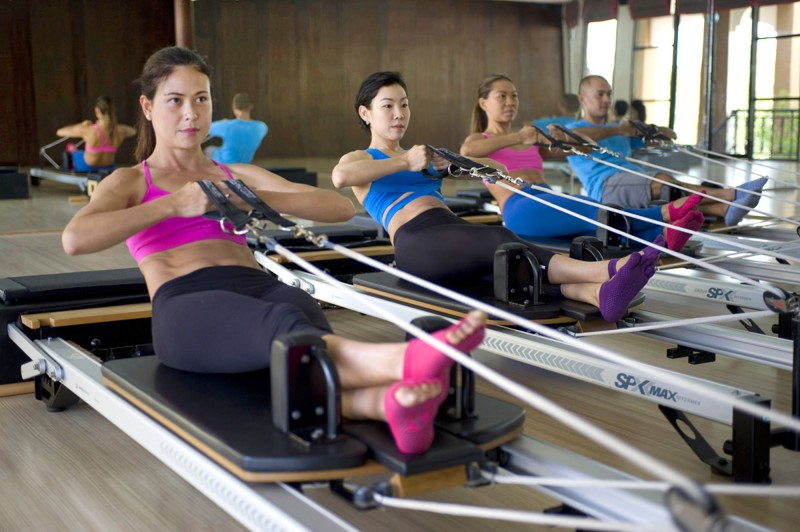 Where to Workout like an Ectomorph – Thailand: Absolute Sanctuary Pilates Reformer Bootcamp
Get fit not thin on a toning Pilates fitness retreat on the beautiful island of Koh Samui in Thailand; the perfect full body workout to increase muscle tone, flexibility and posture. Under the guidance of expert instructors make the most of group classes on state of the art reformer machines, before experiencing the benefits of a tailored private session. Advance fitness with classes in Thai boxing and aqua power, before indulging with luxury spa therapies, such as Thai stretch, to release tension and lengthen tight muscles.
For advice, guidance and booking visit www.healthandfitnesstravel.com or call 0203 397 8891
 words by Paul Joseph
About Paul Joseph:
Paul Joseph is co-founder of Health and Fitness Travel, the leading experts in tailor-made healthy holidays worldwide. He searches for the rare and hidden gems around the world and puts together exclusive and trend-setting holidays for those who would like to improve or maintain their health and fitness whilst on holiday. As well as a love of all things travel, Paul's other love is exercise, cycling and yoga. Paul also contributes to the travel pages of various high-profile newspapers and magazines where he offers his expert advice on wellness holidays.
About Health and Fitness Travel:
Health and Fitness Travel is a global luxury wellness travel company that originated in the UK in 2010 and is committed to providing healthy holidays that enhance and change lives. Created by Paul Joseph and Adam Heathcote as a result of their passion for health and fitness travel and offering bespoke holidays to improve people's well-being to lead happier and healthier lives.
Health and Fitness Travel offers clients a tailor-made seamless service with the very best health and fitness holidays, handpicked by its expert team, together with exclusive and added value packages with the best deals. As leading specialists, Health and Fitness Travel has also created their own collection of trademark healthy holidays in various destinations, which include Fusion Fitness™ BodyBreaks™ and Discover Recover™, offering clients the best value and holiday experience. For more information visit: www.healthandfitnesstravel.com
Like us on Facebook
Follow us on Twitter
Follow us on Instagram
Join us on Google+
Follow us on Pinterest