(Shop this activewear look in our store here)
There is a certain uneasiness when it comes to the very real concept of a quarter life crisis; it can seem selfish, unreal, attention-seeking, to have the world at your feet but a simultaneous, insidious nag of anxiety residing in the back of your head that you can't quite shake, never mind find reason for. So such issues are left un-talked about and simultaneously pushed to the back of the mind where they fester and grow and perpetuate.
The truth is that contrary to however our lives may appear externally, most of us have so many unaddressed, or over-addressed thoughts and stressors blasting through our heads every day that mental burnout is not only unsurprising but actually, probably inevitable. Such stressors can be caused by huge, character-changing events in our lives but also by the accumulation of many small instances of hurt, frustration, rejection and unease we may not have even noticed at the time. Reaching your mid-twenties/early thirties and experiencing this phenomenon is real and is a overwhelmingly prevalent adjunct to our culture, and is one which has lead to much of our generation feeling lost, unmotivated, self-conscious and physically unwell.
After overcoming years of anxiety and depression Stephanie Kazolides, founder of Angel's Belly (www.angelsbelly.com), recognized this health crisis also unfolding amongst her peers and identified the need to do something about the epidemic of emotionally and spiritually confused individuals leading unhealthy, unhappy lives. Driven by her belief that it is 'everybody's human right to be educated properly about health', Stephanie created The Holistic Health Project, a platform that aims to educate, empower and transform on the very topics that traditional schooling failed to teach us.
As the first Project to launch under The Holistic Health Project, The Quarter Life Health Project is a retreat which immerses guests in a structured, supportive programme which serves to equip them with the tools they need to eschew mental fatigue, break down self-made and socially-constructed barriers, promote body confidence, educate on eating to nourish, and clear the mind in order to refocus and go back into everyday life with renewed energy and direction. Working on each of these areas of blocked energy enables guests a chance to breathe, to fix areas where they have broken and transcend from hurt, ego-centric mindsets and societal doctrine into a state of empowerment, creativity and perspective. Far from being the traditional concept of a 'retreat', which connotes withdrawing and switching off, The Quarter Life Health Project takes an antithetical approach which promotes self-reflection on the deepest level, inviting guests to step into their true power and highest potential.
So whether you arrive wanting to feel more confident in your skin, take time out from mental fatigue, get over a break-up, or just looking for direction, The Quarter Life Health Project offers a non-preachy, supportive environment to awaken you to who you really are, so you can know what you really want – and can go out and get it!
The Quarter Life Health Project unites a dedicated team of mentors who form a triptych of knowledge, expertise and guidance to cover every base in supporting you in your transcendence and turning on your internal light. Yoga practice and theory form the backbone of the retreat as a basis for learning discipline, mindful movement and, as instructor Maya — veritable ball of light, patience, reasoning and embodiment of everything yoga is outside of Western interpretation — summarises, yoga
'is keeping poise and balance in [ourselves], in practice, in daily life, relationships, in [our] home environments, in eating, in [our] physical bodies and in everything that [we] do… to maintain the awareness of freedom of choice in every moment'.
This is a theme of The Quarter Life Health Project yoga programme, which sets guests up for self practice, teaching the skills and control needed to take self-created flows home to develop and take ownership of.
This is supported with structured group life coaching sessions with the wise, knowing, endearingly relatable Life Coach, Aimee Rai. 'Your emotional and mental states influence the effectiveness of your immune, nervous and glandular systems and your organs' she says, 'there are many life skills and techniques we're not taught in school that we can use to master our bodies and minds and bring us into a place of optimum health'. Aimee uses Kundalini Yoga techniques and her own life experiences as the framework for her life coaching sessions to teach these techniques in a functional way to guide guests to finding their calling whilst remaining grounded in the everyday.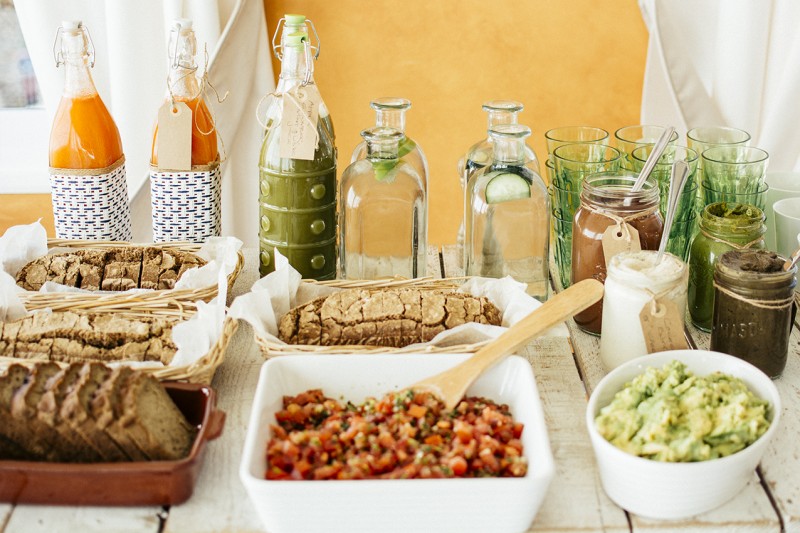 Finally, a series of food-focused workshops is headed by the brilliant Chelsea Parsons, Kinesiologist, chef and founder of our favourite superfood brand Well and Happy. Expect to learn the truth about total nourishment through food, how eating affects our emotions and vice versa, a sneaky peak at some of Chelsea's delicious recipes and a whole lot of tasting. Following from the concept of food as healing, the retreat is fuelled by a profusion of plant-based, gluten-free, nutritionally dense meals served up buffet style three times a day. There's no deprivation here, even those arriving from an omnivorous diet will be satisfied – and all the food is simple enough that it can be recreated with ease back home.
Set in the 4* Gran Hotel Benahavis, cosied up in the Andalusian mountains, guests can look forward to full use of the gym and spa, outdoor pools, en-suite double bedrooms, complimentary wi-fi and the serenity of the surrounding mountains. The landscape lends itself to solitary, headspace-y runs and silent, group sunrise strolls and is a natural conduit to calm and presence.
Approaching The Quarter Life Health Project with an open mind is fundamental to getting the most from the experience – it's a scary thing to face yourself amongst a group of strangers, however this safe space will only remind you how necessary this is to your journey if you are seeking true awakening, or even simply aiming to return home with some clarity and a new start to a healthier and happier you. And if you do, you can look forward to getting off the plane back at home and feel like you're flying. As humans, we're afflicted beings but a lightness of being is achievable for us all, we just need to know how to change our approach, calm our restlessness, and find empowerment. This experience can guarantee, at the very least, a nudge in that direction!
Head to http://www.theholistichealthproject.com/the-quarter-life-health-project/ for more information on the next Quarter Life Retreat, and follow their instagram @HolisticHealthProject @QuarterLifeHealthProject @AngelsBelly to keep up to date with daily news. To apply for the next Quarter Life Health Project email [email protected] and join the holistic health revolution!
words by Rachel Bednarski