We think we have found the perfect 24/7 co-working space for you to productively answer emails, finish those last invoices or finalise that PowerPoint, but with a dose of wellness included and an oasis of calm. Uncommon operates with locations across London of Borough, Liverpool Street and Highbury & Islington and Fulham. Its mission is to allow individuals to work to their full potential in an environment that offers calmness, comfort and tranquillity and in an atmosphere that is uplifting and energising. 
With its Fulham location a brisk walk from Kings Road, you've got various amenities close by. Easy transport links mean that you can get anywhere you need to in no time at all with it being just a 9-minute walk to Parsons Green Underground and a 6-minute walk to Putney Bridge Underground. As they say, comfort is key and at Uncommon it definitely follows that with chairs perfect for keeping good posture to standing desks. Uncommon provides the sense of wellbeing with sports classes and mindfulness sessions if you need a stress release or a serotonin lift to get you back in the right mindset. If it's privacy you are after, their phone booths offer a  distraction-free setting that allows you to make those all-important calls. Each and every detail has been thought of to make the most out of your working day from the large windows of natural lighting to the scent of a room. With the winter months drawing in the outdoors has been brought inside with the greenery and floral ambience, so you'll be sure to still get the feeling of nature. All locations provide an outdoor terrace area, to allow for a breath of fresh air mid-morning (studies have revealed that fresh air is great for focus too).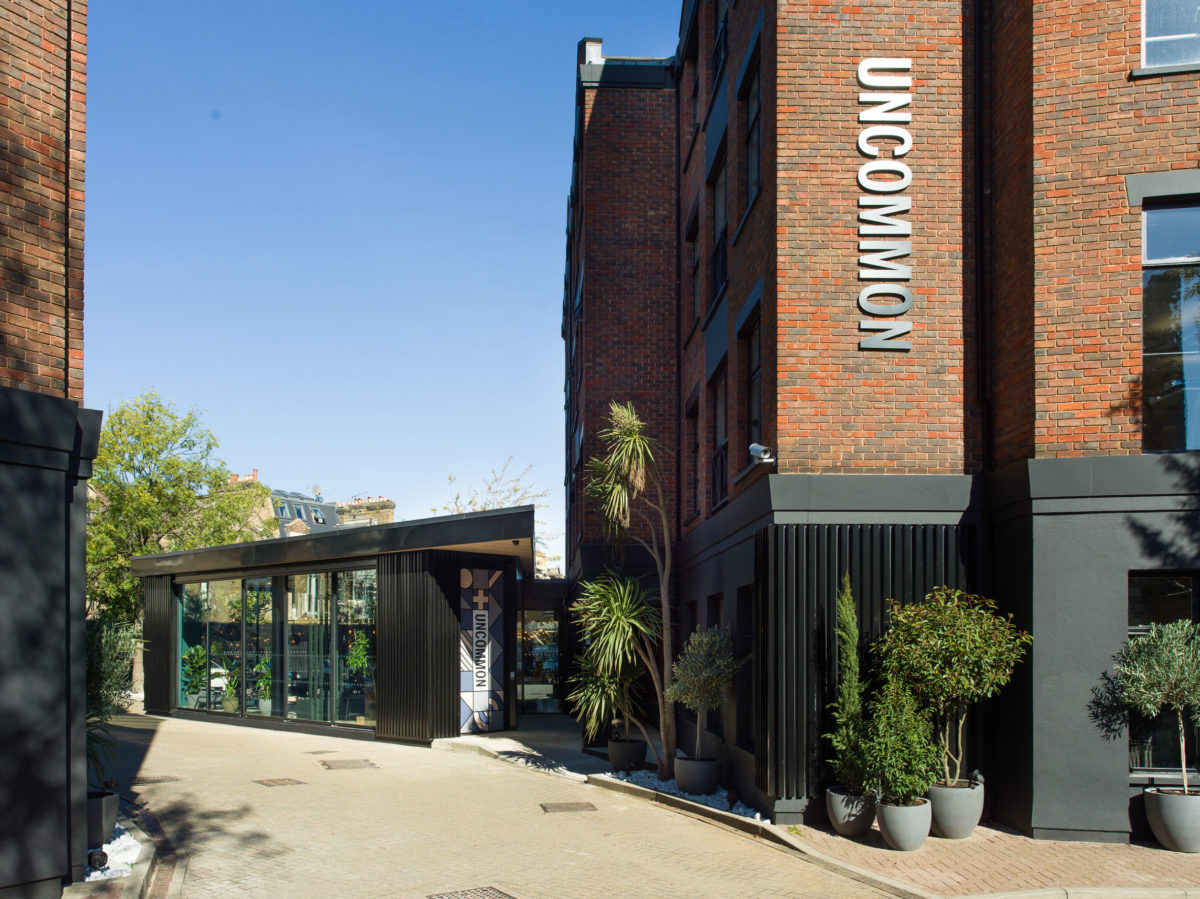 Not ready to sign up for a full membership? Or just need a place to go for the day? Uncommon offers a 'Pay as you Go' day pass with amenities to get you through with high-speed internet and the honesty bar and coffee lounge whereby you can enjoy nutritious snacks and meals to keep that optimal brain power rolling! With a fully equipped kitchen, you can also be sure to have all the facilities to make your own lunch if you prefer. If you know you've got that little bit more work to do they offer weekend passes as well which you can use at any location. Need a location for a monthly group meeting or workshop? Uncommon offers sophisticated meeting rooms seating up to 40 people or the perfect event space with each different location bringing something slightly different to the table.
There is a community-based network feeling at Uncommon with Tuesday tea time, Thursday drinks or Friday breakfasts, allowing you to broaden your contacts and share ideas with those who have a similar ethos. A big bonus of this workspace is they are dog friendly, so you can bring the pooch for a day in the office too! If you plan to make your way there by bike, Uncommon offers bike storage as well. Planning on getting in a run for your daily movement before a day of productivity? Uncommon also offers showers across all of their locations too. All in all the perfect place to ensure the perfect work and life balance. 
Discover more at Uncommon.co.uk