Research shows that diet is people's biggest pitfall when it comes to maintaining a healthy lifestyle. It requires effort to muster up an equally nutritious and delicious meal, from the planning, shopping and cooking, and the truth is we don't always have time for it. For those days you don't have a second to think, these brands have stepped up to make life as easy as possible when it comes to food, without sacrificing your health. Focused on providing healthy, well-balanced meals that simply require heating up, these meal deliveries are for those days or weeks you need a helping hand in the kitchen. Food is fuel, so when you're not eating right, you won't function at your optimal self, and bad habits manifest quickly. We've all had those periods of ordering too many Deliveroo's, these convenient, healthy meal deliveries are here to stop you in your tracks, ready to eat with no hassle at all!
BEST FOR VARIETY: The Good Prep
Varying from 3, 5 and 6 day plans, The Good Prep has a vast selection of healthy meals to choose from. Catering to all, there is a selection of plant-based, vegetarian and pescatarian options available. What we love about The Good Prep is that the customer has complete control over what goes into their plan, meaning nothing unwanted will arrive at your door. Prepped to perfection, each meal comes ready to eat with only heating required. Uncomplicated and unfussy, The Good Prep build eat their meal around a source of protein, vegetables and wholesome carb source for a well-balanced approach. Many of the meals have the option without a carb source which works well for a lighter lunch. Each meal option is labelled with handy indicators such as 'high protein', 'under 500 cals' and 'dairy free' to you can filter for your dietary requirements. From breakfast through to dinner, with snacks and juices in tow, The Good Prep takes the thinking out of meal times and guarantees fresh, quality ingredients that are both healthy and delicious.  If turmeric turkey with beetroot noodles and honey soy dressing is tickling your fancy or tandoori tempeh with pilau rice is making your mouth water, you need to check out The Good Prep!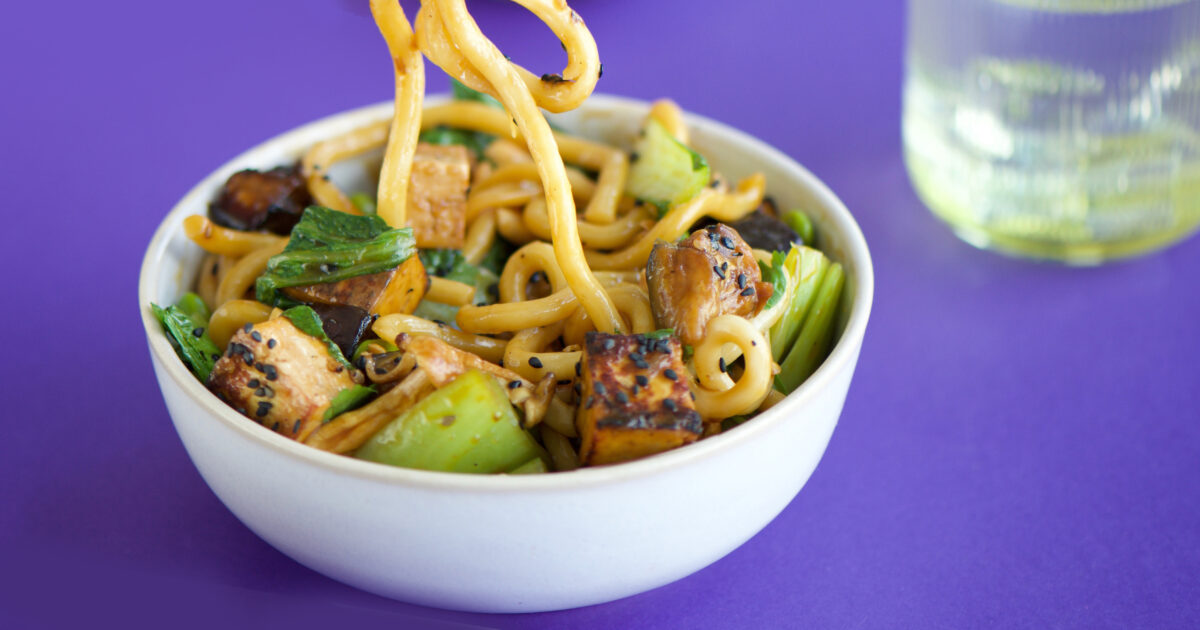 BEST FOR VEGANS: Planty
Putting a creative spin on plant-based ready meals, it doesn't come as a surprise to learn that Planty has been headed up by a team of Michelin-starred chefs! It's hard to imagine food out of a *recyclable* box can taste so good but Planty proves that it can. Committed to taste, texture and flavour, every single meal is plant-based, filled with vegetables, whole grains, legumes, nuts and seeds. Planty's environmental footprint is minimal with a B Corp certification to show for it. Minimum orders start from 6 ready meals, which come packaged up ready to store in the fridge or for longevity, in the freezer. Meals can be heated straight from the freezer, no need to remember to defrost. Our top picks are the Baked Gnocchi Ragù made with a nutty pesto crumb and the award-winning 'Not-a-Chicken' Tikka Masala made using Heura chicken chunks, creamy masala sauce, pilau rice, bombay aloo, spinach and almonds. There's also the option for adding on delicious vegan desserts and breakfast oat pots to stock up your fridge with! Both the Chocolate & Date Caramel Oat Pot and the Beetroot Red Velvet Cake are equally sublime.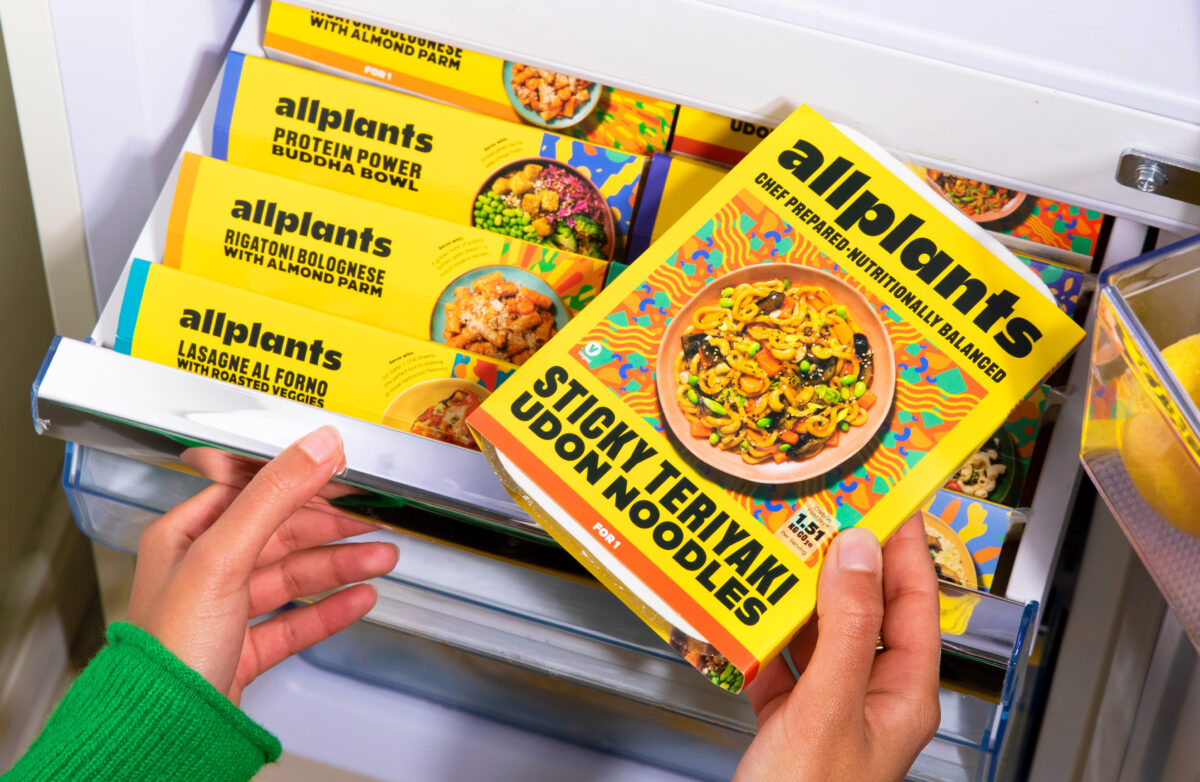 BEST FOR STOCKING THE FREEZER: allplants
One of the pioneers to spur on healthy ready meals into the stratosphere is allplants. Powered by, you guessed it, plants, they have over 100 nourishing, plant-based dishes to choose from, brimming with vibrant colours and wholefoods, unlike the ready meals that line the supermarket shelves. Curated and prepped by chefs, there is something to suit everybody's tastebuds. Whether you're vegan or not, you will undoubtedly enjoy every morsel of these meals, all of which contain at least two of your five-a-day. The 'first taste' bundle is a great place to start, stocked with five of the favourite recipes existing customers return to. The rigatoni bolognese made with mushrooms, puy lentils and walnuts and the tamari and chilli glazed tofu bowl will knock your socks off… tasty, satisfying and nourishing! The meals arrive at your door frozen to then stored in the freezer for up to 12 months, perfect for those days you have nothing left in the fridge. Breakfasts, sides, treats and smoothies can be supplemented into your orders to keep you sorted all day long!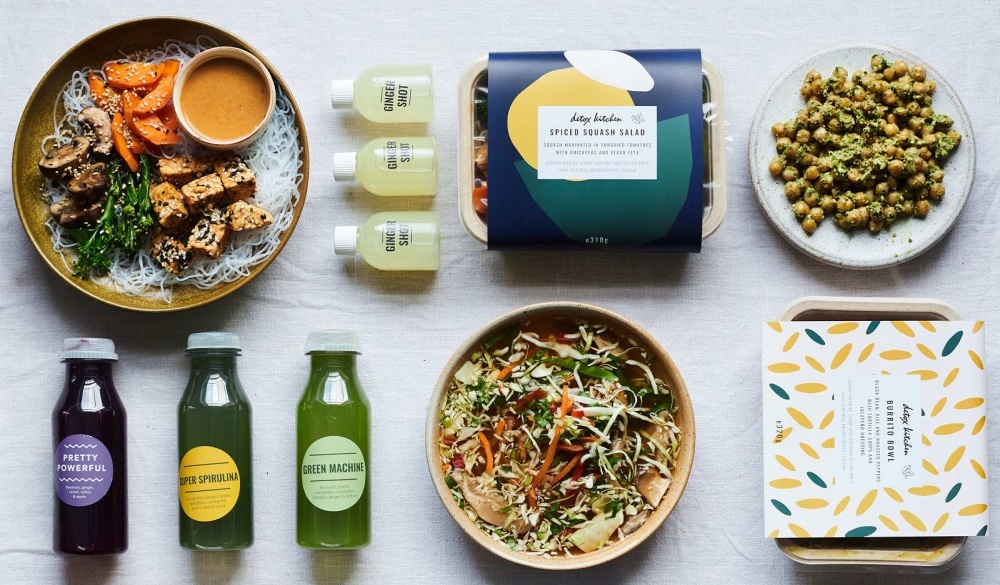 BEST FOR HITTING RESET: Detox Kitchen
An oldie but goodie, we've been a fan of The Detox Kitchen since way back in 2012 when they arrived on the scene at the birth of the wellness boom. Their meal plans are nutrient-dense, with a tailored approach, containing all the food and drink you need for the day, delivered to your door fresh each morning. Results-driven, the eight plans are a reliable way to hit the reset button on your health, following a 'cleanse', 'flexi' or 'maintain' programme. Curated with good quality, seasonal ingredients, the meals are predominantly plant-based, 100% dairy and wheat free. Contained in eco-conscious packaging, each meal is cooked from scratch and popped into a cooler bag with ice packs which are picked up and reused. You choose the plan and the meals are selected for you to find certain macros around the tailored goals. Clean and nutritional balanced, these plans will revive your body back to health.
BEST FOR ACTIVE LIFESTYLE: Fresh Fitness Food 
If you're after meals that will complement your training, Fresh Fitness Food is the route to go down. Choose from personalised plans, centred around lean gains, fat loss, building muscle or general health to assist a healthy active lifestyle. Backed by nutritionist know-how and Michelin chef skills, the meal delivery experience is seamless, with fresh meals delivered to a safe space during the night, ready for you to retrieve and enjoy the next day. Taking matters out of your hands, Fresh Fitness Food does all the calorie counting and macro tracking for you, which essentially is the key to weight loss and muscle gain. You can determine whether you want to be in a deficit or surplus in order to reach your goals, it's all conveniently managed in an app with access to all details on what you're going to be eating and the nutritional value. Thus far, you might be thinking the meals are going to be just bland meat and veggies, but the dishes created by Fresh Fitness Food are far from mundane. A typical day may include buckwheat pancakes for breakfast, chipotle spiced salmon for lunch and caramelised tofu with edamame and charred corn for dinner, with the accompaniment of super seed florentines to snack on. Catering for pescatarians, flexitarian and plant-based eaters too, this is the meal delivery service to use if you want to optimise your work in the gym!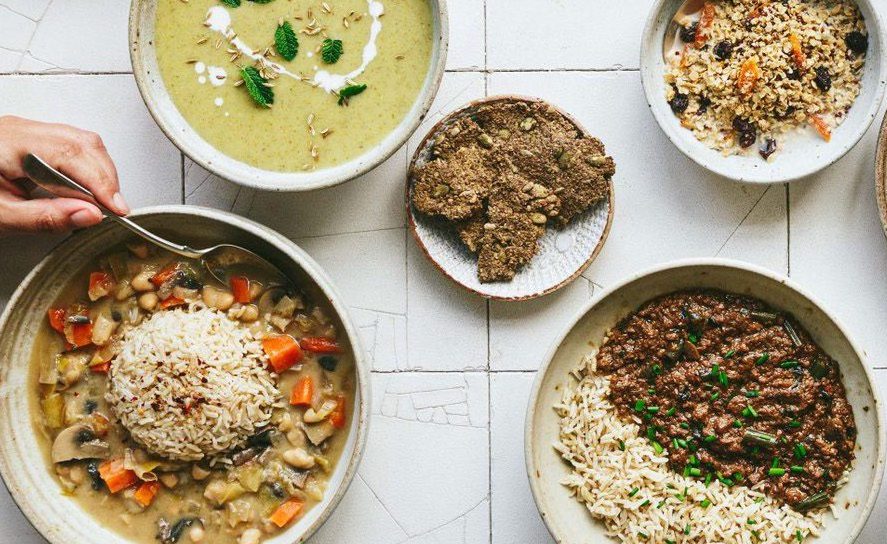 BEST FOR HEALTH CONCERNS: Foodhak
Rooted in traditional Indian recipes, Foodhak is an innovative vegan food delivery prioritising health concerns and nutritional benefits. Arriving prepared in pouches that store well in your fridge, the meals follow the traditional Indian system of Ayurvedic medicine. With a compelling founder story, Foodhak is driven with an aim to help and heal people, using food as medicine in the same way Sakshi Chhabra did when she was diagnosed with a rare liver disease. Anti-inflammatory, clinically backed, plant-based and gluten-free, the menu can be filtered by its health benefits, which is unique to Foodhak. Whether you're looking to boost brain health, increase your iron metabolism or fight fatigue, there's an abundance of meals to choose from. The Spirulina Thai Green Curry is bursting with flavour, as is the Mung Mushroom Bolognese! Foodhak may be inspired by recipes of the past but it is very much set in the future, using the latest technology to analyse thousands of scientific research papers to understand which foods are most beneficial for long-term health and which mitigate certain medical conditions.
words by Isabelle Shury