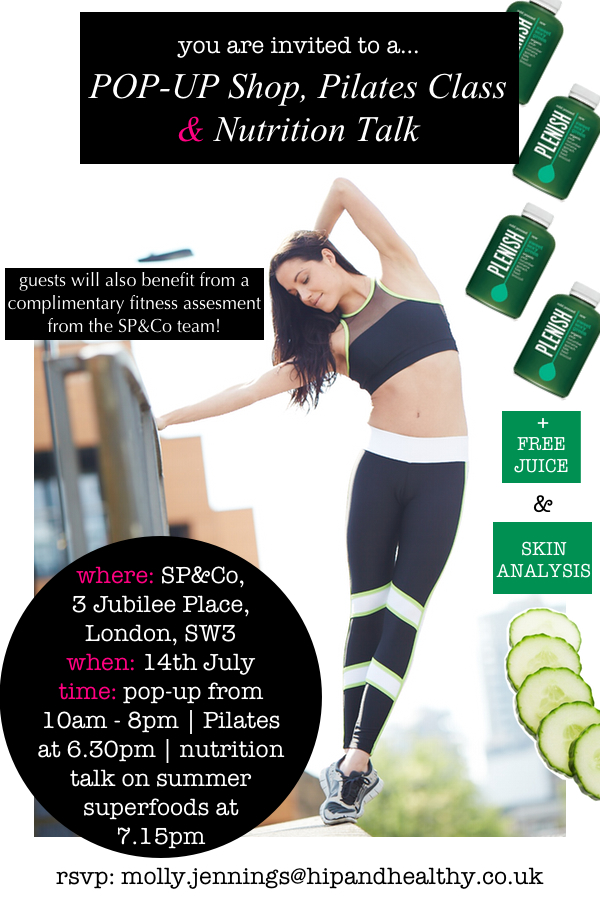 A little bit more info for you!
Buy your new workout threads at Hip & Healthy
We will be popping up our activewear store at the event and all day at SP&Co so that you can try and buy your favourite new styles from our super hot summer collections (some of which is not even available on the site yet!) and we will be giving a 10% discount on the night.
We will be at SP&Co from 10am-8pm so come on down whenever you can!
Fitness Assessments by SP&Co
SP&Co's 3 Jubilee Place, is the ultimate health and wellness space for those who truly value their privacy. A bespoke and highly personalised service ensures that each client is given the dedicated time and encouragement to create a unique and extraordinary lifestyle experience. Their philosophy is to incorporate a programme that is based around the individual, mindfully integrating fitness and complementary therapies to bring outstanding results in an environment that feels like a home-from-home. Managing Director & Personal Trainer of the company, Stephen, is passionate about a multi-disciplinary approach to health and fitness and believes that it is the key to a longer, happier, more fulfilled life.
Find out how fit you really are and what you can do to improve it. At the event, the SP&Co trainers will be measuring your fitness and dishing out great advice on how to get even fitter! Starts from 6pm.
Skin Analysis with Sherron Holder-Culver 
Born to Barbadian parents, Sherron has been very fortunate in her life to be brought up within a culture and environment that uses natural remedies and holistic therapies as a way of life to alleviate ailments and maintain healthy living. She is passionate about her work and likes to combine all of her techniques and experience with the latest technology and ingredients to create well informed, bespoke treatments that yield immediate results. As an accomplished aromatherapist and with a knowledge of herbal medicine if a product is not available Sherron will hand blend it herself to address many conditions.
Sherron will be conducting skin-analysis on guests all evening. Please arrive early to make sure you get a slot with her! Starting from 6pm.
Pilates with Katie Power
Spending most of her waking hours as a commercial lawyer and teaching, Pilates is the perfect counterfoil to the combative legal world. Coming back from an injury 3 years ago, Katie was advised that she would never run again without invasive knee surgery. Having-disregarded that advice and taken up Pilates, she has since run several half marathons, completed triathlons and even survived her first full marathon last year. Now a regular runner and gym bunny without injury, she wants to help her clients achieve their goals when they have been told injury or limitations in their body will hold them back.
Pilates will start 6.30pm! Come wearing something comfortable!
Nutrition Talk by Eve Kalinik
Eve Kalinik, is a BANT and CNHC registered Nutritional Therapist with a BA in Psychology. As a passionate foodie she believes in a holistic whole food approach to help support an increase in vitality and a general feeling of wellness inside and out. Eve works with a diverse range of clientele and having previously worked in a high pressure career always considers "real life" when putting together programs and menus for her clients. She works on an individually tailored and bespoke approach to a life long attitude of eating well to assist the body's natural healing abilities. Alongside her consultations Eve also hosts various workshops, supper clubs and cooking classes.
Eve will be giving a talk on the top Summer super-foods that will get you feeling and looking your best. The talk will start at 7.15pm and last for around 20 minutes.
RSVP: [email protected]