Serves 2 as a main or 4 as a starter
Ingredients
1 cup quinoa, 175g
1 ¾ cups water, 420ml
pinch of salt
1 cauliflower, florets trimmed, 650g
1 carrot, shredded, 70g
1 bag of washed rocket, 70g
½ cup flaked almonds, toasted, 45g
CAULIFLOWER SEASONING
3 tbsp olive oil
2 tsp tumeric
½ tsp cumin
½ tsp garam masala
1 tsp paprika
½ tsp salt
¼ tsp freshly ground black pepper
DRESSING
1 shallot, finely diced
1.5 tbsp mustard
3 tbsp white wine vinegar
¼ cup olive oil
1 lemon
salt and freshly ground pepper to taste
Method
Pre-heat oven to 180C.
Rinse the quinoa in mesh sieve (this helps keep the quinoa fluffy once it's cooked).  Bring the quinoa, water and pinch of salt to a boil then reduce and simmer for 12-15 minutes with the lid on until all water is absorbed and spirals are revealed. Turn off the heat and place a dry dishcloth over the pot for 5 minutes before fluffing with a fork.
While the quinoa is cooking, trim the cauliflower fleurets and coat in olive oil.  Mix the seasoning spices and toss cauliflower.  Bake on a lined tray for 40-50 minutes, turning a few times in between until a deep golden colour.
Toast the almonds in the oven while roasting the cauliflower for 15 minutes (set a timer so you don't forget!).
Make the dressing by mixing the shallot, mustard and vinegar until smooth, then add the olive oil, lemon juice, salt and pepper.
Shred the carrot on a grater.
When ready to serve, toss the carrot, rocket and quinoa. Gently mix-in the cauliflower.  Evenly coat with the dressing and garnish with almonds.
This recipes requires a bit more work but don't worry about making extra because the spiced cauliflower tastes even better the next day. Enjoy!!!
Maple & Fitz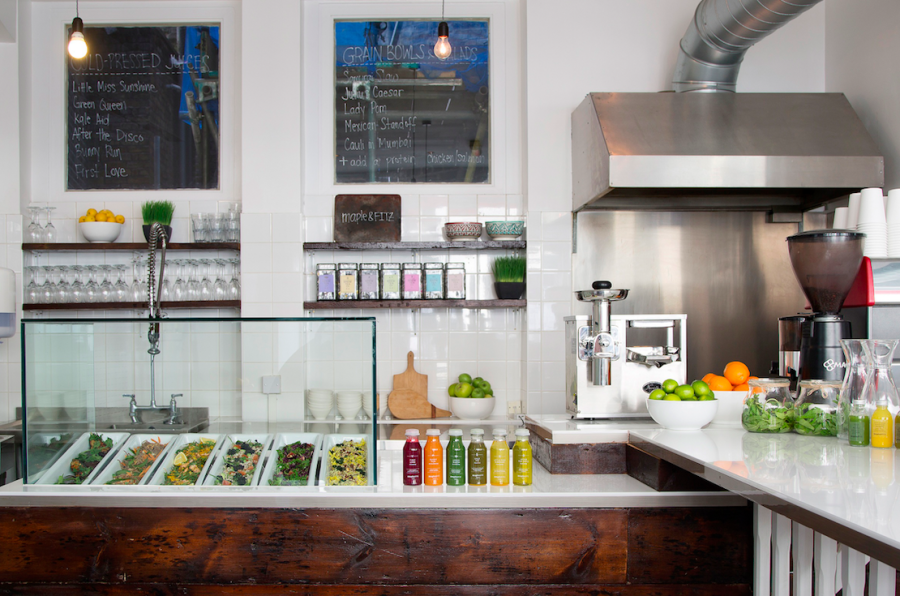 Opened in Fitzrovia on 2nd March 2015 Maple & Fitz is the new eatery and cold-pressed juice bar focussed on healthy yet satisfying food and offers delicious salads, grain bowls, the very best in-house cold-pressed juices and guilt-free treats that nourish customers from the inside out. With the option to eat-in or takeaway, the new 'London local' provides well-balanced, colourful and wholesome dishes to satisfy 'real food' cravings. Set up by engineer turned chef Adria Wu, the healthy hot spot has become a hub for health-conscious workers on the go looking for tasty lunch options! The salted caramel brownies are a must!