Hip & Healthy contributor, Carole Armitage, shares her Caribbean wellness experience of a week at The BodyHoliday in Saint Lucia and how it can completely relax and transform your mental and physical state.
Their motto "Give us your body for the week and we will give you back your mind" is certainly more like a truth, a fact of sorts. They really did give me back my mind as well as all the other benefits. Although the journey is long, 9 hours from Gatwick to Hewanorra International Airport, and add to that the road trip from the airport is a minimum of 2 hours along windy, hilly roads which had I known I would have caught the helicopter, which takes 12 mins and costs $160 and believe me once you experience the car journey, that additional cost is worth it! Saying that, the view was outstanding, so pregnant with life was the island, the rainforest so lush and green, it is a beautiful and ripe island and impossible not to fall in love with. The people are so happy and friendly and the heat automatically starts to loosen those tight wound up muscles readying themselves for the real thing at the resort. Upon arrival we are welcomed with a soothing cold flannel and cocktail to start the wind down. Friendly staff escort us to the Luxury Ocean View room, where we could down tools, take a relaxing shower and then take a look around the place before we had our orientation tour the following morning.
The resort is based upon the principles of the four pillars: Fitness-Diet-Relaxation and Restorative Beauty. All of which have been honed to such a degree. It is what makes this place especially unique.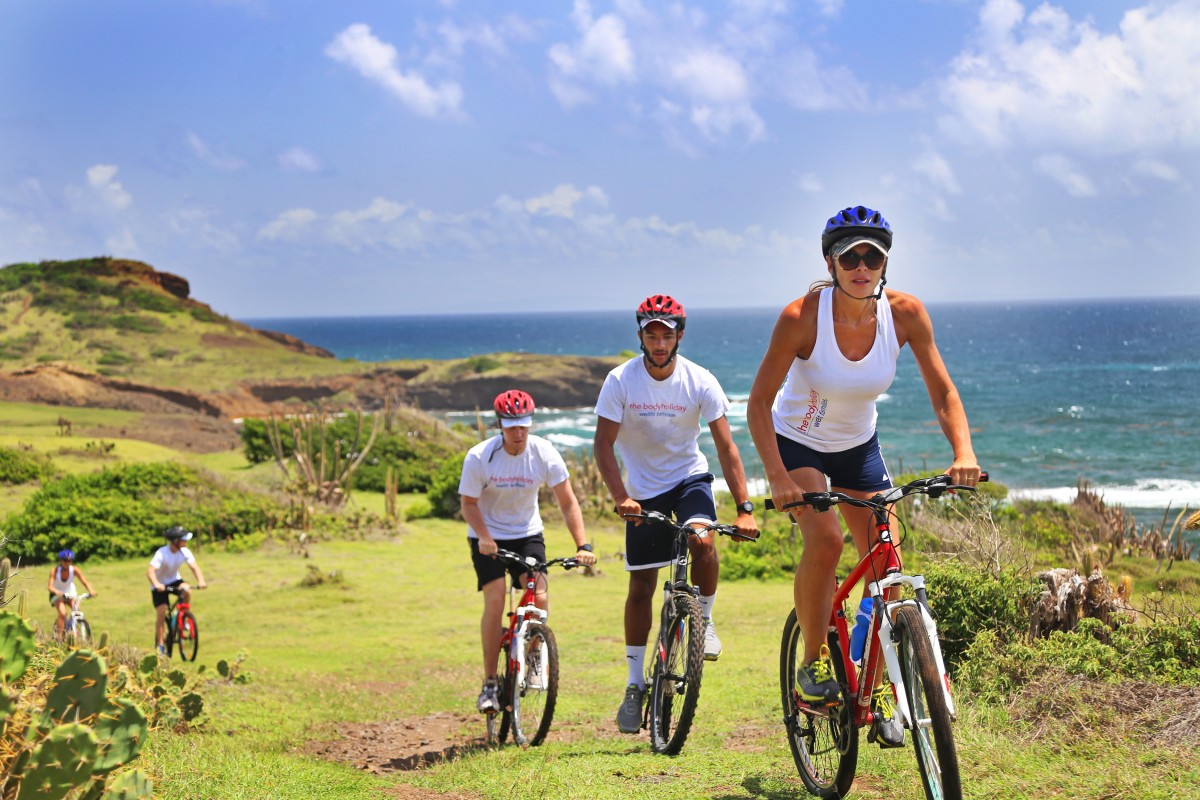 Fitness
The choice is endless, it's almost impossible to fit everything in but try we did. In the evening, a black board of the next day's activities goes up so you can map out the next day over dinner and perhaps a cheeky rum! For someone who loves sport I was a kid in a sweet shop, seeking out what I could do next, from outdoor water sports including paddle boarding, windsurfing, tubing, wake boarding, aqua-fit, water volley-ball, snorkeling, sailing and water skiing to an unlimited list of exercise classes which ticks every box you could possibly imagine. My favourite being the Caribbean dance fit, where we got to bust a move or two and bow down to the talented instructors and their amazing rhythm. It is a sight for sore eyes but what a sight and a brilliant way to get the heart rate up and legs toned, add to that a dollop of salsa, combat fitness, varying types of yoga ranging from Hatha to restorative and a whole host of other classes, you are spoilt for choice. There is no shortage of things to do at this place. The hardest part is literally trying to work out your timings so you can fit it all in. If that's not enough; you have a chance to have a 1-2-1 personal training session with one of the resident personal trainers that will help tailor a program for you.
Diet
The food is out of this world, everything is fresh and beautifully executed and a feast for the eyes, showcasing true Caribbean cuisine to make the mouth water. The BodyHoliday has 4 restaurants to choose from, two of them you do have to book at least 24 hours in advance (Cariblue Windows and Tao), Cariblue Windows is a 4 course tasting menu which changes daily and Tao is Asian fusion. The deli is a perfect shaded spot for you to grab a juice, smoothie, salad on the go or if you want to sit down, and has what we lovingly called the 'naughty corner 'which was a bench of refined sugar free treats to appease the sweet tooth monster and the Cariblue, which overlooks the sea and where you eat as much or as little as you like in a casual dining setting. To top it off they offer a solo traveler table, so no one is ever left alone, making friends is as easy as 1,2,3 and with the solo travelers table, it just aids in bringing people of all walks of life together in perfect food munching heaven! There is no shortage of food, which accommodates all dietary requirements and the style of food changes daily. My favourite is the King Fish they serve, which is one of their local fish they have. Meaty and flavourful and a great healthy food. The only down side to the food is that no matter how healthy it all is, you want it all and to limit oneself just feels cruel, but then when you are doing so much exercise, I feel it is allowed. So go forth and enjoy what you want to eat.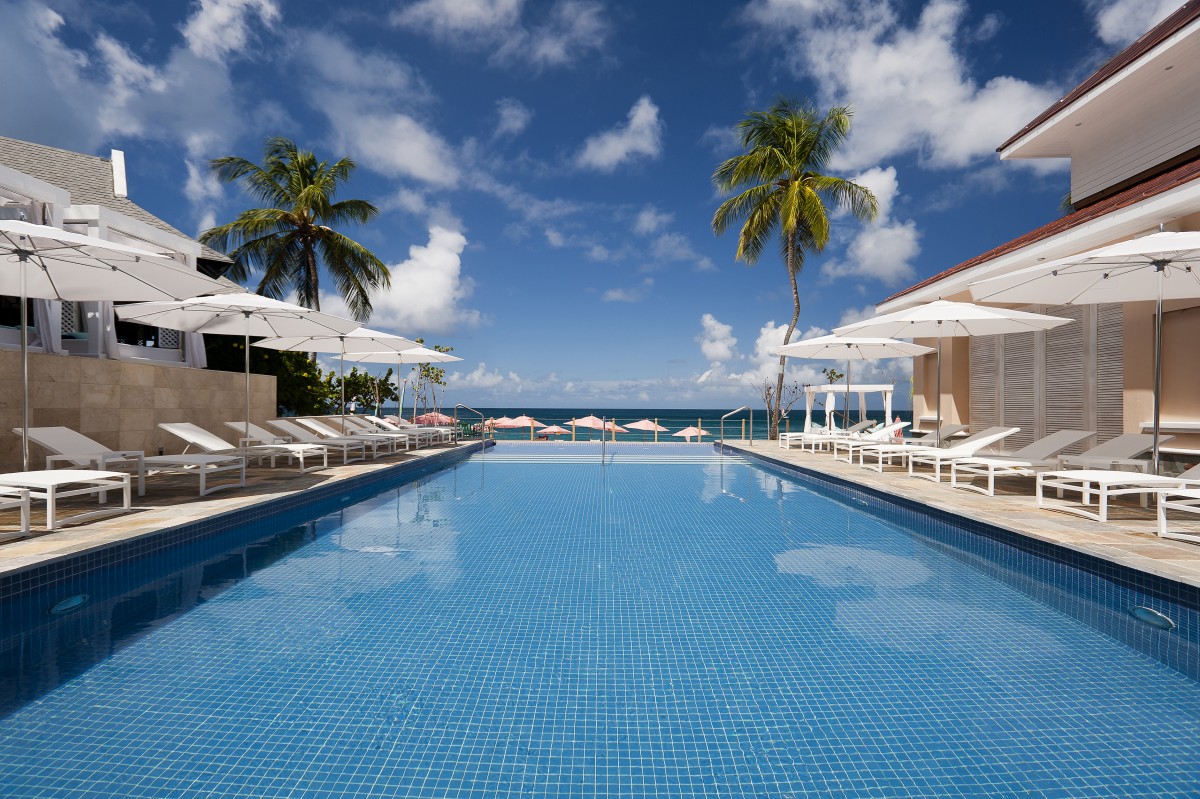 Relaxation
Besides the food, the fitness, the next hugely popular pillar is relaxation. The spa is heavenly and stepping into the spa is instantly relaxing. With a daily massage or facial already scheduled for you on the trip, you have access to further treatments for a supplement. The Ayurvedic Spa is a place where you can find ultimate bliss and follow the ancient Indian tradition, these are a class above the rest and well worth adding to your packed schedule and give your well deserved body a heavenly Indian head massage or try the Shirodhara treatment which is the ultimate in relaxation. Add to that the Thalgo therapy treatments, which bring the benefit of water therapy to each treatment. The location of the spa is atop of the hill, so a cute little calorie burn to get to your heaven but it is worth it, and even if you don't feel the need for a treatment you could just relax on one of the beds outside or go to the nude sunbathing patch in a secluded spot or try your hand at infrared therapy, which is excellent for improved circulation, relaxation, pain relief, weight loss and skin purification. There are also chances to take two or three day journeys and rituals which aid in sleep promotion, detoxifying and bringing about a deeper sense of relaxation which is also supplementary. Whatever you need, they have, this is a place were you go and all stresses melt away. A perfect sanctuary.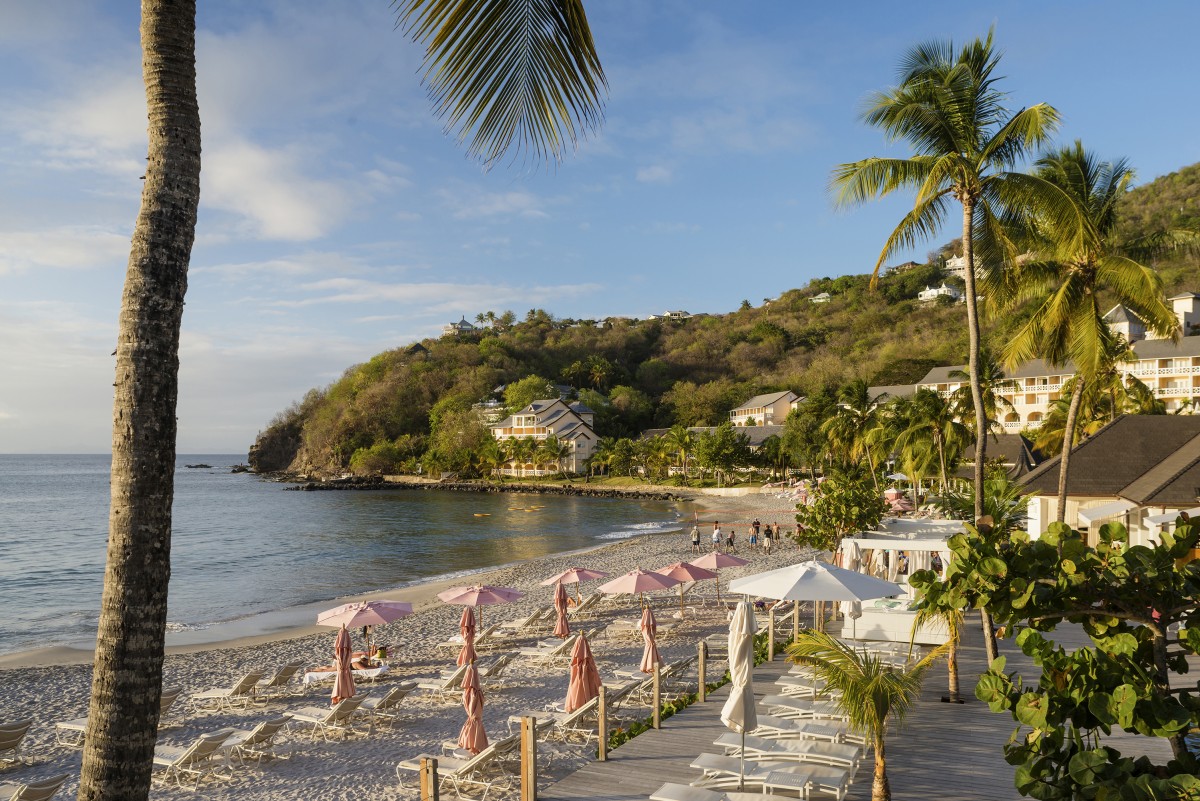 Restorative Beauty
The final piece to the jigsaw is the restorative beauty of BodyHoliday. This is a place like no other, it brings about a sense of calm and rejuvenates you from the inside out and outside in. No matter why you come to the all-inclusive resort, you will come out of this with a renewed sense of calm, inner strength and clarity. The location is unspoilt and as well as the other principles this resort holds itself highly to, this caters to every aspect of your desires and needs.
I can completely understand why at least 75% of the customers are returners. You come once and you come away with a renewed sense of who you are, it invigorates you in such a way you feel it's compulsory to have as part of your yearly requirement. For couples, families and solo travelers, this resort has it all, it welcomes you with big Caribbean arms and gives you a break from your normal routine so you can experience and try out anything you like and it's all done with your wellbeing and health in mind. The resort has something going on each and every month to keep you motivated and interested, if it's not sailing month, its Jive June or September Solo travelers. The resort has it all, all you need to do is pack your sunscreen, swimwear, sport wear and dinner outfit and you are ready for the most restful, exhilarating and personal wellbeing journey you will ever have… Everyone should give themselves this trip as their own personal present. You deserve it.
For more information on how to book your trip, click here!
words by Carole Armitage