Huddled away on Sri Lanka's south coast, it's hard to imagine a place as peaceful as Cape Weligama Hotel. Perched high on a grassy headland overlooking the Indian Ocean, the panoramas and tranquil surroundings of this luxury bolthole provide the perfect backdrop to press pause, recharge and reset. A stay here is all about feel-good food, daily yoga and some much-needed serotonin – with the most breathtaking views to boot. Here's the lowdown if you're planning your next getaway…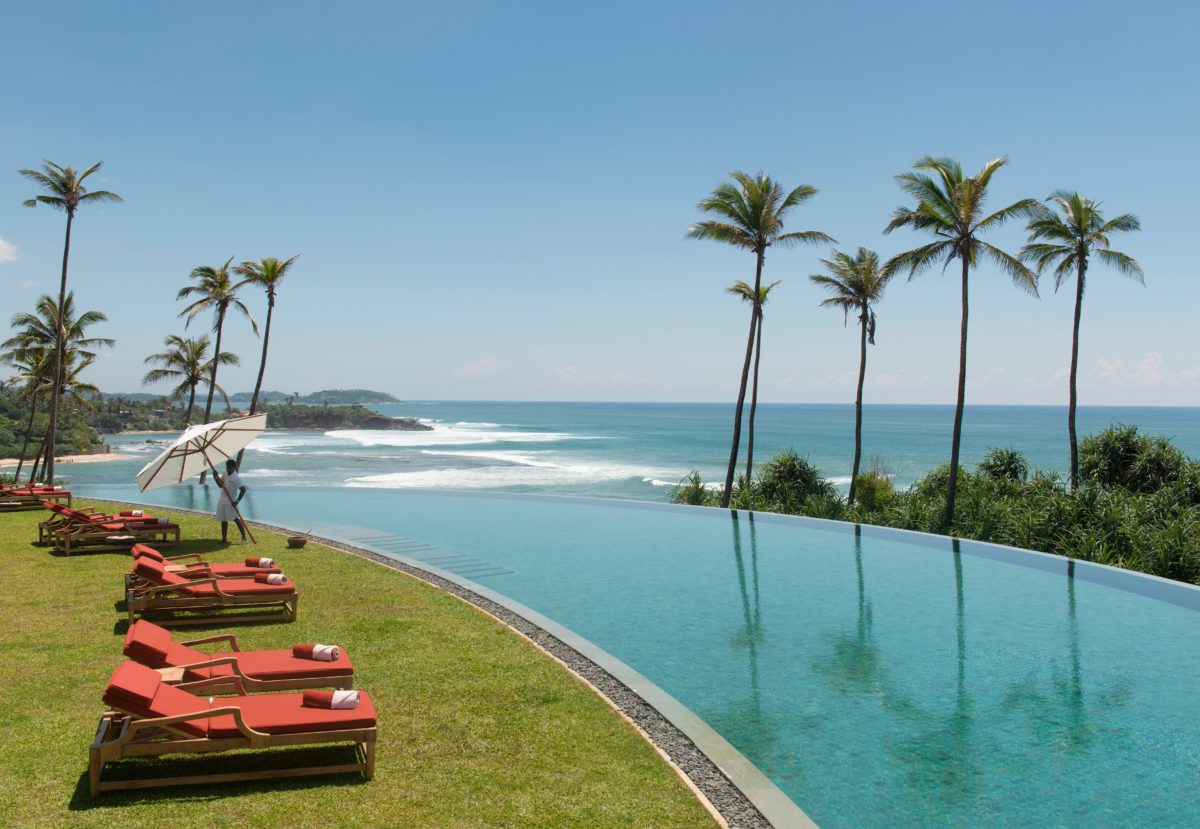 The hotel
Somewhere between Galle's 17th-century fort and the sleepy town of Mirissa, I arrive just outside of Weligama, a fishing village in Southern Sri Lanka that's famous for its surfing, long stretches of sand and whale-watching. The taxi has made a considerable journey from Bentota in record speed by tearing up a tangle of side streets and winding up the steep hill on to Cape Weligama Hotel. When I arrive, albeit a little car sick, a set of tall, iron gates guard the large 12-acre resort; it's the confirmation that herein lies the area's most secluded, and exclusive, hotel.
Driving through the hotel grounds, it looks like a little village; there are sumptuous terracotta-tiled houses dotted around the 39-key resort and beautiful gardens bursting with flora, as well as three restaurants, a bar, and spa all within the vicinity.
Though its namesake town and neighbouring coastal hotels are known for a laid-back beach vibe, Cape Weligama is an altogether different breed. It captures the beguiling charm of Sri Lanka – beautifully-crafted wooden architecture, colourful gardens and authentic cuisine – yet combines this with a sense of supreme luxury. It's one of three resorts in Sri Lanka that form part of hotel group Resplendent Ceylon's tea, sea and safari experience, along with the Ceylon Tea Trails up in the north and Wild Coast Tented Lodge, the newest addition located in Yala National Park.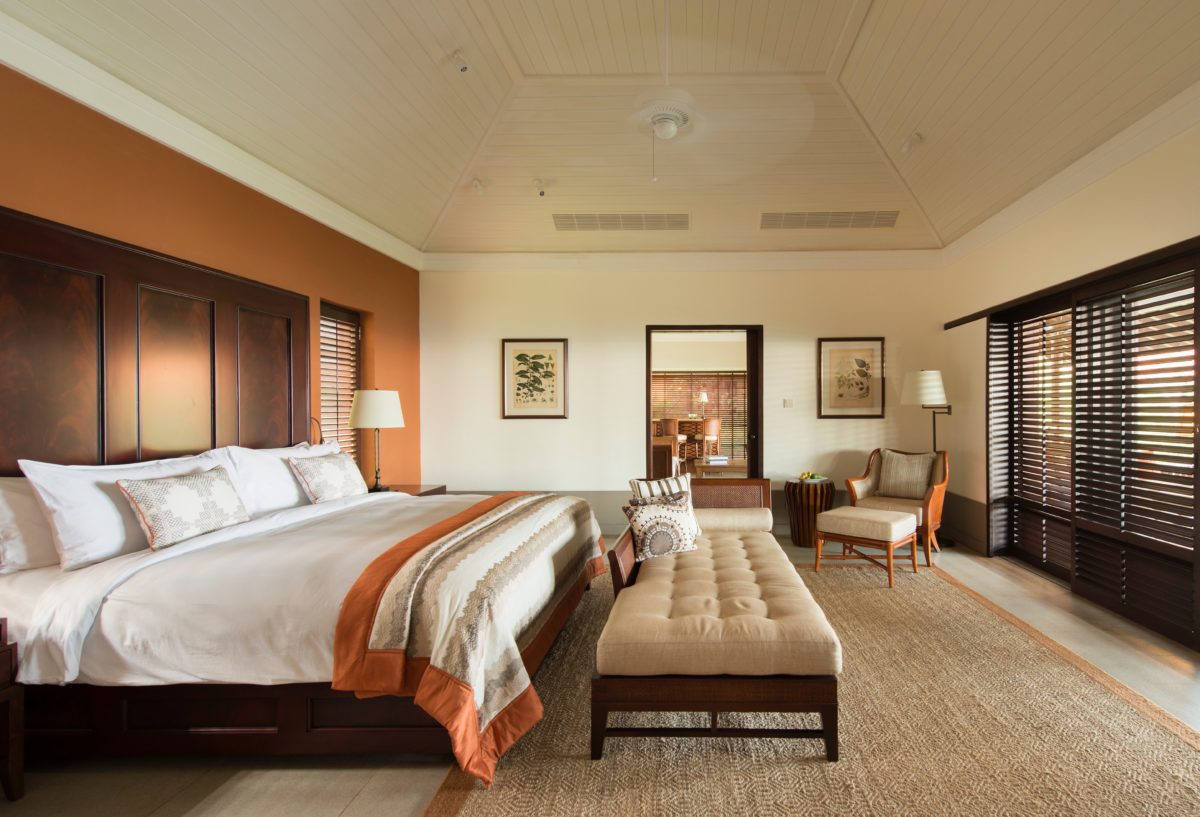 The rooms
Extremely spacious and accompanied by a large veranda, each villa is spread out around the grounds to give you enough privacy. Named after a famous Sri Lankan explorer, they come equipped with 24-hour service, a shared infinity pool, tailored newspapers delivered daily – and, pretty much everything else you can think of. There are even mosquito repellent and after-sun in wooden bottles in case you forget your own, and I loved the homemade soaps, shampoos and conditioners made from local teas and spices. Best of all, though, was the steam-room-turn-shower and pool-sized tub, which made the bathroom feel like your very own at-home spa.
I stayed in an Ocean Villa that was beautiful in every way. Mahogany wood furniture, an elaborate headboard and large bed decorated with soft-hued linen and fluffy pillows, and ornate chairs dotted around the room add to the harmonious feel of the place. Architect Lek Bunnag has taken cues from a mix of contemporary and colonial style; shades of ochre, sunshine yellow and caramel lend the room an authentic feel, while the elaborate mirrors and bathroom are more majestic. Speaking of which, the bathroom is about the same size as the hotel room itself, with the lavish stone bathtub occupying its own room and featuring wooden shutters and beautiful views.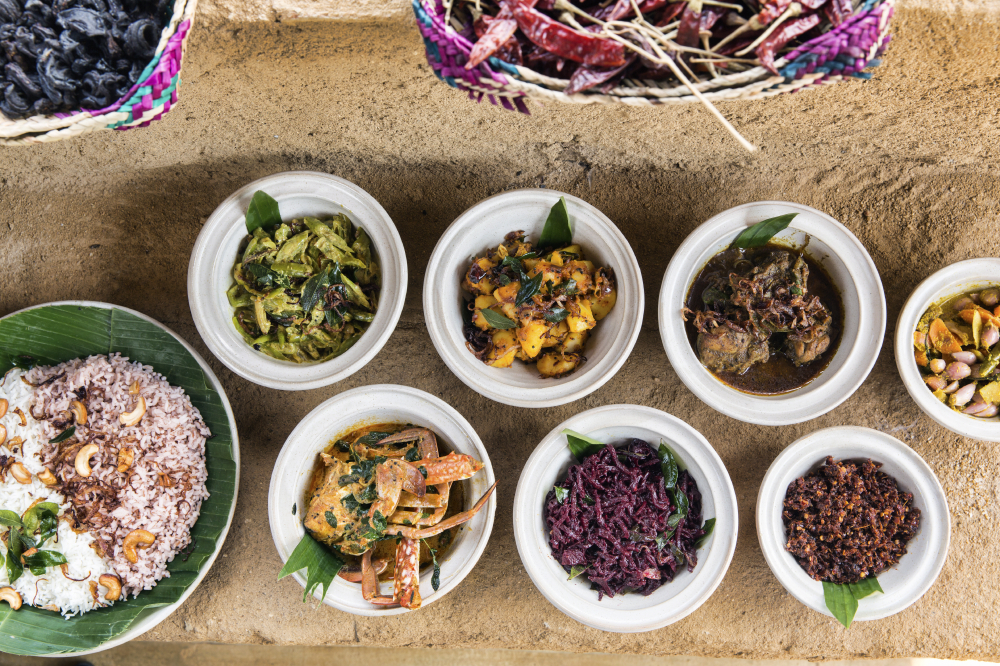 The food
The majestic open-air pavilion at the Terrace Restaurant is a pretty impressive experience in itself – but the food is the real highlight. Sashimi that melts in your mouth; freshly caught tuna from the market; and homemade ice cream. Three scoops of dark chocolate, rich cashew nut and sweet cinnamon, and I was hooked. Finally, if you're up for sampling an arrack-infused cocktail, the opulent, candlelit bar is conveniently located next door to the restaurant.
For breakfast, excellent homemade vanilla granola, french toast and light croissants are available, but there's also a superb Sri Lankan breakfast on offer. Just make sure you bring your appetite, though. A series of vibrant dishes bursting with flavour arrive at your table, like hearty dahl and soft coconut roti with the added kick of aromatic chicken or fragrant jackfruit curry; it's here when you start to regret all the pastries prior.
Spa and wellness
A sense of relaxation pervades the hotel. You can spend hours simply lounging around the pool and taking in the view. But if you fancy stretching your legs (without having to leave the hotel), the complimentary pilates and yoga sessions are the perfect way to release some endorphins. The final tonic? A series of tailored spa treatments in the comfort of your room, including a deep-tissue massage on the veranda and a herbal steam treatment in your shower room.
At the Ocean Spa itself, I was pleased to see a long list of treatments that use native Sri Lankan ingredients such as Ceylon tea and cinnamon, which is used in Ayurvedic medicine for centuries thanks to its healing properties. Treatments list from an exfoliation ritual with antioxidant-rich tea leaves to the world's first self-heating massage therapy, known as a hot lava shell massage.
48 hours of tranquillity, dreamlike views and inimitable style… Cape Weligama Hotel gets a thumbs up from me. 
Rates: from $476 per night on a B&B basis, including accommodation on a double – occupancy basis, daily breakfast, plus laundry, mini bar, afternoon tea, all taxes and service charges plus one activity per day. Discover more here.
words by Amelia Bell
images: Sebastian Posingis & Tom Parker
---
Read more: Review: Ayurvedic Retreat At Eco Hotel, The Scarlet – Cornwall