Best-selling author of "I Am Not Your Baby Mother" and TV presenter, Candice Brathwaite shares her experience of motherhood as a black British woman, why we need to be talking about race with our children from an early age and how she's keeping her kids healthy and fighting fit through the coronavirus pandemic.
Your amazing Instagram page is a platform for sharing the honest ups and downs of parenting through your eyes. How do you feel being a part of a community where white voices still make up the majority of the "mumfluencer" space?
It's a hard one. I'm respectful of what coming into this industry has helped me to change but I don't even think the 'mumfluencer' is a thing anymore. I would hope people follow a variety of accounts that make them feel good not just accounts that are pushed as the most popular. I've worked hard to look for black influencers in all categories and my word have I found them! It's about making a conscious effort to diversify our feeds. And I'll be honest with you I don't consider myself to be part of the 'mumfluencer' community anymore. I'm Candice the author, tv presenter and content creator. I'm grateful for what the term 'mumfluencer' has helped me accomplish but it's definitely a title I'm ready to retire.
On top of all the new mum struggles, what were some of the challenges you faced in the early days of parenthood as a black British mother?
Just not being able to see myself. I relied on social media heavily in those early days and motherhood really came across as something that wasn't for me even though I was holding a new baby. Hashtags like motherhood and parenting just didn't lead to a wide variety of faces and that was hard to get my head around.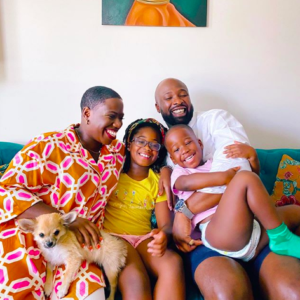 In your debut, sell-out book "I Am Not Your Baby Mother" you speak about how racial discrimination sadly became a part of your daughter's life from such an early age. How did that make you feel?
Although I was of course hurt, I wasn't surprised. When it comes to the black British experience for a young child it's not if they will experience racism, it's when. Esmé's experience just happened very early on and it was something that we as a family had to work through. 
In your view, what conversations need to be had, what changes need to happen to prevent that from happening to other black children living in the UK?
I think there needs to be a complete overhaul in the British education system. Right now teachings about Britain's role in the transatlantic slave trade are optional lesson plans for those in key stage three. That's far too late to be having a conversation about race or how black bodies have been used solely for labour for a really long time. We need to introduce a wide range of materials regarding race and seeing others as equal from key stage one. This, of course, needs to be happening at home also. Families need to work hard at being anti-racist. 
How have you kept the family busy (and sane!) during lockdown?
Well, I work from home and my debut book has been published during a pandemic so I myself have been super busy. When it comes to the children we have worked hard to try and make the day go day activities like hanging out the washing and gardening, fun. I have tried to learn to cook, which has been hilarious but it has made me think about what the kids are eating. Which is why I'm so happy to be working with Haliborange on their Lunch Box Wins campaign. Working with a great nutritionist called Bahee Van De Bor, a Paediatric Dietician, Haliborange has made five great recipes for kids lunch boxes. What's awesome is that testing these recipes is something I can involve the kids in, which is great.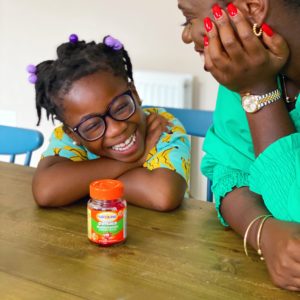 With good health being a huge priority at the moment, is there anything you're doing to make sure the kids stay well and fighting fit?
Yes! I've been giving Esmé a Haliborange softie every morning for years, I can't lie sometimes I have a couple too! It's awesome to know that her immune system is getting the support it needs, especially at this time. Alongside that, I'm trying to work as many fruit and veg into their daily intake as possible. The recipes created for the lunch box wins campaign also does this really well. 
How are you feeling about your kids being back at school/nursery?
Luckily I've had a bite of that cherry already because Esmé went back to school for the last three weeks of term before the summer holidays. It was very nerve-wracking but her school have been wonderful about implementing social distancing in a way that isn't overwhelming for the children.

One change that took me by surprise is that school dinners were no longer offered it's packed lunch only. I did forget on a few occasions. But that's another reason I love the Haliborange Lunch Box Wins Campaign – the five recipes which are delicious and nutritious really does take some of the pressure off of parents which are great.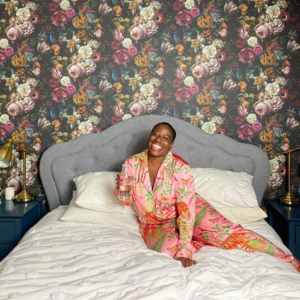 Are there any non-negotiable things you need to do in order to be your best self as a mum?
Of course! Spending time alone is non-negotiable for me. I usually like to read, cycle, rollerskate or meditate myself. 
What do mornings look like in your household? Any rituals you like to incorporate?
They are crazy and chaotic. The routine usually depends on what I'm doing for work that day. If I'm going to be on tv, I'll be in a car by 4:45 on the way to the studio. If I'm working from home, I get up at around 5:30 so I can have time alone and let the puppy out. The kids will get up between 7&8 and then it's all systems go. The only constant is their Haliborange Softie which is the UK's No 1 vitamin for children. 
Candice Brathwaite is working with Haliborange, the UK's No 1 kids vitamin brand, to help parents take the fuss out of lunchbox prep, making it simple and quick to put together a lunch that's as tasty as it is nutritionally balanced – just like Haliborange. Recommended by 9 out of 10 parents, Haliborange is available from Boots, supermarkets and pharmacies. For more information on products, visit https://www.haliborange.com/, for recipes go to the Haliborange Instagram @haliborangeuk