We're incredibly proud to now be stocking natural skincare brand, By Sarah, in our online wellness store. We thought a Q&A with Sarah herself would be a fantastic way for our readers to get an understanding of the inspiring story that brought two sisters together in business.
Where and how did the By Sarah brand begin?
My sister, Lauren, was diagnosed with leukaemia in 2012 and after months of treatment, her skin was very dry and sensitive. I tried to find skincare to help but even many natural and organic ranges had long, cryptic ingredient lists that left me confused and disappointed. So I turned to my childhood hobby of making skincare and formulated plant-based blends to soothe her skin. The result? They worked! I shared my blends with friends and family who also loved them. When designing the packaging, I wanted our total transparency and authenticity to be an integral part of the design. This is why we detail the full ingredient list on the front label of each bottle and jar. This showcases the beautiful all-natural and organic, plant-based ingredients too.  
Why did you feel it was important to bring a gentle, non-toxic range of products to the beauty world?
I believe in the sustainability and efficacy of plant-powered beauty. Mother Nature has gifted us with beautiful plants and oils, such as sweet almond oil and virgin coconut oil, that generations have used and which have known skincare benefits. By harnessing these natural and organic ingredients, you're enjoying the rich omegas, vitamins and mineral content. And we don't use any synthetic, artificial or hidden ingredients which are often derivatives of the oil and gas industry. For example, petroleum and mineral oil, which perform no function to promote the health of your skin, contributes to the world's most polluting industry.
You are a big believer in clarity and brand transparency, which we love in a beauty brand! Why do you feel so strongly about this?
Many mainstream, conventional brands use ingredients they'd rather we don't know about. Their skincare products contain ingredients to make them feel a certain way or to prolong the shelf life. But these ingredients don't provide any benefits to your skin. Worse still, their properties are well documented to cause skin irritation and are harmful to our endocrine, respiratory and reproductive systems. So not only are you paying for skincare with cheap ingredients that don't provide any skincare benefits, but they're harmful too. Skincare should be transparent and empowering and that's what we've set out to do at BY SARAH LONDON.
What sets 'By Sarah' aside from other natural beauty brands?
We're passionate about helping people make more conscious choices, starting with organic, plant-based skincare. And by knowing exactly what you're putting on your skin, we hope to empower you to lead your most conscious life yet! The brand is founded and run by myself and Lauren and our customers tell us how much they love knowing that two sisters are behind the brand and that it's come from such a sincere and authentic place.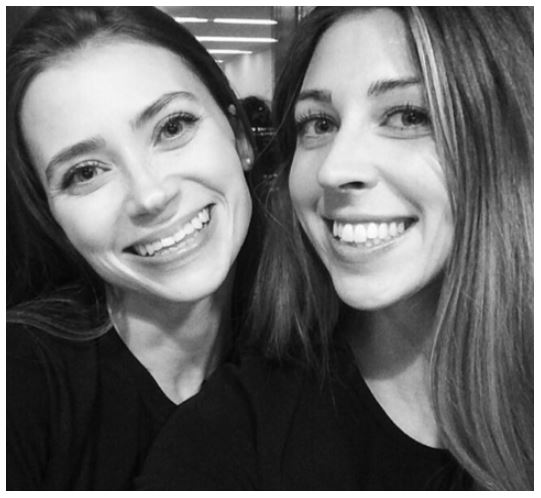 As we're all becoming a lot more conscious about the products we buy, are 'By Sarah' products ethically sourced?
I spent many years formulating and testing the blends and, as part of my research, am meticulous in sourcing suppliers who meet our rigorous standards. When using ingredients that can be grown in soil, we use certified-organic ingredients. This is the gold standard!  Certified-organic ingredients have flourished under the strictest requirements of organic farming where synthetic pesticides, artificial chemical fertilisers, herbicides and GM crops are prohibited. Their cultivation protects the soil, respects animal welfare and minimises pollution. When using ingredients that can't be grown in soil (like salts and clays), we use ethically-sourced natural ingredients. Our collection is hand-blended in our West Sussex studio so we have full control of the manufacturing and distribution.
What is your daily skincare ritual?
I start by cleansing my skin with our Green Clay Cleansing Balm, massaging a small amount in upward circular movements directly over my make-up. I then remove the residue with a damp Organic Facial Muslin Cloth. I splash my face with a little bit of cold water to close the pores and then apply a couple of drops of our Organic Facial Oil. My top tip: pat and press the oil into your skin to help it penetrate into the deeper layers of your skin. And I keep my lips soft and smooth with our Organic Lip Balm (I have one in my bag and on my desk!)
Which product have you received the best feedback from and why?
It has to be the cult favourite, Organic Facial Oil. It was awarded The Best New Skincare Product Launch 2017/18 by The Beauty Shortlist just four months after we launched. It also came Highly Commended in the Natural Health International 2018 Beauty Awards. It's such a beautiful, delicate and easily-absorbed facial oil. It brings a healthy, dewy complexion to all skin types, supports collagen production and minimises the appearance of ageing. Even customers that were previously nervous about using a facial oil are now its biggest advocates!
Which skin type do 'By Sarah' products suit best?
Our skincare is suitable for anyone who wants to take care of their skin and be mindful of the environment too. I formulated our skincare to be suitable for all skin types for both men and women. We don't use any essential oils or added fragrance (often skin irritants) so our products really are for everyone. Our skincare is rich in omegas, vitamins and minerals to provide nourishment for your skin over the long term. And we have longevity in mind as we don't use single-use plastic. We use amber glass bottles and glass jars which can be upcycled or recycled. And we use recycled paper and cardboard boxes for our customer orders.  
As a young entrepreneur, how do you balance work alongside self-care, socialising and everything else?
It's a constant juggling act, but I have my little rituals and time I carve out for myself. I love my Sunday Self-Care rituals with my Bath Salts and Green Clay Face Mask. And Lauren and I always have so much fun working together, that it never feels like "work".
---