2020 has been full of unexpected, unwanted surprises, yes COVID-19, we're looking at you. A little not-so-nice bi-product of this virus? Enter 'maskne'. If you're not familiar with the term, then you may be wondering what on earth we're talking about. This new COVID-inspired word refers to acne around the lower half of your face that has occurred as a result of wearing a mask for prolonged periods of time. It's safe to say, I've got a serious case of maskne, which shows no signs of letting up now masks are a non-negotiable way of life. As much as this new daily essential is great for keeping us safe and protecting us from spreading COVID-19 onto others, the constantly-reappearing spots are not something I'm so appreciative of!! I thought to myself there's no time like the present to take action and rid myself of this stubborn maskne. So, to get my blemishes under control, I reached for one of my favourite skincare brands, Murad, as their latest product launch is exactly what I need.
The Clarifying Oil-Free Water Gel is Murad's new non-comedogenic gel moisturiser. Designed to instantly soothe, smooth and hydrate the skin, the formula is perfect for those with oily and blemish-prone skin. Harnessing Quorum Sensing Technology, the lightweight, oil-free hydrator avoids the bacteria-breakout connection, helping to eliminate blemishes, irritation and inflammation…three issues I've experienced as a result of having blemish-prone, oily skin plus the added aggravation caused by wearing a mask.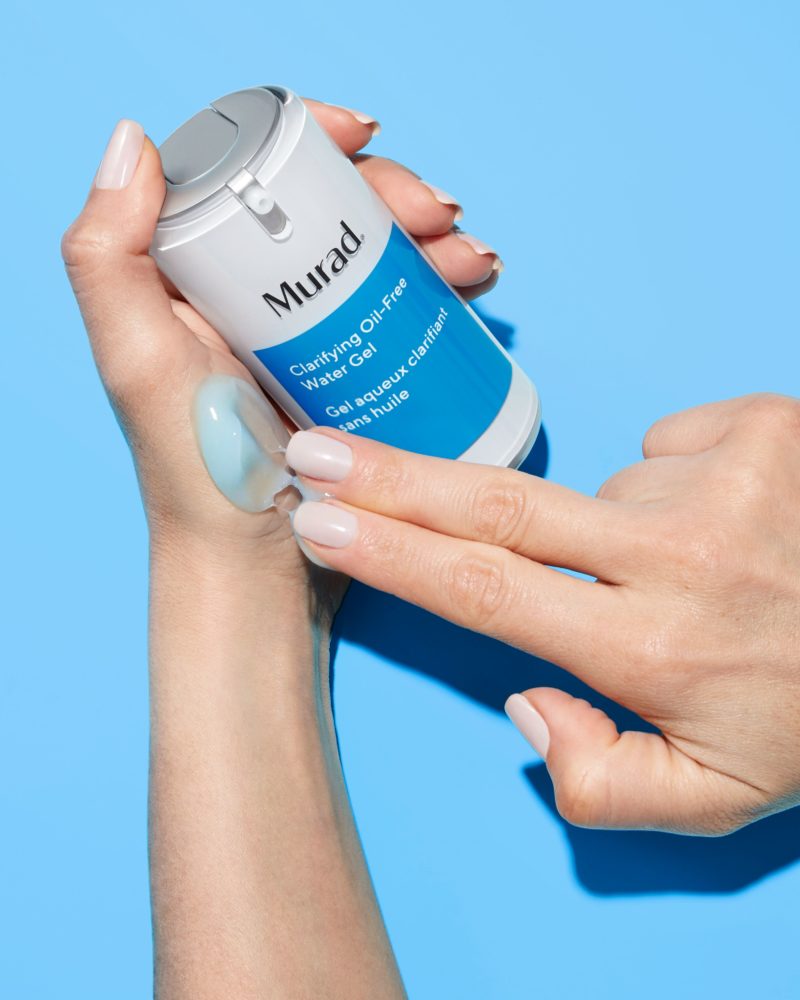 Murad's formulas are always second to none, utilising highly potent ingredients that nourish the skin and deliver effective results. The Clarifying Oil-Free Water Gel is no exception! Using a carefully selected group of ingredients, Murad has created the ultimate formula that hydrates oily skin perfectly, which if you have oily skin you'll know, is no easy feat. Founder Dr Murad puts it perfectly…
"Moisturisers are a frustrating game of trial and error for oily and blemish-prone skin types. Some feel they can't apply a moisturiser, others feel they shouldn't, and many believe they don't need it. But, moisturisers keep skin and the microbiome healthy and in balance, which can help decrease oiliness and prevent breakouts."
If you suffer from oily, blemish-prone skin, this extract will probably sum up your relationships with moisturisers to a T.  The unique combination of salicylic acid, Korean red pine extract, ginger root extract and sustained-release hyaluronic acid checks all the boxes for blemish and oily-prone skin types. The salicylic acid plays a key role in exfoliating and smoothing the skin. The star ingredient, Korean Red Pine extract, magically works to interrupts bacteria signals that
can lead to imbalanced and irritated skin. Ginger Root Extract comforts and soothes the skin, helping to nourish deeply. Sustained-release Hyaluronic Acid enhances the skin's ability to attract and hold water for long-lasting hydration, giving you that dewy glow for hours after application. Like all Murad's products, the Clarifying Oil-Free Water Gel is paraben-free, sulphate-free, phthalate-free, cruelty-free and safe for sensitive skin.
The Clarifying Oil-Free Water Gel is one of the few products on the market that works in conjunction with prescribed acne medication, such as Roaccutane. This is due to the unique formula which blends active ingredients with nourishing botanicals to ensure no irritation to the skin. In the past, abrasive treatments aimed at controlling breakouts have infuriated my skin even further, leaving me with dry red patches. The Clarifying Oil-Free Water Gel along with Murad's other products aimed at blemish-prone skin hasn't caused any of these issues due to their unique, science-led approach to tackling breakouts.
Delving into the science which makes this product a real hero is the world of skincare, Quorum Sensing Technology is something that I wasn't familiar with prior to being introduced to the cult Clarifying Oil-Free Water Gel. Bacteria sense each other on our skin and connect, forming communities which enable spots to arise on our skin. Simply put, Quorum Sensing is a process that blocks this bacteria-to-bacteria communication and combats spots being formed, supporting a balanced and diverse microbiome for a clear, healthy complexion.
Essentially, bad bacteria is what causes our skin to breakout. Believe it or not, we have trillions of bacteria living on our skin! That may sound gross but it is a critical part of maintaining and protecting healthy skin. Our skin has a specific balance of good and bad bacteria called microbes. Factors such as stress, pollution and aggressive skin products can upset the balance of our skin leading to breakouts, eczema, excessive dryness and irritation. On top of this, wearing a mask can upset the skin further by allowing bad bacteria to thrive. Murad's Clarifying Oil-Free Water Gel enables the skin to find equilibrium, harmonising the good and bad bacteria as the prebiotics help to rebalance the dysbiosis.
Verdict:
From experience, when I am suffering from a breakout, my mood is turned upside down and I feel very self-conscious. My poor attempts at trying to cover up the clusters on my face with my woeful makeup skills can often make it look even worse and I am left feeling rather rubbish. Strangely as a teen, the time acne typically hits hard, I had super clear skin…not a spot in sight! As I entered my 20's, regular breakouts have been something I've suffered from and with the constant mask-wearing, it's gone from bad to worse! I try to avoid hormone-filled acne medication where possible for obvious reasons, and I steer clear of drying spot treatments that cause my skin to flare up, so most of the time I'm left to suffer in silence. Being introduced to Murad's Clarifying Oil-Free Water Gel and learning more about the product and how it works was a huge sigh of relief. A moisturiser that helps tackle my blemishes (and avoids them returning), which won't irritate my skin and will also hydrate all at the same time was something I haven't come across before. The unique technology used in the Clarifying Oil-Free Water Gel has been a total game-changer in my skincare routine.
After a good, thorough cleanse with my Renewing Cleansing Cream, I apply my serum, I love Murad's Outsmart Blemish Clarifying Treatment for the morning and the Retinol Youth Renewal Serum in the evening. Following this, I apply around a pea size of the Clarifying Oil-Free Water Gel all over my face and finally an SPF to protect my skin. I have found that a little goes a long way with the Clarifying Oil-Free Water Gel due to the gel-like consistency which glides onto the skin beautifully. What I love about it is that I can really feel it sink into my skin, not just sit on the surface, so I know it is being absorbed to penetrate the layers of my skin. After application my skin instantly feels hydrated, the hyaluronic element of the product locks in the moisture and leaves my skin feeling hydrated for hours and hours. The gel is super lightweight so the skin doesn't feel congested at all and makes an excellent base for applying makeup if you wish too. I, as well as 92% of people who have tried the product, have noticed a clearer complexion after just 4 weeks of using it every day. No other product has taken control of the oil levels on my skin before, especially around the nose and T zone which are my most hard-hit spots. My face was left feeling glowy, clearer and hydrated without the excess oil, which is a first for me! The Clarifying Oil-Free Water Gel really does tick all the boxes for blemish and oily-prone skin types, if you are looking for healthier-looking and clearer-looking skin this is one to try.
Shop online at Murad.co.uk – Special Offer: Use code H&HCOWG for 20% off sitewide – valid: 1st  – 13th Sept
words by Isabelle Shury