Whether you're short on time in the morning, in need of a quick snack, or you've run out of options in the fridge, a trusty bowl of breakfast cereal will always do the trick! The cereal aisles in the majority of supermarkets are lined with a plethora of sugar-laden options, but without naming names, some of the biggest household name brands out there are the biggest culprits! Cereals that are high in sugar can cause a huge blood sugar spike, which means you'll get a mini high followed by a big crash, causing fatigue and tiredness… not exactly how you want to start your day!
Does the 11 am energy crash sound familiar to you? Superzeros, the brand new cereal with a twist, might be the answer to keep you fueled through the day. Boasting zero sugars, this innovative cereal is made using premium ingredients including milk proteins, tapioca starch, chicory root, inulin and coconut oil to create a variety of flavours that mimic the classic taste and textures we desire.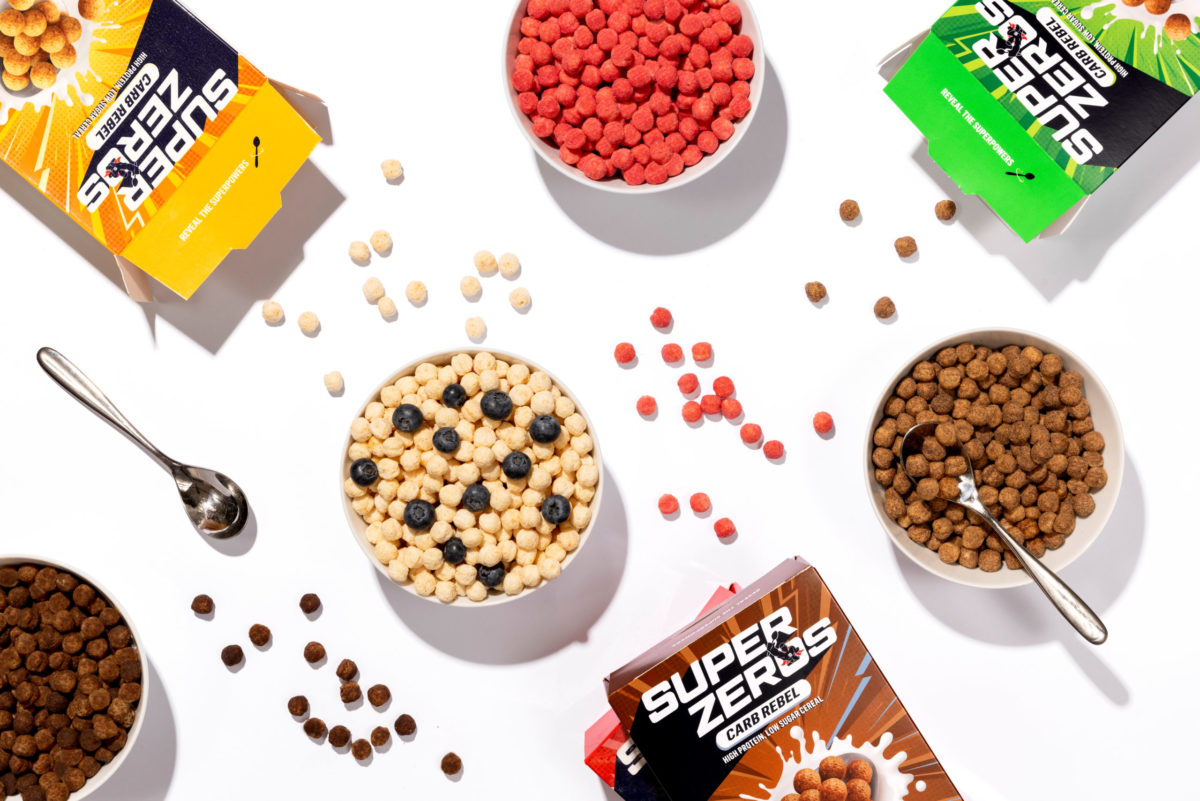 With a hefty 10 grams of protein, Superzeros is the ideal post-workout breakfast to deliver fuel back to tired muscles. If protein shakes aren't for you, Superzeros is the alternative that will restore nutrients and also allows you to enjoy real food rather than an unfulfilling meal replacement drink. Superzeros uses a special protein blend of whey isolate and casein as a source of protein, which contain all the essential amino acids needed by your body. Helping to maintain lean muscle and strength, protein is essential to repair muscles, especially following a workout. Not only will you notice the definition in your body if you continue to refuel with a quality protein but it will also allow you to get back in the gym quick following DOMS (delayed onset muscle soreness) as the muscles are being given what they need to repair.
The start of the day should always kick off with a high fibre meal, which Superzeros most definitely is! A high fibre diet is important for digestion, maintaining bowel health and lowering cholesterol levels, so ensuring your day starts with a source of fibre is a wellness tip tip to live by. If you're trying to limit your carb intake, Superzeros also scores very well in this department with 50% less carbs than traditional sweet cereals.
Nut-free and gluten-free, Superzeros gives those who suffer from intolerances a new breakfast choice that is anything but dull! Packed with flavour, this great-tasting cereal is nor dry or bland, which many 'free-from' options get a bad rap for.
The combination of low sugar, less carbs and high protein is what really sets Superzeros apart from the rest. Never been done before, it's very rare to hit all these important elements whilst still retaining amazing taste which Superzeros most certainly does. Great nutritional value is all well and good, but if the taste doesn't match up, it's unlikely you'll come back. Superzeros has hit the nail on the head with both taste and texture. Available in two flavours, cocoa which is perfect for any chocolate lovers; and apple and cinnamon, which is both fruity and warming.
Whether you're looking for a healthier breakfast alternative, you want to up your protein intake or you're simply a cereal lover, Superzeros is the quick and simple way to start your day right!

Shop now with an exclusive 20% discount for Hip & Healthy readers using code HEALTHY20 who pre-order before the 7th March.
100% Satisfaction Guarantee on all orders on the website!