With sustainability at the forefront of our mind nowadays, it can be a bit of a minefield when it comes to deciding what brands to support and buy into. The average consumer, these days, is much more concerned about a company's ethical attributes and it's sustainability efforts, that it's become a huge factor for more and more brands/companies to focus on when trying to convert shoppers into paying customers. While business owners and big corporations still have a long long way to go, there are companies out there that really do strive to lessen their carbon footprint, be as sustainable as possible, and support local communities. The struggle consumers face is knowing where to find brands that offer the commendable eco initiatives they're looking for. We've hand-selected a few brands that are pioneering a greener approach, by making a conscious effort to be as ethical and sustainable as possible. Do these companies proclaim perfection? No. But the most important thing right now is that they are all making steps in the right direction.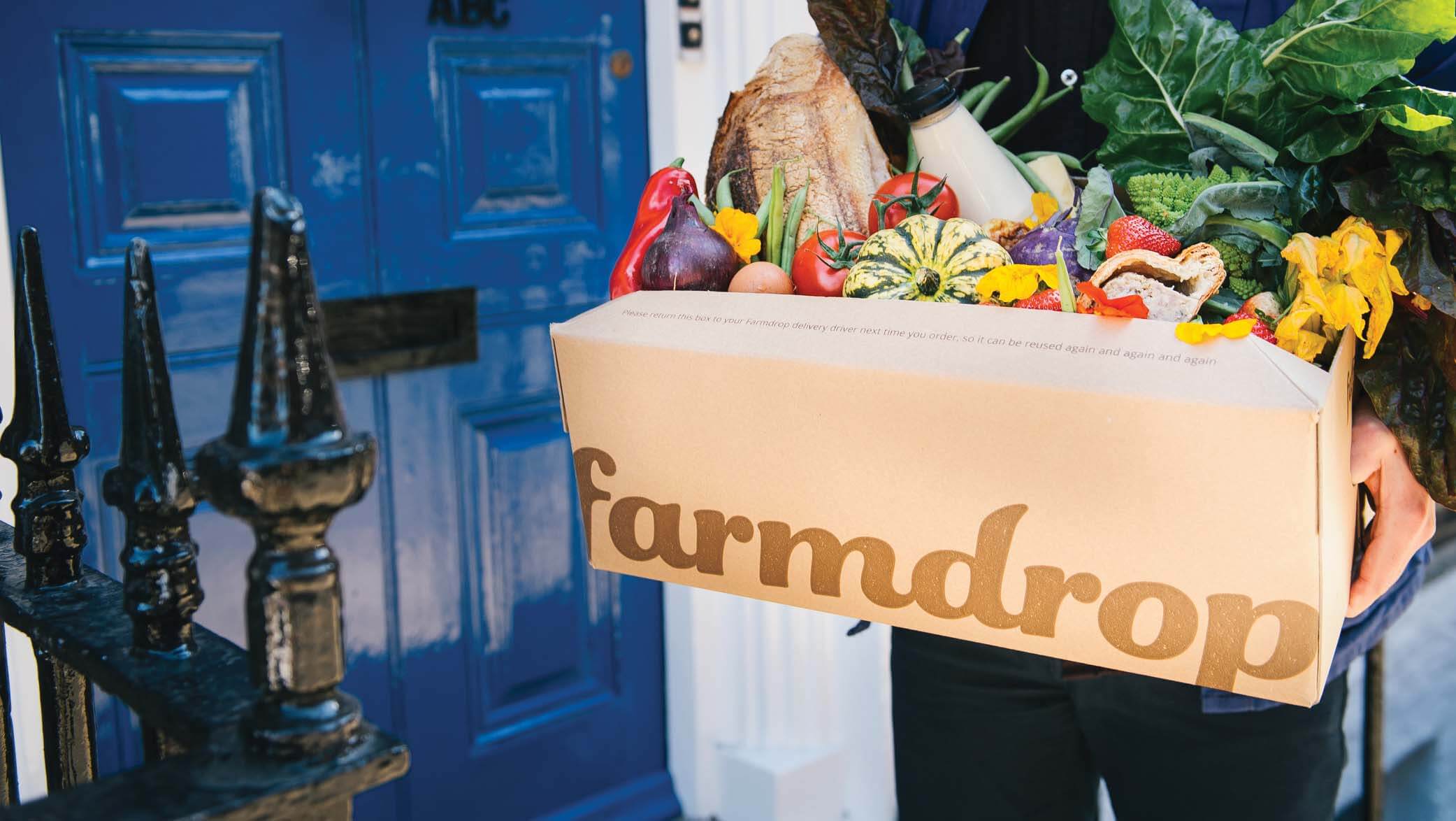 Farmdrop
Farmdrop is an online food delivery company with quality, transparency and sustainability at the heart of their brand. Farmdrops aim is to bring the freshest and very best food to your door without costing the earth. When it comes to food production and sustainability, it's a pretty tough gig as most things come in some sort of packaging, however, Farmdrop is doing their best to work with companies that use minimal packaging. Another area where Farmdrop is massively reducing their carbon footprint is by working with local producers in the UK to completely rule out air freight pollution. Instead, they use regular running train services to transport goods such as fresh fish, meat and veg. Farmdrop's list of carefully selected producers are experts in what they do, producing the finest quality foods. From freshly baked sourdough to same-day caught fish, Farmdrop really doesn't compromise on quality and they support small business and farmers which we really admire. We love the fact that all of Farmdrop's produce is traceable so you know who grew, caught, reared or baked your food.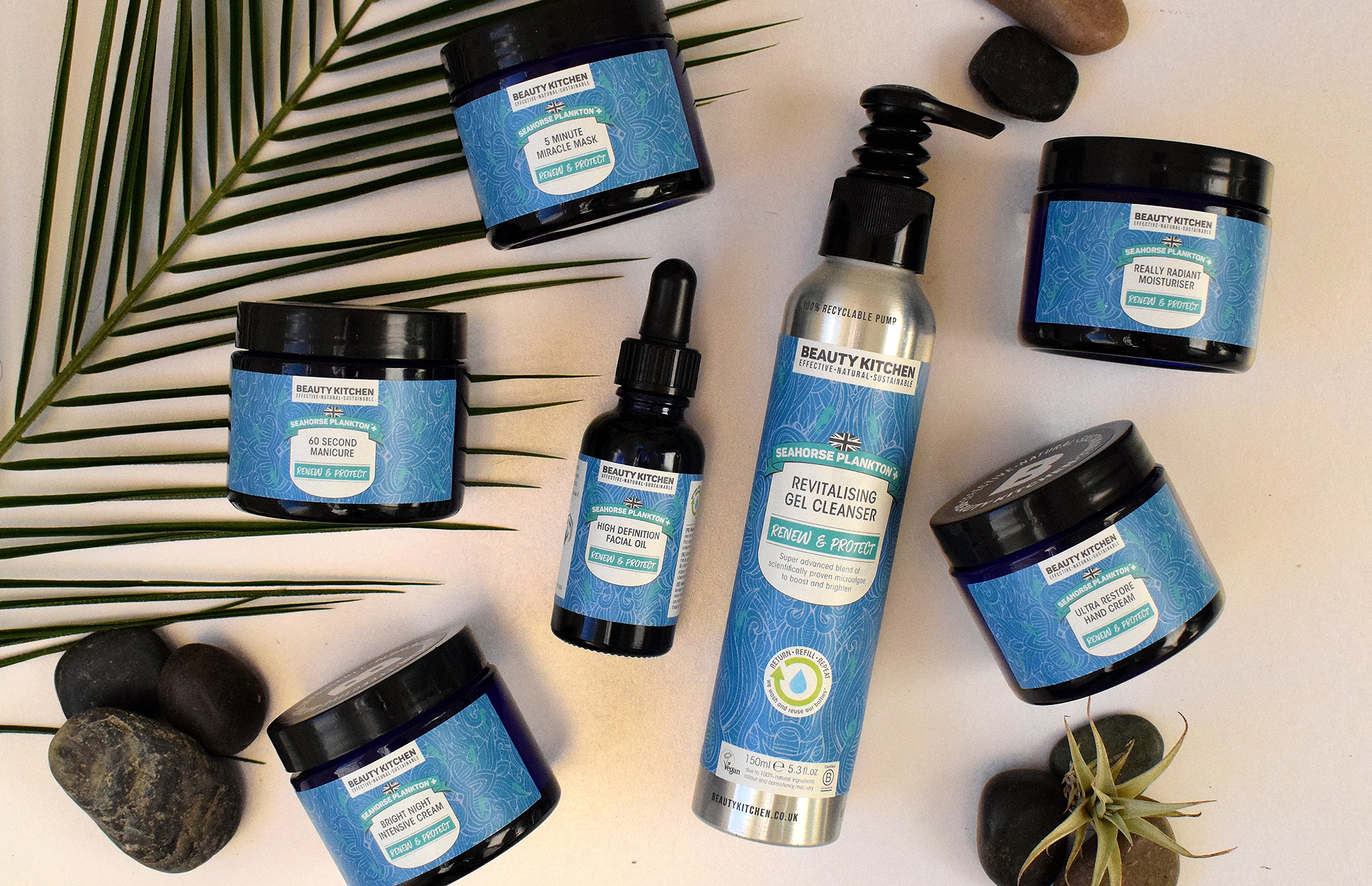 Beauty Kitchen
Think of the number of empties we throw away from our beauty cabinet every month, from shampoo bottles to pots of empty moisturiser, these are essentials we constantly have to renew. In fact, 99% of beauty packaging is thrown away after only one use. Beauty Kitchen is on a mission to put a stop to this with their return, refill, repeat scheme which enables customers to send back their empty bottles for free so they can wash, refill and use again. Beauty Kitchen takes the term 'natural beauty' very seriously, they are firm believers that to label a product 'natural' it must go through a maximum of two processes, like heating or cooling, to get to its useable form. All of their beauty products are 100% natural and have been sourced with sustainability in mind. Beauty Kitchen has an extensive range of skincare, haircare, bath and body products to suit your needs. With added eco-friendly extras like decomposable make-up wipes and facial cloths and sponges made from plant roots, Beauty Kitchen is the easy one-stop shop to get all your beauty essentials.
London Grace
Beauty treatments may not something that instantly springs to mind when questioning sustainability and the environment, but you'd be surprised at how un-eco-friendly your bi-monthly pedi is. Grace London, a boutique spa with 7 London outposts have gone 'dry'  with their pedicures saving hundreds of litres of water per week. With the average pedi using 18 litres of water each treatment, not only do 'dry' pedicures provide much longer lasting results (nail expansion and shrinkage from soaking in water can cause nail polish to crack) they are so much better for the planet.
Ecosia
Bringing a brand new concept to the web, Ecosia is the Berlin-born search engine using its profits to plant trees. Ecosia is planting trees in the world's most environmentally threatened areas and has so far plated over 54 million trees! Founder Christian Kroll created this self-sustaining business model with the sole intention of generating as much money for tree planting as possible. Think about the number of times you search the internet each day, by simply searching through Ecosia you could be helping a positive social movement. With a well-rounded eco-initiative, Ecosia even runs off their own 531kWp solar energy plant to ensure that the searches made are not causing any CO2 emissions. It is estimated that per search, 1kg of CO2 is removed from the atmosphere, meaning that if Ecosia could grow as big as Google, enough trees could be planted to absorb 15% of global CO2 emissions every year! Ecosia's financial reports are all available to view online, giving consumers complete transparency of how the company operates, at the moment approximately 80% of profits go towards tree planting!
Weaver Green
Weaver Green is the home interior company turning old plastic bottles into the most beautiful textiles for around the house. Founders Tasha and Barney were inspired by a couple in Asia manufacturing fishing ropes made from discarded plastic bottles. Weaver Green's ethos revolves around clearing a small percentage of the 35 million plastic bottles that end up in either landfill or our oceans every year. Making use of the robust material which plastic is, Tasha and Barney saw the opportunity to make hardwearing yarns that could provide long-wearing interiors for homes and gardens. It took the couple 7 years to create the perfect textile blend, that not only had the look and feel of wool but was also machine washable, stain resistant and environmentally friendly. The Weaver Green range has expanded from rugs to blankets, throws, bags cushions, ottomans, footstools, baskets and even dog beds! Their products are beautiful and make the perfect addition to your home whether you're into quirky patterns or a more minimal design. The yarn is water-resistant meaning all the products work just as well outdoors as they do inside.
UpCircle Beauty
Born out of the idea to limit waste, UpCircle Beauty is the skincare brand repurposing ingredients that would otherwise have been wasted to create 100% natural skincare. After discovering the benefits of used coffee grounds and brewed chai tea spices, UpCircle Beauty came with an idea to give them a new lease of life by producing exfoliators, cleansing bars and serums that help with dullness, redness, acne, oiliness along with dry and sensitive skin. All products are palm oil free, cruelty-free and organic. Along with this, the packaging is 100% recyclable and uses minimal plastic, substituting in materials such as aluminium. In the case of the cleansers, they are made into solid bars meaning only a recyclable cardboard box is needed to package them! UpCircle Beauty's skincare is naturally rich in Vitamin C and antioxidants helping to brighten the complexion and nourish the skin. By combining discarded coffee grounds and brewed chai tea spices with natural ingredients such as thyme oil, rosemary oil, rosehip oil, raspberry seed oil, pink clay and essential oils, UpCircle Beauty products will make your skin feel great without costing the planet!
---
Plastic Pollution: The Facts + How To Reduce Your Single-Use Plastic Waste