We're lapping up summer's light, balmy evenings at the moment. Heading off to the park after work with friends for a "picky bits" picnic is just the best… summer makes it so easy to be social and enjoy spending as much of the evenings outdoors. One thing we are struggling a bit with, however, is sleep! The Sleep Council state that the optimum room temperate for good quality sleep is between 16-18 degrees, which, when we're hovering in the high 20s, is pretty impossible to achieve unless you have an air-con system in place. So what can you do to help prevent your body from overheating? You could try an electric fan, but we find they just waft warm air around! Instead, why not rethink your Pyjama game? 
If you're still sleeping in your onsie your grandma got you for Christmas last year, then it's definitely time to change it up! When it comes to PJs, you want to opt for natural fabrics like 100% cotton, bamboo and silk. Cotton is very lightweight, soft and breathable, allowing good ventilation while you sleep. Bamboo is great for its sweat-wicking abilities and is also the best choice if you're looking for something hypo-allergenic. Silk, on the other hand, is a thermoregulator, keeping you warm when it's cold and cool when it's hot making it the ideal choice all year round. 
We've rounded up the best Pyjamas for hot weather below!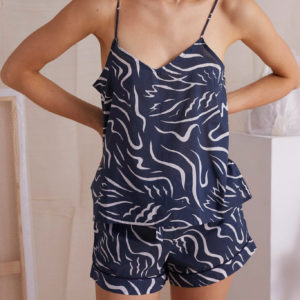 Known for their loud prints and gorgeous imagery, Desmond & Dempsey's 100% cotton pyjamas are perfect for summer evenings lounging around the house.
If you're after a sultry set of silk pyjamas then you can't do much better than Oliva von Halle. Being silk, their not the cheapest but definitely worth the investment!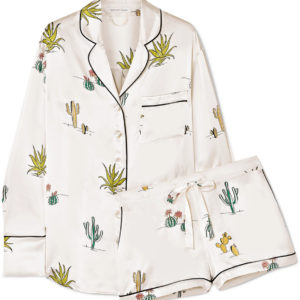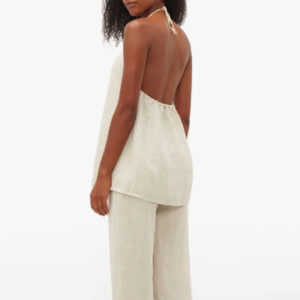 Linen is another perfect choice for summer pyjamas and we're a little bit in love with this simple and beautiful halterneck set from Once Milano.
When we picture wearing these cotton pyjamas, we imagine tip-toeing down a stone staircase in an old farmhouse villa in Provence, gazing onto the lavender fields in the distance. One can dream!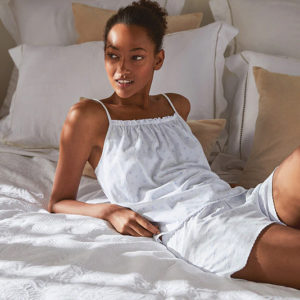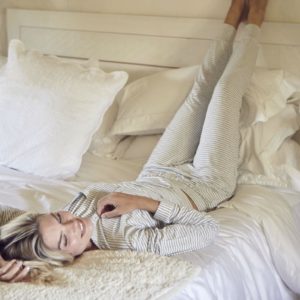 This Sleep Set from Luxe + Hardy is a great all-rounder and very cooling on the skin. We often wear the over-sized Grandad Shirt on its own as nightdress when it's really hot out.