There's something about summer's sultry approach – the longer days, the lighter evenings; the balmy air as spring makes way for sunnier climes – that makes the great outdoors all the more enticing. From lazy afternoons spent in parks to river walks and early morning runs, summer 'tis the season when all things alfresco possess a certain charm.
And while we love a bit of adventure, there are few things we like more than combining said adventure with a decent dose of luxury. Enter: glamping. No longer a hobby that evokes thoughts of damp tents and dismal campfires, camping has been given an indulgent injection. A trend that's been around for a while now; glamping is the perfect fusion of outdoor pursuits coupled with deluxe living. From Tanzania to Indonesia, to Italy and beyond, we've rounded up the best luxury glamping sites across the globe so you can get your girl guide points in style.
Australia
Known for its world-famous beaches and active-led lifestyle, one of Australia's best kept secrets is New South Wales's Jervis Bay. Boasting some of the whitest sands in the world, and just a couple of hours' drive from Sydney, Jervis Bay is home to the peaceful bush retreat Paperbark Camp. With twelve safari tents featuring open-air en suites and wrap-around decks, it offers visitors the finest of outdoor living, while still retaining an opulent edge. A brilliant base for the wild at heart, as well as a plethora of nearby walks to choose from, guests are able to make use of the site's complimentary canoes and bikes.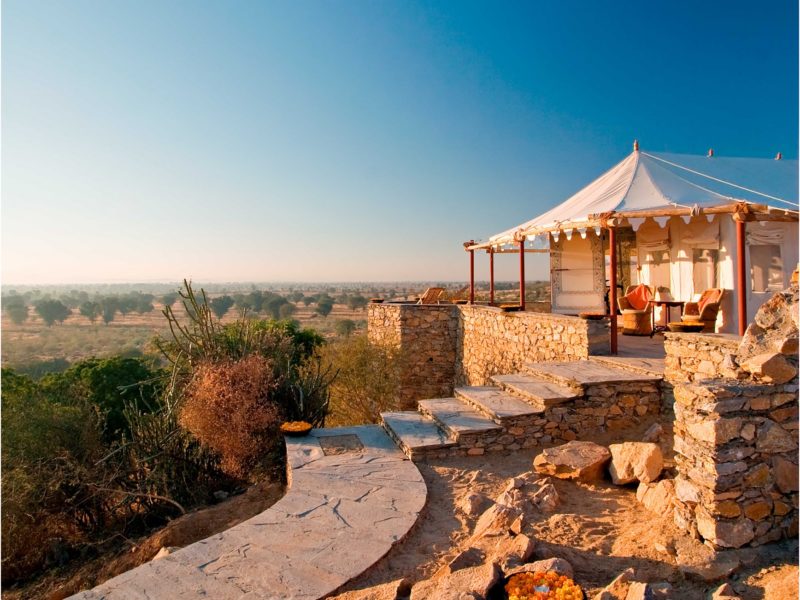 India
If uber-luxe glamping is what you're after, Raas Chhatrasagar is where you want to head. It provides the feeling of being in touch and in harmony with nature, with all the luxury hotel amenities you could wish for. It really is the perfect place if you're not willing to "rough it" one bit! Set in magical Rajasthan, the luxury complex sits on the dam of a reservoir, where you'll be able to do plenty of nature watching. Your luxury tent is equipped with a plump bed fit for the Queen and air-con (hell yes) and if you fancy a little pampering, you can get an Ayurvedic treatment at the spa.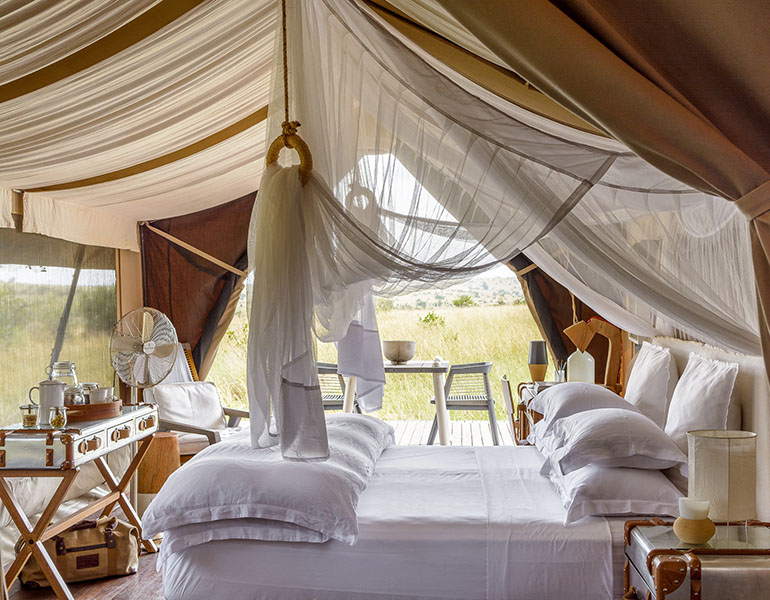 Tanzania
When it comes to glamping, it doesn't get much more exotic than Tanzania. Cited as the safari version of the Four Seasons, Singita Luxury Lodges boast sumptuous spas and swimming pools alongside the finest of wines served alfresco as the sunsets. Offering access to unrivalled and expansive space in the heart of the Tanzanian safari, staying at Singita truly is a once in a lifetime experience.
Indonesia
For avid yogis with a passion for wanderlust, Sandat Glamping will tick all the right boxes. Located on the outskirts of Ubud, Bali's yoga mecca, Sandat Glamping is surrounded by jungle and offers aspiring glampers the perfect spot for a peaceful getaway. Boasting oh-so-stylish décor with private plunge pools, daily yoga practice and an indulgent spa menu, Sandat Glamping will undoubtedly be one of the most beautiful places you'll ever stay.
Italy
Nestled in the heart of Italy's rural landscape and surrounded by olive orchards and trees, you'll find Glamping Canonici. Just twenty minutes from Venice, this dream destination stretches between the Venetian lagoon and the Brenta River, where noble Venetian families had their summer homes. Fusing ethnic interiors with a stunning safari vibe, Glamping Canonici boasts four sumptuous tents with chandeliers, exposed brick and stunning views of the surrounding areas. The proximity to the nearby countryside offers visitors countless walking opportunities, perfect for breaking a sweat before a night under the stars.
---
READ MORE: Hip & Healthy Guide To Hiriketiya, Sri Lanka