In Austria getting active amongst nature isn't just an aspiration – it's a lifestyle. From cold water swimming (Wim Hof Style) to wreck diving and mountain hiking (with breathtaking views), here are five ways that you can boost your wellbeing in Austria's great outdoors.
Kayaking
Austria is home to some of the most beautiful water spots in the world, not to mention it also boasts some of the earth's cleanest water, so much so the country has something called the Austrian Water Pact, which undertakes to monitor the quality of groundwater and even the water underground, the impact of human activity on these flows and how to prevent deterioration of the aquatic ecosystem in the country. Which, of course, makes water adventures in Austria an absolute dream. Why not hire a Kayak on one of Austria's stunning lakes. Not only is the scenery breathtaking but it will be a good workout for your arms too. Although spring and summer are ideal times to get aquatically adventurous, winter kayaking is also a thing here too. Use your paddle to break through the ice and head out with nothing but the mountainous vistas around you. Whichever time of year you go, you'll be sure to break a sweat – from your arms to your back, abs to your shoulders, kayaking is an activity that can totally transform your body.
Wreck Diving
For an underwater thrill like no other try wreck-diving. Not only does diving improve circulation and reduce blood pressure but it is also believed to be great for our mental and emotional wellbeing too. Head to the prehistoric lake dwellings of Lake Attersee (a UNESCO World Heritage Site), where you could come across everything from a 1930s car to an abandoned submarine. The lake's water is so clear it boasts up to 25 metres of visibility and diving can be done at any time of year. Even kids from the age of ten can participate and there are plenty of great diving schools to choose from if this is your first time. For more information or how to book visit the Lake Attersee website.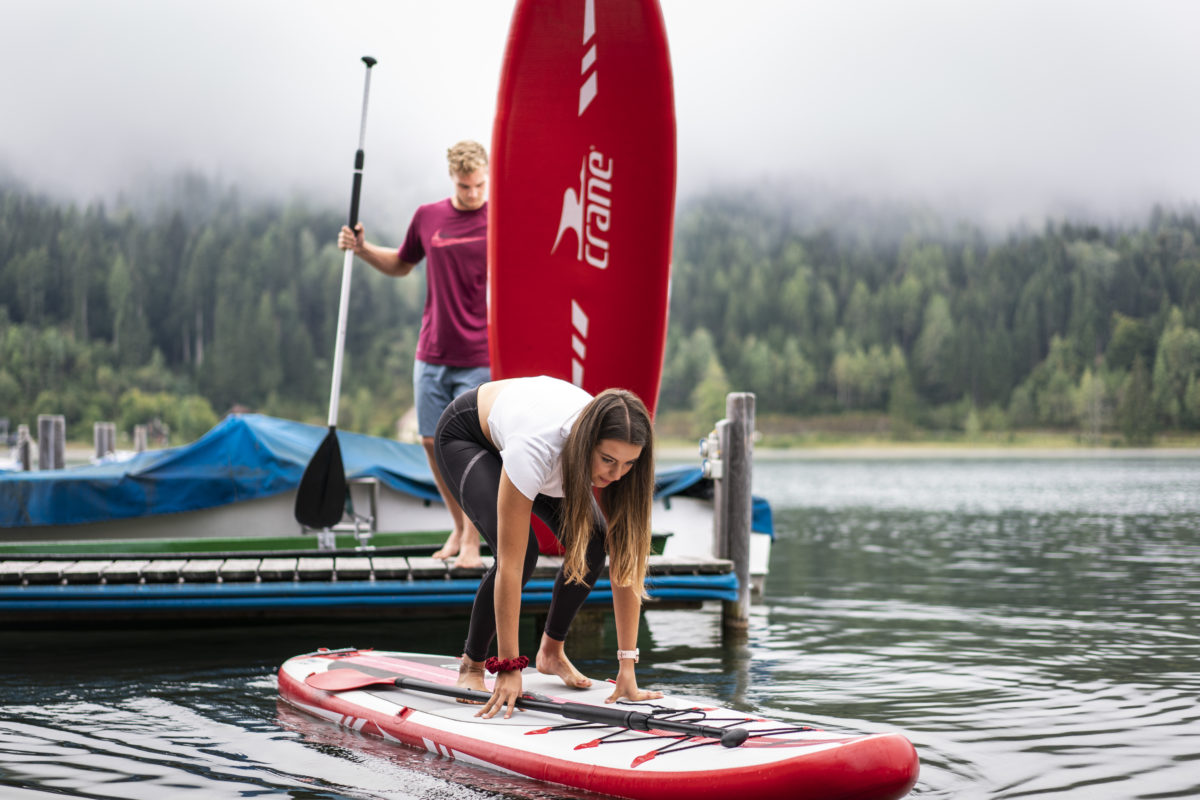 White-Water Swimming
Not for the faint-hearted – this sport is suited to seriously strong swimmers that seek out adrenaline rushes. Swimmers will launch themselves into the rapids being careful to make sure that they swim over and around obstacles in their way and always swim in the direction that the water is flowing. Equipped with a helmet and wetsuit, swimmers work together in teams to spot each other and make sure everyone stays safe and well as the alpine rivers' currents are extremely strong. Please note – this is an extreme sport and something that you must not do without training or professionals around you. But if you are into white water swimming then there really is nowhere else on earth more beautiful and breathtaking to do it than Austria.
Mountain Hiking
The health benefits of hiking are endless; building muscle strength; improving mental wellbeing; boosting heart health and many more. Hiking is one of the most underrated things you can do for your wellbeing not only does it pump the blood around the body but it also enables us to find out what's around the corner and in Austria's case, there is always something amazing around the next bend when your journeying up or down a mountain – a waterfall; fantastic view; even a glacier. Choose from shorter trails to long distance hikes that see you from the top of a mountain down to the sea for example the Alpe-Adria-Trail will take you through Austria's unexpected treasures and dramatic landscapes and even offers up a welcome lake dip on hot days! For some great suggestions take a look at Austria's website on the best places to hike by the water.
Stand-Up Paddle Board Yoga
Stand-Up Paddle Board Yoga, also known as SUP Yoga, gives you an all-over body workout as well as being a mental exercise too. If you're worried you'll fall off the board and into the water – fear not as not only is this very unlikely (SUP Yoga is easier than it sounds!) but even if you do fall into the lake the water is so clear and fresh that you really won't mind. Why not book yourself into a class in Vienna at the Danube – where urban city vibes meet laid back lake scenery – you won't regret it and it truly feels like a once in a lifetime experience.
For more information on visiting Austria visit: www.austria.info