Doesn't the smell of suncream being slathered on your neck and shoulders by your mum bring back fond memories of holidays as a child? There's something so joyous about that smell, even as an adult… you're out of office and most likely lying on a gorgeous beach somewhere. Heaven! SPF is the beauty ingredient of summer and we all have our go-to brand we buy every season.
However, gone are the days of smearing any old brand across your forehead and cheeks. Yikes! That's a recipe for breakouts. No, no. Our delicate complexions need their own SPF, which is specifically designed for the more sensitive skin on our faces. Below we've shared our pick of the best facial SPF for every skin type.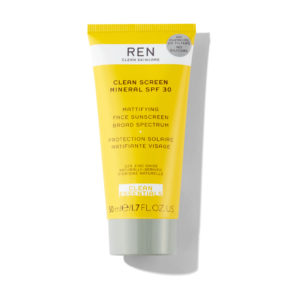 For Oily Skin
REN Clean Screen Mineral SPF 30
This is a great choice for vegans as well as all you eco-warriors out there. REN's new SPF is vegan-friendly, uses recycled plastic for its packaging AND is made from 22% non-nano naturally derived zinc oxide, which is marine-friendly. The mattifying formula is ideal for those with oily complexions and sits really well under makeup, making it the perfect everyday SPF for holidays or at home.
For Pigmentation
Institute Estherderm Photo Reverse
Let's be real, if you want to stop your pigmentation in its tracks then sun exposure is kind of a no no. BUT that's no fun and almost unavoidable in the summer months! So, a great SPF to slather on is sun care specialists, Institue Estherderm's Photo Reverse. This is specifically designed to reduce pigmentation and dark spots whilst still offering great protection.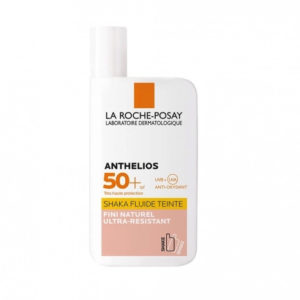 For Sensitivity
La Roche-Posay Anthelios SPF 50
La Roche-Posay is designed specifically for sensitive skin so you can rest assured their wide range of dermatologically-tested SPFs is going to sit comfortably on your skin. If you're prone to sensitivity then sun-exposure tends to make things worse so a high SPF like their Anthelios 50+ is what you need. The added bonus of this one is that it's tinted so it's ideal for those also prone to redness who want a small amount of coverage.
For Anti-ageing
Oskia's new SPF has the silkiest, smoothest texture and can actually double up as a face and body SPF (one less product to pack in your bursting-at-the-seams suitcase!). Infused with vitamin D and E as well as being chock full of antioxidants, this unique formula firms the skin and protects against pollution along with UVA and UVB.