If you're into healthy eating, you'll be happy to know that superfoods are now also taking over the beauty world. So, whilst you may be loading up your salads with kale or adding chia seeds to your morning smoothies, it turns out you should be adding them to your skincare products too if you want to (literally) feed your skin with good-for-you ingredients. Providing a beautifying boost by delivering high levels of nutrients, vitamins, minerals, and antioxidants deep into the skin, superfoods can do everything from slowing down the ageing process to protecting against pollution damage. From a must-have mushroom moisturiser to a face mask bursting with more superfoods than you put in your green juice, discover Hip & Healthy's top skin-perfecting beauty superfoods, below.
Chia Seeds
Chia seeds contain more omega-3 fatty acids than any other plant and can be used in just about anything, from soups and smoothies to salads and puddings. And – of course – skincare. Not only are chia seeds loaded with skin-nourishing omega-3 oils, but they also contain high levels of antioxidants – 30 per cent more than blueberries! If all that wasn't enough, they are particularly great for those with eczema or dry skin conditions, as they significantly strengthen the skin barrier and increase its function to reduce trans epidermal water loss and lock in hydration while relieving itchy, cracked skin. An ingredient we can slather on our skin and stir into our smoothies? Sign us up.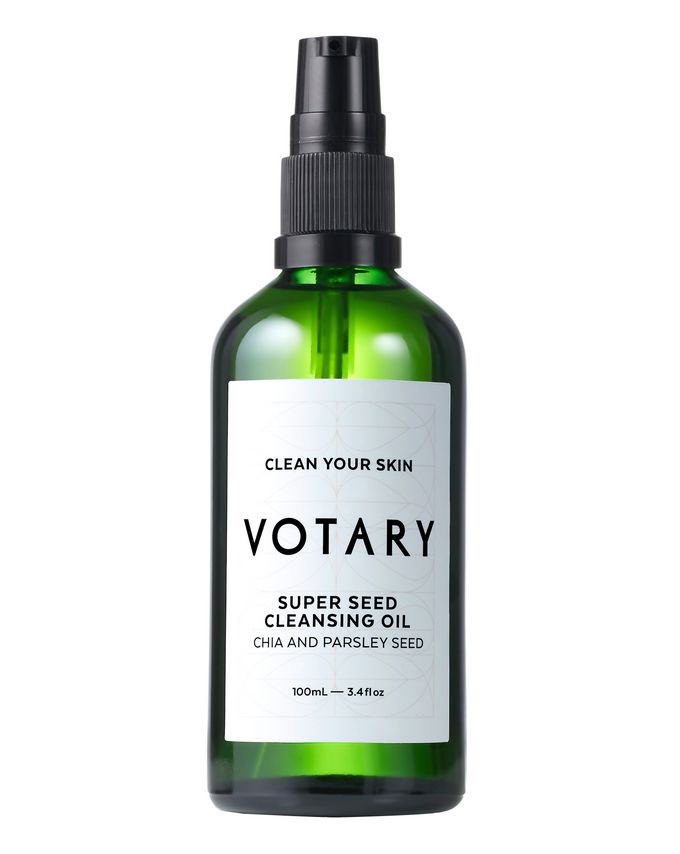 Votary Superseed Cleansing Oil – £55
Wash away the day while giving skin a beautifying boost with Votary's super soothing and nourishing cleansing oil. A blissful blend of chia seed, broccoli seed and raspberry seed oils, it loads skin with hydrating fatty acids and omegas to hydrate, cleanse, and calm. 
Top tip? Leave on for a few minutes for a nourishing prewash treatment. "When my skin is feeling really delicate, I turn to this for an ultra-nourishing, deep cleanse. Sometimes I leave it on my face for five to ten minutes and let it really nurture my skin back to life." Reveals Votary's co-founder Arabella Preston.
Nuxe Essential Antioxidant Serum – £36
When chia seeds are the star of the show, you know that with Nuxe's antioxidant serum will seriously deliver when it comes to protection, hydration, and anti-ageing magic. Boasting a blissful aromatic scent and nourishing formula that melts into skin, it protects skin from harsh external aggressors while helping stop the ageing effects of time. There's also natural origin stabilised vitamin C to brighten skin and boost radiance, making this one super serum not to be missed.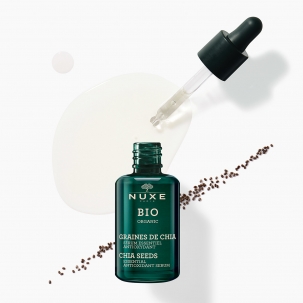 Tata Harper Hyaluronic Gel Moisturizer – £88.32
Powered by chia seed water, marsh samphire and tremella mushroom (more on that one in a moment), Tata Harper's 'Hyaluronic Gel Moisturizer' is crammed full of superfoods to feed the skin with a whole host of hydrating goodness. Formulated with oily/combination skins in mind, it replenishes and restores moisture levels sans greasiness, while evening tone and fighting off ageing effects free radicals. Plus, its ultra-lightweight gel texture is perfect for sweaty summer days.
Mushrooms
Yes, you read that right – it's officially time to put fungi on your face. From chocolate to coffee, makeup to skincare, mushrooms are making their way into pretty much everything, all because they do, well, pretty much everything. Their potent powers aren't anything new, as they've been used for centuries in Eastern medicine and skin products thanks to their abundance of antioxidants, which makes them amazing protectors against environmental aggressors and free radicals, in turn helping with signs of ageing and visible damage. A natural anti-microbial and anti-inflammatory, mushrooms can help heal and calm stressed skin while boosting blood circulation to restore your gorgeous, natural glow. It's little wonder that even the likes of Charlotte Tilbury have added mushroom extracts to their foundations to help tighten and firm. So, if you want healthy, strong, glowing skin, make mushrooms your pick.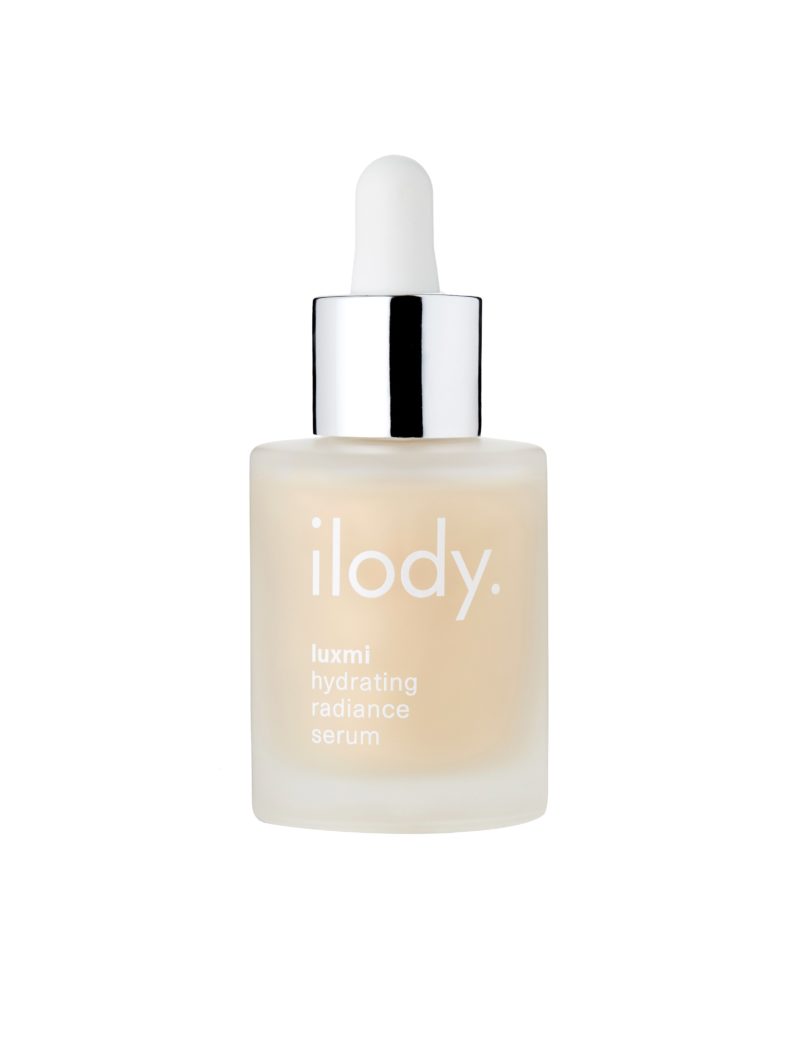 ilody Luxmi Hydrating Radiance Serum – £72
Blending traditional Eastern and Ayurvedic roots with Western modern conscious luxury, ilody's luxurious serums are the secret to obtaining beautiful, healthy skin – holistically. And when it comes to a magical mushroom must-have, it's all about their 'Hydrating Radiance Serum', which does exactly what it says on the tin, and then some. Formulated with snow fungus mushroom and other radiance-enhancing actives including kombucha and bearberry leaf, it visibly improves skin texture and tone while hydrating, plumping, and brightening – all with a dreamy silk-like texture that melts seamlessly into skin.
Origins Mega-Mushroom Relief & Resilience Fortifying Emulsion – £32
The latest addition to Origins' best-selling Mega-Mushroom range sees the arrival of the 'Fortifying Emulsion' – a lightweight yet powerful hydrator that tackles redness and dehydration while fortifying the skin. Created by Dr Andrew Weil, a Harvard University-trained pioneer of integrative medicine and the man behind the range, it's packed full of mushrooms (four different types to be exact) alongside sea buckthorn, organic essential oils and squalene from sugar cane to instantly hydrate, strengthen, and soothe the skin. Use alone or under your moisturiser to help build resilience against environmental aggressors and irritants.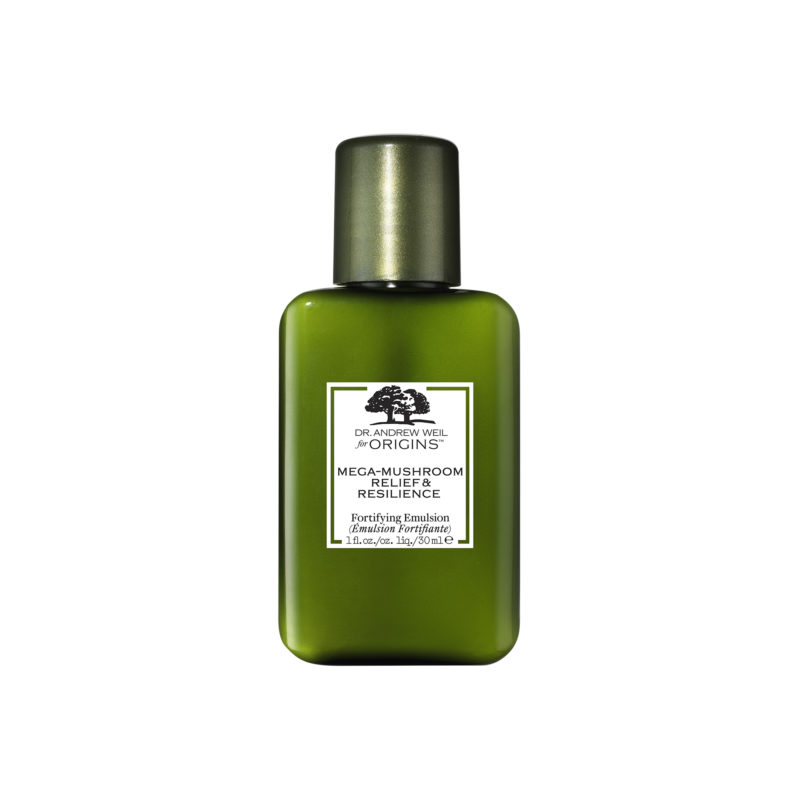 The Inkey List Snow Mushroom – £9.99
Snow Mushroom, a.k.a tremella fuciformis, is being hailed as the new hyaluronic acid thanks to its amazing ability to pull moisture into the skin. Even better? Its molecules are smaller so it can penetrate faster and deeper into the skin, and it provides 5000 times its own weight of water – five times more than HA! So, if your skin is in need of a hydrating boost, reach for The Inkey List's 'Snow Mushroom' moisturiser. Providing soothing anti-inflammatory benefits while boosting collagen production and plumpness and hydrating, this purse-friendly find is guaranteed to transform even the driest and drab of complexions.
Turmeric
Turmeric isn't just the secret behind the perfect curry – it's also the key to beautiful skin. This orange spice is loaded with antioxidants and is a natural anti-inflammatory, which is why it's been used for thousands of years as a key tool in Ayurveda to treat everything from acne and blackheads to dark spots, eczema, and psoriasis. It can even be used to treat new and infected wounds thanks to its antibacterial properties. The super spice also helps reduce signs of ageing, reduces pigmentation, and evens and brightens the complexion whilst helping to heal and prevent dry skin, in turn keeping it supple whilst boosting increasing elasticity. So, if there was ever a time to spice up your beauty routine, it's now.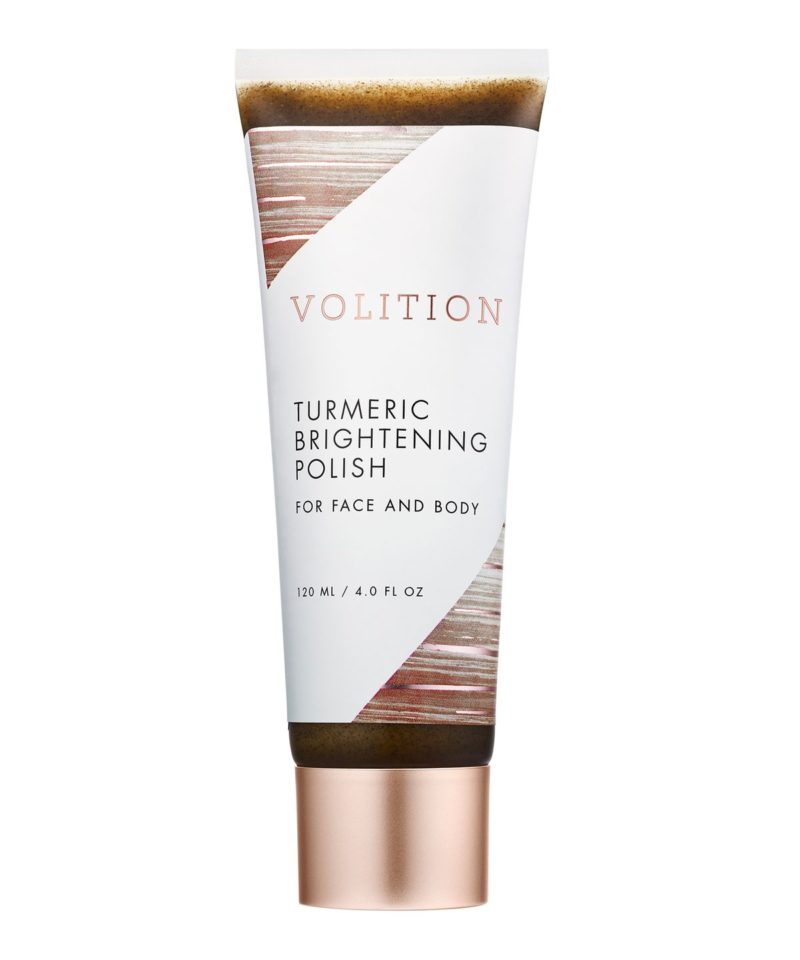 Volition Turmeric Brightening Polish – £32
We couldn't be more excited that Volition has finally hit UK shores, especially because their clean, vegan, cruelty-free products, which are thought up and determined by you, the consumer, are crammed full of superfood ingredients. This perfecting polish can be used on both the face and body and uses turmeric powder, walnut shell, and olive and sesame oils to gently buff away dry, dead skin while toning and brightening. "Nothing I could find on the market brightened as well as the homemade Turmeric treatment my grandmother passed down to all of us. So…I decided to bottle it", explains product innovator Anuradha, and boy are we glad she did.
Sunday Riley C.E.O Glow Vitamin C + Turmeric Face Oil – £68
Doing just what it says on the tin, Sunday Riley's turmeric-infused face oil is guaranteed to give you back your glow whilst nurturing and protecting the skin. Inside each golden drop you'll find antioxidant-rich golden turmeric, moisturising and protective jojoba oil, soothing ginger, and radiance-enhancing raspberry extract, as well as a blend of advanced vitamin C to boost radiance, even tone, and deeply hydrate. Can you say glow getter?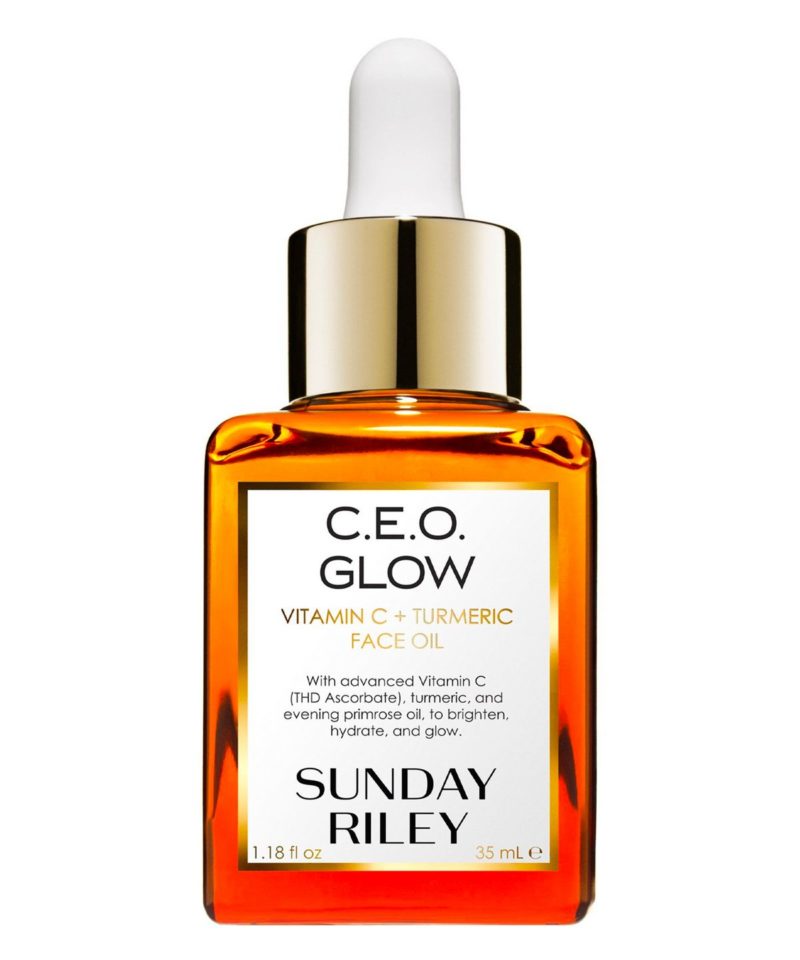 Kiehl's Turmeric & Cranberry Seed Energizing Radiance Masque – £36
Want to know the secret to Kate Hudson's gorgeous, glowing, radiant skin? Well, wonder no more, because according to her Snapchat, it's all thanks to the Kiehl's 'Turmeric & Cranberry Seed Energizing Radiance Masque'. Designed to invigorate and brighten, it's packed full of natural ingredients, including turmeric, to detox the skin and remove impurities that lead to imperfections and dullness. Crushed cranberry seeds also gently exfoliate to rid you of that dead, dull layer of skin, revealing a smoother, brighter, more glowing complexion. Simply apply a thin layer, rub in gently to activate the exfoliating ingredients, and sit back and relax for ten minutes before washing it off with warm water.
Kale
Thought kale was just for your superfood salad? Think again, because it can work miracles on your skin too. Rich in vitamins (it's super high in A, C, and K), nutrients, and antioxidants, it's an amazing skin soother and strengthener, as well as a natural hydrator. Because it enhances elasticity, it also works wonders at diminishing the appearance of wrinkles and fine lines, and it can even build up the skin's resilience and improve suppleness. Thanks to its abundance of phytonutrients, the list of things this leafy green superstar can do for skin is practically endless. We're talking tightening pores, promoting collagen production, reducing the appearance of dark circles, protecting against free-radical damage, detoxifying the skin… you get the gist. All hail kale!
Elemis Superfood Vital Veggie Mask – £30
The next best thing to slathering a big green juice all over your face? Elemis' 'Superfood Vital Veggie Mask'. Packed full of the green good stuff, including kale, nettle juice, avocado and broccoli oils, and wheatgrass extract, it loads skin with amino acids, minerals, and vitamins to impart a gorgeous glow and to leave skin super soft and hydrated. Not to mention the addition of a sugar derived prebiotic, which keeps the skin's microflora balanced and happy. An all-round winner.
.
Nourish Kale Anti-Ageing Eye Cream – £30
This all-natural eye cream contains vitamin-rich kale extract, maqui berry, and pomegranate enzymes to help diminish dark circles and reduce puffiness while minimising the appearance of fine lines and wrinkles around the delicate eye area. What's even better is that it's 100 per cent vegan and cruelty-free and made with over 76% organic ingredients. So next time your peepers are in need of a pick me up, you know where to turn.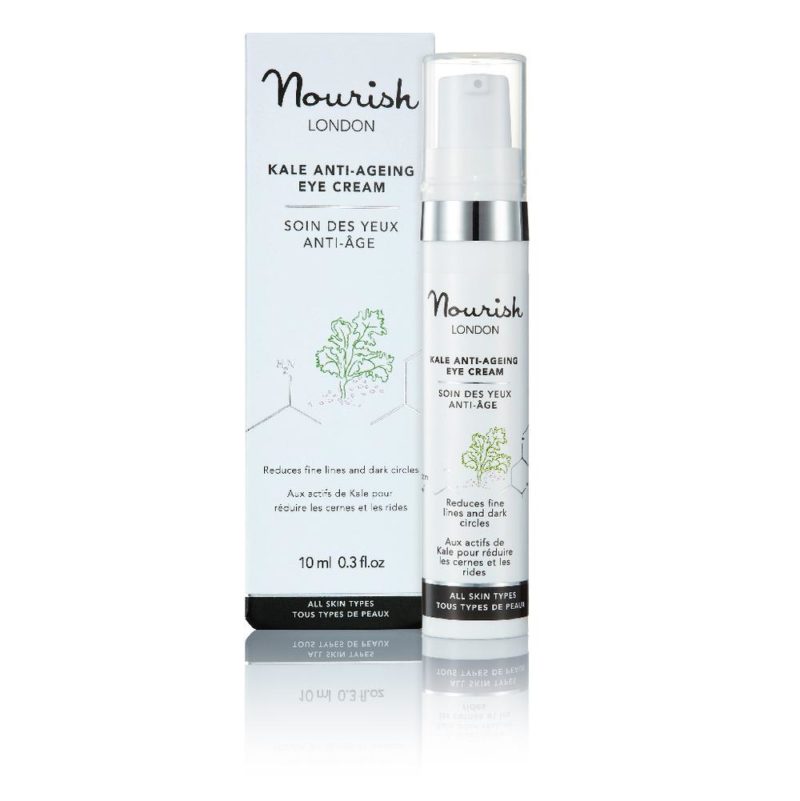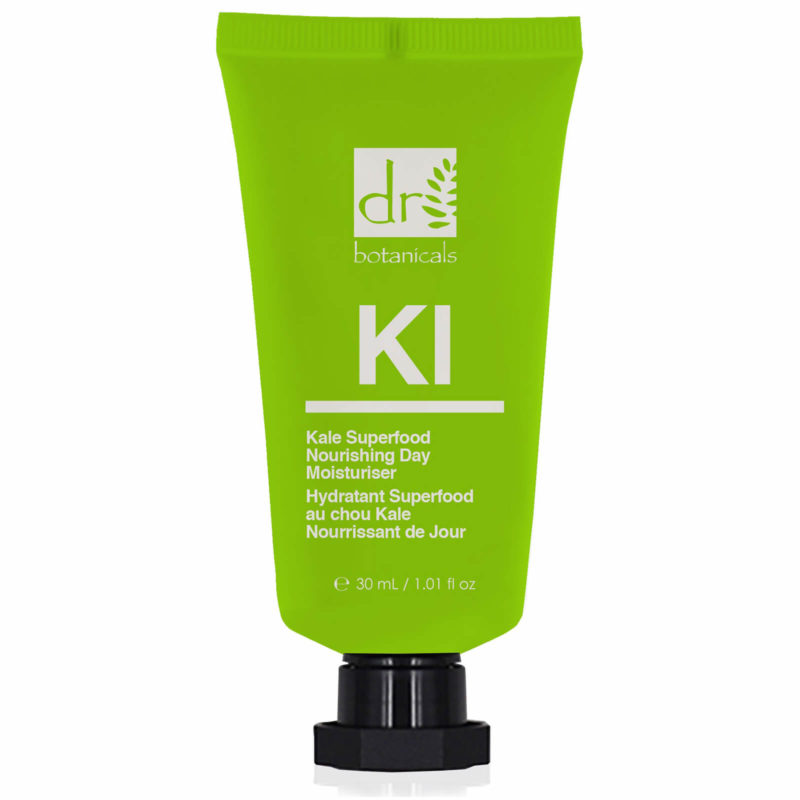 Dr Botanicals Apothecary Kale Superfood Nourishing Day Moisturiser – £19.50
Bringing together science and superfoods in fresh formulations to feed the skin with nourishing ingredients, Dr Botanical's kale-rich day cream is just the ticket to soft, smooth, happy and healthy skin. Totally vegan, cruelty-free, and 99.9% natural, it blends kale with coconut butter to reduce the appearance of pores, protect against pollution and environmental aggressors, and deeply hydrate to leave skin looking and feeling its best, all day long.
words by Frankie Rozwadowska