Many consider Autumn to be a wonderful time to explore Europe. You miss the madness of summer crowds and peak season prices, but you still get blissfully sunny days and most importantly, peace and quiet! Our Content Editor took a long weekend trip to the popular Amalfi Coast and indulged in a romantic, sun-filled few of days at Monastero Santa Rosa Hotel & Spa.
I don't know how long I've had the Amalfi Coast on my travel wish list for. Too long! It's always been a place I longed to witness with my own eyes as I've discovered over the years that nothing beats seeing a town, city or country in the flesh, rather than in a picture from your favourite blogger on instagram. You think you know the beauty of a destination, but it's not until your feet land on the ground, that you truly appreciate your surroundings. This is exactly how I felt when my husband and I arrived on the Amalfi Coast. After a short period discovering the town of Positano (or the town of steps as I have now named it!) we packed our bags and made the 40 minute car journey to the towards the town of Amalfi.
Sitting high, so very high, above Amalfi lies Monastero Santa Rosa, a 20 room luxury hotel that practically floats amongst the heavens. An old Monastery dating back to the 17th century, owner Bianca, who set eyes on the ruins one summer whilst boating in the Gulf of Salerno, lovingly and respectfully restored it over 10 long years. Through dedication and hard work, Bianca managed to maintain the monastery's structural integrity and retain its tranquil atmosphere throughout the entire property.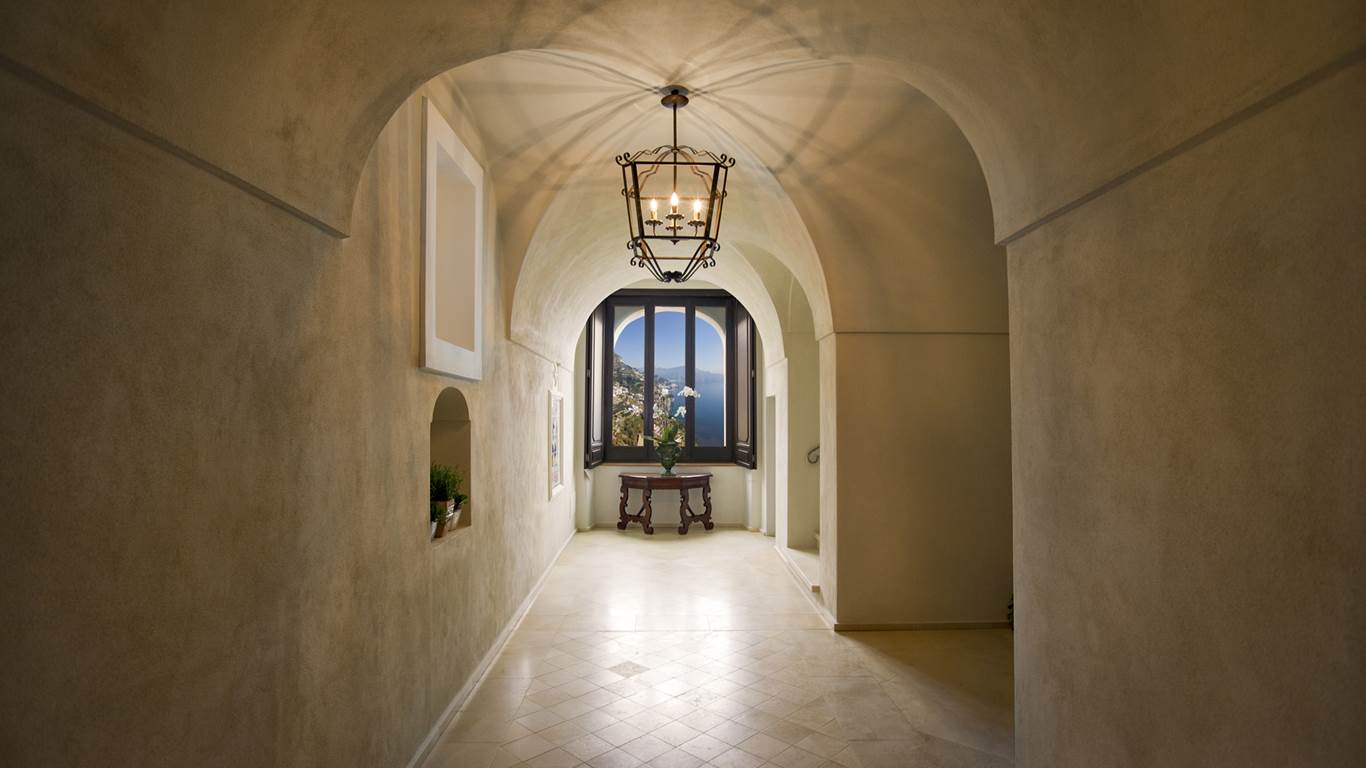 We were warmly greeted with a ring of the old monastery bell as we entered the gates, which was such a magical moment. Lead straight through to an intimate terrace while the concierge checked us in, we were given a homemade lemon tonic to sip on whilst being utterly mesmerised by the view. It was so quiet, so peaceful and just took my breath away.
After a quick tour of the hotel, we were shown to our room. Stepping foot into their Citrus Suite is a moment I'll never forget! Consisting of a sumptuous bedroom and ensuite bathroom (with the biggest bath tub I've ever seen in my life), a walk-in wardrobe, second wash room, living room and a ginormous terrace in prime position over-looking the grounds and the Mediterranean sea, we settled in, wiped the happy little tears from our eyes and made our way down to the pool and to scope out the outdoor gym. Yes, outdoor gym!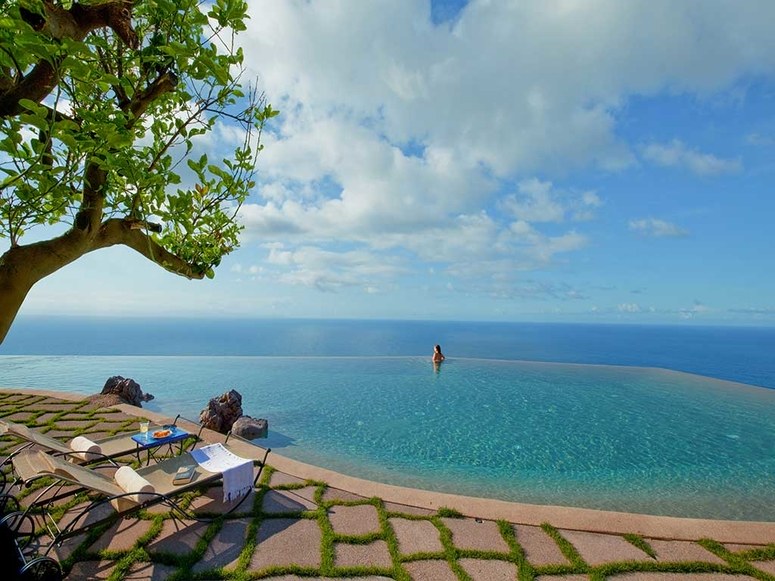 There's not much to say about their infinity pool that hangs off the edge of the cliff other than it's probably the most jaw-dropping pool you'll ever see in your life. It's a big statement but trust me on that one. Behind the infinity pool you'll discover Monastero Santa Rosa's multi-level gardens with sweeping panoramic views and private nooks to soak the day away. Opt for your own cabana or double daybeds with a good book and you're set for the afternoon.
The outdoor gym is, again, another sight that blew my mind. Not the most extensive of gyms (who really likes looking at 10 technogym treadmills side-by-side anyway?) but what a view you have! After a mini workout with maximum sweat (no air con here!) we spent the rest of the afternoon by the pool taking way too many pictures and having moments of silence interspersed with head-shaking giggles, still refusing to believe it was real life.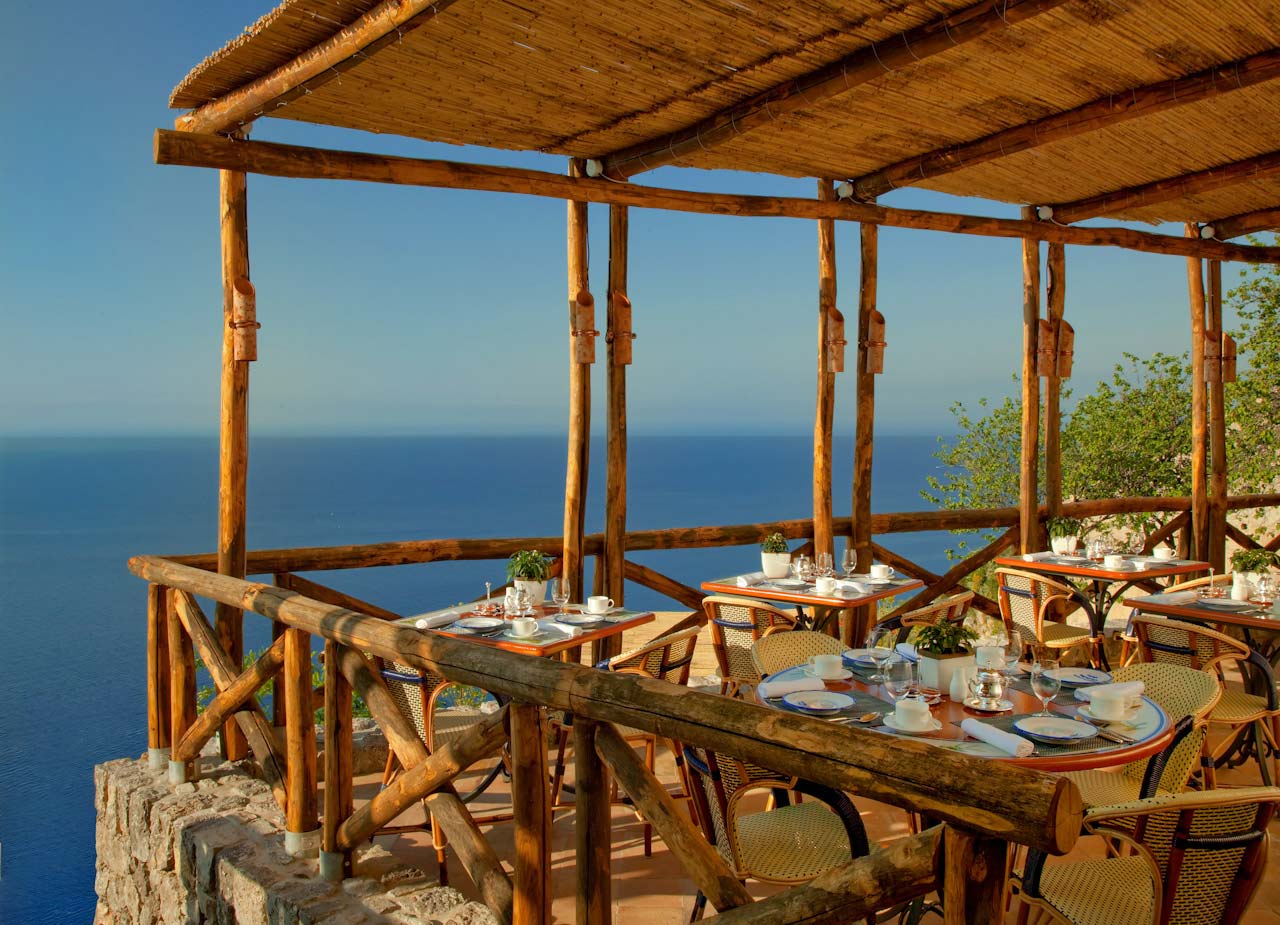 On to the food! With Monastero Santa Rosa's own herb and vegetable garden on site, you can expect every dish at their restaurant, Il Refettorio, to be fresh and completely delicious. Taken care of by the delightful Chef Christoph, every morsel combines the freshest local, organic ingredients of Conca dei Marini. No pre-made, stodgy pizza in sight. Just real, authentic Italian cooking. We had dinner with a view of the starry night's sky and I can honestly say, we really took our time over the meal and savoured every moment. Our phones didn't touch the palms of our hands the entire evening.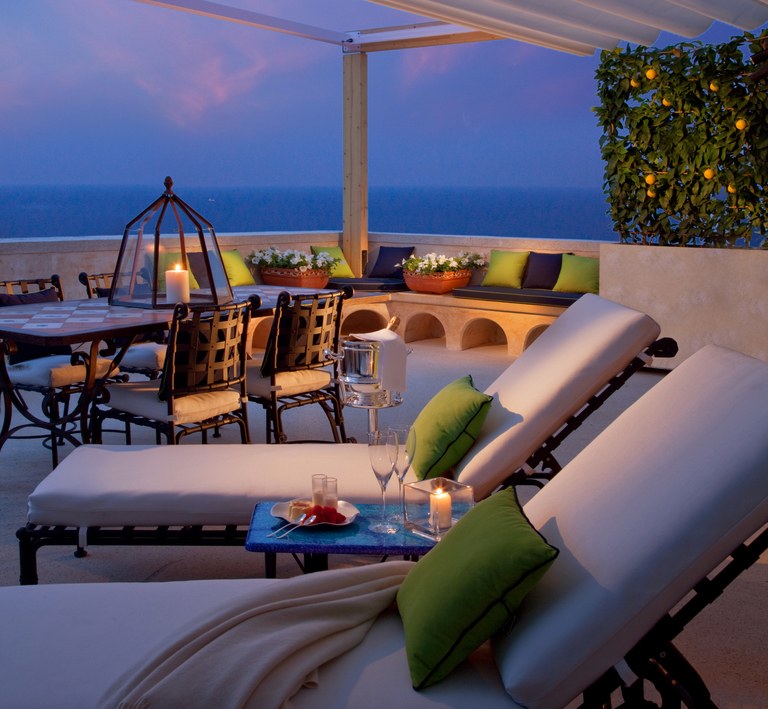 A blissful night's sleep later, in our spacious suite (yes I'm going to keep mentioning it!) it was time to start the day with breakfast. You can choose to dine on the restaurant's terrace or in your room. We went with the latter! As my husband is an early-ish riser (and myself a late riser) I awoke to him summoning me to our terrace (pictured above), which laid a breakfast spread of dreams! Think fruit platter, omelettes and the best selection of teas!
This review wouldn't be complete without a mention of Monastero Santa Rosa's spa set within the old vaulted space of the monastery. Even if you haven't booked a treatment, you can head to the spa's Thermal Suite, which consists of a collection of vaulted spaces and inter-connecting rooms on different levels with a discovery around every corner. Start in the vaulted Tepidarium with the pomegranate-infused foot spas and heated mosaic loungers (dreamy), then move on to the aromatic steam room and sauna, then end the Italian bathing experience in the heated, jacuzzi-style hydro pool and "Emotion" showers (a fun element!). The treatment menu ranges from massages and facials to aromatic scrubs and cocooning body wraps, all of which use natural oils and crèmes from Santa Maria Novella, an artisan skincare brand dating back to one of the world's first pharmacies in Florence in 1221.
I could go on and on about this place and it's certainly somewhere I feel compelled to return to. From the warmth of the staff to the intimate setting, it could easily become a regular home away from home. Take me back already!
To find out more and book your stay, head over to monasterosantarosa.com
Scott Dunn offers 4 nights at Monastero Santa Rosa in a Sea View Superior Double room for 2 people, including breakfast, return flights and private transfers starts from £1,750 per person. Click here to view offer.
words by Molly Jennings