After travelling for weeks around India we were feeling slightly frazzled and were looking for a haven to retreat into, where we could slow down and enjoy some peace and quiet in a beautiful setting with good food, like-minded people, an adventurous spirit and inspiring activities. Enter Soul & Surf in Varkala in the South-West of India. An exotic wellbeing retreat whose characteristics embody all of these things.
Built for surfers and yogis alike, the cliff-top beach retreat has a relaxed vibe and a really special atmosphere. Set up in October of 2010, Soul & Surf, Varkala (the first of the Soul & Surf group) is the brainchild of a couple from the UK – Ed and Sofie Templeton who left their jobs to travel the world. Once they discovered the untouched surf of Kerala, they couldn't leave. The Varkala retreat offers the perfect place for beginner and experienced surfers alike to enjoy the surf of India, while practicing yoga in their downtime to keep their bodies ready for more waves.
Each morning we would wake and meet in the early hours (around 6.30am!) for teas, coffees and bananas and then head out for our morning surf on the beautiful warm water coastlines. The surf instructors were passionate, encouraging and hugely knowledgeable and would mean that after two solid surfing weeks most people went from complete beginners to being able to get up on their boards and beginning to experiment with turns across the waves. At around 10.30am we would return to base-camp to be welcomed by the most incredible healthy but filling brunch spread to help us re-fuel; the freshest fruit, tea, keralan coffee, juice, bread and then a daily hot offering – think a mix of western classics like muesli or kedgeree with South Indian breakfasts like fragrant, spiced dosa with tomato dhal. The Soul & Surf cafe also stays open most of the day so if we were peckish a delicious snack or lunch was minutes away.
In the afternoon we could return for a second surf or make the afternoon our own by relaxing in the lush cliff-top gardens of Soul & Surf or renting a tuk-tuk and exploring more of Varkala. Come early evening, the daily sunset rooftop yoga class was the perfect way to wind down after a day of activity. No yoga class was the same from vinyasa flow to restorative yin to stretch out and counteract the hard day's surf. During our stay we also enjoyed bonfires, barbecues, cliff-top outdoor film screenings of surf and feature films, homemade stone-baked pizza, live music evenings as well as relaxing massage and meditation sessions. It was heaven! When it came to be our time to leave we simply didn't want to, we had found our real-life paradise. For added karma, the place is also committed to giving something back firstly to their surf club for village kids, locally as well as supporting the charity SISP in Kerala and commitment to donate 1% For The Planet.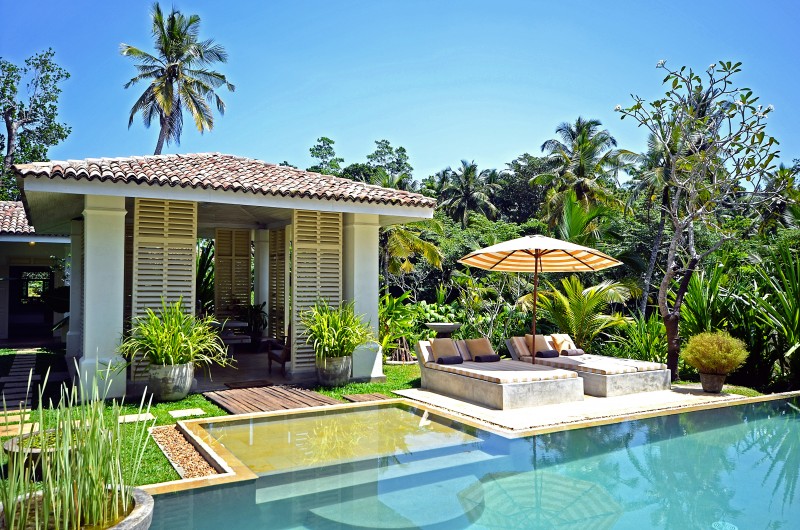 As well as their home base in Varkala, India, Soul & Surf also pops up all over the world when they find somewhere really special. From the South-West coast of Sri Lanka (so successful that last November the set-up became permanent) to Little Andaman, a far-flung, untouched island in the middle of the Bay of Bengal for a wilder more adventurous trip. And if you're looking for a trip which doesn't commit you to a long-haul flight then Soul & Surf also often appears closer to home, with past destinations including Cornwall and their most recent in Portugal, which we promptly signed ourselves up for! Arranged by Soul & Surfers Adam and Rachel we found the whole Soul & Surf Indian experience transported overseas, staying in a beautifully protected natural reserve in the South-West tip of portugal in the village of Figueira. We enjoyed brilliant surf and company, relaxing yoga and some of the tastiest food we've ever eaten, courtesy of the talented Millie. Mid-way through the week we had a day off from surfing which we used to explore the surrounding area with off-road runs and mountain biking over the incredible coastlines. One spectacular morning we even walked down to our own private beach for a yoga practice with Rachel – an immersive outdoor experience like no other surrounded by the sun, sea and sand where you really felt connected to nature and your practise. It truly is a magical and exotic wellbeing retreat like no other.
And those special experiences with like-minded people are what really defines everything you'll find at Soul & Surf, no matter the location. Plus, unlike many wellbeing breaks, the prices won't send your blood pressure skywards. A week's stay includes accommodation, breakfast, daily surf guiding, mineral water and use of yoga mats and daily yoga sessions. Additional yoga and any massage or treatments are extra and can be purchased on a daily basis.
Having such a memorable time with Soul & Surf we decided to steal 10 minutes with the co-founder Ed Templeton to get the inside scoop of how with his wife he has created such a goldust experience for healthy travellers:
What led to you coming out to India and deciding to set-up Soul & Surf?
The need to leave behind the 60hr week, stressful business I ran before, to slow down a bit, to travel, to have the time and space to connect with the moment through surf, through yoga with a bit of meditation. Whilst on that trip with my wife Sofie we hit upon the idea of a way to extend the trip by setting up a very low key surf & yoga retreat in off the beaten track (surf-wise at least) in Varkala, Kerala.
What made you pick Varkala to be the first place to set up Soul & Surf and what was your vision for it?
On our round-the-world surf trip we spent 3 months in Varkala. We felt really at home there, Sofie completed her yoga teacher training nearby and I surfed alone every single day without seeing another surfer. The vision at the time was just a short-term extension of our adventure. No long term business aspirations, just the desire to surf & practice yoga every day
What kind of traveller is Soul & Surf made for?
Someone who still wants a bit of adventure, to connect with a place with a culture in the way travellers do, but maybe someone who has a bit less time these days to arrange an off the cuff, full-on travel experience.
The friendly, authentic community vibe blew us away – do you think this is quite a unique thing to Soul & Surf?
It blows us away on a daily basis. The genuine feeling of community is for us, and many of our guests, the most rewarding part. It's the surf, the yoga and the location that initially attracts people, but that kind of 'preselection' means that there are like-minded people from all over the place, staff & guests alike hanging out, sharing stories, ideas and inspiration.
I'm not sure if it's unique to us, but it is definitely the thing that makes it a very special part of our guest's experience.
When would you recommend to visit?
For wave size and consistency it's best in October, November, March, April, May. For endless sunny days and cooler evenings but less consistent waves and lots more tourists December, January & February.
We hear you have just opened up in Sri Lanka? Tell me more!
Yes, we've done Pop-Ups there for the last 3 years and finally took the plunge to open full time, year round here last November. The property we use here is higher spec, with swimming pools and beautiful architecture so we run a higher-end week long surf & yoga retreat operation in Sri Lanka, but with similar aims of laid back but attentive hospitality, great food, great staff and to find and create that intangible 'community' vibe.