One couldn't imagine a more idyllic setting for Greek gods and goddesses to while away their days than Amanzoe. Resting on a secluded hilltop with expansive views over the southern Peloponnese coastline and the Aegean Sea, this mesmerising hotel is a modern, stone and marble-constructed hideaway that blends seamlessly into the natural landscape surrounding it.
Managed by Aman Resorts, arguably one of the most exclusive hotel groups in the world, their Grecian residence sits alongside 33 (and counting) other ultra-luxurious properties spread across Asia, Europe, Africa, America and the Caribbean. As I recall my memorable first experience of Aman, I realise my stay at Amanzoe taught me what I really value most in a holiday. Here's what I learnt…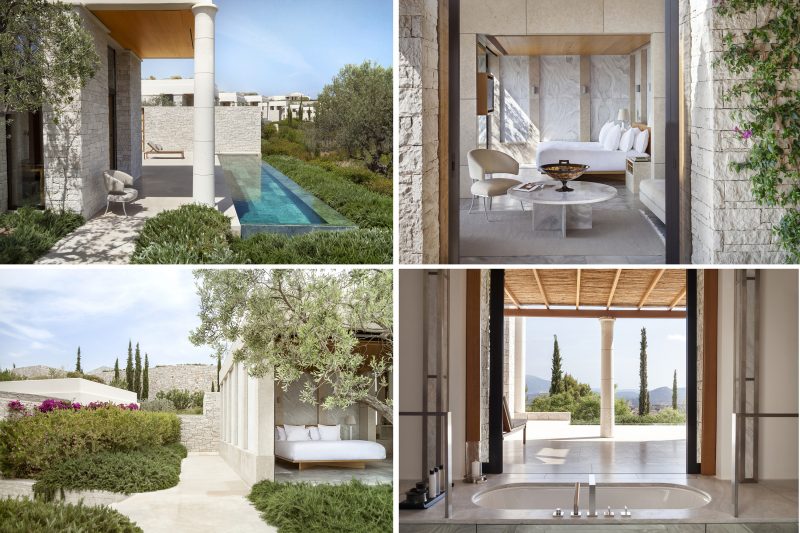 I value privacy…
I honestly didn't appreciate just how much privacy could make a difference to a holiday. I always thought the need for it only came from high-profile guests looking to disappear for a while and escape from peering eyes but I now understand why they desire seclusion so much. I loved having my own space where you don't feel like you're sharing your holiday with other people. With the remote, off the beaten track location and only 38 Pavilions, Amanzoe have made it an integral part of their ethos to ensure guests have the utmost privacy.
The location is definitely a great starting block for helping guests feel a million miles away from their monotonous 9-5 back home. Roughly a two and a half hour drive from Athens, reaching Amanzoe is most certainly not straightforward. Doable, yes. We hired a car and as long as you have Google Maps, you'll get there eventually! There is the option for a helicopter transfer but unless your wallet is very expansive, it's going to add a significant amount to your bill! My husband and I got chatting to an American couple briefly during our stay who opted for this mode of transportation and they said it was the most breath-taking experience! I'll take their word for it!
The feeling of space and remoteness continues throughout the hotel grounds and into the pavilions. We stayed in a Pool Pavilion, which, although technically Amanzoe's entry-level pavilion, was stunningly spacious, consisting of a huge open plan living room and bedroom area with the most luxurious bathroom I've ever seen. A sunken marble bath overlooking your terrace (more on that in a sec) accompanies two dressing room wings. Yes, wings. One for each person with their own wardrobe, sink and Japanese Toto toilets. Mega.
Your terrace (accessed by floor-to-ceiling sliding doors from either your bedroom, living room or bathroom) features a jaw-dropping infinity pool, a wrap-around garden adorned with olive trees and your own sun loungers to bask in the sunshine. All of that combined with the most spectacular view of the Mediterranean sea and in-room dining, unsurprisingly, there is no need to pass the threshold of your front door.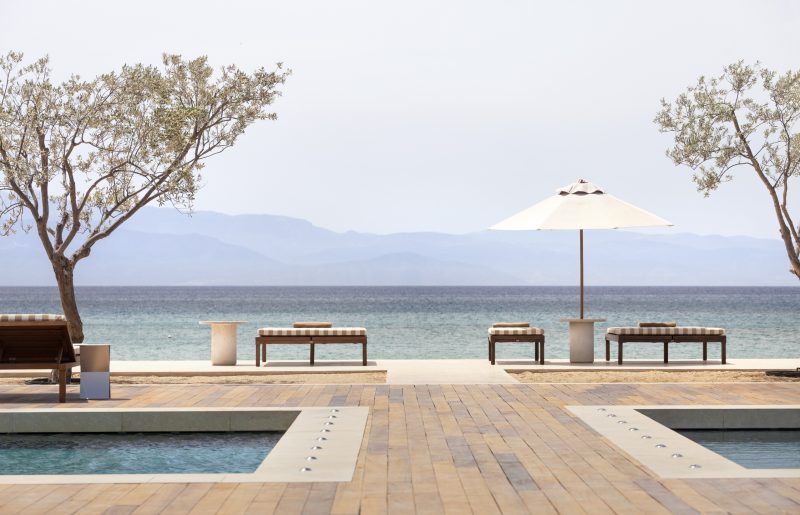 I value tranquillity…
I've been truly spoilt by Amanzoe when it comes to peace and quiet. There is an abundance of both and it's blissful to be part of that environment. Wandering around the grounds and your pavilion you'll notice only one sound… that gorgeous hum of crickets chirping away in their masses hidden in the shrubs and flowers. Although constant, it's a sound that, for me, signifies I'm on holiday and I love how it instils such a sense of happiness. It's my trigger sound for feeling really calm and relaxed. If you head down to their private beach club at the foot of the property, that blissful hum will be accompanied by the gentle sound of the waves skimming the pebbles. It's no wonder they named the hotel Amanzoe. In Sanskrit, the word "Aman" means peace and "Zoe" means life. Peaceful Life. It all makes sense now.
A good spa is also an important element for me when it comes to feeling tranquil and relaxed whilst on holiday. I don't know about you but a bad spa actually makes me more stressed. First world problems, eh. I think it's because you know a spa should be a place where you can unwind and de-stress but when there are distractions and noises you often end up trying too hard to switch off that you end up getting frustrated with the fact that you're not feeling relaxed! Ahhhh! I've done it before. Mid-massage listening to a million other people's conversations and hearing doors slam and footsteps thudding above you. That environment just isn't conducive to relaxation.
Luckily for me, Amanzoe's spa is a world away from the above. Their holistic philosophy provides guests with a 360 approach to improving your wellbeing, using Ayurveda and Traditional Chinese Medicine as their language of communication. Aman's Signature Menu is built around three elements. Grounding, Purifying and Nourishing. Grounding for those seeking reconnection, stillness and perspective. Purifying for those seeking lightness, breathing space and a fresh start. Nourishing for those seeking regeneration, recuperation and healing. Each element offers a Body Polish & Wrap, Massage, Face Ritual and Journey. I opted for a 90-minute Grounding Massage as I felt like my internal equilibrium was a little out of whack. I was craving more balance and a little less mental stress. Anxiety also rears its ugly head on occasion and I often find it very difficult to switch off mentally.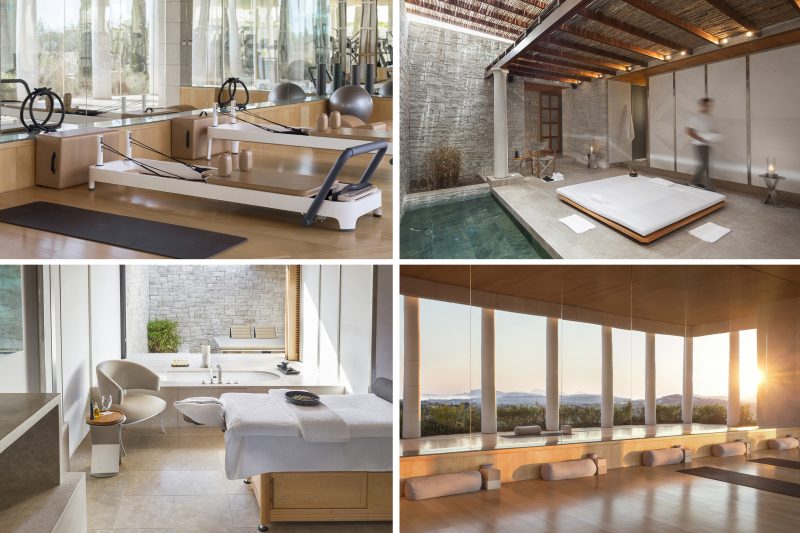 I was lead to my treatment suite (one of nine) by my lovely therapist, scents of sandalwood, jasmine and rose were igniting my senses as we walked. Expecting a cosy candle-lit room, I was taken aback when she opened up the treatment room door revealing my own open-air courtyard, plunge pool and relaxation area. Leading off from the courtyard was the suite itself, consisting of a decadent changing room, a vast, wonderfully light treatment room complete with its own bathtub. When they say suite, they mean it.
Robe on, we commenced the treatment in the courtyard with a Smoking Ceremony. For many years, the smoke of different woods and resins has been used for therapeutic benefits, mainly to purify and cleanse the spirits and promote healing. The Grounding element uses black amber, which is considered to restore energy and shield against infection. As the black amber filled the courtyard my therapist performed Aman's Foot Ritual, a mineral-rich foot soak to compliment the spiritual cleansing of the smoking ceremony. It symbolises an act of great care and is deeply relaxing, setting you up perfectly for your treatment. Taken inside, I spent the next 90 minutes drifting in and out of sleep. I don't think I've ever surrendered to relaxation quite like I did in that hour and a half. It was heaven on earth and I really did feel so much more balanced afterwards. I felt like the best version of myself…. like I had shed an old layer of skin and was shiny and new again. Aman has set their bar so high, I fear no other spa will come close.
I also have to mention their overwhelmingly beautiful yoga studio. Electronic glass windows disappear into the wall with a click of a button revealing an outdoor yoga pavilion with the most incredible sea views. It's truly astonishing and you are reminded of just how high up you are. You can book onto a yoga class, organise a private yoga instructor or simply use the space for your own practice. Nothing will beat a morning sun salutation just you and the birds awake. Heaven.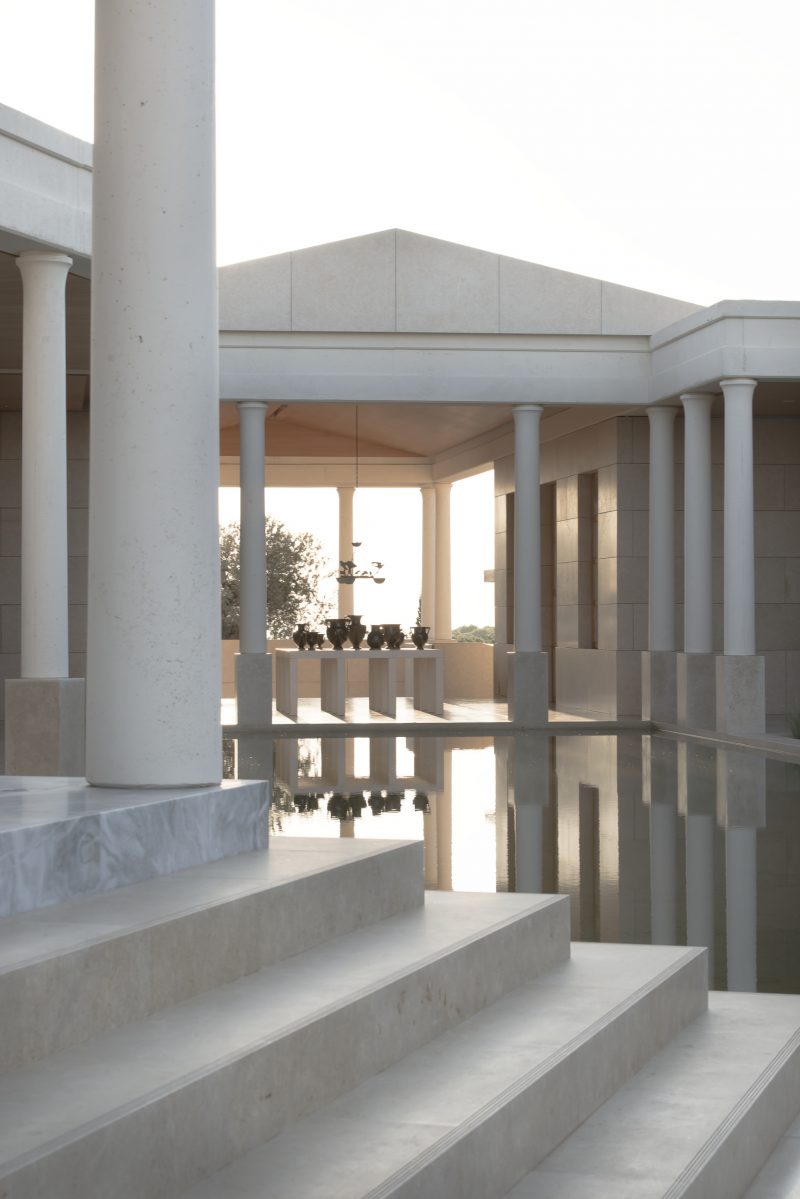 I value the little touches…
This is where Amanzoe nails it on all levels. The little touches are what truly set them miles apart from other 5-star hotels. Let's start with check-in. There isn't one, basically. They understand that upon arrival, all guests (particularly those who have travelled far) just want to settle straight into holiday mode. No waiting in reception jet-lagged and dreary-eyed signing multiple printouts and handing over credit cards. No. They do things a little differently. Your car door is opened for you upon arrival and you are immediately welcomed with a refreshing signature tonic and cold towels that smell of orange blossom. You are then given the option of a hotel tour (I would recommend this as you get to see the space with someone who knows their way around) or you can be taken straight to your pavilion. Bliss. Once you reach your heavenly home, you'll notice your luggage will have magically beaten you to it and will be sitting in each person's wardrobe; any coats, scarfs etc neatly folded or hung up. Your personal concierge will settle you in and simply ask for your passports before returning them later on. That's the Aman way to "check-in".
Room amenities are incredibly well thought out and chosen to help you make the most of your holiday. In each dressing room wing, you'll find a treasure box with a torch, insect repellent, an adapter and a natural sponge inside, plus your very own sun hat (his and hers) in case you've forgotten your own. There's also a tote bag for you to use during your stay, two pairs of shoes (flip-flops or slides) and two dressing gowns; a linen one for summer and a cosier one for chilly evenings. They have thought of everything.
Another extra touch I used to love when I was little was coming back to your room with a chocolate on your pillow. I feel like this is a bit of a dying tradition but once again, Amanzoe has taken things to a new level. Every evening after dinner, there was always a little gift and note on the bed. Over the course of three nights, I received an evil eye pendant with a description of its origins, a posy of lavender and a mini bottle of their own olive oil.
Moving on to the dining… we experienced, yet again, small touches that left a lasting impression. Waiters and waitresses knowing your name and room number without questioning it reveal the great communication skills across the staff and management. It makes you feel cared for and it adds another element of a personalised experience. They also miraculously questioned an omelette that I ordered for breakfast the first morning because it contained mushrooms. Now, I absolutely hate mushrooms but I don't remember telling anyone I did. I asked them to make it without and for the rest of the trip they always made a note that I didn't like mushrooms. My husband and I also don't drink alcohol so during a lovely meal at Nama, their Japanese restaurant, they asked if we would like to try some mocktails. They suggested some according to our taste inclinations and they whipped up some insanely delicious ones! The next evening, they mentioned that they remembered we didn't drink and asked if we wanted the same mocktails as the previous night. Different restaurant, different staff but again, you can tell they all share notes and communicate with each other. Lastly, in the same vein as the check-in process (or lack off), there is no bill signing at the end of each meal. You can just leave whenever you're finished. How many times have you felt prisoner to your table while you wait for someone to bring you your bill? It can be quite frustrating, especially when service is slow but here, you can leave whenever it suits you. Amanzoe have got the balance just right between leaving you to your own devices, yet always being close by if you need anything.

I value quality over quantity…
The final thing I learnt from my stay at Amanzoe is that the quality of a holiday far outweighs the length of time you are away for. I would so much rather spend the same amount of money on a 3-night trip to an incredible hotel/destination rather than 2 weeks at somewhere mediocre. Amanzoe provides the ultimate escape where no stone is left unturned. That, for me, rules over the length of stay, any day of the week. Aman's approach to hospitality welcomes guests "as if to the home of a close friend" and I truly felt at home inside this hidden Greek paradise.

A quick overview of the facilities…
38 Pavilions
2 swimming pools; 1 for adults, 1 for children
2 restaurants
2,850 square-meter spa hosting a gym, pilates studio & yoga pavilion
Private beach club with swimming pool, restaurant, gym and spa
Library
Bar
Prices start from £885 per night including daily a la carte breakfast for 2. Aman.com
words by Molly Jennings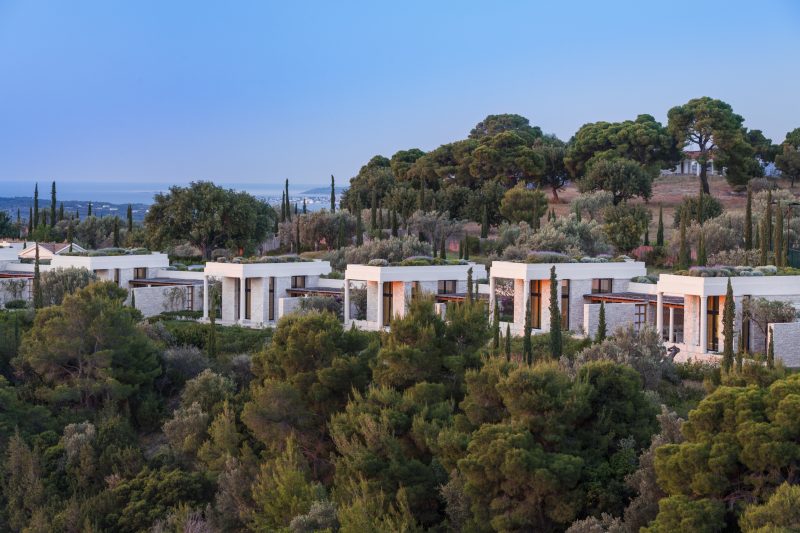 ---
MORE HOTEL REVIEWS IN TRAVEL