The mixer market is fizzing and the days of low-cost, low-quality tonic waters are now long gone. Increasingly sophisticated consumers have developed a taste for premium products, honest ingredients and authentic sourcing. Our shelves and chillers are stocked high with a new trend of beverage and Gallybird are at the heart of this transformation leading the way in the all-natural drinks category. In July, they released the UK's first naturally sugar-free, zero-calorie premium tonic water. It has intricate flavouring and a subtle sweetness, which have been created using only pure, plant-based stevia leaf extract. It's made from all-natural ingredients and no preservatives and is suitable for both vegetarians and vegans. Ticks all the boxes, right? The brand's revolutionary lead has put them at the forefront of the 'zero-proof' drinks culture.
Being sober doesn't mean being unsociable. That is a sign of the times. Abstinence from alcohol is becoming more mainstream and 'clean drinking' is widely accepted. We are all familiar with the tricky questions; "that's not wine! What are you drinking?". Previously, a can of carbonated Schweppes seemed like a weak response. Now, there is no need to mumble. There is an answer. Gallybird is supporting this shift by creating a light refreshment that is truly unique and genuinely delicious. Paired with non-alcoholic partners – such as Seedlip – their premium tonic is a welcome measure of freshness. 
Gallybird still encourages a sundowner. They recognise that a more modern and health aware age should not sap our thirst for a well-earnt drink. Anecdotal evidence repeatedly highlights how people find it frustrating that, when not drinking alcohol, they are offered a sugary substitute instead. As though you should be sat at the children's end. Gallybird has solved this problem; their products offer a healthy, herbal alternative, which excludes the hidden enemy – sugar. 
Previous health and well-being trends were driven by an unfounded fear of fat. Now, it is continually revealed that added sugars, particularly in drinks, are the culprit for unwanted weight gain and ill health. Shockingly, normal Indian tonic water is likely to contain four teaspoons of sugar, whilst 'skinny' or 'light' versions will still contain over two teaspoons. Gallybird uses stevia leaf extract that does not engage with the brain's sugar addiction reward system. International sales of stevia sweetener have surged by over 11% and are beginning to eclipse sales of artificial sweeteners such as aspartame and saccharin. Gallybird's no-sugar approach is a relief to a society which is rapidly developing an insatiable sweet tooth. 
A commitment to no nastiness has always been at the source of Gallybird's roots. Fo Kemp, the Founder, says, "The original botanical blend has been a big hit with health-conscious consumers and drinks industry experts alike due to its feather-light taste and ability to enhance the flavours of your chosen spirit or non-alcoholic alternative." 
So – it is exciting news that Gallybird is releasing a new 'classic blend' Indian tonic water. This traditional Indian flavour has a touch more of the highest quality quinine and an extra dash of sparkling mineral water. There is a little added 'bite' for the die-hard gin and tonic lover – and a blend of delicate citrus notes for the more ambitious palettes. We couldn't think of a better brand to get us through Dry January.
Shop Gallybird.com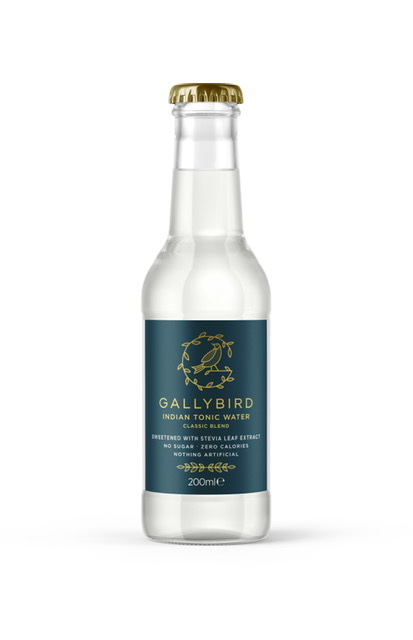 words by Ali Macleod