Perched atop Jabal Akhdar, the Instagram-adored Alila Jabal Akhdar is only reachable by 4×4. H&H contributor Hannah Stuart-Leach poked her head above the clouds to find out more…
It's an adventure just getting to this dramatic retreat atop one of Oman's highest mountain ranges: 2,000 ft above sea level. While the roads, even in such remote reaches of the country, are impeccable, they're full of hairpin bends and steep inclines so a checkpoint at the bottom ensures you're travelling in a car fit for the job. My friend and I were grateful to have a driver to navigate the way for us – although as he revved further upwards, and our ears popped with the altitude, it felt more like he was our pilot.
Alila has been so skillfully designed to blend into its environment that the resort, including 86 suites and villas, only comes into view gradually. The cube-shaped residencies, all positioned to optimise the staggering views of mountains and gorge, appear like a magic eye puzzle with their stones so at home against their rocky backdrop.
After the customary Omani welcome – dainty cups of coffee infused with cardamom and rose water, plus a silver platter piled with sticky dates – we were led to our room by a smart entourage of men wearing the traditional dishdasha and colourfully embroidered turbans, called mussar. We had a Ridge View villa, an instantly calming space with ornate Omani chests and lanterns adding intrigue. "You'll get the best view of the sunset from that balcony," said our host, smiling, before drifting out the door with a rustle of his wonderful white robe.
Roses & Ruins
As well as an infinity pool, jacuzzi, gym, library and daily itinerary of free activities including spa kitchens, yoga and cinema screenings, Alila offers an enticing array of experiences for guests wanting to get better acquainted with local culture and landscape. There's a knee-trembling via ferrata navigating the sheer cliff face beneath the hotel, a hike to Jebel Shams (Oman's highest peak) and a traditional Omani barbecue under the full moon. Since our arrival coincided with the beginning of the Green Mountain's rose growing season, we chose to explore the Saiq Plateau – famed for its fragrant terraces of Damask roses.
Tariq, our 29-year-old guide, grew up in the mountains so knows the rose growers well. From the first buds of velvety pink roses, he carefully picked us one each, and we kept our noses buried in the frilly petals as we walked, hooked on the delicate, sweet scent. Between March and May, the roses are harvested every morning – when they are at their freshest – and distilled into rose water and essential oil. As well as being used as a perfume and to flavour flood, it's used medicinally to soothe irritated skin, alleviate headaches and boost mood.
We bumped into Tariq's sister who invited us into her home for coffee in the majilis, a reception room where guests are entertained. A blue sky with fluffy white clouds was painted on the ceiling and Tariq's nephew's football medals were proudly hung up on the wall – the sport is very popular and a great conversation starter. We ate dates dipped in tahini, then a mix of sesame seeds and coconut, and felt free to ask all the questions we had about Omani etiquette.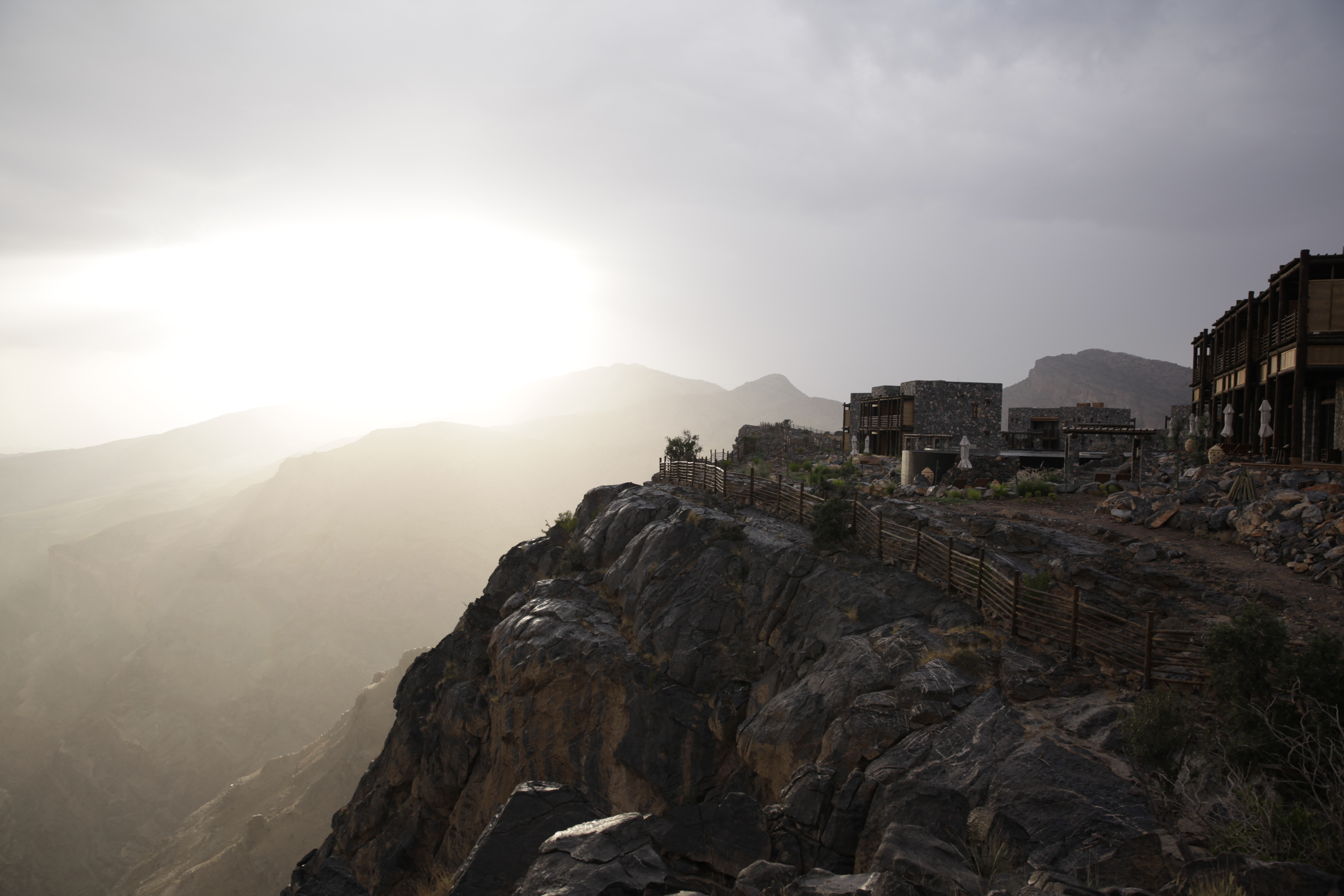 On a sugar high, we went to explore some abandoned villages. There are many empty homes and villages in the area, Tariq explained, as Oman's characteristically large families outgrow their homes quickly (he is one of 10), plus there can be difficulties accessing water and other necessities. Scrambling past a friendly troop of shaggy-haired goats through the crumbling ruins of Wadi Bani Habib, one of the most visited, we found evocative fragments of floral coffee cups and orange and purple fabrics caught up in the rubble. The intricate carvings of the old wooden doors and distinctively arched shelving offered an enchanting introduction to the unique history and craftsmanship of Oman.

A taste of Oman
Mealtimes at the resort are another chance to pay homage to Oman's rich heritage. The Rose Lounge is a lovely poolside lunch spot and puts on a daily complimentary afternoon tea with beautiful displays of baklava, while the lantern-lit Juniper Restaurant makes use of local produce – from pomegranates to olives – at breakfast and dinner.
Breakfast was a real occasion for me, worth taking time over. The colourful fruit plates laden with pineapple, passion fruit and pomegranate were almost as hard to resist as the miniature custard pastries, toast with Jabal Akhdar honey and homemade muesli with pistachios. There were plenty of healthy hot options, too, such as Omani oat soup with dates, masala omelettes and my all-time favourite – spicy egg shakshuka.
The Omani tasting menu at dinner is a must. It changes every evening, according to available ingredients, but always offers a satisfying insight into local cuisine. Ours included a delicious mezze with baba ganoush, beetroot hummus and Arabic bread followed by chicken and apricot stew with raisins and Omani spiced meatballs. Dessert was kunafeh – sweet, buttery bird's nests served with saffron citrus curd.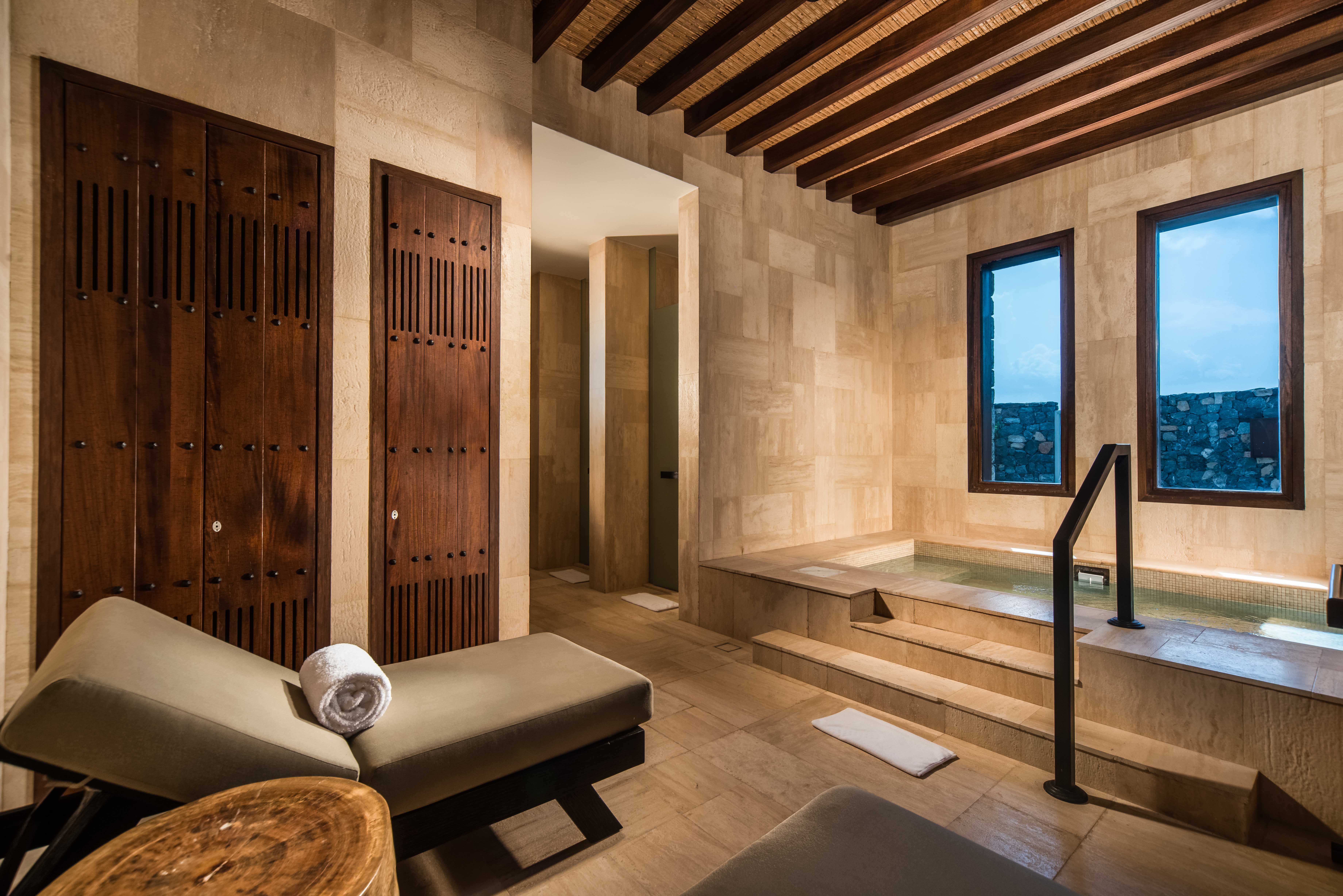 Frankincense for healing
Excited to try one of Spa Alila's superlative treatments, which at Jabal Akhdar include such delights as a half-day Mystical Mountain Sunrise ritual and a Milk and Roses bath, I booked in for a Therapeutic Massage, using oils infused with Oman's famous frankincense.
My therapist explained that the aromatic resin from the Boswellia tree, found especially in the Dhofar region, is not just relaxing but thought to have anti-ageing properties. Locals drink frankincense water to start their day, to help with digestion, inflammation and overall health, and also burn frankincense in their homes to deter mosquitos and scent their clothes.
After a short consultation and soothing foot scrub, I lay face down on the massage table, admiring the pretty mandala arrangement of star anise, cloves and cumin below. The therapist targeted problem areas: firstly, my knotty shoulders. With strong, smooth sweeps she seemed to carve out a flowing Arabic text along my shoulder blades and around my joints. She gently released areas of tension I never realised I had – around my knuckles, knees, ankles and forearms. Then she smoothed out my arms like wings and eased me into a deep, satisfying hip stretch which sent waves of relief up my back. All the while, the wafts of warm frankincense oil evoked memories of medieval churches, adding a spiritual dimension to the experience. The heavenly hour ended with a slow scalp massage, followed by a fresh ginger and honey tea to bring me back to earth.

Starry, starry night
On our last night, we made sure to enjoy the sunset from our log-cabin style balcony, absorbing the profound peace of such a special place and watching the sun slip silently behind the mocha-coloured mountains, turning the vista beyond rose gold.
The sky that night was totally clear, and on the short walk back from dinner we spotted a dazzlingly bright shooting star. As though hotel staff somehow knew, we returned to find (alongside the nightly selection of sweets) a bookmark placed on our plump white duvet covers, illustrated with a perfect summary of our experience: magical stars twinkling over mountains, the stuff dreams are made of.
Book your stay at alilahotels.com
words by Hannah Stuart-Leach
MORE TRAVEL ARTICLES WE THINK YOU'LL LOVE…