With sheer sublime landscapes and majestic scale in all directions, Alaska is big in every sense. Home to the largest bears in the world and with national parks the size of nations, it's a nature lovers nirvana which, even a lifetime of exploration, wouldn't cover every corner. There are many unique experiences to be had in the 49th state, whether it's watching bears fish for salmon 50 ft away or sailing so close to towering glaciers you can almost touch them. Abundant with wildlife, there is more caribou than people in Alaska, and even in cities, it's not uncommon to see a bear or moose walking down a street. It's one of the big trips that should be on every globe-trotter's bucket list. Read on for 10 reasons why.
Stay up with the midnight sun
Solstice season in Alaska means because of the tilt of the earth a summer's day can last a full 24 hours, and in the far north, the sun doesn't set for months. Head to easily accessible Fairbanks, which, although below the arctic circle, still receives 24 hours of sun during the summer. On June 21st, the longest day of the year, you can join local residents to watch the sun at midnight from high-elevation viewpoints on Alaska highways if on a road trip. Aside from joining in with local festivals and century-old solstice events, take a late night hike under bright northern skies to get the full midnight sun experience.
Walk on the wild side
If you love to hike, then Alaska will be your Mecca. No matter if you're an experienced hiker or need to dust off your hiking shoes, there's something for everyone and even short walks deliver breathtaking scenery. For Alaskans, hiking is a way of life and it's easy to see why; it's a joy and the best way to discover what makes the nature so special. But walking off, or even occasionally on the beaten track is not for the faint-hearted. You'll be met by an untamed wilderness that demands respect; it's exciting, pure, raw and sometimes unforgiving. The reward is fragrant forests, winding routes, breathtaking panoramic views and mountain ranges that look like a painted backdrop. Our advice – get bear aware before you venture out. Speak to any park ranger and always carry bear spray! Encounters are not frequent and most end without injury, but it pays to know the dos and don'ts when you are hiking in bear country.
See the land from above
For much of the state, air travel is a legitimate mode of everyday transport, as much of Alaska can't be reached by road. The state capital Juneau is only accessible by air or boat. So whether it's necessary to reach your remote Alaskan lodge, take a bear viewing trip to Katmai or land on top of a 7 mile long Glacier, it's one thing that shouldn't be missed from your itinerary. Helicopters are the nimbler cousin of planes, allowing you to fly over ice towers and land on glaciers. Anchorage Helicopter Tours is a highly respected option in the biggest city in the state offering many different flight tours plus transfers. We recommend the Knik Glacier Landing, which takes you to the foothills of the Chugach mountain range before you set off to explore vast rivers of ice and unrestricted views from the helicopter. You're then dropped on top of a glacial wonderland where you can walk around, see the azure blue melt pools, crevasses and the bizarre ice formations created by water, wind and the sun. Make sure to bring your water bottle to fill it with the freshest glacial water you'll ever taste. It's not IF you will see wildlife on this trip, but HOW much. Anchorage and the outskirts are home to over 1500 moose and 400 bears, not to mention mountain sheep and Eagles.
Watch the sky dance
Summer is the most popular time to visit Alaska but stick around until late September when the days start to get shorter and witness one of the world's greatest natural phenomena, Aurora Borealis AKA Northern Lights. While in theory, you can see the lights all over the state from September to April, Fairbanks is the most reliable spot where auroras are seen more frequently. If you don't mind the cold (temperatures can drop below -45.6 °C in winter!) and the lights are top of your wish list, book your trip late fall, winter/ early spring and wrap up warm!
Be humbled by North America's tallest mountain
Visit Denali National Park on a perfectly clear blue day, see the mountain in all her glory, and you'll treasure the moment forever. With a summit elevation of 6,190 m above sea level, it's a sight to behold. Only 8% of the park's 650,000 annual visitors see Denali in full sight due to the cloud coverage that frequents the mountain range. But don't let that put you off, instead, plan your trip to allow a minimum of 3 nights to give yourself the best chance of visibility and then cross your fingers. There's plenty of hiking to do inside the park, and the 92-mile drive down the one road is an adventure in itself. You'll be wildlife spotting the whole journey looking for bear, moose and caribou. The park is only open from May-September, so booking park campsites or private lodges ahead of time is advised, although walk-in campsite spots are available up to 2 days in advance at the visitor's centre located at the park entrance. Wonder Lake is the jewel of Denali campsites, and it's easy to see why with its unobstructed views of the mountain (on a clear day), and amenities such as running water and flushing toilets.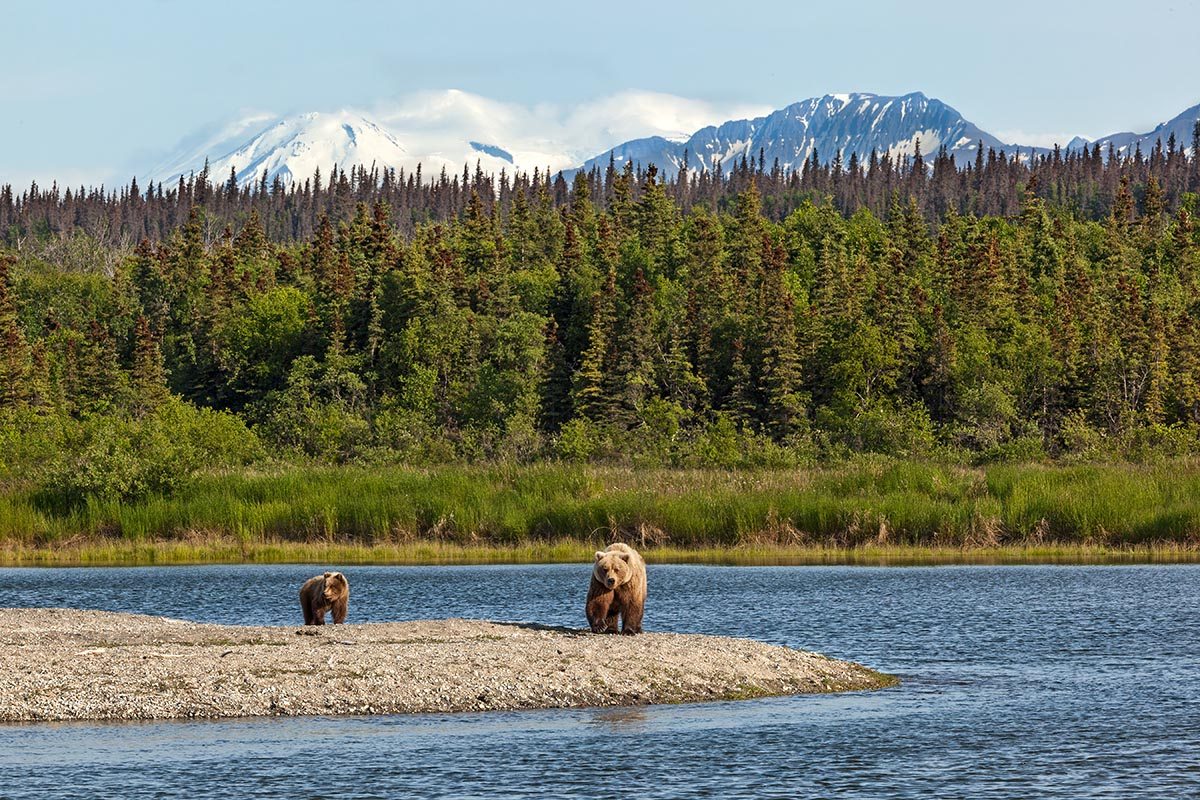 See the world's largest bears
Nature puts on few displays as arresting as Alaskan brown bears catching their meal of the day. The safest and most reliable way to view this is with a guided tour with locals as they know all the right places to bring you up close and can almost guarantee sightings. Pick your tour company carefully to make an eco-conscious choice with guides that respect the animals and the environment (more info here). To get that iconic bear fishing jumping salmon picture, Brooks Falls in Katmai National Park & Preserve is one the most popular spots in the state. The Falls Platform has a limited capacity of 40 people, so people never crowd the bears. Other tours can take you to remote areas away from other tourists. Bear viewing is a splurge, as most regions are only accessible by floatplane or on a multi-day boat trip. But trust us, it's worth every penny.
Paddle among icebergs
Alaska has more coastline than the rest of the USA combined, so seawater kayaking trips are on offer at many locations. Glide through the unique landscape and slice through coastal waves, getting out on the water gives you the opportunity to see abundant marine wildlife at close range, and even spot breaching orcas from your seat. Seward in The Kenai Peninsula and Prince William Sound are popular kayaking spots with many tour options. Bear in mind you do have to be an experienced kayaker to go out on your own, so if this isn't you, book a guide.
Take a road trip on the Alaskan highways
Alaska is home to some of the most scenic drives in the world. Wide-open roads flanked by impressive mountain ranges and emerald green lakes, the journey is as good as the destination. Alaska is so big that although much of it can't be reached by road, there is still plenty that can. More than enough to make for a once in a lifetime road trip. The state has lots of great campsites accommodating for RVs, camper vans and tents, and if you like camping this is easily the most economical choice in the state. If you're shorter on time with only a week or two, fly into Anchorage – this is a great place to start as you can easily explore the beautiful Kenai Peninsula and then make your way north up the George Parks Highway to Denali National Park and on to Fairbanks.
Experience exquisite solitude
Escape city living and dodge the crowds for a wildly special retreat in an Alaskan hideaway. Due to the sheer scale of the state, you can pretty much get as remote as you want when booking a cabin, especially if the price is no issue. Air BnB has a few great cabins at the lower end of the budget, but they book up quickly. For luxury options (that might break the bank) where the only way to get there is by plane, check out Sheldon Lodge, or Ultime Thule Lodge which is a hundred miles from a paved road. Then fully disconnect.
Experience a glacial wonderland
Alaska is glacier country with almost 100,000 across the region. Some are even bigger than other US states. Most have been retreating over the last century, and studies show that the rate of recession is becoming increasing 21rapid due to climate change. Experiencing the dense blue ice while listening to it crackle is beautiful, and a trip to Alaska wouldn't be complete without it. At 27 miles long by 4 miles wide, Matanuska Glacier is the largest accessible by car in the United States and you can do in a day trip from Anchorage. Exit Glacier in Seward is also accessible by car and a short hike – here you can also take a 9-mile round trip and hike the Harding Icefield trail which climbs over 1000 metres in 4.2miles ending with an incredible view of the glacier.
words by Mea Perkins
---