London is crawling with wellness sanctuaries but we think we might have found the ultimate spot…AIRE Ancient Baths. This really is a mecca for relaxation and rejuvenation, where guests can zone out from the outside world and delve into the magic AIRE has to offer.
Just minutes away from Covent Garden, Aire is based in a restored 18th Century townhouse. It's hard to imagine a location that provides such a juxtaposition to the tourist-filled streets is around the corner. AIRE have a number of Ancient Baths dotted around the world and pride themselves on converting historical buildings in the centre of cities into heavenly underground bath temples, inspired by the traditional thermal baths used by the ancient Roman's and Greek's. As you can imagine, these unique spaces are few and far between, especially within major city centres, which makes it all the more special! Designed to recuperate through the benefits of water on both the mind, body and soul, AIRE gives an elevated thermal bath experience where you can disconnect and unwind. Allowing you to completely hit the reset button, half a day at AIRE honestly leaves you feeling as refreshed as you would after a holiday! 
From the moment you arrive, you are taken great care of, with chauffeurs to greet and guide you around. Guests are encouraged to leave their phones in their locker to engage fully in the atmosphere and I was totally on board with this idea. No matter how much we try to resist, there's always an urge to check in and sometimes disconnecting from technology is the only way we can fully unplug ourselves. Once you're gowned up, you're ready to embark on your AIRE journey and are taken downstairs to where the magic happens.
Solely candlelit and soundtracked by relaxing beats to set the ambience, we were in complete awe when stepping foot into the thermal bath area. Exposed brick and vaulted arch ceilings give an ode to the foundations of the historic building with decades of history embedded in them, combined with unique pieces shipped from every corner of the world, curated to perfection.
The Ancient Thermal Bath Experience includes a total of seven baths, all boasting exclusive features. The Caldarium is the hottest bath at a temperature of 40ºC and The Tepidarium is set at 36ºC, these are both so divine you will not want to get out! The Flotarium is a salt-water pool with the same salt density as the Dead Sea allowing you to float and drift around. There are two Frigidarium's one at 14ºC and the second at just 10ºC, to get the full experience guests are encouraged to take the plunge into the icy waters for a truly purifying feeling. The Balneum is their luxury 'Bath Of One Thousand Jets' and The Vaporium is their steam room with aromatherapy scents to inhale. In addition to the baths, there are serval relaxation areas to enjoy a cup of tea or a fresh juice, we found this to be the perfect place to sit with your thoughts and reflect.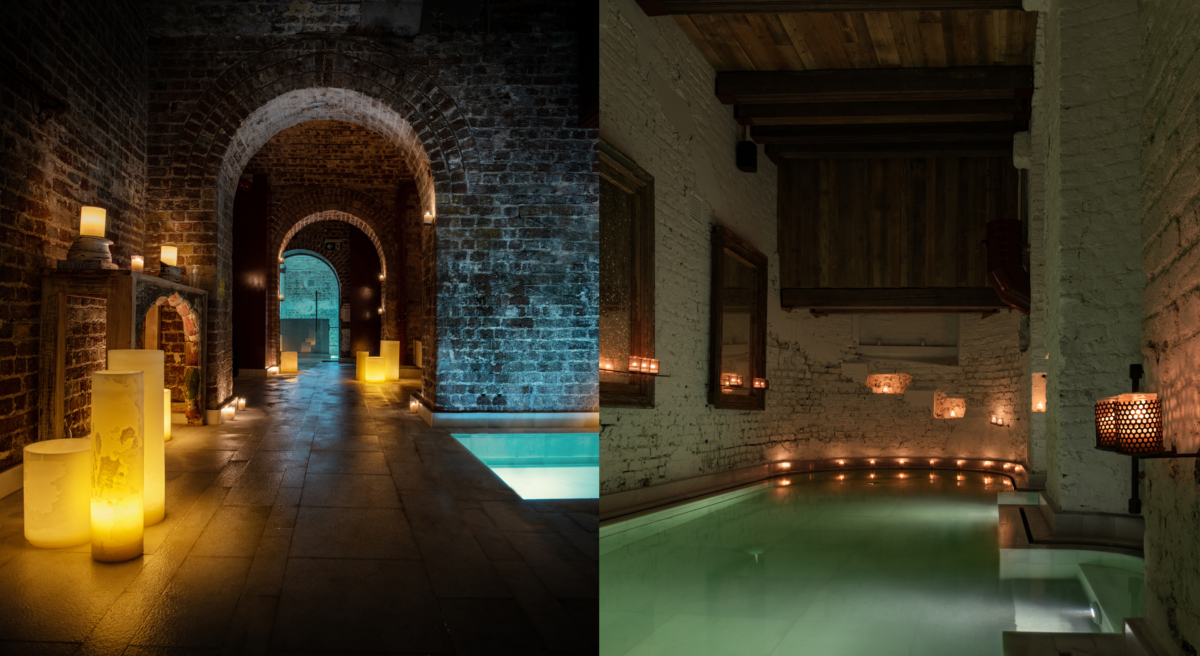 Aside from the baths, AIRE also has an array of signature treatments and relaxing rituals that I urge you not to miss out on. AIRE's experiences are divided into five categories and all include 90 minutes in the Ancient Bath. From indulgent massages to holistic scrubs, romantic couples massages and the exclusive 'Couples Wine Bath Experience', there is an abundance of treatments on offer that are designed to soothe the mind and body.
I was lucky enough to try out The Himalayan Salt Ritual with the incredible Andrei and it did not disappoint! This 180 minute detoxification treatment starts off with an intense full-body scrub using Himalayan salt performed on hot marble stones, which deeply exfoliates the skin and stimulates circulation. A body wrap follows to absorb all the beneficial properties of the Himalayan salt into the skin and whilst wrapped, an invigorating neck, head and face massage is performed. This unlocked all the tension I was holding in this region which was definitely needed! Once all the salt was rinsed and I dried off, it was onto an hour-long hot stone massage using pure Himalayan salt stones to promote relaxation and detoxification, followed by an oil-based full-body massage. This was hands down the best massage I have ever experienced, the combination of the hot stones followed by the manual massage was utterly dreamy and left me feeling renewed, plus the texture of my skin, from top to top, had never been so silky smooth. There is nothing better than that euphoric feeling after a treatment where you are totally zen and it's fair to say, nobody does it quite like AIRE, and we don't say that lightly. 
Having tried and tested so many amazing spas and treatments, there is something quite special about this phenomenal wellness haven. Whether it's the architectural distinctiveness, the calm pulse that runs throughout the building, the pure tranquillity of water, the healing hands of the therapists or a combination of them all…AIRE allows you to soak up the serenity of everything they have created to provide the ultimate escape from normality.