Ideas of luxurious beauty standards have evolved dramatically since I began working in publishing. Consumers across the board are asking more of their products than ever before and at the same time require brands to deliver on sustainable, earth-friendly and, might I add, human-friendly ingredients. One brand that has had the planet at the heart of its products since it began in 1959 is Jason. Having used Jason for over 15 years, it was a brand recommended to me by my vegan, wellness-obsessed mother.
Jason believes in the power of nature's ingredients not only to improve wellness but also to produce dramatic, lasting beauty results. Their new and improved, just-launched eco haircare formulas are a testament to what they have always stood for whilst also raising the bar in hair care results with their recent clinical testing that revealed incredible results one used to only dream of. And it's worth mentioning that great products really needn't cost the earth in both senses of the phrase, as Jason manages to keep their products at a very affordable rate so this is a brand you'll feel happy to keep buying again and again. And because what's good for us is also good for the planet, Jason products are naturally free from petrolatum, sodium lauryl or Laureth sulfates, parabens and phthalates. They never test on animals and the whole range is BUAV certified (the highest standard in cruelty-free).
For as long as I can remember, I have asked every hairdresser to create a cut that gives my hair more body, create a thicker appearance or in some really dire cases – give me a style that will get rid of the flat look. But nothing has come close to the transformation I saw when I used Jason's Biotin Shampoo and Conditioner. After just one wash my hair felt and looked thicker than ever before. I then learned that not only does it create more volume but the rich ingredients also help moisturise the scalp and prevent hair from thinning and falling out. It can even increase the strand diameter of your hair and increase hair growth – I instantly handed it to my husband who is slightly thinning on the top as many men his age do!
Hip & Healthy was super excited to be granted a sneak peak into the new and improved formulas. Discover Jason's amazing new hair-care range for yourself and find the perfect products for your hair below: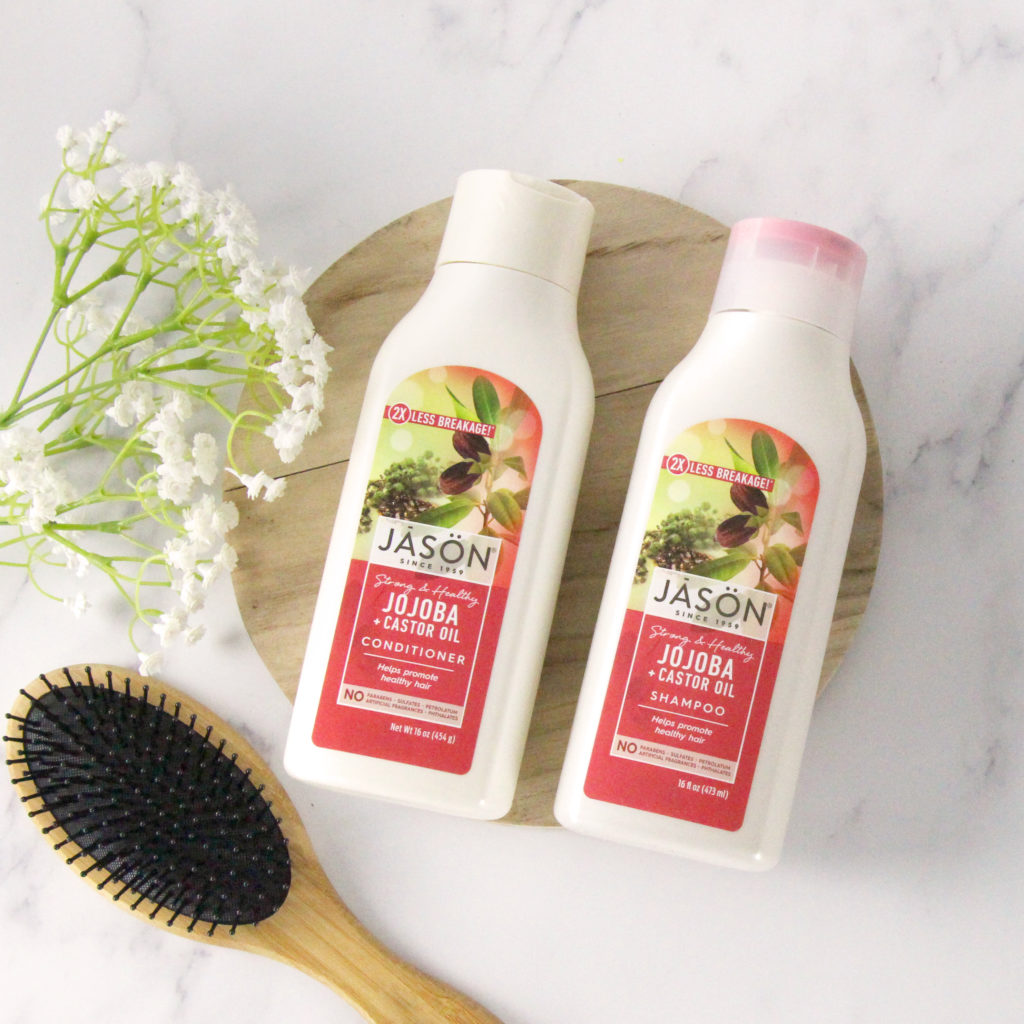 Best For: Moisturising, strengthening + repair
Clinically Proven Results: This shampoo and conditioner locks in moisture and strengthens the hair with results showing 2 x less breakage and up to 80% of split ends repaired.
Hip & Healthy Loves it for: Not only does the combination of jojoba oil, pro-vitamin B5 and quinoa protein infuse the hair with moisture but the castor seed oil ingredient is known to stimulate hair growth and promote hair growth by stimulating the circulation and allowing nutrients to make their way into the roots more easily, and with the added bonus of it helping dandruff!
Thicken & Restore Biotin + Hyaluronic Acid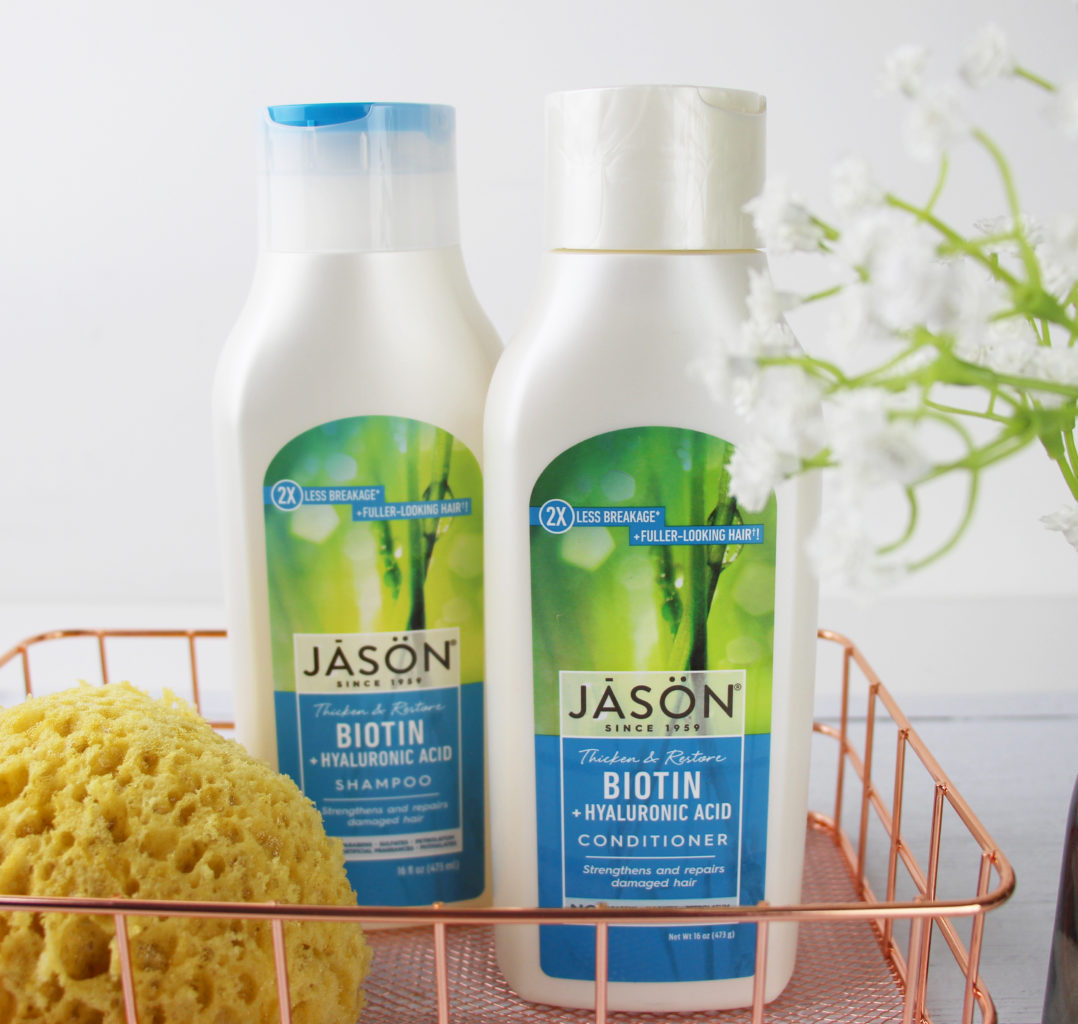 Best For: Boosting volume + thickening
Clinically Proven Results: After just one wash with this shampoo and conditioner hair appears fuller in volume and looks 2 x thicker plus the product provides 2x less breakage.
Hip & Healthy Loves it for: Hair-loving biotin is the key to this shampoo's success plus the added benefits from the pro-vitamin B5. The hyaluronic acid also helps moisturise the scalp to prevent it from thinning and can even increase the strand diameter of your hair.
Best For: Hydration + fight frizz
Clinically Proven Results: This incredible product will give your hair the hydration it needs for 24 hours from root to tip.
Hip & Healthy Loves it for: It's two main ingredients – the aloe vera (for the mega hydration effects) and the prickly pear rich in EFAs and vitamin E, which helps nourish and protect the hair, plus it is the prickly pear that helps fight the frizz due to its humectant properties.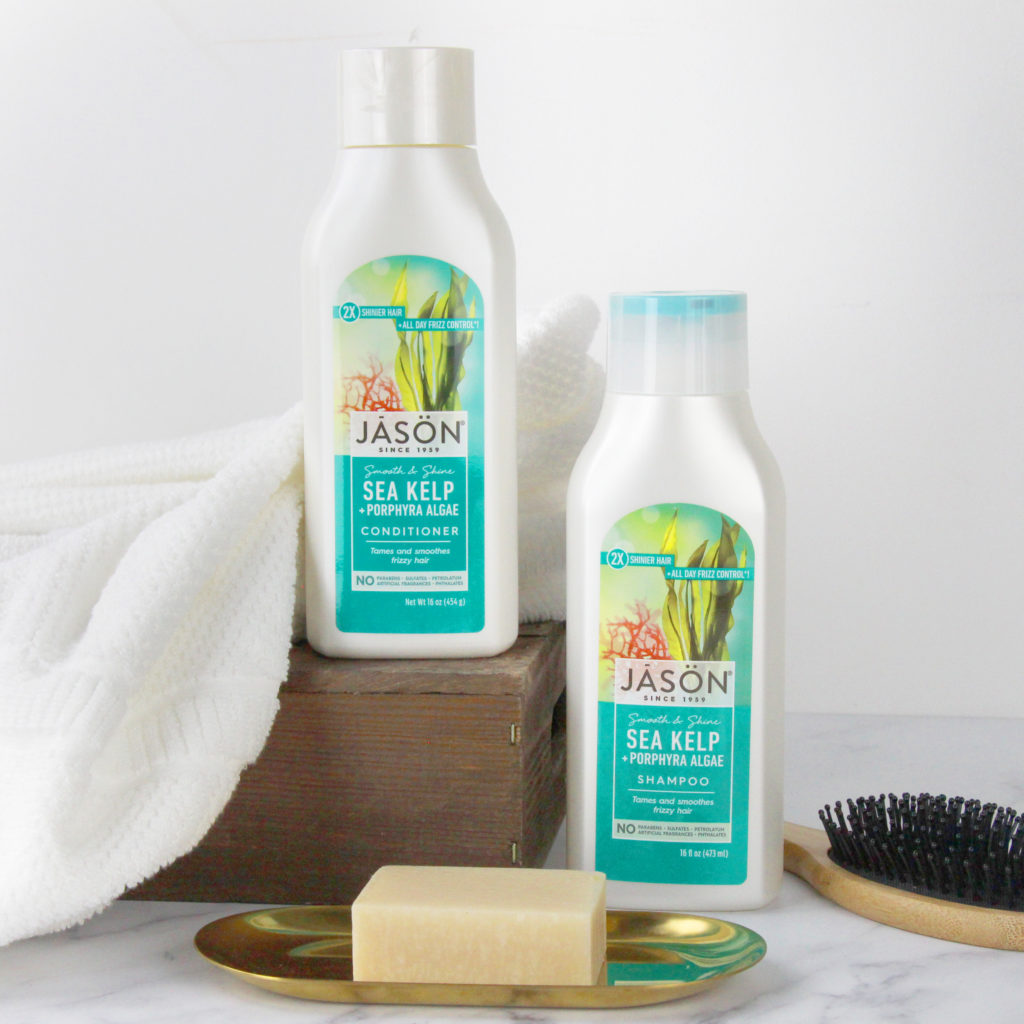 Best For: Adding shine & calming frizz + flyaways
Clinically Proven Results: Provides 2 x shinier hair as well as repairing up to 72% split ends and (drum roll please) delivers all day frizz control… ALL DAY!
Hip & Healthy Loves it for: its porphyra algae, not just because we are huge fans of algae's wellness benefits, but also because the EFAs found in algae help keep the hair smooth and shiny and offer a rich mineral profile including zinc and iron – both important for hair growth and repair.
Win a Year's Supply of Jason's Hair-Care:
Take the #JASONHairChallenge and not only will you see the results for yourself but you'll also be in with a chance to win a year's supply of Jason Hair care!
HOW TO JOIN THE CHALLENGE:
Share a picture of your hair on instagram before and after 4 week's use of your choice JASON products with the hashtag #JASONHairChallenge.
Terms and Conditions: Competition dates 1st November 2020 – 30th January 2021.
Reader Offer
Buy a bottle of Jason shampoo (RRP £6.99) and get the conditioner (RRP £6.99) free. Click here to benefit from the offer.
*Offer valid until 15/11/2020. While stocks last