Our very own Lou, Head of Commercial Partnerships, and new mamma recalls her first holiday away in 4 years with her hubby and babe in tow to the mesmerisingly beautiful Santorini.
Holidays are finally back on the cards after 2 years of Covid, and I for one couldn't wait to go away and enjoy some much-needed relaxation and sunshine. Having not been abroad since I had my son just over a year ago, often found myself wondering what holidays might now look like and if I would have to compromise on my lust for luxury in favour of kid-friendly practicality. Enter Andronis Concept; the family-friendly wellness resort that doesn't compromise on luxury, on the most picturesque Greek Island of Santorini.
What do you think of when you picture Santorini in your mind? Blue-domed churches, small whitewashed houses and narrow paved paths down the caldera cliffside but at Andronis Concept, things are done a little differently. Their colours blend into the volcanic rock camouflaged into the surrounding ash landscape and their bathrooms are wall-to-wall black stone, including black sinks and toilets; this coupled with its spaciousness is a huge luxury on a small island like Santorini.
The 27 suites and villas all with private terraces and heated infinity pools provide the most amazing views over the caldera, making them the best spot on the island to watch the famous Santorini sunset. The serenity of the never-ending vistas, the elegance of the suites and the five-star service from the staff make a stay at Andronis Concept an exceptional experience.
The hotel is perfectly situated on the apex of the curve that is the island of Santorini, a happenstance of nature whereby a volcanic eruption left an almost perfect crescent-shaped island facing the western sunset, so perfectly situated is Andronis Concept it allowed us to visit all the picture-perfect locales within the island such as Oia where we had the most incredible sun-dried octopus and lobster pasta at Sunset Taverna. A must if you are in the area.
The hotel's facilities are impressive and they cater to families through its Group Cooking Classes, Yoga For Young, A Tennis Court and all the amenities you could possibly need to make Andronis your home away from home from cots and highchairs to sterilisers and baby products, making travelling with your children (particularly a new bubba) a little lighter. As any parent will know, babies and children have the longest packing list! The hotel also arranged a babysitter, who was absolutely divine allowing us to fully immerse ourselves in the descendants of the Throubi restaurant without a single worry. Andronis Concept really aims to offer the finest family-friendly wellness experience in the world.
They also have a helipad for those wanting to scope out the island from above or arrive in James Bond style, a vineyard, an Olympic-sized swimming pool and is surrounded by the most amazing hiking trails (not for the faint-hearted) but at the heart of the resort is the Kallos spa.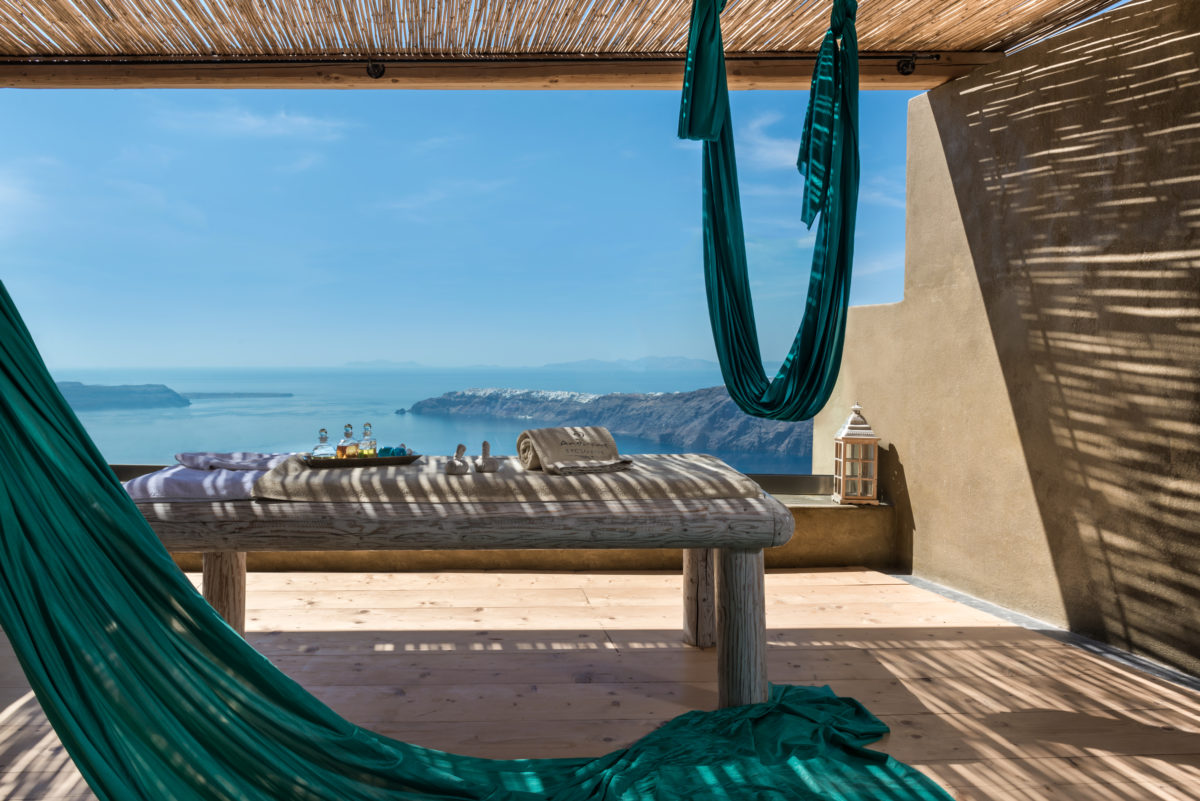 Andronis Concept is dedicated to the holistic philosophy of health & wellness and a visit to the Kallos Spa is all about time for yourself (just ask my husband who was left in the room with the baby while I indulged!!)
The spa menu along with the exceptional spa facilities are designed to promote harmony in mind, body and spirit all uniquely tailored to your individual needs where you can enjoy a range of exceptional therapies like their InterX treatment which uses gentle pulse stimulation (not as painful as it sounds) in response to your skin's resistance, achieving both pain relief and speeding up natural healing. I was so impressed by how incredible I felt after just one session of this treatment as it really helped ease my sore muscles from carrying my not so little one around… he is a bit of a chunky monkey! I also experienced their holistic massage (honestly out of this world amazing), which is accompanied by one of the three wellness pillar scents BE DE-STRESSED, BE RESTED and BE BALANCED.
In keeping with the wellness ethos of the place, Throubi Restaurant's offerings begin with the most amazing breakfast selection from waffles to black truffle eggs, avocado toast, crab eggs benedict and smoked salmon, all of which can be served on your private terrace or on the most instagrammable heart-shaped floating tray. For lunch and dinner, the menu is a celebration of Santorini's gastronomy, created using the freshest raw ingredients from Concept's own garden. Each dish is a work of art, a combination of exciting flavours and exquisite presentation. Some of my personal favourites (although it is hard to narrow it down.. I tried the entire starter section of the menu) were the incredible Seabass ceviche with hijiki salad, spinach & wasabi dressing, Octopus with spicy potato croquette & tomato marmalade and Beef tacos with root vegetables & ponzu sauce (I had the tacos on more than one occasion and I wish I could have squeezed in another lunch but our flights didn't allow for this… so I will have to return for my fix asap). Additionally, the extensive wine list introduces the finest wines from Santorini's celebrated produce.
As you sit down to dinner in the restaurant, you are spoiled with Santorini's famous sunset but you also have the option to indulge in gastronomy delights with the same beautiful views from your private terrace and pool…. It is your holiday after all.
The luxurious pool suite along with the incredible spa, sensational food and breathtaking sunsets made for an unforgettable first holiday with my son (and husband of course), setting an unobtainable standard for vacations to come.
words by Louise af Petersens
---
READ MORE