Nômade is a self-confessed habitat for those ready to awaken the soul, free the mind, and eat beautifully and nutritionally. Located in the postcard perfect location of Tulum at the southern end of Mexico's Riviera Maya, Hip & Healthy contributor Gemma Bath was lucky enough to spend a few nights at this divine human centred hotel in July, and couldn't wait to share her experience.
ARRIVAL
A short taxi trip from Tulum town centre, through a gorgeous tree lined jungle street, and you arrive at the entrance to paradise. The reception area at the front, is rustic and raw and a good little taster of what's to come. Nômade is the creation of Argentine architect Sebastian Sas and his vision is truly magical. The grounds have an almost immediate calming effect, and although the vibe is distinctly boho-gypsy, it is also incredibly modern and luxurious. You are led up a windy fairy light adjourned pathway on arrival, and welcomed to a retreat surrounded completely by sand. Welcome to a life in bare-feet – you are a nomad now!
THE GROUNDS
It's hard not to feel awestruck and somewhat… special, wandering around the grounds of Nômade. Sandy, holistic and full of stunning natural wood features, Moroccan prints mixed with Mexican patterns, Bedouin tents, prayer circles and lovely hidden corners to curl up in, the calm spreads through you instantaneously. The view is what you come for though. Located at the end of Tulum's famous stretch of beach, the hotel sits on its very own private stretch of sand, and let me tell you – this beach is hands down, one of the most glorious I have ever had the joy of visiting. The hotel's waterfront is home to a scattering of hammocks, jumbo bean-bags, luxurious beds and covered sanctuaries to take in the view and relax by the water in, and on. As well as being aesthetically beautiful, everything is deliciously comfortable. The perfect combination to unwind in.
THE ROOMS
There are rooms for every need and want here. Whether you want the camping experience in a tent, an ordinary room or an ocean view villa complete with private pool, there's something for everyone. Couples, friends, hens parties – I saw all types during my stay. All of the rooms, are immaculately decorated and all inclusive. To give you an idea, the wifi extends about 50 metres out to sea! So you can Instagram photos of this bohemian paradise, while taking a dip, if you so choose…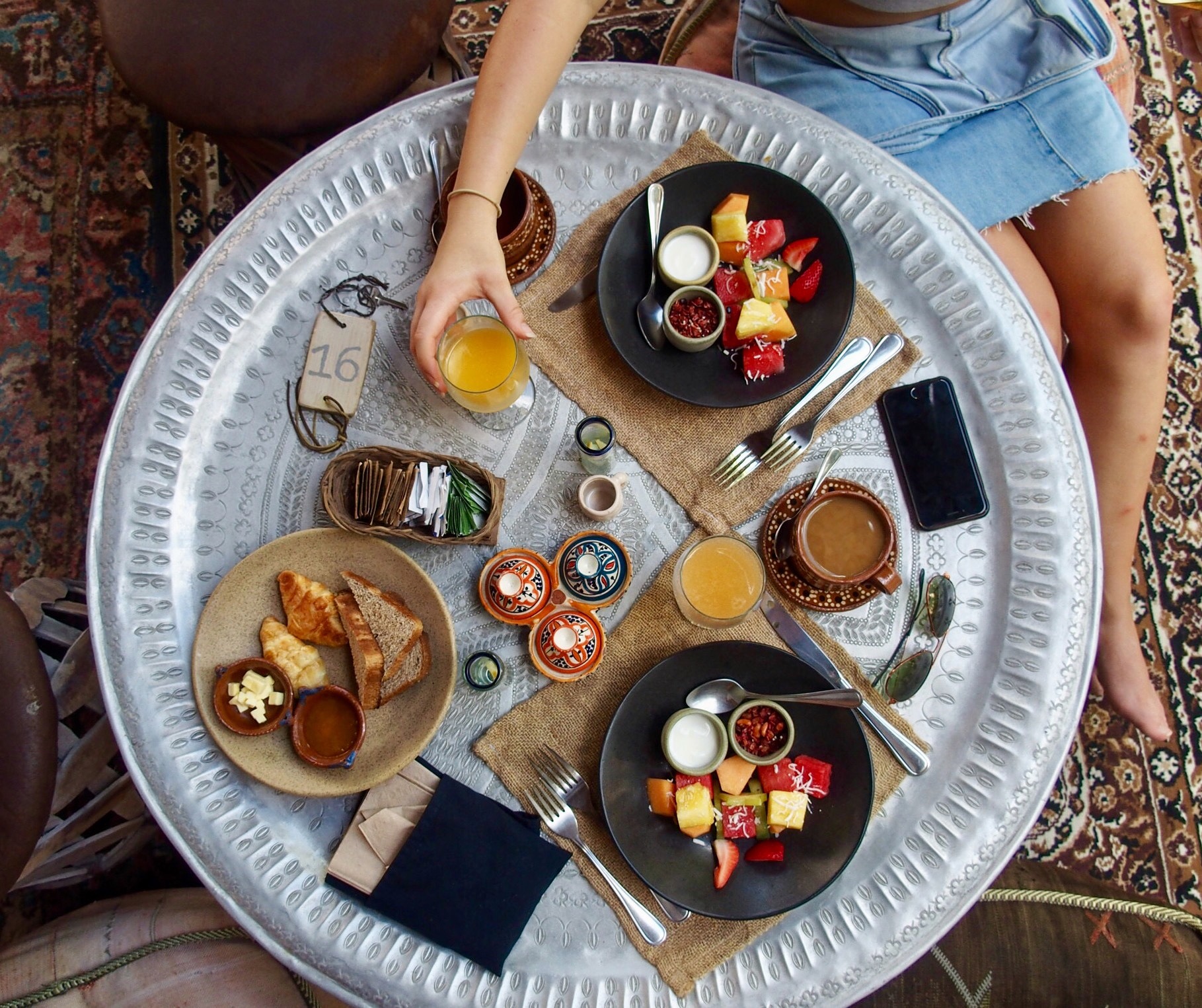 THE BREAKFAST
Everyone loves an included breakfast, but Nômade does breakfast like no other. Healthy, organic, cleansing and delightful are the words that come to mind. You sit cross legged on floor cushions, around intricate silver tables, surrounded by beautiful bohemian patterns. The first thing that's brought to the table is a shot of warm water with lemon. This is the perfect way to kick-start the digestion process for the day, and not only that – it's a great aid for the immune system, detoxification and helps to balance your PH levels. Next, you can choose from either green juice; which varies from kiwi and cucumber, to melon based – or fresh orange juice. Lovely organic tea and coffee comes alongside a bowl of fresh fruit, with yogurt and homemade granola. You are then asked for your egg preference, I always opted for the omelette which came packed full of fresh vegetables. Seeded wholemeal bread and pots of gorgeous homemade marmalade are a lovely finishing touch.
Nômade plays host to two exquisite restaurants, Macondo (where breakfast is served) also has divine lunch, dinner and snack options; everything from fresh vegetable sushi and zucchini noodle salads and quinoa bowls, to raw cacao smoothie bowls, and chilli cinnamon chocolate truffles, for a bit of holiday indulgence.
La Popular, is the fish market inspired restaurant that sits pride of place beside the beach. The menu delivers the catch of the day straight from the fisherman's boat and you can choose your marinade to accompany. I personally adored the coriander, paprika, cumin and celery salt combination.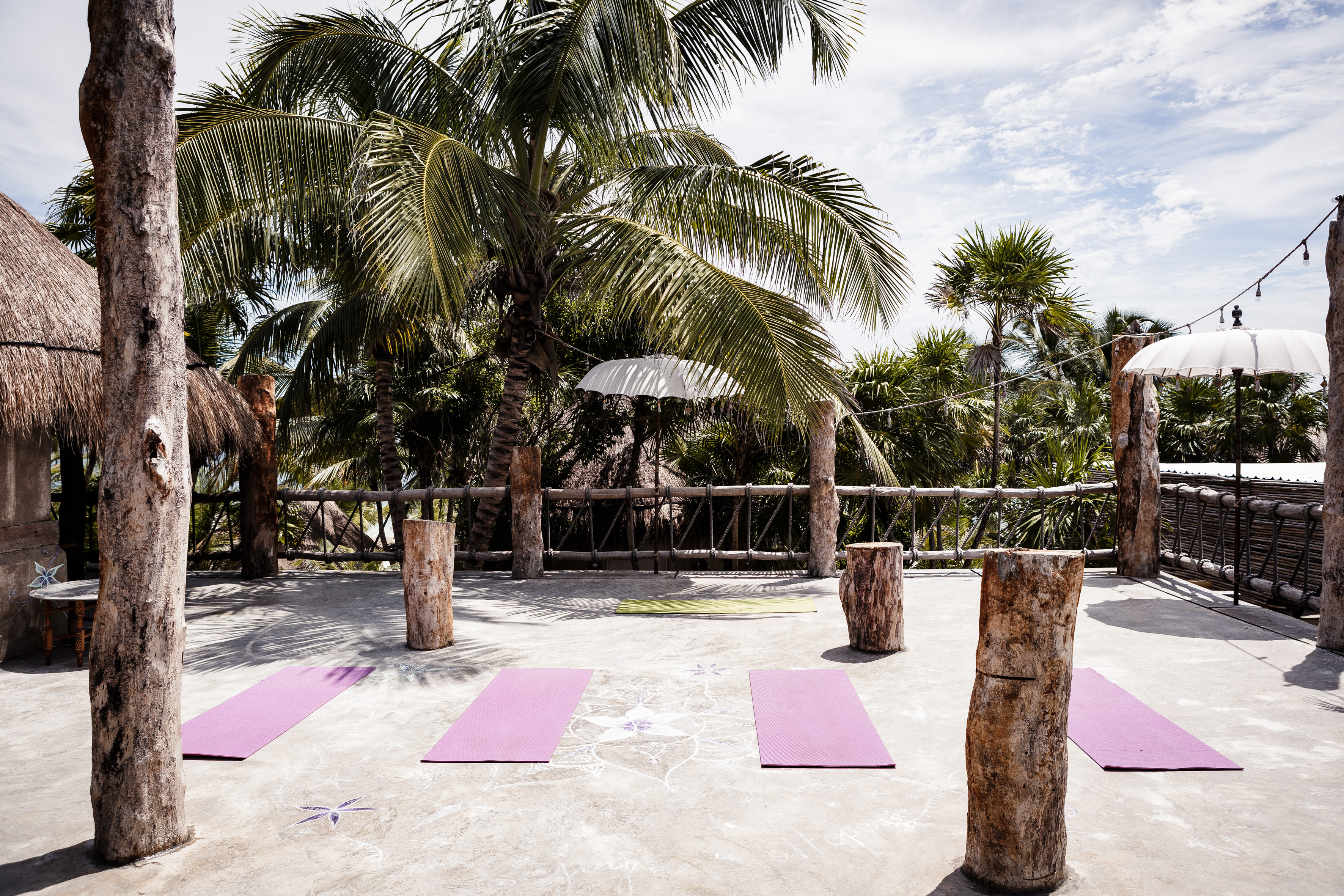 ACTIVITIES
Nômade Tulum is located in a gorgeous long street, full of lovely clothing stores, galleries and restaurants. (I think I became an almost permanent resident of Raw Love – their smoothie bowls were to die for). Jump on one of the hotel's bikes free to use bikes and explore the area. If you'd prefer not to venture, there is plenty to get involved in without leaving Nômade's grounds. 9am yoga every morning was my favourite way to start the day, and I also loved the DJS and musical acts that entertained guests on weekend afternoons. Also regulars on the Nômade schedule are; 7pm cacao ceremonies, essential oil lessons and sound healing.
If you're after a health inspired, luxurious escape somewhere exotic and beautiful this summer – you can't go past Tulum, and the team at Nômade. It's as heavenly as their Instagram teases, @nomadetulum.
For more info to book, click here!
Words by Gemma Bath @gembath www.sunliteyes.com