Lockdown has lifted, our diaries are (finally) filling up, and summer is just around the corner. The only problem? Our skin hasn't seen the sun in a long, long time, and venturing out with ghostly complexions and lacklustre skin is a rather daunting prospect. But before you go running back to your hibernation hole or hiding behind that face mask, we've uncovered the best self tanners in the business that will help you faux the glow – fast.
If the words "fake tan" leave you fearing that you'll look like an extra from TOWIE, think again – because today's next-generation self-tanners are pretty much foolproof. Not only do they impart a natural-looking golden hue sans tango tinge, but they smell good (no 'biscuit' scent here) and they come with a whole host of beauty benefits – from loading skin with anti-ageing ingredients to deeply moisturising and toning. Some even work in just 10 minutes. Listening now?
Of course, the application is key, and there's a lot of pre and post steps you need to do correctly in order to flaunt a flawless glow. "The biggest mistake people make when self-tanning at home is applying tan to skin that's dehydrated and not prepped properly," explains tan expert to the stars, Amanda Harrington. "You wouldn't apply makeup to an uncleansed, dehydrated face, so why would you apply the tan in that way to your body? The secret to achieving the ultimate light-reflecting tan is all in the prep – this gives the best, longer-lasting results."
Celebrity tan guru James Read agrees and recommends ridding the skin of dry, dead cells to ensure perfect application. "Exfoliating 24-hours before is key as you want your skin to be a fresh canvas. Directly before application, make sure to moisturise any dry areas on the face first before applying your tan as this will prevent self-tan clinging to these areas."
Pre-Tan Tips
Before you bronze up your bod, make sure your skin has been thoroughly exfoliated, any unwanted hair has been removed (shaving/waxing after is just going to take your tan off), and that you've moisturised thoroughly. Aim to do this the day before so you've got the best base the day of.
When it comes to your face, Read's top tip is to "Rub an ice cube over the face first to seal your pores. With your fingers, blend a small amount of moisturiser into the hairline after applying your tan to stop you getting a harsh tan line."
If your skin is particularly dry, moisturise at least four hours before applying your tan, as any surface oils or grease will cause streaks.
Also, avoid using perfumes and deodorant – these can also mess with how your tan is absorbed. "Stay clear of oil-based bath and oil-based skin care products. Oil breaks down the tan and causes it to separate on our skin," advises Harrington.
Post-Tan Tips
Providing you've used the right tanning tool (a mitt or brush), your hands won't need washing. Wait at least two hours or you'll end up with brown arms and white hands, which is never a good look.
Ensure your tan is touch-dry before getting dressed and wear loose, dark clothing.
Avoid anything that makes you sweat, otherwise, you'll sweat your tan right off.
"DO use a hydrating sheet mask 24-hours after applying your tan, this helps it last longer.
DON'T use retinol or AHAs on the first, second or third day of applying your tan as this will fade it very quickly," says Read.
Once you've showered off your tan you can officially go mad with your moisturiser. Keeping skin hydrated is key to ensuring your tan stays flawless, and it will help it last longer too.
And while all this means that fake-tan faux pas are almost impossible to make, investing in a top tanning product is key. The next best thing to a sun-soaked holiday in a bottle (minus the harmful UV rays), these foolproof formulas will leave you looking like a bronzed goddess, all year round.
The Overnight Tan – James Read 'Sleep Mask Tan Face' £25
"10 years ago, before my brand launched, self-tan brands focused solely on body tanning. Their face tanners used the same ingredients as the body formulations which consumers didn't want in their facial product," Read tells us. "I wanted to change the perception of face tan with my 'Sleep Mask Tan' as it was the first self-tan on the market that combined skincare and self-tan in one bottle… Why have two or three products when you can have one that does it all?" And when he says does it all, he really means it. This overnight tanner suits all skin tones and works while you slumber to impart a natural, sun-kissed glow. Even better? It's packed full of anti-ageing ingredients, hyaluronic acid, and aloe vera to soothe and soften, and there's no risk of stained sheets thanks to its colourless formula. Sleeping Beauty, eat your heart out.
The Tailored Tan – Tan-Luxe £39
A fake-tan phobe's dream, these drops allow you to totally tailor your tan depending on your preference, while also loading the skin with beauty-boosting ingredients such as vitamin E and raspberry seed oil to tighten, tone, and smooth. Whether you want to maintain a holiday glow or to create a bespoke bronze tan, simply add a few drops to your body lotion or face cream of choice – depending on if you opt for the 'Face' or 'Body' drops – and you're good to go.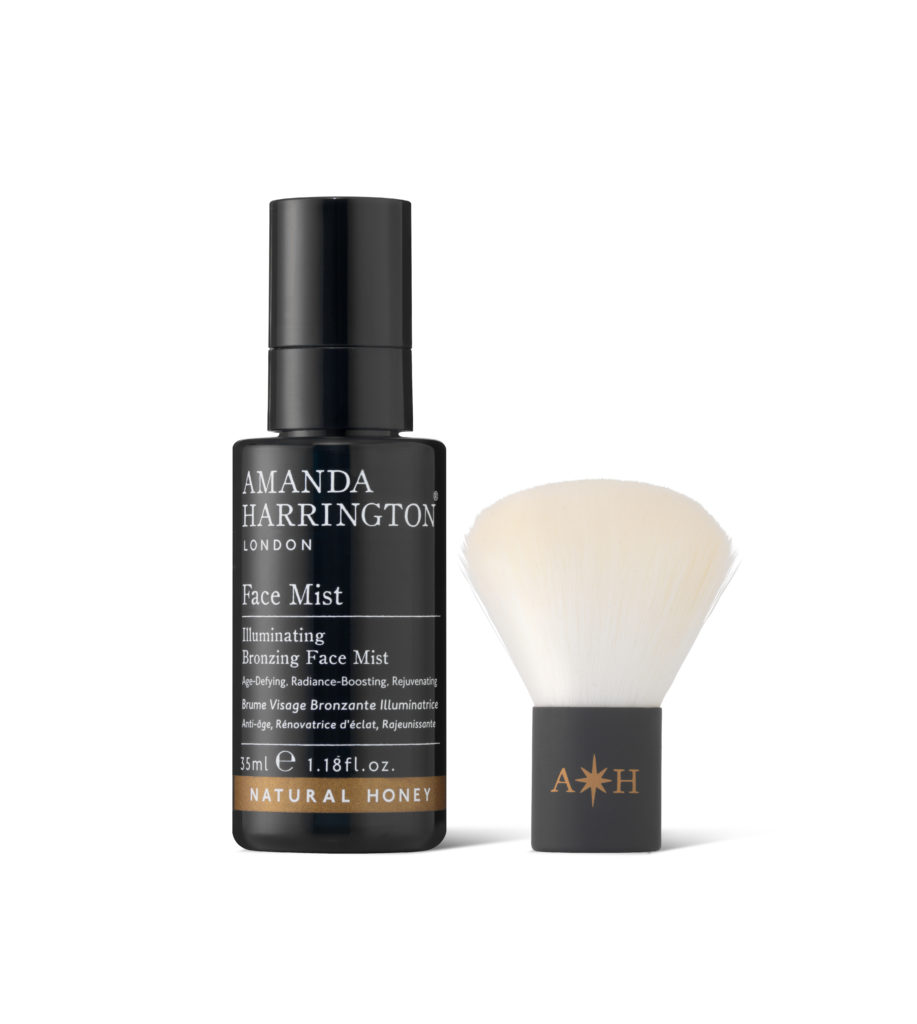 The Travel-Friendly Tan – Amanda Harrington 'The Jet Set Duo' – £28
Amanda Harrington made it her mission to revolutionise self-tan with skin-complementing shades, alcohol, toxin-free formulas loaded with skin-loving ingredients, and revolutionary tanning brushes that ensure flawless application. "I wanted more than just the industry standard of light, medium and dark, so I created 'Natural Rose', 'Natural Honey' and 'Natural Olive' – shades designed to work with and enhance your natural skin tone to create a more believable colour that reflects how your skin would tan naturally in the sun," she explains. "I spent many years developing my brushes as I wanted them to help buff the tan onto the skin and push the colour in deeper – minimising the risks of streaking or patchiness, meaning your tan will last much longer and look far more natural." Perfect for weekends away or for when we can (finally) go on holiday, this travel-friendly pair features her award-winning face mist and a resized Kabuki brush so you can faux the glow wherever you are.
The Tanning Mist – Oskia 'Adaptive Tan Mist' – £55
If you're after a quick tan fix that takes all the hassle out of applying it, then make Oskia's tanning mist your must-have. Simply spritz over your face and body for a streak-free, natural tan that gradually deepens over time and that lasts up to 7-10 days. Packed with naturally encapsulated DHA, amino acids, natural melanin boosters, vitamins, and antioxidants, it also helps condition skin to give it back its natural glow.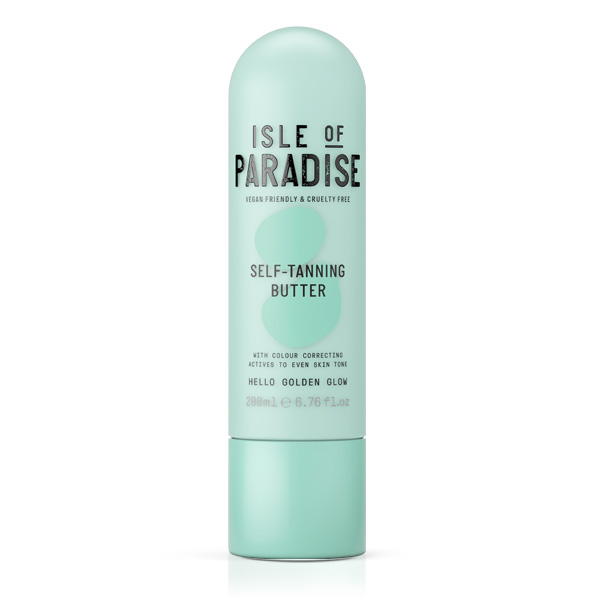 The Gradual Tan – Isle of Paradise 'Self-Tanning Butter' – £16.95
Just when we thought Isle of Paradise couldn't get any better, it launched its 'Self-Tanning Butter'. Not only does this gradual tanner leave skin smelling good enough to eat thanks to its refreshing watermelon-y scent, but it's also infused with a natural blend of coconut, eucalyptus and peppermint oils to hydrate and nourish the skin. If that wasn't enough, it features green colour correcting additives to negate any redness, its illuminating pigments impart an instant glow, and with each use, your tan deepens. Dream.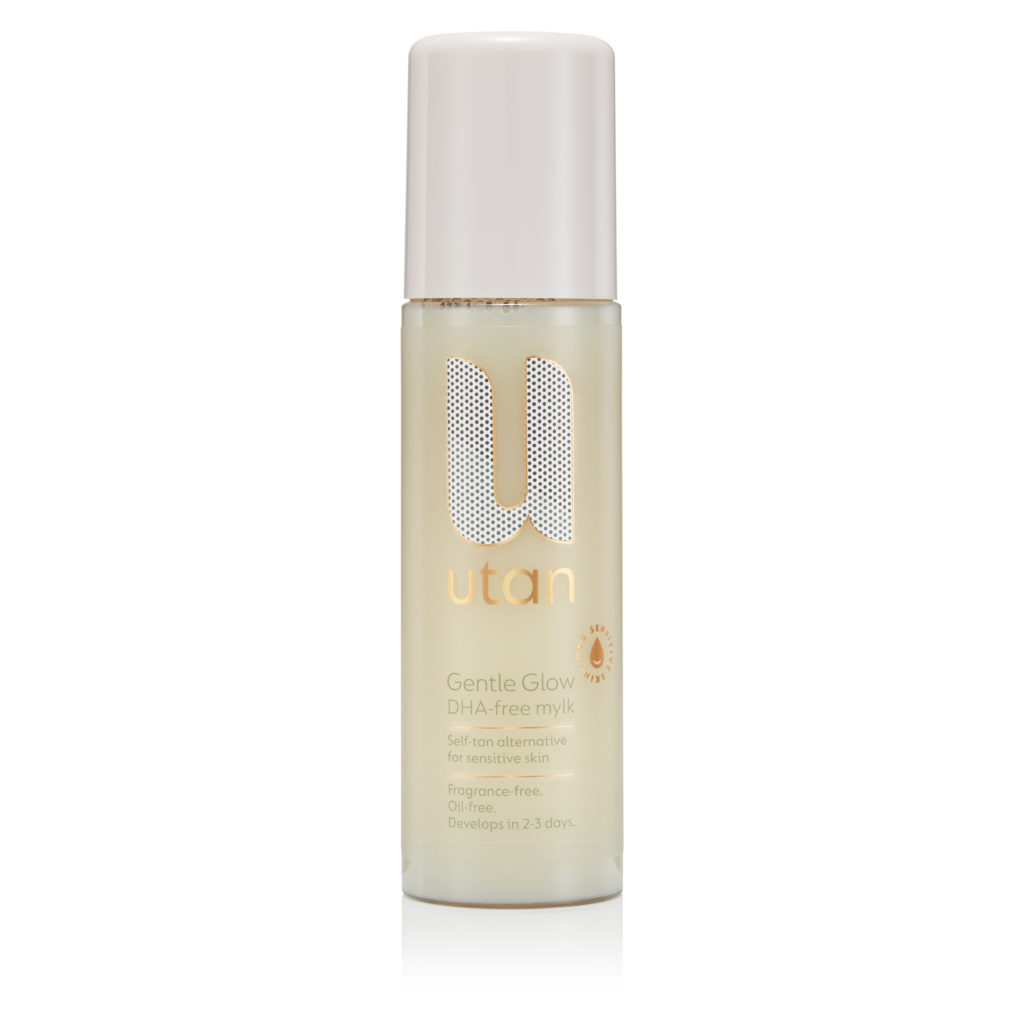 The Tan for Sensitive Skins – Utan 'Gentle Glow DHA-Free Mylk' – £18
Sensitive skins, rejoice – there's finally a fake tan that won't stress you out. The world's first-ever DHA-free, oil-free, totally unscented tanner, Utan's gentle tanning milk contains an average of 70% fewer ingredients than other leading self-tans on the market and harnesses the power of raspberry-based keto sugar that develops into a natural, golden tan two-three days after application. Plus, its aloe-rich formula boosts hydration, and it's as simple as mixing into your existing skincare.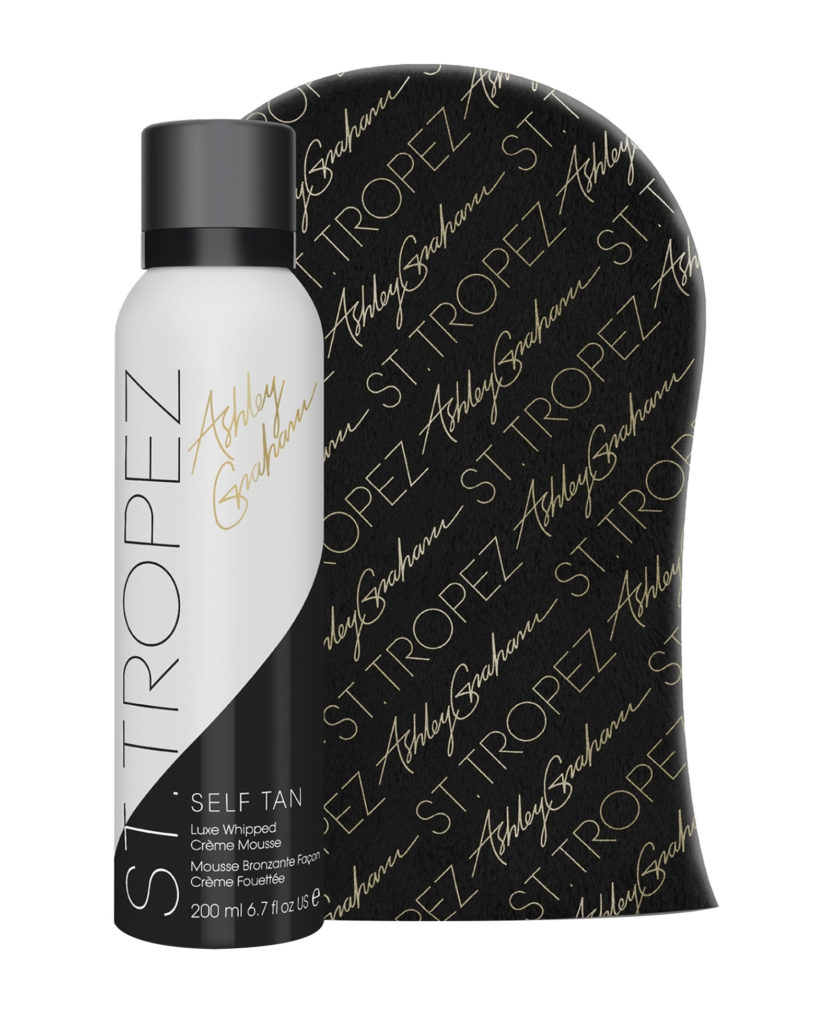 The Supermodel Set – St. Tropez x Ashely Graham 'Ultimate Glow Kit' £38
Nobody knows how to flaunt a flawless tan better than a supermodel, so when Ashley Graham teamed up with industry heavyweight St. Tropez, we knew our bodies were in for the ultimate tanning treat. Comprising a limited-edition tanning mitt (co-created by Graham herself) and the brand new 'Luxe Whipped Crème Mousse' – made with 100% natural tanning actives and all vegan ingredients – it's the dream duo for getting a gorgeous, golden glow. Plus, the tan is infused with antioxidants and hydrating ingredients (vitamin E and rosehip oil included) to keep skin nourished and healthy. Hey, if it's good enough for Graham, it's good enough for us.
words by Frankie Rozwadowska
---
READ MORE: Is Scalp Care the New Skin Care? 9 Scalp Saviours To Try