This cold weather might make the masses flock to find some winter sun, but this year we say embrace the cold for your next holiday. There is so much fun to be had (if you've got the right clothing!) in the snow so we're sharing 6 hotels to add to your winter travel bucket list this season!
Tree Hotel, Sweden
A treehouse perfect for grownups, this one-of-a-kind hotel set on stilts will live up to all your childhood dreams except on a more luxurious scale! Treehotel in Sweden consists s of six floating eco dens featuring scandi-chic interiors and the most beautiful snowy outlook of the surrounding forest. If privacy and seclusion is top of your list, this is definitely a place to add to your iPhone notes! Don't worry though, there's plenty of activities to keep yourself entertained. From horse-drawn sleigh rides, snowshoe-walking to Segway tours and scenic zip line runs. The best part? After a day in the snow, you can head back to your cosy treehouse and order room service straight to the foot of your ladder.
Gleneagles, Scotland
If a wintery weekend escape that's a little closer to home is what you're after then there's no place better than Gleneagles in the Scottish Highlands. If your outdoorsy nature needs satisfying, then you'll be pleased to know Gleneagles have something for everyone to enjoy and take part in. Special experiences not to miss out on are falconry, archery and off-road driving. The latter being particularly fun! Tackle challenging terrain and take a stab at their purpose-built obstacle course, which includes water splashes, ditches, escalating ridges, gullies and steep gradients. There's also the most heavenly spa to relax and unwind in with all sorts of indulgent treatments to end your fun-filled day. We recommend a luxurious 2-hour treatment called "The Source". It incorporates Scottish honey, local river-washed stones and Scottish lavender to provide a truly authentic Scottish spa experience.

Mount Engadine Lodge, Canada
Who doesn't have Canada on their bucket list for a trip of a lifetime? With its outstanding scenery and stunning national parks, a winter vacation to see snow like you've never seen before is something everyone should experience. If cosy log-fire vibes are your thing, then we'd suggest you check out Mount Engadine Lodge in Spray Valley Provincial Park. Expect lots of wildlife spotting from your bedroom or cabin window (many guests have spotted moose!) and seriously jaw-dropping, snow-topped mountain views. If you want to spend a bit extra on a cabin, go for Birdwood. As the name suggests it has views of Birdwood Mountain straight from its private balcony. Pretty epic. It also features a super cute window seat where you can chill with a book and a cup of hot cocoa.
Boutique Hotel Wachtelhof, Austria
Austria is well known for offering some of Europe's best skiing so why not head to Boutique Hotel Wachtellhof, situated in The Austrian Alps, for a mixture of sport and leisure? Sport being phenomenal, powder-covered slopes with ski-in-ski-out access to 120 kilometres of runs and leisure being their tranquil spa complete with a private Jacuzzi, outdoor pool and three different types of saunas, Finnish, herbal and inferred. With beautiful interiors and an excellent alpine-style restaurant, this will make an ideal romantic getaway this winter.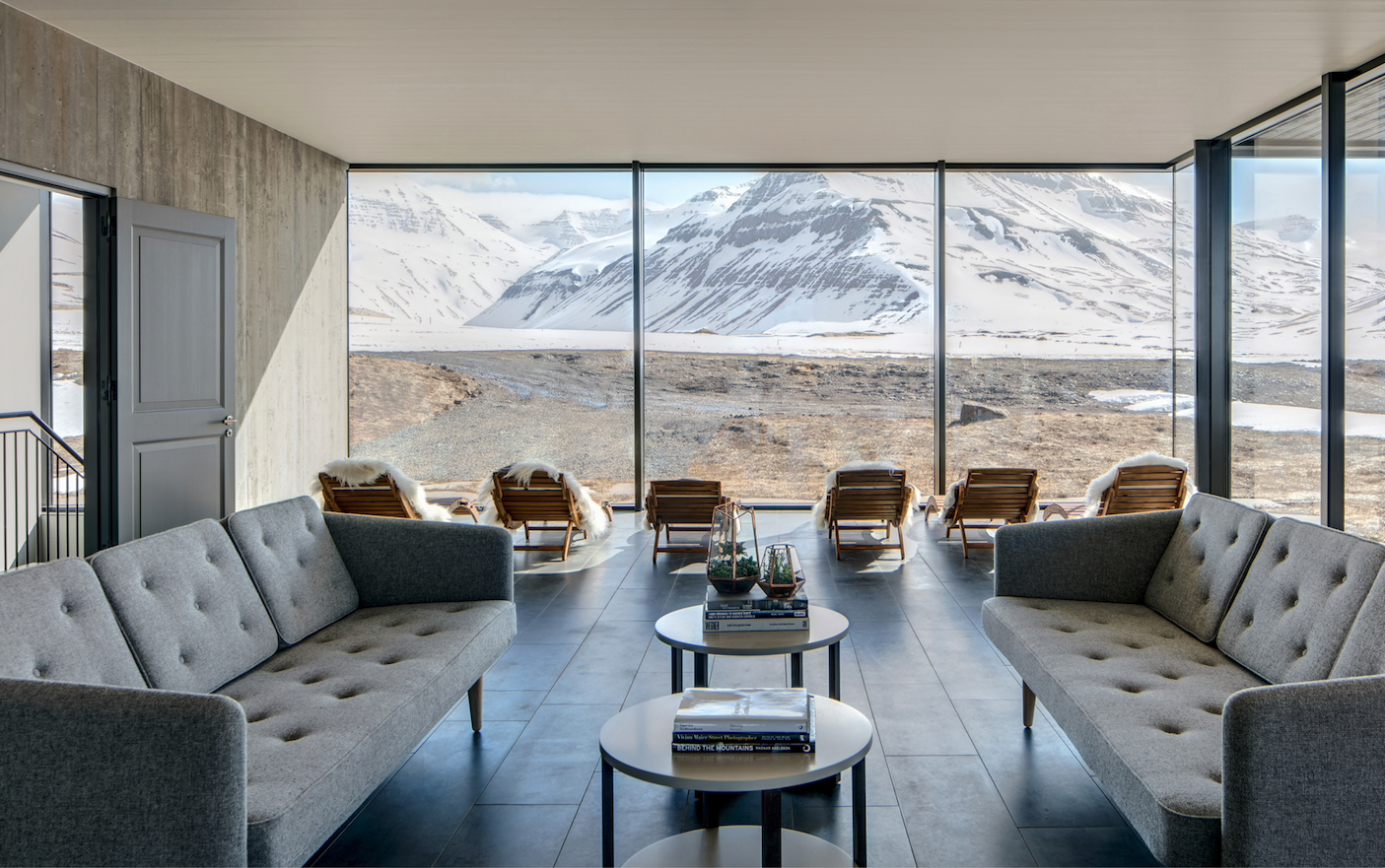 Deplar Farm, Iceland
Totally remote and off-the-grid, Deplar Farm in Iceland's Fljót Valley is a blackened, timber-clad lodge which is surrounded by towering snow-dusted mountains. In a previous life, it was an 18th-century sheep farm but it is now home to a super luxurious heli-skiing and salmon fishing private residence. It's been transformed into a total wellness retreat, complete with all the amenities of a 5* hotel, with an in-house chef, private concierge and chauffeurs, whilst activities are led by a team of expert guides. This experience doesn't come cheap but if a once-in-a-lifetime holiday is what you desire then you won't get more luxurious than this place. Get private, front seat views of the Northern Lights from their outdoor-heated pool and experience Iceland's sensational backcountry skiing and hiking.
words by Molly Jennings