Flipping between fired-up radiators at home to near-freezing temperatures outside can make your skin just a little bit temperamental. Couple that with unpredictable transitional weather from one season to the next and you've got yourself a fail-safe recipe for dry, flaky, stressed-out skin. Unable to keep up with the constant changes in the environment, it's up to you to restore and balance your skin with skincare products that actually work. This time of year is all about locking in moisture and protecting it from aggressors like temperature changes and environmental triggers to keep dry skin at bay in time for Spring.
Best-known for their pioneering CBD drinks range (we love their bitters and CBD shots!) OTO has recently launched its Rituals Skincare range, which harnesses CBD's ability to reduce inflammation, combat ageing and repair and protect the skin to name a few. Using high-quality CBD alongside some of the most nourishing skincare ingredients, they've got you covered when it comes to combatting dry, unhappy skin. Below we're sharing just a few of our favourites from the new range and some oldie but goodies we still love and swear by and how we like to use them in our daily skincare routine.
Ritual CBD Hand Balm
Why we love it: An absolute must-have right now is a nourishing hand cream to combat the extreme handwashing and hand sanitising we've all been making an effort to do more of since the coronavirus pandemic began last year. It's really sucked the moisture from our hands so we've been lathering on OTO's CBD Hand Balm like it's going out of fashion. Infused with Shea Butter, Olive Fruit Oil and Aloe Leaf Juice as well as soothing CBD, this is a transitional weather must-have that you'll want in the car, by your kitchen skin and your bedside table for when cracked hands need repairing.
Ritual CBD Serum
Why we love it: A new and already much-loved addition to our morning skincare routine is OTO's CBD Serum. Jam-packed with pure CBD and soothing, protecting botanical ingredients like Evening Primrose and Pomegranate Oil, this is the perfect way to layer up and protect your delicate complexion so you can get on with your day without having to worry about dryness. If you often find your skin is stressed out by the time your 11 am tea break rolls around then this is a great one to add to your morning routine. Sinking deep into the layers of your skin, you'll be hydrated all day long right up until dinner time!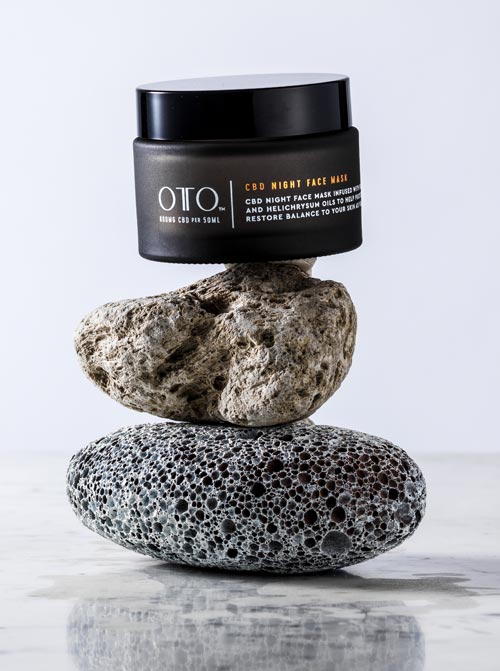 CBD Crean Night Face Mask
Why we love it: A winner in our 2020 CBD Awards it's no surprise we still absolutely swear but this cocooning face mask when dry skin comes knocking. A healing indulgence, the OTO Night Face Mask uses high concentrations of CBD infused with essential oils rich in minerals and vitamins A, C, D and E to hydrate, rejuvenate and restore the natural allure of your skin as you slumber. We use this once or twice a week when our skin is really crying out for an injection of moisture and it's designed to work all night long to repair your skin so you wake up positively glowing and plump. This really does work and it's a staple in our skincare arsenal.
Ritual CBD Lip Balm
Why we love it: Ummm chapped lips are literally the worst?! Every winter we always dread the sting of dry lips so we always make sure multiple lip balms are dotted around the house! Our top choice this season is OTO's CBD Lip Balm which is honestly the most glorious remedy to tingly, cracked lips. Infused with pure CBD as well as botanicals like jojoba oil, shea and cocoa butters, we not only dab this on our lips but also around the nose area too which tends to get quite sore from all the sniffling and wiping. Ouch! Thank goodness for this hydrating balm!
CBD Night Cream – Eye Treatment
Why we love it: Another winner in our 2020 CBD Awards, eye creams are an important part of any skincare routine during the colder months of the year. The skin around our eyes is so delicate and thin and this is a prime area that is very prone to signs of dryness and ageing. Target it with OTO's CBD Eye Treatment to help regenerate the skin and provide a juicy protective barrier. Packed with free radical-fighting Vitamin E and moisturising Carrot Seed Oil (as well as CBD) we follow with this after our moisturiser every evening so it can work wonders while we sleep.
CBD Body Oil – Balance
Why we love it: A favourite recent discovery is OTO's CBD Body Oil, in particular the Balance formula for slathering on after a hot bath in the evening. This oil is so hydrating and nourishing for dry, flaky skin (particularly the legs that haven't seen the light of day in goodness knows how many months!) and it makes your skin seriously silky and smooth. As well as CBD, this oil is packed with anti-inflammatory properties thanks to the Roman Chamomile Oil. It can be used to help calm inflamed skin, ease arthritis, headaches, sprains and muscle aches. It is also one of the finest essential oils used to assist relaxation before bedtime.
Shop OTO Skincare