As we approach the warmer months of the year, our skin's needs often change when it comes to skincare and makeup. Dry and dull complexions are replaced by an uptick in "dewy-ness" shall we say! In warmer temperatures, our skin can start to appear more oily so lightweight formulations are a top priority to let skin breathe and feel fresh. We suggest putting your full-coverage makeup at the back of your bathroom cabinet and replacing heavy, long-wear foundations with much more seasonally-appropriate tinted moisturisers. Tinted moisturisers are much more lightweight and are brilliant at evening out skin tone. Acting like a veil for the skin, they tend to be sheerer in coverage but are ideal for giving that "no makeup" makeup look. Just what you want in summer.
There are lots of different kinds of tinted moisturisers on the market… tinted moisturisers with SPF, tinted moisturisers with skincare benefits and even tinted moisturisers with colour-correcting properties (great if you suffer from redness). We're always inclined to go for makeup that looks natural and glowy so here are the best tinted moisturisers (in our humble opinion!).
Oskia are well-loved for their incredible skincare so when they developed their Nutri-Bronze Tinted Serum, it was clear they wanted to pack it full of skin-loving ingredients. Containing Bakuchiol (nature's answer to retinol) Vitamin E, Prebiotics & Peptides, this won't just give you a beautiful complexion, it will also infuse your skin with barrier-boosting, anti-ageing ingredients all day long.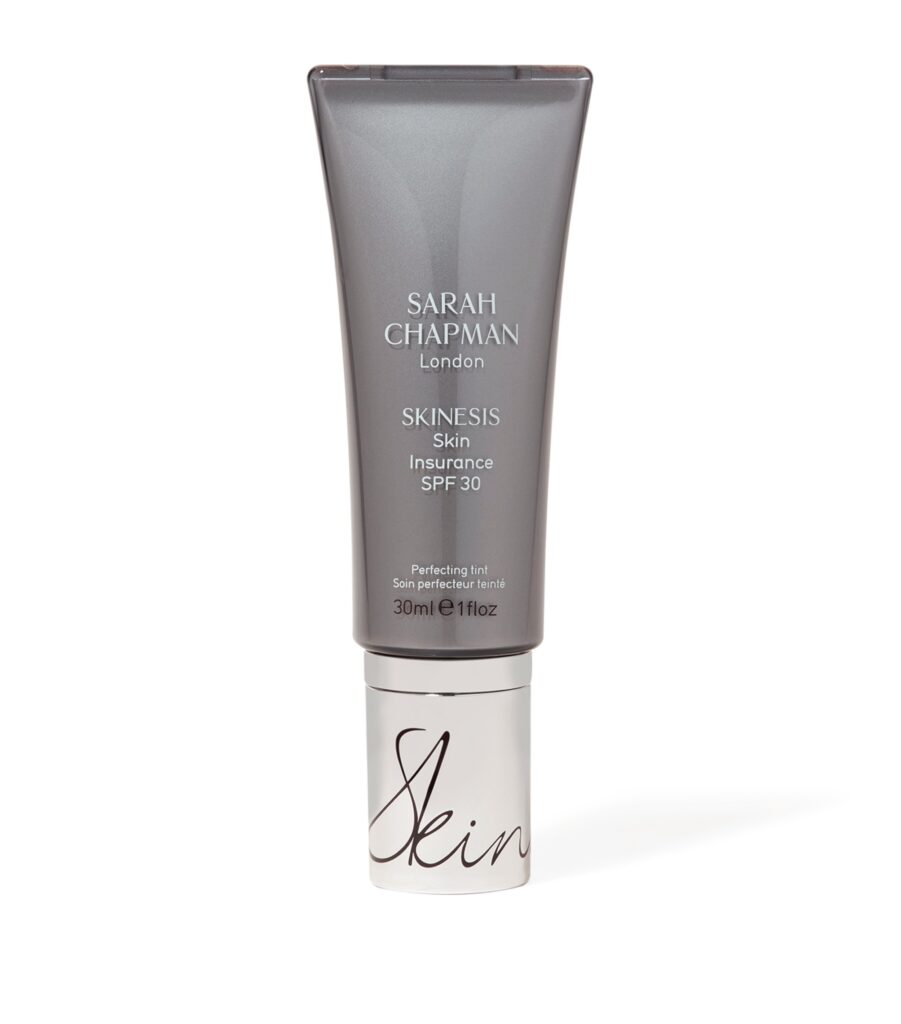 Sarah Chapman Skin Insurance SPF 30 Perfecting Tint
Skincare legend Sarah Chapman can do no wrong in our eyes. She's renowned for her world-class skin clinic in Chelsea and everyone from city execs to A-list celebs wait in line to have a treatment with her. With that being said, it's no surprise her product ranges always feature in editor's must-haves and her Skin Insurance SPF 30 Perfecting Tint hit's all the marks. The silky formula glides on like a dream and you can rest easy knowing you're getting sun protection too.
3INA The Tinted Moisturizer SPF30
If you're looking for a hydrating tinted moisturiser with a variety of shades then look no further than ​​3INA. Their Tinted Moisturiser contains SPF 30 which is always helpful and gives you one less thing to think about in the mornings and also is infused with Hyaluronic Acid so you can be certain this formula will give your skin a lovely glow. The brand is also vegan and cruelty-free which is a lovely bonus too.
Skin Theory Antioxidant Tinted Day Cream SPF 30
Containing a double whammy of physical and chemical SPF filters, Skin Theory's Antioxidant Tinted Day Cream is a perfect choice for summer when the rays are at their strongest. As the name suggests, it packs an antioxidant punch thanks to Reversatrol and Vitamin E which are so important for preventing free radical damage. If we had to choose a tinted moisturiser for city dwellers, it would be this one for sure.
We're a little bit in love with Merit at the moment… their makeup just hits the spot when it comes to wanting a fresh, natural face. We wanted to shout out their Great Skin Serum because, while it's less of a traditional tinted moisturiser, it deserves to be talked about here because it gives the skin such a beautiful glow! If you really want a minimal summer complexion that looks like you've been on holiday, this is it! Its bi-phase formula sinks into the skin super quickly and contains niacinamide to smooth and brighten the skin.
If you really want to brighten up your skin and blur imperfections then give MZ Skin's Tint and Protect a go. MZ Skin is a real team favourite here at H&H and this is definitely a lovely formulation for those who want a bit of luminosity and youthfulness (isn't that everyone?!). Blended with Vitamin C for its brightening capabilities and a hydrating cocktail of hyaluronic acid and kahai nut oil, it also contains a healthy SPF 30, making this a great all-rounder for that "second skin" appearance.