As we enter the new year, it's not only a time of reflecting on the previous, but also setting intentions for the year ahead. You may find that an array of emotions when we think about the past year and the challenges we have faced. So how can we be sure that we remain positive and motivated as we welcome the new year?
Controlling Negativity
Something that we have control over, is how much negativity we expose ourselves to in our day-to-day routine. Whether that's switching off news notifications, limiting watching the news to once a day or distancing yourself from certain people in your life. These are all small changes that limit the negative impact and can have a huge beneficial effect on your mood.
Live Life with Gratitude
Starting the day with gratitude keeps you positive, and without you even knowing, reminds your subconscious mind of all the positive things that are happening in your life. Why not challenge yourself right now to write down three things you are grateful for in life and two things that you are excited to do this week and notice the difference it will make on your wellbeing. Even better if you can get into a habit of doing this every night before you fall to sleep as part of your evening ritual.
Prioritise Wellness
Keeping healthy automatically promotes a happy and balanced life. Nourishing your body with essential vitamins and minerals whilst ensuring daily movement and adequate rest are just the beginning to help combat stress and anxiety, boost your immune system and reduce niggling aches and pains.
When looking for foods and nutrients to enjoy, focusing on wholefoods such as fruits, vegetables and wholegrains is just the beginning. Adding herbs and spices such as Saffron, Turmeric, Lemon Balm and Liquorice, all of which have research for their emotional balancing properties. Optimising and/or supplementing with nutrients such as L-Theanine for its calming benefits and B Vitamins to nourish cognitive function to be supportive of restoring balance and vitality. For a supplement that incorporates these amazing nutrients and minerals, look no further than Bach™ RESCUE®'s new Balance & Positivity Capsules.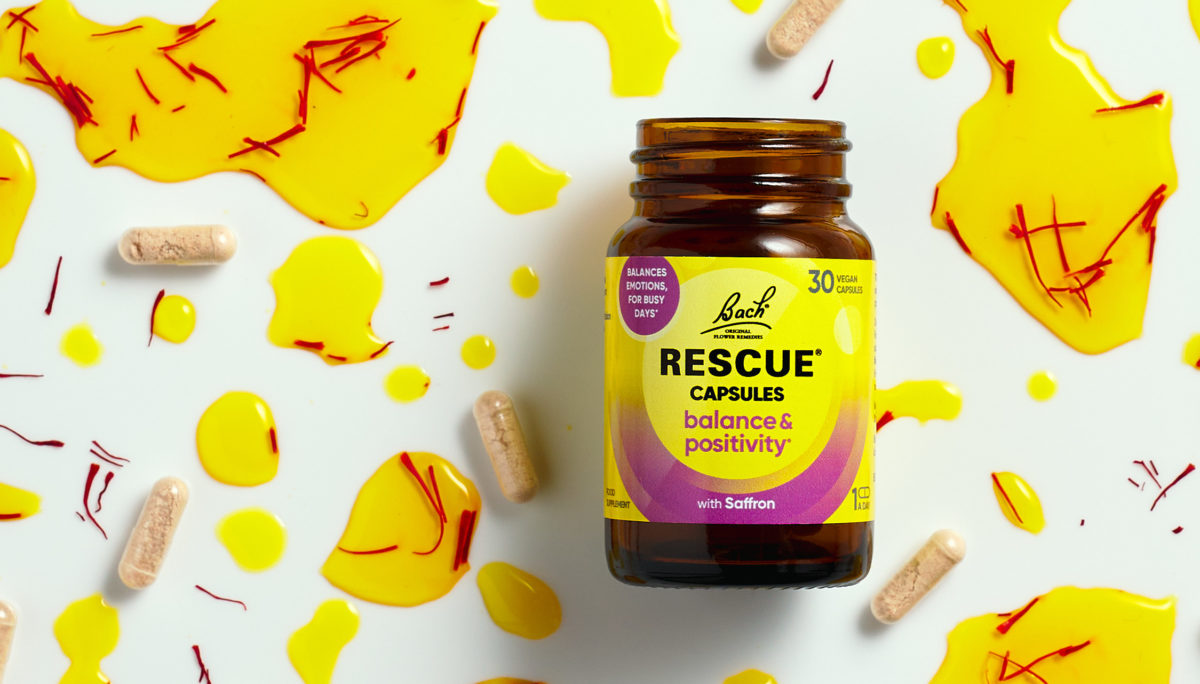 Created using famous Rescue® flower essences blend with active ingredients such as Saffron – which has been researched into its powerful dopamine increasing properties – an essential hormone for supporting mental clarity and wellbeing. B vitamins support cognitive function, stabilise and balance mood and optimise productivity whilst L-Theanine is a compound found in black and white teas with its known properties for promoting a restful state.
This newly formulated remedy is suitable for those over the age of 12. Simply take one capsule daily to help you stay positive and balanced throughout this challenging time period. Adding it to your daily routine with breakfast or your lunchtime ritual following a fresh air walk. It's the perfect solution to help you approach 2022 with a positive mindset, confident in the knowledge you are ready for whatever the upcoming year throws at you.
Show yourself love
The phrase 'be the energy you want to attract' comes into play when looking at keeping positive and proactive with the intentions and goals you set for the year ahead. Whether this is setting boundaries around work, prioritising your sleep or putting time in your diary for an evening of self-care!
Trick Your Body into Exercise
Exercise tends to get more neglected in winter, something about the colder days and unpredictable weather that just makes it that much harder to actually get out the house. But we urge you to lace up those trainers or roll out that yoga mat and get that much-needed daily dose of endorphins regardless as we know your body and mind will thank you for it. Why not do an online dance class – you'll be having so much fun you won't even realise the sweat pouring off your back! Or one huge challenge is often just getting dressed and ready for exercise, but once you're over that hurdle it tends to feel a lot easier to stay committed to your Pilates class or run outdoors – so when you wake up make sure you pop on some workout gear that you feel totally comfy in (and warm if you're heading exercise).
FOOD SUPPLEMENTS SHOULD NOT BE USED AS A SUBSTITUTE FOR A BALANCED DIET AND HEALTHY LIFESTYLE
RESCUE® Balance and Positivity Capsules (RRP £19.99) are available from:
Boots , Holland and Barrett, Waitrose , Amazon, FeelUnique and others!