We're full swing into 2018 and there's definitely change in the air with regards to what it means to be healthy. 2017 saw huge campaigns that brought awareness to the importance of mental health and that is set to continue into this year. More and more it's becoming clear that how we feel on the inside far out-weighs what we see in the mirror and huge emphasis is being placed on the importance of improving our state of mind. Wellbeing isn't just to do with our physical health… what's going on upstairs plays an equally significant role.
Enter Natalia Bojanic, ex PR and now meditation guru who is making it her mission to empower people from every walk of life and bring awareness to how the mind can affect your outlook and your overall wellbeing. Founder of Sexy Mind, she's here to explain her ethos and how her meditation practice offers something completely different. (Side note: Join Natalia for a healthy dose of calm on Saturday 10th February at our concept store! Book you spot here!)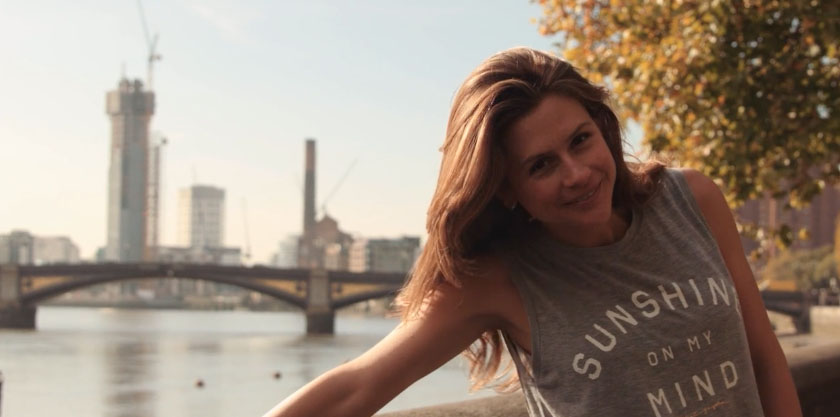 Can you explain, for people who don't know, the concept behind Sexy Mind?
The Sexy Mind mantra is Change the world one thought at a time. Our mission is to attract people to themselves and share content that sparks transformation we don't see reflected in the mirror, but that comes from self-reflection. There's more to coping with busy lives than simply looking after our physical health; we provide tools to manage stress, teach you how to disengage from negative states of mind, build inner strength, increase clarity, contentment and creativity.
The only way to understand yourself is by sitting and watching your thoughts. The only way to develop emotional resilience is to breathe and learn how to find peace where there's no peace to be found. It's time to train your brain – the most attractive part of your body!
What did you do before becoming a meditation teacher?
I was a PR Director in the Luxury Industry, working for companies like Dior and Land Rover. It was a pretty cool job. I met lots of superstars including Usain Bolt. However, I was working with car brands and I do not have a driving license…Go figure.
Ten years in that world taught me that if you want to achieve excellence in life you must be passionate and fully committed to what you do, so I decided to take the leap of faith, become the CEO of my life and turn my energy to the things that truly excite me.
My first client as a freelancer communications consultant was Damian Soong, who was in the very early stages of setting up Form Nutrition, Naturally Advanced Plant-Based Nutrition for Body & Mind, a start up that I am the Head of Communications.
Describe your first experiences of meditation and how long it took to realise this was truly something you wanted to dedicate your life to.
I was practicing yoga for years but needed a tool to manage stress on the go. The mat was always a place where I gained strength and connection, but with the demands of a high pressure job it wasn't practical to rely on making time to go the studio to find peace.
In January 2015 I downloaded the app Headspace I decided to "Take Ten" the intro package. As soon as I watched Andy Puddicombe videos and illustrations I was hooked and intrigued by the possibility of learning more about my states of mind. What could be more interesting than gaining a deeper understanding of myself? What could be more useful than being able to manage more skilfully my behaviours and attitudes?
From day one I had little books where I took notes on almost everything he said.
Long story short, since then I tried several types of meditations: Kundalini Yoga, Kirtan Yoga, Dancing Meditation, Staring at a Candle Meditation, Glazing On Each Other's Eyes Meditation, Past Regression Meditation, Vedic Meditation, Zen Meditation and many others!
I also learned from so many diverse Meditation Gurus. From a super spiritual lady who started meditating when she was 4 years old, to enrolling courses by international renewed meditation teacher Charlie Knoles and spending time in a Monastery in Nepal with Lama Zopa Rinpoche, Co-Founder of FPMT who has established over 160 Buddhist centres in 38 countries.
My life is devoted to learning. In my spare time, I read Dharma books or I listen to mindful podcasts and I even date Meditation teachers! I know it sounds pretty narrow-minded, but the Great Teachers never stop educating themselves. Meditation has helped me going through a lot in life, like divorce and change of career and keeps my cool running different business.
I've never planned to become a Meditation Teacher. When I quit my job I didn't really know what to do, I just gave myself the space to explore my curiosity and find out ways I could help people whilst doing something that was fun.
I enrolled a PT course – which I never finished. Then Moved to the US and became a Holistic Educator. Came back to London and I studied Naturopathic Biomedicine. Then I moved to India became a certified Yoga Teacher. But it was during a Buddhist and Meditation course in Dharamshala, Dalai Lama's city home, where I realised that teaching was what I would do for the rest of my life.
It doesn't sound as glamorous as my former job a PR Director, but there is nothing more rewarding than having your heart filled with the gratitude of the people who benefit from the teachings you are share.
What's your individual philosophy when it comes to meditation?
Everyone can meditate. If you have a functional mind you are perfectly capable of training your brain to meditate. Much the same as exercise and fitness, you just need to find a style that suits you and seeing changes requires time and commitment.
You can't necessarily notice the transformation with your eyes, but suddenly you start realising that you have more patience with your mum on the phone, or creative ideas start to pop into your mind more easily, or the journey on the tube during rush hour is not as unpleasant as before, or you start expressing yourself in a more confident and authentic way and many many other positive side effects.
The current issue is that we live in a society that is thirsty for immediate rewards and the amount of research released on Meditation has created unrealistic levels of expectations on people. A lot of students get disappointed if they don't achieve nirvana in their first minute meditating and then get to the sad conclusion that meditation is not for them. It's a counterintuitive practice where a lot happens when we stop.
There is an immense power in pause and stillness. It's the time we take to recharge ourselves and gain sustainable levels of energy.
The benefits of meditation are endless but for those who are saying "we don't have time" how do you suggest they make time?
Meditation increases your awareness, focus and concentration and as a result, you become way more effective in everything you do, in your personal and professional life. There is a saying amongst meditators that when you don't have the time to meditate is when you most need meditation.
My advice for the time poor is to commit to a 21 days meditation challenge where you for three consecutive minutes you close your eyes and simply focus on your breath. Research has shown that this simple exercise has a positive impact on the health of your brain and will leave you feeling more centred and grounded.
If you can't find three minutes on your day to hang out with yourself then it's about time you set your priorities straight. Feeling good is not a luxury, but a necessity. You shouldn't wait for a breakdown, you can start by simply breathing better now.
As well your strong meditation practice, what else helps you to calm your nerves, conquer your fears and manifest more positivity?
Praying. I'm a Buddhist and love His Holiness Dalai Lama saying "My religion is very simple, my religion is kindness".
I understand that there is a cloud of mysticism around Spirituality, but the bottom line for me is that spiritual practice should make you a better human. Before the microscope was invented, the Greek philosopher Aristotle (384–322 BC) was one of the earliest recorded scholars to articulate the theory of microorganism existence from observing that aphids arise from the dew on plants.
I have the same approach to Spirituality. It's not because my eyes can not see or there's no scientific explanation for the power of "invisible forces" around us that we should deny their existence. I believe we are all born with an incredible amount of inner strength and our minds have unlimited potential, we just need experienced teachers to guide us alongside the way.
We should never underestimate the power of a thought, so whenever I need strength and a shift of perspective, I pray and open myself to to a Higher Intelligence.
Where can we find you and take your classes?
Every morning I'm Live on Instagram with a 5 minutes meditation practice, check out @sexy_mind_movement On a monthly basis I upload a new free guided mediation on my website www.sexymind.co.uk
If you want to see me in real life come to Method Movement in Chelsea.
At Hip & Healthy on the 10th of February! View the events calendar and buy tickets here!