So were now coming to the end of our Pukka matcha makeover! We've relaxed and detoxed our bodies, but sometimes, day three can leave us feeling a little zapped for energy! So, whatever you do, do not throw in the towel and ruin all that hard work you've put in over the last two days. The secret to being happy and healthy doesn't lie just in a three day cleanse, it starts with a three day cleanse and then it turns into a lifestyle. So for those of you who are feeling that third day slump, take a deep breath and have a cup of Pukka's 'Ginseng Matcha Green' tea. These little tea bags pack a huge energy punch! The blend of organic green matcha tea, lemongrass, ginger and pure red ginseng is the perfect concoction to give you a boost of vitality. Alongside, stimulating mental and physical activity; lifting your spirits, Ginseng's properties are also known to help boost your immune system, act as an anti-inflammatory, lower blood sugar levels and cholesterol levels, help treat diabetes, reduce stress and it has even be proven to help inhibit the growth of cancerous tumours. So, take a moment and make yourself a Pukka 'Ginseng Matcha Tea', it will reboot you in no time!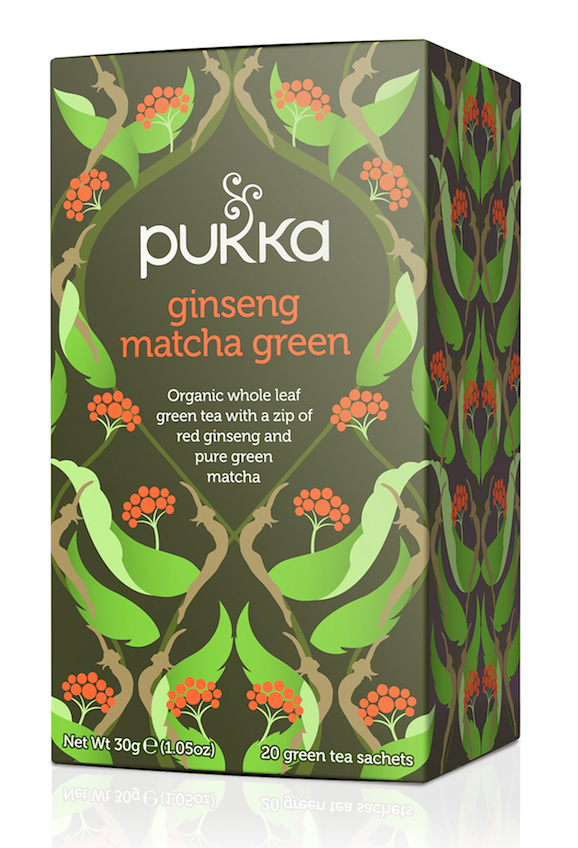 Our top tips for staying energised!
Snack on protein-rich foods
Foods containing plenty of protein will really help you in your bid to staying energised throughout the day. Things like nuts and seeds are super high in plant protein and contain lots of fibre too which is great for your digestive system. Remember, a sluggish digestive system can also zap your energy levels.
Go for a walk
Nothing makes us feel more awake and energised than a brisk walk, especially as we come closer to the summer months! Just getting some fresh air to your face and getting your heart rate up ever so slightly can really benefit your mind and body. It's the perfect way to beat that afternoon slump!
You guessed it, water!
A running theme in our 3-Day Matcha Makeover is drinking more water. It not only helps cleanse and detoxify your system but it is also vital to keeping your energy levels up! So often we misread thirst for hunger so its super important to always have a bottle of water to hand. Of course we don't just mean any bottle! Why not treat yourself to one of our stylish S'well Bottles from our activewear store? Whether you want one for your desk or a mini one to shove in your handbag, they are made with 100% toxin-free materials so you can sip away without compromising your health.
Your energy makeover plan
Try this sample menu plan, filled with the perfect foods for supporting your energy, maximising your workout and helping you to burn fat.
On rising: One cup of Ginseng Matcha Green tea.
Breakfast
Porridge made with whole rolled oats, blueberries, cinnamon and walnuts. Use half a cup of porridge oats and 200ml of almond milk. When hot, stir in half a teaspoon of cinnamon and sprinkle with a handful of blueberries and a tablespoon of chopped walnuts. Sip one cup of Ginseng Matcha Green tea.
Why? Porridge oats are a great source of slow-releasing energy. Walnuts provide protein, healthy fats and fibre to help to temper that energy release. Blueberries give an antioxidant boost, and cinnamon can help to balance blood sugar.
OR
Two slices of rye toast with two or three poached eggs, wilted spinach and mushrooms. Sauté three to four medium chopped mushrooms in a knob of ghee or coconut oil until soft. Wilt one handful of baby spinach in a tablespoon of water. Poach the eggs and serve on the toast with the wilted spinach and the mushrooms. Sip one cup of Ginseng Matcha Green tea.
Why? Rye bread is a great way of getting your slow-releasing carbs. Eggs are a fantastic source of easily-digested protein, vitamins B2 and B12 to support energy release, and healthy fats. Spinach is one of our best sources of magnesium, which helps your muscles to work and supports energy and hydration.
Lunch
Tuna and quinoa salad, with cherry tomatoes, avocado and green beans. Mix one cup of cooked quinoa (prepared from half a cup of raw) with a half or whole can of drained tuna, 10 halved cherry tomatoes, half a sliced avocado, and sugar snap peas. Dress with a teaspoon of lemon juice and a teaspoon of olive oil. Sip one cup of Ginseng Matcha Green tea.
Why? Quinoa is a great pasta alternative, as it's higher in protein and provides slower-releasing energy. Tuna is a fantastic source of lean protein – an ideal fat loss food. Avocado provides healthy fats to help keep you full for longer. Sugar snap peas and tomatoes are rich in vitamin C, which also supports energy and helps to keep your skin looking young!
OR
Roast chicken slices with roasted sweet potato wedges and peppers. Pre-roast the chicken, sweet potatoes and peppers the night before, and combine to make a fantastic energy-balancing healthy lunch. Sip one cup of Ginseng Matcha Green tea.
Why? Chicken provides high-quality lean protein, to support muscle tone and fat loss. Sweet potatoes are one of the healthiest sources of easy-to-digest carbohydrates, and provide lots of skin-loving vitamin A.
Mid-afternoon snack
Green smoothie. Half a ripe pear, half a banana, one small handful raw kale or spinach, two teaspoons of almond butter, two teaspoons of superfood powder (such as Pukka's Vitalise powder). Blend with 300ml unsweetened almond milk, or enough to achieve desired consistency.
Why? The pear and banana provide energy to help get you through the afternoon. Kale provides fibre and magnesium, and almond butter contains protein and healthy fats to help keep you full until your evening meal. The superfood powder provides concentrated vitamins, minerals and plant nutrients to help optimise your energy.
OR
Two oatcakes with one to two tablespoons of guacamole.
Why? Oatcakes provide slow-releasing carbohydrates. Guacamole is a great source of healthy fats to help fill you up and keep your skin healthy. Chilli pepper in the guacamole may also help to burn fat and support circulation!
Evening meal
Teriyaki salmon with brown rice and broccoli. For one person, marinade one salmon fillet in a tablespoon of teriyaki sauce for a minimum of one hour. Seal in a parcel and bake for 15 minutes in the oven. Cook about 60 grams (four tablespoons) of brown rice, or up to 90 grams (six tablespoons) if you've done a long workout. Steam or roast half a head of broccoli, and serve all together, sprinkled with sesame seeds.
Why? Plenty of muscle-restoring and energy-restoring carbohydrates and proteins. Salmon contains omega-3 fats, which may help to reduce inflammation after a workout, as well as a range of B vitamins.
OR
Chicken and veggie stir-fry. For the stir-fry, for one person: two teaspoons of ghee or coconut oil; one small onion (chopped); one clove of garlic (finely chopped or crushed); one thumb of ginger (grated); one organic chicken breast (thinly sliced); two cups of colourful chopped mixed vegetables (e.g. broccoli florets, sugar snap peas, thinly sliced carrot, sliced red pepper); two teaspoons of fish sauce; one tablespoon of tamari sauce. Cook about 60 grams (four tablespoons) of brown rice, or up to 90 grams (six tablespoons) if you've done a long workout. While it's cooking, make the stir-fry. Melt the ghee or coconut oil in a wok or frying pan, add the chopped onions and sauté until translucent. Add the garlic, ginger, chicken and the other vegetables, then the sauces, and stir-fry for four to five minutes until the chicken is cooked through. Serve the stir-fry on the rice, or mix together in the pan before serving.
Why? Chicken is a great source of vitamins B3 and B6, which are vital for energy release. The colourful veggies provide antioxidants and vitamin C to help balance and reduce inflammation after a workout. Ginger is one of the amazing ingredients in Ginseng Matcha Green tea that supports circulation. The balance of carbs and protein is ideal to help to restore muscles and energy after a workout.